Top 3 Best Portable Washing Machines For Small Apartments  Comparison Table
| Image | | | |
| --- | --- | --- | --- |
| Name | LG WM1455HWA 24-inch Smart Compact Front Load Washer with 2.4 cu. ft. Capacity | Magic Chef MCSTCW09W1 18-inch Compact Portable Washer with 0.9 cu. ft. Capacity | Bosch WAW285H1UC 500 Series Smart Compact Front Load Washer with 2.2 cu. ft. Capacity |
| Brand | LG | Magic Chef | Bosch |
| Color | White | White | White |
| Capacity | 2.4 cu. ft. | 0.9 cu. ft. | 2.2 cu. ft. |
| Drum Material | Stainless Steel | Stainless Steel | Stainless Steel |
| Product Dimension | 24 x 33.5 x 22.25 inches | 17.7 x 31.5 x 18.1 inches | 23.5 x 33.25 x 25 inches |
| Maximum Spin Speed | 1400 RPM | 680 RPM | 1400 RPM |
| Weight | 150 lbs | 44.10 lbs | 160 lbs |
| Editor's Rating | ✸✸✸✸✸ | ✸✸✸✸✸ | ✸✸✸✸✸ |
| | | | |
Washing machines have become more prominent globally over the past few decades. It's inspiring how far we've come as a pack – the story of how we've gone from traditional washers with so much bulkiness and lack of enough exciting features to modern and intelligent washers that have almost everything you need to make laundry very convenient. The way these appliances have skyrocketed over the past few years only shows how people view them and how much they appreciate the convenience and comfort they bring along.
The pandemic has opened our eyes to a few things, one of which is learning to adapt to a new normal. Rosalind Cummings-Yeates, a contributor for MBG, claimed she didn't know about portable washers before the pandemic sent a shock wave throughout the world. Many people adjusted to the changes when the pandemic shook the world, and one of the things we've come to embrace is that changes are inevitable.
Portable washers, or compact washing machines as they're often referred to, usually don't weigh a lot compared to standard washing machines. They use a sink of hook-up and buckets of water to wash and rinse clothes, but what people love about them is that they're small enough to be stored in a closet when they're not in use. They're sustainable options for small apartments or people who don't do laundry too often.
One of the greatest misconceptions people have about portable washers is that they're often the best choices for those who are limited by budgets. While some of that may be true, you can have enough money to purchase a large-capacity washer, but if you don't have enough space to put it in your house, you've just made a mess of your money. Getting an apartment washing machine to fit in your small room will be an excellent decision at the end of the day.
If you're looking to buy a small washing machine for apartment, you need to consider some factors. These include drain functionality, temperature settings, water usage, installation, and temperature controls. According to Heather White of Mind Body Green, seventy percent of electricity in regular washers is produced from the water setting. To keep things sustainable, it's ideal for you to know how much water will be needed for the machine to wash.
If you don't have the luxury of space, we guess you're looking to purchase a portable apartment-size washing machine or a portable washing machine for your apartment. No more laundromat trips, overfilled laundry bags, or outlandish price tags slammed on standard washers. Portable washing machines for apartments do the job as efficiently as some of these full-sized models while giving you enough room for other things due to their compact designs.
The good thing about these small apartment-size washing machines is that they also come in handy for others events like when you're camping or sending your kids to college. According to The Spruce, it doesn't matter what type of portable washer you're using (electric or hand-powered); it always proves to be an excellent alternative to a full-sized washer, which many people love about the portable machine. If you're looking to purchase one of the best portable washing machines for small apartments, we have a detailed list of the best washing machines for small apartments.
Top 3 Best Portable Washing Machines For Small Apartments
1. LG WM1455HWA 24-inch Smart Compact Front Load Washer with 2.4 cu. ft. Capacity
LG remains one of the biggest appliance brands globally. Still, if you occupy the top spot in this space, you must constantly produce the best appliances to maintain your growing reputation. This is exactly what LG has done with this compact front-load washer with many intelligent features such as SmartThinQ, which works with Google Assistant and Amazon Alexa. The Energy Star-certified washer has other tech-inspired features like ColdWash technology, NeverRush stainless steel, etc.
Features
14 Wash Cycles
The machine has 14 cycles, including Normal, Heavy Duty, Bulky/Large, Sanitary, Baby Wear, Allergiene, Tub Clean, Delicates, Hand Wash/Wool, Perm.Press, Sportswear, Speed Wash, Drain+Spin, and Downloaded. All these wash cycles are there to help you choose the perfect one for your laundry needs.
SmartThinQ with Google Assistant/Amazon Alexa
SmartThinQ is an innovative feature that comes with almost every modern LG appliance. Its job is to create new ways for you to control your home, and it also comes with this washer. The feature works with Google Assistant and Amazon Alexa, which means you can manage your washer with your voice.
NeveRust Stainless Steel Drum
Since longevity is one of the things you have in mind when purchasing a new appliance, LG has ensured you'll get it by including this stainless steel drum in the washer. The drum is designed to serve you consistently for many years without rust.
Other Features
ColdWash

Allergiene Cycle

TrueBalance anti-vibration system

Energy Star rating

AI fabric sensor

Tempered glass door

TubClean cycle

Stainless steel tub
Pros
It washes efficiently

Its low-water feature comes in handy a lot

The machine has essential features like steam and anti-allergen wash cycles.

It is worth the money

People generally love the LG brand
Cons
Too expensive for a portable washer
2. Magic Chef MCSTCW09W1 18-inch Compact Portable Washer with 0.9 cu. ft. Capacity
As much as the compactness of a washing machine doesn't have anything to do with its pricing, it's an undeniable truth that price, not a lack of space, pushes some people to buy a portable washing. If you are on a very tight budget, this is an excellent option because it's one of those washers you can get for less than $500. You may know the Magic Chef brand for its exploits in producing great kitchen appliances. Still, the brand is pushing to break into the washer and dryer market by creating some of the best apartment-friendly washing machines.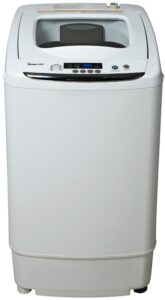 Features
Easy Operation
If you're investing in one of the best quiet but durable washing machines for your apartment, you expect it to be very straightforward to operate. That's precisely what you'll get when you invest in this Magic Chef portable washer.
5 Wash Cycles
You may think it's a regress from an LG with 14 wash cycles to a Magic Chef washer with only 5 wash cycles. If you're buying a washer that costs less than $400, we guess you can't put too many expectations on it. However, these 5 wash cycles will still help you do your laundry efficiently, just as you want.
See-through Lid
You'll be wrong to think because this washer is affordable, it doesn't have some of the features you'll see in high-end washing machines. The see-through lid gives you the chance to see the inside of the washer without opening the door.
Other Features
Adjustable legs that help stabilize the washer

Auto unbalance detection

Automatic shut-off

Pulsator

Stainless steel drum
Pros
The machine is easy to operate

It has an auto unbalance detection that adds more water in the tub so the washer can distribute clothes evenly.

Quiet operation

Excellent design for small space

Efficient cleaning
Cons
The machine can be better with more features
3. Bosch WAW285H1UC 500 Series Smart Compact Front Load Washer with 2.2 cu. ft. Capacity
It's been a fantastic journey for the Bosch brand, becoming one of the best global appliance brands. Many people that portable washers don't often have high-end features because they're not expensive. However, Bosch has rebuffed those claims with this smart, compact front load washer, one of the best apartment washing machines with no hookups. The machine may cost over $1000; still, you'll get the best value for every penny spent to acquire it. Some of the best features you'll enjoy in this washer include AquaShield Hose, Internal Water Heater, and EcoSilence Motor.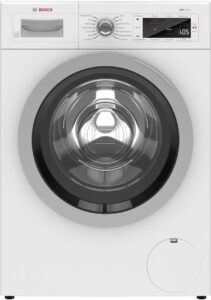 Features
Energy Efficiency
If you're investing this much money in a washer, you'll be disappointed to find that it's not energy efficient. This Bosch portable washer is so energy-efficient that it's recognized as Energy Star's most efficient of 2020.
AquaShield Hose
Every modern Bosch washer, regardless of its type and cost, has the powerful and popular AquaShield hose that protects the appliance against water damage. Every washer owner has encountered water damage with their washer at least once. To help you avoid that, you'll be getting an AquaShield hose in this Bosch washer.
Home Connect
With Bosch's Home Connect feature, you can access and control your washer anywhere.
Other Features
EcoSilence motor

SpeedPerfect

10 wash options including PreWash, Rinse Plus, Remote Start, Finish in, Spin Speed, Stains, Temperature, etc.

14 wash cycles including Jeans, Delicates, Rinse, Spin/Drain, Cotton, Mix, Sanitize, Drum Clean, etc.

Stainless steel drum

Digital LED

Soft-touch panel
Pros
It is effortless to use

It has all the features you need in an ideal washer

It is a high-quality product, and it lasts longer

Quiet operations

Luxurious stainless steel tub

EcoSilent motor that provides ease of operation

A perfect machine for small space

It has a beautiful design that complements your space.
Cons
Too expensive for a compact washer
Frequently Asked Questions
1. Is it legal to have a washing machine in an apartment?
According to First Law Comic, not all apartment buildings allow the use of a portable washing machine, so it is advised that you review the rent or lease contract properly before you start using a machine in the apartment. However, if you're a homeowner, we don't think you'll have any issues with having a washing machine in your house, except it poses a threat to the environment, which is very unlikely.
2. What is the size of an apartment washing machine?
The best apartment-sized washing machines are usually 24 inches wide. However, we can also get compact washers and dryers up to 24 to 26 inches deep, all depending on the brand of the washers and dryers.
3. Can you have a washing machine in an apartment?
If it's a rented or leased apartment, you need to be sure it's legal to use washing machines there. Generally, having washing machines in an apartment should not be a problem.
Conclusion
Portable washers have been around for a long time, but with more high-end washers in production, the former barely gets noticed at all these days. An electric portable washer is usually plugged into an outlet and hooked up to your kitchen sink or wherever you decide to have it as long as there's enough water supply. In this article, we've reviewed the best portable washing machines for small apartments, so if you're looking to buy one, you can choose from the three products we've discussed in this piece.
ESTIMATED TIME DESIGNING AND UPLOADING THIS ARTICLE
ESTIMATED TIME RESEARCHING AND WRITING THIS ARTICLE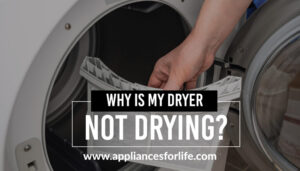 The dryer may be considered an unnecessary luxury by many, but it comes in handy and explains why people would spend so much on it alongside the washing machine. Why is my dryer not working? It may be caused by several factors that you have
Read More »