The world has seen a lot of innovative technologies over the years and these technologies have changed our approach to things. Whether we speak of the proliferation of the internet or the ever-increasing use of electric cars, it is beyond certain that the way we do things will never cease to evolve as long as new ways are continually developed to enhance effectiveness. The use of domestic appliances has also witnessed a transformation in the past years. According to ThoughtCo, In the 1800s, home washing machines were hand-powered, while commercial machines were driven by steam and belts. All that changed in 1908 with the introduction of the Thor, the first commercial electric washer. Washing machines have made washing an incredibly easier task to do and with new washing machine technologies, you get to enjoy some seemingly unrealistic features like the overnight wash and dry that keeps your clothes in the best conditions while you are fast asleep.
Washing machines have been built into front-loaders and top-loaders. The most visible part of a top-loading washing machine is its vertically aligned form, so it is only convenient to describe it using this part. As the name implies, a top-loading washing machine is properly loaded and unloaded using its opening/door at the top. A front-loading washing machine on the other hand has its door positioned on in the front, hence, its washing tub can only be accessed through the large opening in the front. Apart from this salient feature, a front-loader has no agitator and it uses paddles on the side of the drum. Consequently, a front-loader is naturally more gentle on fabrics than its top-loader counterpart. More interesting features of the front-load washing machine will be provided much later in this article but let us first look at some fascinating facts about the Whirlpool Corporations.
Leading the production of front-load washing machines in the United States are the Whirlpool corporations. They have produced several commercial washing machines, used in Laundromats, hospitals, hotels, and several other commercial settings. Although Whirlpool front-loaders are primarily marketed in the United States, other supplies, about 10%, go to Australia, Latin America, Asia, and mostly Europe.
About Whirlpool Corporations
Rightly, the Whirlpool Corporation is an American multinational manufacturer and marketer of home appliances, over decades now, they have been committed to improving life at home, especially in a digitally relentless world. According to a Whirlpool Sustainability Report, the unwavering advancement of the Whirlpool Corp. in-home appliance technology has geared them to achieve feats such as an approximate $22 billion in annual sales, 69,000 employees, and 54 manufacturing and technology research centers in 2021. In the United States alone, where the company has its headquarters, Whirlpool Corporations has at least 9 Manufacturing sites.
The whirlpool corporation is the parent company for other homegrown brands like Maytag, Amana, KitchenAid, Amana, Hotpoint, and so on. With these numerous years of experience and success in the manufacturing of Home Appliances, it is only reasonable to assume that the Whirlpool Corporation would have woven its eminence into the minds of the American people. Whirlpool cooperation boasts of the manufacturing of cutting edge front-load washing machines and in order to appreciate their quality, we will first address its special features before we touch on how to use a Whirlpool front-load washing machine.
A chart showing the operating profit of the Whirlpool Corporation from 2008 to 2020
Things to know about a front-load washer
It is important to know a few things about the operation of a front-load washing machine in order to to have a clue about its maintenance and appropriate use. The approach that will be used in this section will draw a juxtaposition between front-load washing machines and their top-load counterpart. This approach is effective to ascertain people's popular demand in the washing machine market, it also helps you understand why a certain category of washing machines is preferred over the other and we hope that this section helps you make the right choice in if you are currently in a dilemma of the washing to procure.
Front-load washing machines have been discovered to not only remove stains easily but also have top-notch water and energy efficiency and many believe that they are a better choice than a top-loader. This preference is hardly questionable, especially in light of statistics that reveal that 76 percent and growing still go for a top-loader against a front-loader in their purchase choice. According to a report of the Association of Home Appliance Manufacturers, only 28 percent of washers were supplied to American stores in 2020 and this is apparently a decline from the 38 percent shipment that these stores got in the year 2009. Top loaders have so far stolen the show in the washing machine market despite these enviable features of the front-load washing machine. Research conducted by Mark Allywood, a top research analyst at Company Reviews has provided some reasons for this ambiguity. While some customers think front-load washers are quite expensive, others consider the front-load mold problem intolerable, more so, they said it vibrates a little too much and made the decision to switch to top loaders for this reason. More variations between the front and top load washing machines are further discussed below.
Pros of a front-loader
Front-loaders have superior cleaning Abilities:
Every test conducted has revealed that a front-loader removes more soil from fabrics than top-loaders can. Reviewed.com and CNET both published photos of their testing stain strips, and it's clear that the strips washed in front-loaders have fewer stains leftover. The front-load washing machine has earned these excellent remarks due to its effective washing motion. The 3 major factors affecting the proper of a washing machine are chemical action like enough and the right detergent for washing, water temperature, and mechanical action (the movement of the washer. As long as these three factors are satisfied and the appropriate cycle is selected, there is no doubt that your front-load washer will make your fabrics absolutely clean.
Front-load washing machines save a lot of water:
When it comes to saving water in a normal cycle operation, a front-load washing machine is second to none. Not even high-efficiency top-loaders stand a chance here.
Whirlpool front load features that will blow your mind
Whirlpool front-load washers are indeed some of the best washing machines you will find out there. And over the years all they have done is improve on their home appliance technologies to exert their relevance in an increasingly digitalized world. These recent technologies have some impressive features that will be discussed in this section. The knowledge of these features will not only help you maximize the potential of your Whirlpool front-load washers, but it will also provide an insight on the appropriate use of your washers in order to avoid damage to it.
Whirlpool front load automatic control
Whirlpool front-load washers allow you to control/operate your washing machines from anywhere as long as you have the whirlpool app. With the use of the internet and a smartphone, it is ultimately possible to track and control the progress of your washing machine without being present. Though this remote control is limited when you have to load or unload your front-load washing machine everything else involving the operation and setting of your washing machine can be controlled remotely. With the whirlpool app on your smartphone, you don't need to worry about forgetting your clothes in the machine because upon activation, you will be alerted to the progress of the washer as it does your laundry.
Wash and Dry
You've stated your washing cycle late at night when you'll those clothes in the morning, the wash and dry feature has just the right fix for this situation. The wash and dry cycle washes your clothes and keeps them clean and dry in the morning. When the wash is done, the clothes in the washer continue to tumble, and the fan blows on it to keep it fresh, this way you don't have to worry if peradventure you slept off. Note that all of these controls can also be done through a smartphone.
Load and Go
With the new load and go feature, your whirlpool washer lets you prefill up to 12 loads worth of detergent into the machine. The machine automatically measures out the right amount of detergent needed to get a particular set of loads washed so you do not need to worry about the right soap measurement for your washing machine.
Adaptive Wash
It is common knowledge that fabrics are softened and dirt easily succumb when clothes are soaked. Complete soaking is no longer a difficult task with the Whirlpool 'active bloom washing technique' In fact, there is no better way to strike a balance between reducing the toughness of dirt and guaranteeing the gentleness on your fabrics than by using this new feature of the Whirlpool washing machine. This special feature senses the size and type of each load and adapts water levels and other functions to get the best possible clean.
Intuitive Controls
Not only can you control the settings of your Whirlpool remotely, but you can also use the touch screen controls built on the machine. Hence, activities such as setting up a load, customizing cycles for perfect cleanliness, adjusting soil settings and water level can all be done with a tap or several taps on the touch screen of the machine. Touch screen controls make setting up a load of laundry effortless. You can easily customize your wash cycles for the perfect clean, no matter the mess. The touch control system also operates a pre-programming system, it does this by remembering previous settings, thereby saving you time and the struggle of when you want to wash those tricky favorites.
Some Whirlpool washer problems and how to fix them
Whirlpool Front-load Odours:
In order to avoid an odor takeover, that may destroy your clothes and methine, it is important to learn a few things about how to keep it regularly clean. One of the talked-about problems of the Whirlpool washer is the smell that oozes from it after some time of use. Peradventure you are wondering why they smell in the first place, well, we can help with an explanation for that.
Without regular cleaning, it is possible for a washer to accumulate soap residue and dirty it after some time.  Since washing and tumbling are done in the water drum/ the tub, this is where soap and dirt residue from every wash accumulates. Judging by the enclosed nature of the tub and its constantly warm environment, molds find it a convenient habitat for growth, recurrent growth then causes stink after some time.
The rubber gasket on a front-loader also collects dirt without regular cleaning and as the bacteria on them multiply, odor to increases, causing problems like infections for the skin and damage to the machine. Apart from lack of regular maintenance, excessive use of detergent also causes a Whirlpool front-loader to smell. Now that you have been clued in on why your front-load washer smells, you will now learn a few tips to help keep your machine from smelling.
Cleaning a Whirlpool front-load washer gasket
A front load washer gasket needs to be cleaned specially and this cleaning should either involve regular wiping after every wash cycle or much deeper cleaning every month. In addition to the above method, the following instruction should be followed to keep a front-load washer gasket clean.
Open the washer door and remove the gasket to make it easier to see and wipe

Wipe the rubber gasket surfaces with a damp towel, to get rid of dust and dirt.

While wiping the gasket with a damp towel, make sure to spray with warm water.

For sticky mold spots, scrub clean with a brush wet with 10% bleach solution.
Cleaning the whirlpool front-load washer drum
It is also necessary to manually clean the washer drum regularly, Although some front-load washing machines have a clean washer cycle that helps with this. However, if this isn't the case for you, may follow the instructions below for monthly routine cleaning.
Use Baking soda and vinegar: Add a pinch of baking soda to your empty drum while supplying a maximum of two cups of vinegar to the detergent suspenders then run a regular wash cycle with hot water.

Bleach:  As an alternative to baking soda and Vinegar, you may also add a cup of bleach to the bleach dispenser and run a regular cycle with hot water.
Loud noise and excessive vibration from your Whirlpool front loader
Minimal noise and vibrations are totally a normal occurrence when a washing machine is running its cycles. In fact, noise and vibrations often vary depending on the cycle being operated, some front-load washing machines vibrate more when they spin. Handel of Reviewed.com has pointed out the following;
"To extract more water, the front loader's drum spins faster than a top loader's drum. And the front-loader's drum rotates on a horizontal axis, similar to a dryer, when vibrations occur, they're transferred to the floor. Vibrations aren't typically a problem on a concrete floor, but they can be on a wood-framed floor".
However, if your whirlpool front-load washing machine's noise is as loud as that of an airliner taking off, this problem may be due to a broken bearing, which may require you to engage the services of professionals, due to its complicated nature. If however, the issue is not that of broken bearing, ensure that your washer is properly fastened to the surface it seats.
Some of the best Whirlpool Front-load washers
It is common knowledge that one of the first brands people think about when it comes to washing machines is Whirlpool. The Whirlpool Corporation has been in business for decades now and they continue to be innovative in the new technologies they have added to their washing machine products. Oftentimes, consumers, especially those who aren't so tech-savvy have been puzzled with how to operate a whirlpool washing machine. They constantly complain about how to use a whirlpool washer and dryer even after they must have spent hours studying the whirlpool washer guide. All of these concerns have been catered for in recent whirlpool technologies and now, the control of your washing machines is as easy as a few taps on the screen on your phone. In this section, we will see some of the best Whirlpool Front-load washers.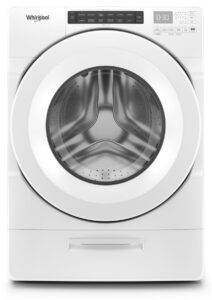 This 4.5ft. Capacity Whirlpool front loader is moderately sized and it gives you enough room to do more than a few baskets of clothing in a single load. Amongst its prettiest features is Whirlpool's Load & Go Dispenser, as explained in previous paragraphs, you don't need to add detergent to the machine every time you do a load as the dispenser holds enough detergent for up to 20 loads and dispenses it appropriately.  Another of its fascinating features is the energy-saving cold wash cycle that does extra cleaning on tough stains with cold water. The rest of its features, equally important are the pre-soak cycle, the quick wash cycle and the sanitize cycle, to mention but a few.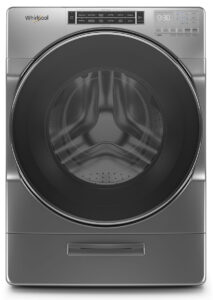 The WFW862CHC also has a lot of fascinating features just like its counterpart, and in our opinion, the machine's got some sick design. One may even call it one of the best Whirlpool washing machines to behold. It is a front-loader with 4.3ft. capacity and has an impressive 37 wash cycles and they include the following;
The load & Go Dispenser

The 12 hour Fan Fresh option ( keeps your clothes fresh for 12hrs after wash).

The wash and dry option.

The steam clean option

.
FAQs
How long does it take to Whirpool sanitize cycle work?
On Whirlpool washers, the Sanitize cycle eliminates 99.9% of common household bacteria by mixing detergent with an oxi additive.
How long does a spin cycle take on a Whirlpool front-load washing machine?
A washing machine's spin cycle routinely lasts at least three minutes. However, a washing machine's spin speed can vary by type and model.
Why are my clothes too wet after the spin cycle?
Overloading your washer can lead to an imbalance that reduces the washer's spin speed, leaving clothes too wet after the spin cycle completes.
How long does a whirlpool wash cycle take?
This varies according to washers but you can get small, lightly soiled loads clean in 15–40 minutes with a Quick Wash cycle. But a heavy-duty wash cycle take which helps handle heavily soiled items can take anywhere from 1 to just over 2 hours to wash heavily soiled items.
ESTIMATED TIME DESIGNING AND UPLOADING THIS ARTICLE
ESTIMATED TIME RESEARCHING AND WRITING THIS ARTICLE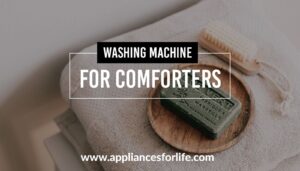 Top 4 Best Washing Machines for Comforters
Domestic washing machines are more robust than most people think. If you're looking for the best washing machines for comforters, we'll be reviewing the best washers for comforters in this article. Top 4 Best Washing Machines For Comforters Comparison Table Since they introduced residential and
Read More »