When shopping for any appliance for your kitchen you will realize that those appliances will have a major effect on the way you cook and the outcomes of cooking. It might be an oven, a fridge, a food processor, or even something as simple as a toaster. When you spend your hard-earned cash you want to get it right the first time and this is where we come in.
When choosing a gas cooktop it is important to understand how and what to choose to get the most out of your investment. You want to make sure that your purchase will last you as long as possible while offering all the features you need for the lowest price possible. There are many factors to consider when choosing a gas stovetop. Here is the rundown on what we think to be the things to look at when deciding what to buy and what we consider to be the best gas stove tops at the best prices yet.
All About the Heat
Let's be honest, when cooking the perfect meal, it is all about getting the heat right. To obtain such perfected cooking skills it all boils down to the heat you use. Understanding it is just as important as using it correctly. As an example, if chicken turns out to be too greasy then the underlying issue could be related to the heat output. Choose cooktops with heat output which is equal to 12,000 Btus. The average cooktop usually produces 6,000 to 10,000 which is an essential factor when cooking food.
The cooktops grate also plays an important role when perfecting food. The way the heat is distributed and released is also vital. Gas ranges and gas stovetops are chosen by the professionals because of the perfected heat distribution it provides and also because of the Btus units it produces. Instant heat regulation is possible and you can expand on your simmering options with gas stovetops. Gas is also inexpensive and is clean burning which is a plus. Read on to find out what we believe are the best gas stovetops of 2022!
Comparison Table of the Best Gas Cooktops
| Image | | | | | |
| --- | --- | --- | --- | --- | --- |
| Name | Bosch NGM8056UC 800 Series 30-inch Natural Gas Cooktop | Frigidaire Professional FPGC3677RS 36-inch Natural Gas Cooktop | Bertazzoni CB486GOOX 48-inch Professional Series Stainless Steel Gas Cooktop | Bertazzoni PROF365CTXV Professional Series 36-inch Natural Gas Cooktop | GE JGP5030SLSS 30-inch Natural Gas Cooktop |
| Manufacturer | Bosch | Frigidaire | Bertazzoni | Bertazzoni | General Electronics |
| Color | Stainless Steel | Stainless Steel | Stainless Steel | Stainless Steel | Stainless Steel |
| Number of Burners | 5 | 5 | 6 | 5 | 5 |
| Highest Burner Output | 19,000 BTU | 18,200 BTU | 19,000 BTU | 17,000 BTU | 15,000 BTU |
| Weight | 37 lbs | 60 lbs | 112.5 lbs | 46.5 lbs | 50 lbs |
| Style | Sealed Burner | Sealed Burner | Sealed Burner | Sealed Burner | Sealed Burner |
| Gas Type | Natural Gas | Gas | Gas | Gas | Natural Gas |
| Special Feature | Electronic Re-ignition | PrecisionPro Controls | One-hand Ignition | Simmer Ring | Edge-to-edge Grates |
| | | | | | |
Our Top Choices For the Best Gas Cooktops 2022
1.

Bosch NGM8056UC 800 Series 30-inch Natural Gas Cooktop
This gas cooktop by Bosch is on the top of our list because it is a professional appliance at a reasonable price, making it one of the best 30-inch gas cooktops in 2022. It features five sealed burners, a 19,000 BTU Tri-Ring Burner, a precise simmer burner, heavy cast grates, and a child lock. We love the heavy cast grates because they stop pots and pans from sliding and spilling. Tried and tested the child lock isn't something else to pass up. Apart from these amazing features, we chose this at the top of our list because it is super easy to clean and overall delivers an optimum experience when cooking and delivers profound results which can't be compared with. To make it safe they have designed little lights that stay on when the gas is left on as well. Expensive but well worth the investment is what customers have to say about this gas cooktop.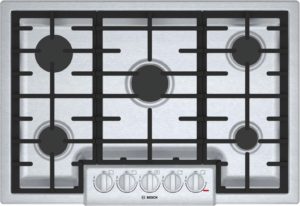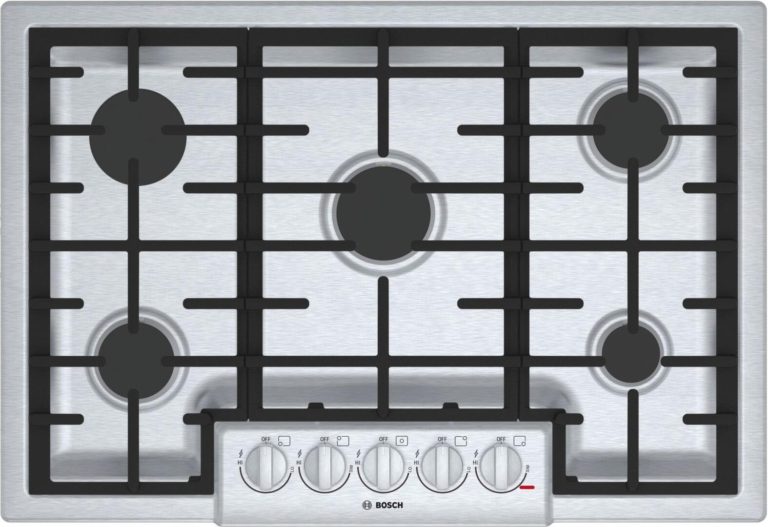 FEATURES
OPTISIM BURNER
This gas cooktop by Bosch features a special burner that's meant for simmering your most delicate sauces and melting your chocolate with just the right amount of heat, without scorching.
HEAVY DUTY BLACK METAL KNOBS
With safety in mind, Bosch has found a way to make the knobs featured on this cooktop not as tender as it used to be years back where you wouldn't need to add pressure before you push the knobs. With this cooktop, you'll have to add a little bit of pressure to the knob before igniting the number, which makes the cooktop unusable to anyone who might not be safe to operate it.
ELECTRONIC RE-IGNITION
You do not have to bother about whether the flame will go off because this cooktop features an electronic re-ignition that puts the fire back on when it goes off.
OTHER FEATURES
Sealed burners

Continuous grates

Stainless steel material

LP conversion kit
2.

Frigidaire Professional FPGC3677RS 36-inch Natural Gas Cooktop
Coming down the stepladder as far as prices are concerned this is our second best, a reliable option which we believe deserves a second place on our list of gas cooktops. You can't go wrong when purchasing this one because it is an 18,200 BTU burner with yet again five sealed burners. The cooktop has been made with cast iron grates and heavy-duty metal knobs which make it a very long-lasting option. Other cooktops which have plastic knobs have been known to break easily and require replacements on a regular basis so we are all for the metal knobs on cooktops! Solid and very powerful, we believe Frigidaire has got it right with this product. The deeply recessed cooktop is made to catch any spills and is super easy to wipe down when this occurs. Frigidaire's customer service lines are incredibly helpful and efficient. We give a thumbs up for this one.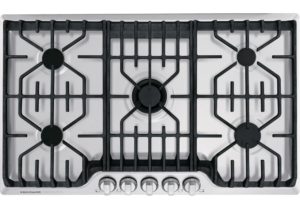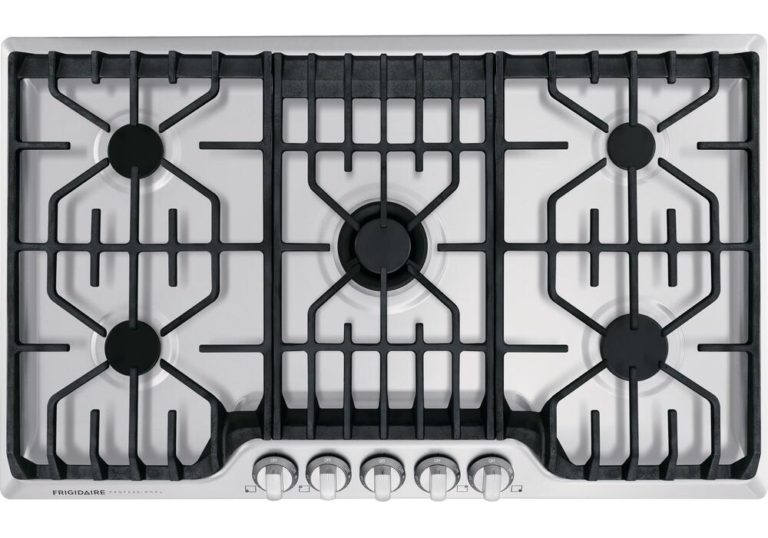 FEATURES
STRONG CONTINUOUS GRATES
With grates that are as strong as these, you can confidently cook as many dishes as possible on your cooktop. Also, you can conveniently move your pots and pans from one burner to the other.
PRECISION PRO CONTROLS
This cooktop offers you a range of precision controls to simmer, saute, sear, and boil without stress.
OTHER FEATURES
Stainless Steel Cooktop

Powerplus burner

Sealed burners

Strong griddle
3.
Bertazzoni CB486GOOX 48-inch Professional Series Stainless Steel Gas Cooktop
The third option on the costlier end of the market is this Bertazzoni range which is actually imported from Italy – some of the best cooks in the world come from there don't forget! They have manufactured several different types of gas cooktops with this one having the best reviews yet. It has flameout protection, one-hand ignition, and has a stainless steel panel which makes it easy for cleaning. This model offers a wide range of cooking options like simmer and boil which means you can get the best out of cooking. We have chosen this as a favorite because it fits within any family's budget and holds true to its claims.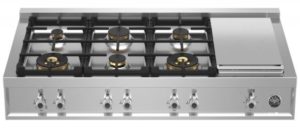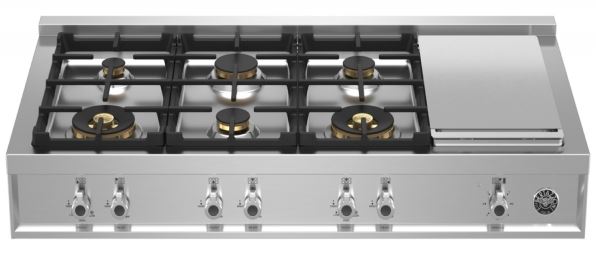 FEATURES
STAINLESS STEEL GRIDDLE
Not every brand can boast of packing their cooktops with a griddle let alone one made with stainless steel. However, Empava wouldn't be remembered as one of those brands as they have packed this cooktop with a strong stainless steel griddle which pairs up with stainless steel handles to help produce about 15,000 BTU of cooking power.
SOLID CAST IRON GRILL LAYOUT
The cooktop features an equally strong commercial-grade cast iron grid layout that gives you more than enough space between the burners so you can use different pots at once without any disturbance.
AUTOMATIC RE-IGNITION
Your cooktop features an automatic re-ignition that lights up the burner if one of the burners goes off.
OTHER FEATURES
Zinc alloy control knobs with LED lights

Heavy duty rangetop

Effortless maintenance

Precision cooking
4.
Bertazzoni PROF36500CTXV Professional Series 36-inch Natural Gas Cooktop
Coming down fourth on our list although slightly higher in the price range we have chosen Bertazzoni for our next gas cooktop. This company has evolved as a greater force in the industry over the years and this cooktop is featured on this list because we believe that they have produced a simple, sleek, elegant and efficient gas cooktop at a fraction of the price of a professional one.
This stylish gas stovetop has continuous cast iron grates which give an expensive look to it and will fit in with any kitchen interior. Its stainless steel finish is easy to clean and although it is an average size it is still big enough to fit all your pots and pans on at once given they aren't huge. This model also performs beautifully but as a newer model with more upgrades it is a little more expensive than the other 30 inch variant. These features rank it as one of the best 36-inch gas cooktops in 2022.


FEATURES
ONE-TOUCH IGNITION
The cooktop features a child safety ignition system that just allows you to ignite and adjust your burners with one hand.
THERMOCOUPLE SAFETY SYSTEM
Bertazzoni is quite known for always packing their products with safety features, and this cooktop is not an exception. There's a thermocouple safety system in this cooktop that automatically cuts off the gas flow in case there's a flame outbreak. This will go a long way to prevent a potential fire outbreak in the house.
DUAL ZONE BURNER
This is one of Bertazzoni's exclusive and the fact that customers rave about it shows how much it's loved out there. This dual-zone burner delivers an amazing and efficient performance from very low simmer to full power with a great heat-up time.
OTHER FEATURES
Great design

Cast iron grates

Brass burners

Metal knobs

Sealed cooktop burners
5.
GE JGP5030SLSS 30-inch Natural Gas Cooktop
General Electronics is one of America's greatest appliances powerhouses, and evidently, we can see that in the way their products have become very popular in the market over the years. This JGP5030SLSS natural gas cooktop is one of the top-rated gas cooktops in 2022 that come with a host of amazing features like a recessed enameled cooktop, strong dishwasher safe grates, power boil, and precise simmer among many others. Do you need to break the bank to own one? You're most likely not to. The cooktop is just priced a little above the $900 mark and with the host of features that comes along with it, people are going to find it worthy of the price tag. Let's take a look at some of its features;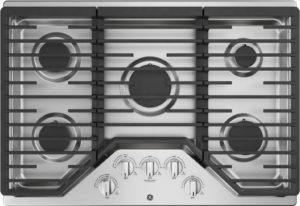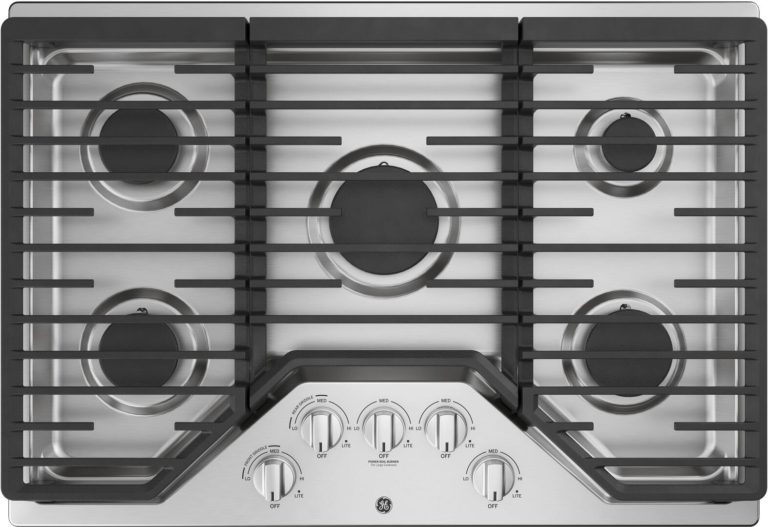 FEATURES
EDGE-TO-EDGE GRATES
This cooktop features heavy cast edge-to-edge cast-iron grates that aid the easy movement of pans between the burners.
PRECISE SIMMER BURNER
If the need to prepare delicate foods arises, you should just turn to this simmer burner that operates on low and even heat.
OTHER FEATURES
Power boil burner

Dishwasher safe grates

Max burner system
FREQUENTLY ASKED QUESTIONS
Why do people prefer gas cooktops to electric cooktops?
This might be due to different reasons but technically, gas cooktops heat up faster than electric cooktops and the way the gas flames operate in gas cooktops is different from electric cooktops. The gas flame sometimes works better on cookware with a bottom that is not completely flat.
When can gas cooktops be unsafe to use?
The gas cooktops in production now are mostly safe to use because they come with amazing safety features. However, if they are not properly installed or maintained, it could lead to occasional gas leaks which is not in any way healthy to your health and the environment at large.
Is it safe to light my gas stove with a lighter?
The modern gas cooktops come with igniters of their own and using a lighter might not be necessary. However, if they get broken, the safest option is to use matches instead of lighters.
How to Choose the Right One For Me?
After reading you are now probably wondering how to choose the right cooktop for you. If you do a lot of cooking and you are thinking about creating professional gourmet meals then you would probably want to go for one of the expensive options like GE Cafe or Bosch.
They provide you with excellence, simplicity, and all the right settings you need when cooking. Although more expensive they are safe and easy to use as well. If you are looking for something on the less expensive side but one which still has all the features as the professional ones then go for the Empava. Make sure you understand the differences when choosing and make sure you get one that is the right size for your kitchen. You might not have enough space for a thirty-six inch but a thirty-inch might be too small so always consider size when purchasing. It is not important about purchasing a product with a name that is known but it is about purchasing the right cooktop for you and your family. Think about budget, size, features, style, and of course safety. An oven is the one thing which will pierce your kitchen together so make the right choice and choose an elegant oven from our list of top choices and you won't be disappointed.
Top 3 Most Affordable 36-inch Gas Ranges
The best gas ranges come at a cost, but on a market filled with so many options, getting your hands on affordable options might not be all that easy. In this article, we're going to be looking at some of the most affordable 36-inch gas
Read More »