The washing machine has become arguably the most important appliance in history because of its vital role around the house, but that's not the only thing people love about it. Since the beginning of civilization, people have been looking for ways to make life generally easier, and that means inventing devices and machines that would help lift some pressure off their shoulders. They've succeeded just in doing that, and fast forward to the 21st century; people now have the best of everything civilization has to offer, with the forefront of those achievements being technology, which now plays a huge role in human existence and survival.
It's amazing how much improvements have been made in the appliances department/industry in the world today; most kids growing up today can't even phantom the time when people had no washing machines or the refrigerator or the dishwashing machine; they can't imagine a world without these things because they were born into it and are living as if these machines were part of their lives, which is technically true. We now have access to the best of everything, smart refrigerators, Wi-Fi-controlled air conditioners, modern cooking ranges, and many more, and give machines give us the comfort we have always wanted for so many years.
If you've ever been to your grandparents' house who don't think it's a great idea to part ways with some of their old, traditional appliances, you'll have a sneak peek of what life back then might have been, especially if some of these appliances are still functional.
Hans Rosling, a popular global health professor at Karolinska Institutet, Sweden, has claimed severally that the washing machine might be the "greatest invention of the industrial revolution," as headlined in an article written by Christina Sterbenz for Business Insider. In one of his many TED talks, Hans said he was only four years old when he first saw a washing machine, and that was when his mother was loading it up – it was a great day for his mum, he claimed.
To have a washing machine back in the late middle and late '90s, you must have a lot of money, not just to purchase the washing machine, which manufacturers understandably slammed with an outrageous price tag, but to also run the machine that consumed a lot of power and water.
Even as of 2014, 5 billion people from the world's population heated water and washed their clothes by hand, which, at the time, didn't mean that some of these people didn't have washing machines, but the cost of running these washers was high, and as a result, people took their easiest routes.
The growing energy concerns were a major factor in people's decision to boycott the washing machine, especially in the United States where the top loaders were very popular before the intervention of the government to introduce the European-style front-loading washing machines into the U.S. washing machine market, a move that would prove to be one of the best the government ever made. According to the information provided by the Statista Research Department, the global washing machine and dryer market value stood at a whopping $58.7 billion in 2020, further highlighting how much improvements have been made over the past few years in the industry.
With the washing machine gaining more prominence in the appliance industry now, all eyes have been on these machine manufacturers to step up their game, and they've duly delivered, doing beyond people's expectations in the process. Samsung has always been a major driving force behind the general appliance industry, and the giant South Korean manufacturer has achieved all there is to be achieved, bagging awards in different countries, becoming arguably the greatest appliance manufacturer of all time in the process.
Samsung washing machines are everywhere worldwide, with the company itself having about 287,439 employees worldwide in 2017, although the arm of the company that produces household appliances is also responsible for automation, medical devices, electronics, computer hardware, semiconductors, and many more.
According to a Wikipedia post, Samsung has excelled in every part since the start of the decade, becoming the world's largest manufacturer of smartphones and mobile phones, overtaking Apple in 2011, with the brand's Galaxy Series taking over the world. Suppose you add this feat to also being the world's largest television and memory chip manufacturer. In that case, you have a brand that will be very hard for competitors to knock off the perch, especially when you also take into account the fact that the brand operates out of 74 countries with thousands of employees to go with that status. A brand of Samsung's class cannot afford to be complacent in an industry with strong competition, so we're not surprised that the brand takes nothing for granted despite the huge successes achieved in the past few years.
Let's say you have a Samsung top load washer that is so strong and reliable that it never breaks down since you've bought it. Take such a machine for granted. You will eventually have to pay the price because maintaining a strong and reliable washing machine will only make the machine stronger and more reliable.
Most people don't understand this concept, so they don't pay much attention to cleaning or maintenance. They're forced to make some uncomfortable moves like running the machine when it's not energy-efficient, meaning they have to pay more than they're supposed to by just running the machine.
As a result, topics like How to clean Samsung top load washers, Samsung washing machine cleaner, and Samsung front load washer cleaning tools have all because very popular over the past few months because people want to get to the root of things solve the problem they've been facing for many years now.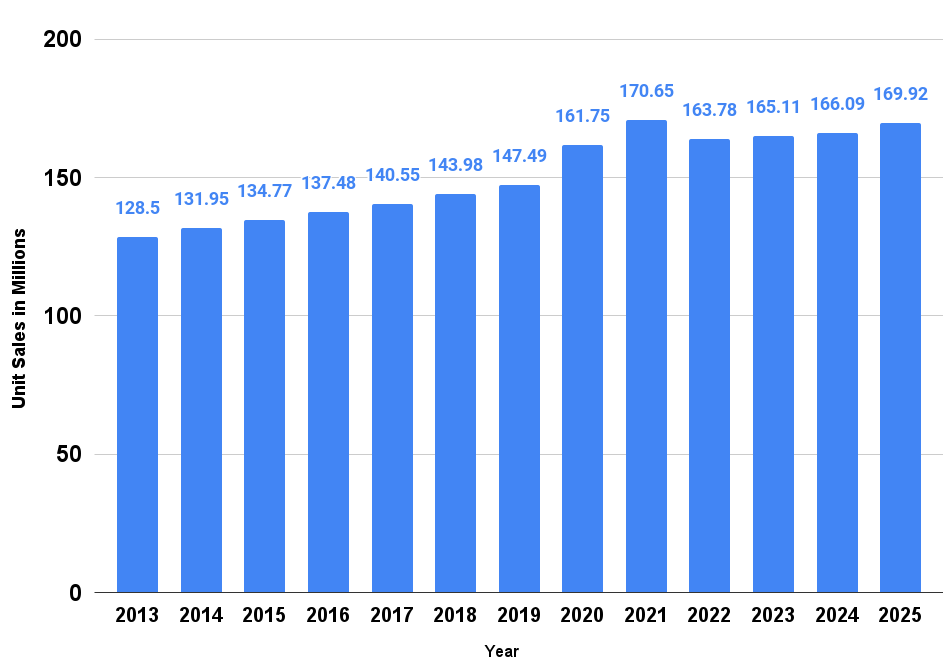 The washing machine is gaining more prominence globally, and that's because people are beginning to embrace all the good things that come with them, such as comfort, ease, and convenience. This chart shows the global unit sales of washing machines and dryers from 2013 to 2015, and it was created using the information provided by the Statista Research Department. The numbers are expected to hit a whopping 170 million units by 2025. While that may not be huge progress from what manufacturers are currently selling in 2022 (163.78 million as predicted), it is still considerable progress. The numbers are even going to hit new heights in the coming years.
However, if you compare the progress made from 2013 to 2021, you'll realize how much effort these washing machine and dryer manufacturers have created within this period, and Samsung has been a big part of that progress. In 2013, 128.55 million washing machines and dryers were sold, and it was forward progression through 2021, with the numbers being set at 131.95 million, 134.77 million, 137.48 million, 140.55 million, 143.98 million, 147.49 million, 161.75 million, and 170.65 million in 2014, 2015, 2016, 2017, 2018, 2019, 2020, and 2021 respectively. Despite the coronavirus outbreak hitting globally in 2020, the year remains the most successful year in sales of washing machines and dryers as whopping 170.65 million washers, and dryers were sold in a single year.
Why Samsung Washers?
We all know Samsung is one of the best appliance brands in the world today, but the brand didn't get to point by just being "Samsung," and that's a fact we all know; if it were that easy, many brands would have made it by just being a household name. A brand could have only survived these many years and heavy competition from other brands by simply putting out quality appliances, something Samsung has excelled in doing over the past few years. With the brand's washing machines being regarded as some of the best on the market, we look at why its washers are very popular, so if you're looking to get a Samsung washer, you might need these reasons to serve as a nudge.
Samsung is popular
This may sound absurd, but some people are blindly loyal to a brand that they don't care whether or not they're making the right decision by investing in the brand's product, but they'll do it anyway because it's a well-known brand that they believe has a reputation to protect. Someone stuck on Samsung all their life may continue to invest in Samsung products even if they've had one or two rough experiences with Samsung products. This is because it's hard to get out of your comfort zone, so if you've been using Samsung products all your life, it may be hard to switch to GE or LG.
Even if you're buying a washing machine for the first time, you may be tempted to invest in a Samsung washing machine because the brand is simply one of the most popular appliance brands in the world, and, again, it has a reputation to protect. It's a no-brainer; a brand as reputable as Samsung has a very high power play – almost every information you see about the brand online is in its favor. Even if you're doing some research to back up your sentiment, you might still choose Samsung over other brands. We're not saying that it's enough to invest in a brand just because it's popular. However, it does also matter, so you shouldn't forget to consider it when deciding.
Samsung washers are energy-efficient
Samsung has a separate subsidiary for energy, so it's not a surprise that the brand's products are known to be energy-efficient because the brand understands what it means for people to have these kinds of machines/appliances at their disposal. Most modern washing machines are energy-efficient, but Samsung has a unique way of saving you money on running your Samsung machine. Samsung washing machines are built with many energy-saving features that allow you to save power and water, which will lessen the burden on your utility bills at the end of the month.
If you have a washing machine that is not energy-efficient, you'll end up spending a lot of money on running costs because the washer won't stop consuming more than it should in terms of water and power. Washing machine consumers are big on energy efficiency these days, so manufacturers are aware that they have to produce energy-efficient washers to continue to have a place in their consumers' hearts. The thing about this industry is your competitors are always ready to exploit any mistake you commit, so as a top manufacturer if you're not incorporating energy-saving features in your washers, your competitors will, and it's only a matter of time before you start losing your customers.
Other reasons include;
They're durable

They're packed with the latest features that make doing laundry easier and more convenient.

They offer the best care for delicate fabrics.

Samsung washing machines are easy to operate, but they're also very easy to repair, so you shouldn't be scared if you have to make one or two fixes.

Samsung washing machines come with the best safety features that guarantee the safety of you and your family.
Mold in Samsung Washer – How Do I Clean It?
When mold starts growing in your washing machine or your Samsung washer, it's definitely because of moisture or another residue like additives and leftover detergent that has been trapped in the washing machine. If you clean your washing machine regularly, you may never have to deal with visible mold or mildew. However, if you find yourself in that situation, there are easy steps to eliminate it.
Step 1
Once you start noticing mold and mildew in your washing machine, it's always very great if you take action as soon as possible. The first step is to run a Spin-only cycle, but before you do that, make sure the washer tub is empty and there's no water in the tub.
Step 2
As soon as the Spin-only cycle ends, add some chlorine bleach into the detergent dispenser and ensure the compartment is filled to the maximum line.
Step 3
Once you have the chlorine bleach in the washer, you can begin the Self Clean process by choosing the Self Clean, Self Clean+, or Pure Cycle. A general rule of thumb for Samsung washing machine users is never to run these cycles with loads in the washer tub because it can damage both the washer and whatever you have. Depending on the model you're using, the time can vary, but it shouldn't exceed approximately 4 hours for front load washers and 1 hour for their top-load counterparts.
Step 4
Once the Self Clean cycle is over, you may have some residue in the tub. For some reason, you can't leave the rubble in the tub, so you can either run a quick rinse cycle or get paper towels to wipe clean the rubble in the tub manually. You should ensure no visible mold residue in the washing machine tub before moving on from this step.
Step 5
Allowing the inside of the washer to dry is very important, so you must open the door, allowing fresh air into the washer so it can dry very quickly. You should also leave the detergent drawer open because mold can grow in it.
Step 6
If you're using a front load washer, you may have to check the pump filter for cleaning because it can also affect your washer's efficiency. You will find the pump filter behind a panel near the bottom of the washer. You can check a detailed guide by Samsung on how to properly clean the pump filter here.
Frequently Asked Questions
1. Samsung washer maintenance: what can I do to ensure my washing machine is properly maintained?
Maintaining your washing machine has to be one of your top priorities because it ensures that the machine continues to operate at the highest level possible for a long time. Maintenance includes routine checks and regular cleaning. You should clean your washing machine at least once a month.
2. What is the self-clean option on Samsung washers?
If you have a modern Samsung washer, you may be lucky to have the Self-Clean feature on the washer. The unique cycle helps eliminate residue and dirt in your washing machine tub by soaking the tub in water before spinning at high speeds to get rid of the mold, dirt, and deposition and rinses it away afterward.
Conclusion
Samsung remains one of the best washing machine brands in the industry, and it's showing no signs of slowing down as it continues to be ranked one of the best tech brands in the world. While Samsung washing machines are very strong and reliable, you can't bank on that and use it as an excuse not to fulfill your obligations to your investment in the washing machine. Cleaning your washing machine always comes in handy as it ensures longevity and efficiency at the highest level. We have highlighted some steps involved in cleaning your Samsung washer. If you've always wanted to know how to clean a Samsung washer, we hope we've helped solve the mystery for you.
ESTIMATED TIME DESIGNING AND UPLOADING THIS ARTICLE
ESTIMATED TIME RESEARCHING AND WRITING THIS ARTICLE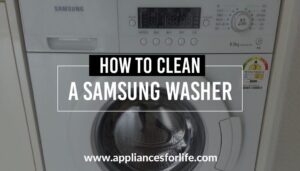 How To Clean a Samsung Washing Machine
Without mincing words, Samsung is one of the best appliance manufacturers of all time, and that's a feat the brand has dearly protected in all its years of providing excellent products and services for its consumers. This article is all about how to clean a
Read More »