The global appliances industry has witnessed some mouth-watering popularity, successes, and attention from other related industries because the top manufacturers are doing all they can to keep the industry relevant, drawing envy from other industries across the globe. Every household in the world now gets judged by the number of life-changing, age-defining appliances and gadgets they have, which is not abnormal, considering we now live in a world where the tech space is hyped up as ever and people are always looking for new ways to improve their lives.
It's safe to say that the appliances industry has had a big role to play in that huge development as some of these appliances have greatly helped us improve our lives and also changed our approaches to some things.
The information shared by Global News Wire in a recent press release about the global home appliance market shows that the current value of the home appliance market currently stands at $217910 million in 2022 and is expected to hit $282150 million by 2028 with a CAGR (compound annual growth rate) of 4.44% within this period. The same report shows that some of the major players pulling all the strings in the market include LG, Samsung, HiSense, Electrolux, Midea, Panasonic, GE, Whirlpool, Sony, and many more. For GE to be named among the powerhouses in the appliances industry shows how much the brand has achieved since 1892, with the co-founder being one of the best inventors the world will ever see, Thomas Edison, the inventor of the light bulb.
With the washing machine gaining more prominence in the 21st century, it's not a surprise that some of the biggest appliance manufacturers in the world are looking for new ways to design their washers to make them more appealing to their customers, something they've succeeded in doing.
The ownership rates of the washing machine in every part of the world is going off the roof, with Italy boasting an all-time high ownership rate of 97%, the best in the world, although we can say it's because the country is not as populous as other world powerhouses like the United States, the United Kingdom, China, and South Korea. The GE brand, just like every other top brand like Samsung, Frigidaire, and LG, has had a big part to play in making the washing machine one of the most popular household appliances in the world today.
The washing machine has always been an important part of every home, especially in a world where people are constantly looking for ways to make life easier and more convenient, which the washing machine can seamlessly offer. When the first domestic automatic washing machine was introduced, people knew just how helpful the machine would be, but not everyone had the financial prowess to have a washing machine in their home, so many people continued to wash with their hands despite the difficulty attached to handwashing. According to Designer Appliances, the GE brand invests a lot of money in new technologies that add more value to their washers and consumers benefit greatly from it, and that's why they remain one of the best in the industry at the moment.
It's always good when a brand knows how to win their consumers' hearts over and over, which is something GE has done so well in the past few years, gaining people's trust and making them feel very comfortable in GE products. Just 2 years ago, LG made a smart move to get ahead of the competition with the release of new UltraFresh washing machines that have a special venting system that helps get rid of oils and moisture build-up in the door gasket, something that is very common with front load washing machines. Customer reviews have proven that this new technology works, and that's one thing people love about the GE brand; always looking for how to make life easier for its customers.
With numerous GE washing machines to choose from, it can be overwhelming when you're tasked with choosing the perfect one for your laundry room, which is why you need to always have a guide that will help you make the best choice; we're going to be discussing these factors later. Since people don't often fully explore everything their washing machines have to offer, having a GE washer guide, GE washer directions, or GE washer instructions will always help you explore the many options and features your GE washing machine has to offer. Another thing you can trust GE with is that the brand makes reliable and affordable washers without unnecessary whistles, so you can be very confident of getting a quality washing machine when you're purchasing a GE-made washer.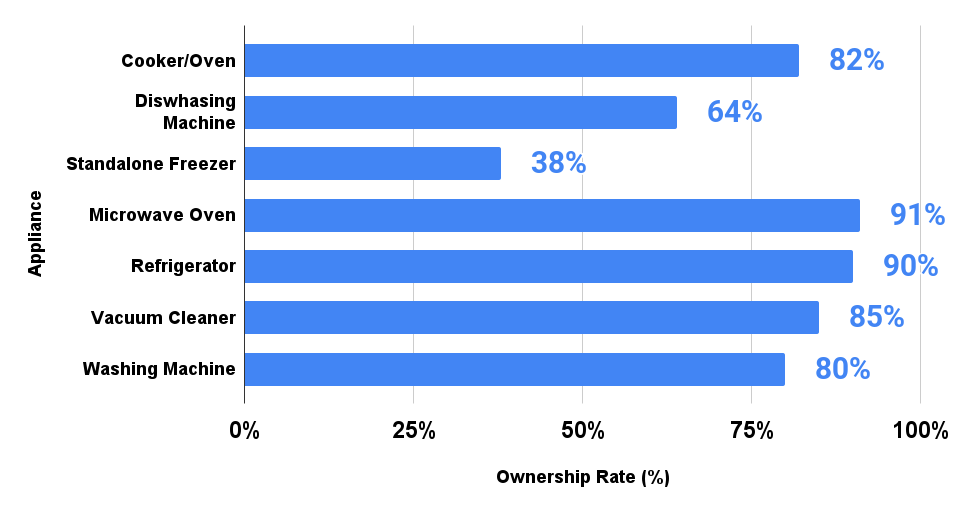 This is a chart that shows the ownership rates of major household appliances (cooker/oven, dishwashing machine, standalone freezer, microwave oven, refrigerator, vacuum cleaner, washing machine) in the United States in 2021, and it was created using the information provided by Statista's Justina Alexandra Sava. The microwave oven had the highest ownership rate in the United States in 2021 with 91%, which means that 91% of the households in the United States owned the microwave oven in 2021, a figure that would have increased further this year.
Refrigerators took the second spot with an ownership rate of 90%, which further proves how much the refrigerator is appreciated in the United States because that's one of the highest ownership rates for any appliance in the world at the moment. Vacuum cleaners took the third spot with an ownership rate of 85%, followed by the washing machine, which surprisingly had an ownership rate of 80%, making it the fifth most popular major household appliance in the United States, behind cooker/oven, which had an ownership rate of 82% in 2021. Dishwashing machines and standalone freezers occupy the last two spots with ownership rates of 64% and 38% in 2021, making them the least popular household appliances in the United States within that period.
Why Do People Choose GE Washing Machines?
The GE brand is one of the oldest appliances companies in the world, but that's not enough to be ranked as one of the best, which only shows that the GE brand has been doing a great job, especially in the past few years. The company was founded by Thomas Edison to market his incandescent lamp with several other people, but the company has now grown to one of the "largest and most diversified corporations in the world" as described by Britannica. Headquartered in Boston, GE has become a powerhouse in the American appliance market, and this has extended to the rest of the world as the company understands just how to produce what its consumers would find very appealing, which is why it has managed to stay relevant in an industry that remains very competitive.
Choosing a GE washing machine is a no-brainer for some people because they know how much quality they're putting their money on even without being told or reading reviews. It means they've trusted the GE brand for a long time and would buy anything that has "GE" on its body. The question remains; why do these people trust the GE brand so much? What is the GE brand doing better than other brands? Let's find answers to these questions below.
They are Energy-efficient
If there's anything we've confirmed and love about GE washing machines, it's the energy efficiency; a sentiment that has been shared by many people across the United States over the past few years. Experts have always recommended that if you want to save some money on electric and gas bills, getting a GE washing machine would be the perfect way to do that because GE washing machines are energy-efficient and are Energy Star qualified. For a machine to be Energy Star qualified, it must have exceeded the minimum standards set by the government to help cut down energy use and conserve natural resources.
GE has even taken energy efficiency to a different level by including a custom setting in its top load washers called the Deep Fill, a feature that allows you to set how much water you want your machine to consume for a wash cycle. This way, you're in control of the water consumption, and since the washer is saving a lot of power itself, you can only imagine how much money you're saving in the process. GE washers are known to be very energy-efficient, so if you're purchasing a GE washer or you recently got one, you shouldn't worry about the washer consuming too much power, especially when it's one of the latest GE washers.
Unrivaled Cleaning Performance
Another thing GE washing machines are very popular for is that they have an unrivaled cleaning performance, thanks to the many unique features and settings that help boost cleaning performance, some of which you may have encountered before. Take for example the Steam feature – it helps combat tough stains by penetrating straight into the fibers than when you use detergent and water alone to try to get rid of stains. This steam feature lets you get rid of odors, tough stains, and ground-in dirt without being tough on your clothes. However, this option doesn't come with all GE washers, so if you want it, you have to explore the necessary information about the washers that have it before you make the big decision.
With your GE washer, you can also get a Stain Removal Guide if you ever spill red wine or anything on your beautiful dress. This will guide you through how to modify the available cycles on the washing machine to help you get rid of whatever stains you have on your dress, including grass, red wine, and dirt. If you are lucky to get your hands on one of GE's high-end washers, you'll also get the chance to pretreat your clothes before they go in the washer. The setting dispenses water mixed with detergent at a certain temperature in a bid to efficiently combat tough stains even before the wash cycle begins.
Quiet Operations
If you're looking to invest in a quiet washer that won't disturb the household, GE makes some of the quietest washing machines in the industry at the moment, another reason why the brand's global popularity is skyrocketing! Generally, top load washers are not as quiet as front load washers, so that is an important factor to consider when you're stuck between those two washer types. GE top-loading washing machines can spin up to 1400 RPM, which means that they have very high spin speeds, which is super amazing because they save you some drying time. To make up for the noise that may be produced with such high spin speeds, GE has included standard adjustable legs and a special vibration control system to their front load washers.
GE also has a special feature called Dynamic Balancing Technology, a unique feature that senses unbalanced loads before, ensures it's balanced before accelerating the spin speeds. With this feature, GE has taken the game to a different level as consumers can now feel very safe when investing in washing machines because they know these washers won't vibrate aggressively or make disturbing noises that are loud enough to unsettle everyone around the house.
Getting your hands on the quietest washers and dryers can be hard as you'll have to filter through a lot of options to get the ones you think are ideal for your laundry room. Well, we have a detailed review of the quietest washers and dryers you can get your hands on in the market at the moment. You can explore them here.
What Does Deep Fill Mean on GE washers?
The Deep Fill option is one of the most appreciated features on every GE washer that has it, and its job is to help add some additional water to the wash load regardless of the initial method you've used in filling the washer at the beginning of the cycle (manual or load-sensing fill). While this option is not for normal everyday use, it works well with special caseloads. According to GE Appliances, the Deep Fill can be used in two ways.
Firstly, it adds a little more water to what you already have in your tub. To do this, you should press the Deep Fill button once before you start the cycle as it will help add 3 gallons of water to the wash load. Once the washer stops, you can repeat the process to add 3 more gallons of water. This means that this process only allows you to add 3 gallons of water at a time
The second way is the full tub fill. You can use this by pressing and holding the Deep Fill button for about 3 seconds to fill the washer tub to the maximum level. The Deep Fill option can fill your washer tub with approximately 26 gallons of water, except on some portable models that don't have large washer tubs. Still, you can still fill the washer tub with approximately 20 gallons of water.
The GE washer Deep Fill option is such an important part of every GE washer that has it, and that's why we've seen topics like "when to use deep fill on washer" have carried some extra importance over the past few years because people know just how great this option is. If you're going to be using the Deep Fill option in your GE washing machine, below are some important things you need to note;
Any time you activate this feature, the Deep Fill LED light will come on; it doesn't matter if it was held for 3 seconds for a full deep fill or a one-time press for 3 gallons of water. Even after the selected fill is complete, the light will stay on to indicate that the feature was used.

If you're using the Deep Fill option, the washing machine lid must be down, otherwise, it won't work.

It is important to know that the Deep Fill option can be used any time before the end of the wash cycle. This means that the water level can be increased at any time.
Frequently Asked Questions
1. GE washer Deep Filling not working; what can I do?
If there's an issue with your GE washer's Deep Filling option, it might be the right time to involve a technician because it might indicate some problems related to the water source, which have to be looked at by an expert.
2. How do I use a GE top load washer?
Knowing how to use GE top load washing machines will help you save a lot of time. One of the most important tips you can get is for you to only load dry items loosely in the washer tub for the best results.
Wrapping Up
GE broke into the global appliances market a long time ago and is showing no signs of slowing down. GE washing machines are some of the best you can get on the market, which is why the topic "how to use GE washing machines" is an exciting one for GE washing machine users. In this article, we've discussed a few pointers such as why people opt for GE washers and how GE's special Deep Fill option can be put to good use.
ESTIMATED TIME DESIGNING AND UPLOADING THIS ARTICLE
ESTIMATED TIME RESEARCHING AND WRITING THIS ARTICLE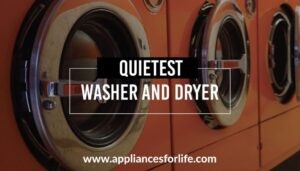 Top 5 Quietest Washers and Dryers
The washing machine is one of the essential appliances around the house. However, people have had issues with vibration and noise over the years. This article will be looking at the quietest washers and dryers available.   Top 5 Quietest Washers and Dryers Comparison Table
Read More »