Not many people know that brown rice has huge health benefits. Most people think of rice as a carb which fills you up and makes for an easy meal. If you think that then think again because brown rice is known to reduce the risk of common illnesses like cancer, heart disease and arthritis because it is high in selenium. Brown rice is also rich in manganese which helps our nervous and reproductive system. It is also high in fiber and rich in antioxidants. Brown rice also makes for a great baby food too. Check out some tasty recipes which you can make with brown rice and even recipes which can be done in the pressure cooker. Mix it up with one of your corned beef pressure cooker recipes and you will have a tasty meal which will keep you going. Don't forget that cooking brown rice in the pressure cooker will significantly reduce your cooking time.
How to Cook Brown Rice in the Pressure Cooker
Ingredients:
4 cups water

2 cups long brown rice

4 chicken bouillon cubes

3 dashes Mrs. Dash seasoning mix, original

3 tablespoons butter

Pepper
Directions:
Add oil to your pressure cooker, and fill it with your ingredients.

Once your pressure is set to the required amount, set your timer to about fifteen minutes.

Once this time elapses, the pressure will go down on its own but keep the lid locked until it's safe enough to be opened.
If you want to try something with some meat then have a go and this healthy and tasty recipe.
Ingredients:
2 chicken breasts, diced, uncooked

1 T. Extra Virgin Olive Oil

2 T. smoked paprika

2 T. Tuscan sunset

4 cups Vegetable Stock (can use chicken stock)

28 oz. can crushed fire roasted tomatoes

3 cups long grain brown rice, uncooked

1 cup corn, frozen
Directions:
After turning your pressure cooker on, set it to high heat.

Fill your cooker up with the chicken and oil, then begin the browning process.

Add your seasoning to the chicken and cook for a couple of minutes.

In case you have more ingredients, now is the right time to add them to your already-seasoned chicken and stir.

Lock the lid and cook for about 20 minutes.
Our Chosen Pressure Cookers
If you don't have a pressure cooker then it is a neat idea to get one. They really reduce the cooking time and provide a clean and efficient way to cook literally everything and anything! There are so many sizes, designs and types to choose from it can be a bit overwhelming so have a look at the top rated pressure cookers on the market today and what they feature.
The Best Pressure Cookers for your next Pressure Cooker Hunting
| Image | | | | | |
| --- | --- | --- | --- | --- | --- |
| Name | Cuisinart CPC600N1 6-Quart Electric Pressure Cooker | Presto 01370 8-Quart Stainless Steel Pressure Cooker | Cuisinart CPC900 6-Quart 1000 Watt Electric Pressure Cooker (Stainless Steel) | Salton PC1048 Multipot 5-in-1 Pressure Cooker in Stainless Steel | Presto 01341 4-Quart Stainless Steel Pressure Cooker |
| Manufacturer | Cuisinart | Presto | Cuisinart | Salton | Presto |
| Color | Black & Stainless Steel | Black & Stainless Steel | Stainless Steel | Stainless Steel | Stainless Steel |
| Weight | 14 lbs | 10.35 lbs | 14 lbs | 12.50 lbs | 14.02 lbs |
| Installation Type | Countertop | Countertop | Countertop | Countertop | Countertop |
| Special Feature | Cool-touch side handles | Tri-clad base | Large digital controls | Pressure Regulator | Strong-lock lid |
| Editor's Ratings | ✸✸✸✸✸ | ✸✸✸✸✸ | ✸✸✸✸✸ | ✸✸✸✸✸ | ✸✸✸✸✸ |
| | | | | | |
Cuisinart CPC600N1 6-Quart Electric Pressure Cooker
We love this multi functional pressure cooker which is super stylish and super easy to use. You can purchase it in three sizes, a five quart, six quart or eight quart. The thing we love about this is it can be a pressure cooker, a slow cooker, a rice cooker, saute/browning functions, yogurt maker and a steamer and a warmer. You can cook all your meals and snacks in one simple place. It has a large control panel with fourteen controlled programs, it features dual pressure, an automatic keep warm function and three different temperatures for saute and slow cooking.
It is certified and has several safety mechanisms, is highly energy efficient and kitchen and cook friendly! Its stand-out features include a beautiful fingerprint-proof stainless steel housing to keep your cooker prevented from fingerprints dirt at all times, 1000 wattage of cooking power, automatic keep warm settings, push button controls, and many more. If you want safe, fast and flexible cooking at great value then this is the pressure cooker to get.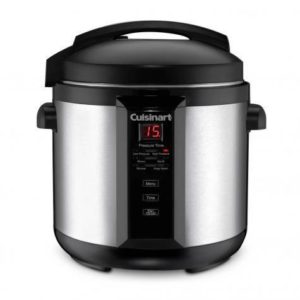 FEATURES
PUSH BUTTON CONTROLS
This Cuisinart pressure cooker features sleek push button controls that are used to set cooking options, as well as choose which programmed settings you want to use. These cooking options include High and Low Pressure, Saute, Browning, Simmering, and also the Keep Warm settings.
DISHWASHER-SAFE
When it comes to cleaning, everybody always wants to ensure what they're getting won't make cleaning much of a chore for them and with this dishwasher-safe pressure cooker, you do not have to worry about cleaning; at least, not when you have a dishwasher.
1000 WATTS OF COOKING POWER
There's a popular saying with kitchen appliances; 'The more the wattage, the more powerful your machine is.' Over the years, wattage has become a yardstick to measure how powerful kitchen appliances are. With a whooping 1000 watts of cooking power, you can be rest assured that you'll get the best results out of your cooking exercises.
OTHER FEATURES
Cool-touch side handles

Digital thermostat

LED countdown display

Trivet
Presto 01370 8-Quart Stainless Steel Pressure Cooker
If you want to take cooking to a new level then try out this pressure cooker again from Presto but with smart functions. The actual cooker comes with a tri-clad base that helps hasten the cooking process, and also provides even heating. Cooking with this pressure cooker promotes healthy eating, as it is one of the perfect solutions to making healthy meals. All the Presto pressure cookers are highly recommended by customers and we love their efficient customer service team who are experts and will help with any problems, questions or queries.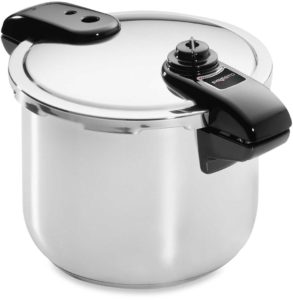 FEATURES
FAST COOKING
This electric pressure cooker allows you to cook your food faster than the traditional method of cooking. Additionally, with this pressure cooker, vegetables are able to retain their colors, nutrients, and most importantly, flavors.
TRI-CLAD BASE
The tri-clad base is a layer that contains an aluminum, neatly positioned between two layers of stainless steel to make sure that your cooking process is faster and also helps provide even heating. This base can work on different ranges; gas or electric, and also smooth tops.
COVER LOCK INDICATOR
This cover lock indicator notifies you immediately there's pressure inside your pressure cooker so you'll know it's not safe to be opened at that particular moment.
OTHER FEATURES
Pressure regulator

Luxurious stainless steel

Steam release system

Stainless steel steamer basket.
Cuisinart CPC900 6-Quart 1000 Watt Electric Pressure Cooker (Stainless Steel)
CPC900 is another pressure cooker from the popular Cuisinart brand to feature on our list. Regarded as 'High-Pressure Multi-cooker' by those who have witnessed the cooker's efficiency first-hand, this electric pressure cooker, when the pressure is turned on, can cook your food faster by 70% with a maximum 15 PSI. The cooker features 12 pre-programmed settings which can handle everything you need to cook, ranging from sauteed vegetables to meat. The digital controls make cooking even easier, while the easy-to-read LCD combines well with the other features to make cooking very convenient for you.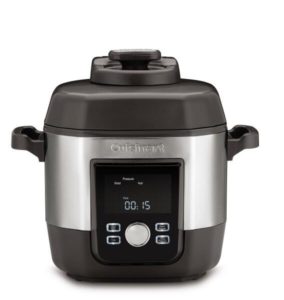 FEATURES
DIGITAL CONTROLS
There's no better satisfaction than knowing your appliances will make life convenient for you generally. This is what this pressure cooker offers; convenience. With these digital controls, you can set the cooker to function efficiently, while you get your desired cooking results.
12 PRE-PROGRAMMED SETTINGS
From meat to risotto; beans to rice/grains, there's a setting dedicated to any type of cooking you want to make with your pressure cooker. Still wondering why Cuisinart is one of the best pressure cooker brands in the world? They just can't stop making life easier for their customers.
OTHER FEATURES
Large LCD display

Automated pressure release

Automatic pressure settings

Stainless steel housing
Salton PC1048 Multipot 5-in-1 Pressure Cooker in Stainless Steel
Salton might not be as popular as the first two brands to feature on this list (Cuisinart and Presto); as a matter of fact, it is the only brand outside the A-list (still Cuisinart and Presto) to feature on this list and that's to show that the brand offers as much quality products as the other two. The pressure cooker features 5 different functions like steam, slow cook, brown, warm, and pressure cook. Also featured is a 'delay-start function' and a heavy gauge pot, both of which play a great role in making sure you get the maximum cooking results from your pressure cooker.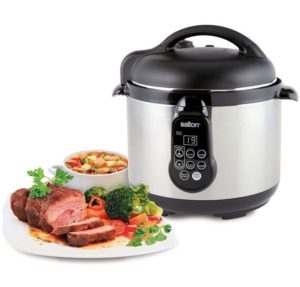 FEATURES
5 COOKING FUNCTIONS
These 5 cooking functions include Brown, Steam, Pressure Cook, Slow Cook, and Warm; all of which are there to make cooking easier for you.
PRESSURE COOK
When this function is turned on, it helps cook your food faster than any conventional cooking by 70%.
OTHER FEATURES
Delay start function

Energy saver

Heavy gauge cooking pot

Pressure release valve
Presto 01341 4-Quart Stainless Steel Pressure Cooker
The final entry on our list is a 4-Quart Stainless Steel Pressure Cooker by the prestigious brand, Presto; the second from the brand to feature on the list. Seen as one of the most well-rounded pressure cookers in the market today, Presto 01341 is doing enough to live with the hype, with different amazing features that make up the unit. Let's take a look at some of them;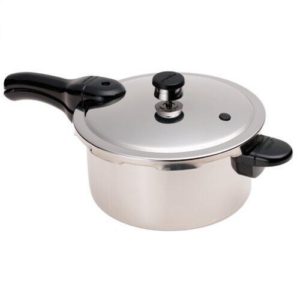 FEATURES
HEAVY-DUTY LID LOCKS
This pressure cooker features heavy-duty lid locks that help to seal the steam inside the pot to hasten the cooking process. These locks are greatly supported by an overpressure plug, a pop-up pressure indicator, and steam release mechanism.
RECIPE BOOK
For some people, this is just as important as any other feature in this cooker. A recipe book? Who doesn't like that? Fortunately, there are over 65 different recipes featured in this book and they include pot roasts, desserts, and even basic soups.
OTHER FEATURES
Rack

Black plastic handles
Other Recipe Ideas
It can be great fun experimenting with your pressure cooker and we love the way that brown rice tastes when cooked in such a cooker. Have a look at this other neat recipe we found which will give you a side meal with a bit of middle eastern flavor and is an interesting dish which you will soon become addicted to.
Ingredients:
2 tablespoons (30 ml) butter or canola oil

2 tablespoons (30 ml) minced onion

1 cup (250 ml) rice

2 cups (500 ml) chicken or vegetable stock

2 tablespoons (30 ml) pine nuts

2 tablespoons (30 ml) golden raisins

1 teaspoon (5 ml) thyme

1 tablespoon (15 ml) minced parsley (or 1 teaspoon (5 ml) dried)

Salt and freshly ground pepper to taste
Directions:
Turn on your pressure cooker, set the pressure to 'high' and add your cooking oil.

Add onions into your cooking oil and saute till it gets softened.

Add the rest of your ingredients and begin to boil.

Lock the lid and set to pressure to the required pressure needed for the recipe, and cook for the suggested time.

Quick release the pressure from your pressure cooker and in case of excess liquid, you can drain off.

Make sure you dry in the oven before you serve.
FREQUENTLY ASKED QUESTIONS
1. How long does it take to cook brown rice in a pressure cooker?
Naturally, a pressure cooker cooks faster than any conventional method by over 70%, so you would guess brown rice won't take much time. The total estimated minutes needed to cook brown rice is about 13 minutes.
2. Does using a pressure cooker have disadvantages?
Every device/machine comes with its own disadvantage(s), no matter how small. In the case of a pressure cooker, it is usually a bit costlier than regular pots. You can also check your food while in the cooking process. In order words, you can make some tweaks, like adding some ingredients that will make the food even tastier. Also, if you're not so used to it, it might take a while before you get used to the whole process.
We Love Pressure Cookers
We love pressure cookers because they offer a versatile and safe way to cook various dishes. They are great for the kitchen and provide an efficient way to cook meals. If you are catering for a dinner party and need to make three courses for ten people then a pressure cooker could really come in handy because it gets the task of cooking done quicker than with a standard oven or range. If you get a pressure cooker which has multi functions then you can do even more with it because they act as a slow cooker, a warmer, a pressure cooker and even a rice cooker or browner.
We really can't fault the modern day pressure cookers which are out on the market today and we love the way they incorporate technology such as bluetooth and smart pads. Cooking has never been more fun and with so many recipes to choose from you won't know where to start. Why not have a go and begin with cooking a tasty and spicy brown rice dish which is healthy and super quick, add some bacon and chicken bits and you have a meal which you can even eat cold on the go. Change the way you cook today.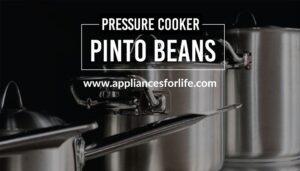 Pressure Cooker Pinto Beans For A New, Tasty Meal
Getting Started Pressure cooker pinto beans are a great, inexpensive meal for families, college students, and households of one. If you're one who's looking to try a new recipe, then you've come to the right place. When wanting to prepare pressure cooker pinto beans it's
Read More »