A slide in gas range is a pretty important, nay, the most important purchase for any kitchen, and especially when you love your kitchen and cooking; so when you are going to set out to  purchase arguably the most important appliances for your kitchen, this slide-in range review will come in handy and hopefully, will help you make the best decision on your next gas range purchase.
The bottom-line is you cannot have a great kitchen without a great stove! And probably you realize it too and that's the reason you are shopping around now.
When it comes to gas ranges there are few choices that you can make and slide-in gas ranges are one of the gas range types that you can select for your kitchen. These gas ranges are the right choice to make your kitchen better, both aesthetically and functionally.
If you already know what slide-in models are, good for you!
You are already way ahead of many others.
But we would like to start from the basics and tell you what a slide in gas range is and how it is different from the other types of gas ranges out there.
What Are Slide-In Gas Ranges and How Are They Different from the Other Major Types?
| Image | | | | | |
| --- | --- | --- | --- | --- | --- |
| Name | GE JGSS86SPSS Gas Range | GE Profile PGS960YPFS Slide-in Double Oven Gas Range | Bosch HGI8054UC 800 Series | Frigidaire FFEH3054UB Electric Range | GE Profile PB965YYPFS Slide-in Electric Range |
| Manufacturer | GE | GE | Bosch | Frigidaire | GE |
| Product Dimensions | 30 x 36 x 29 inches | 30 x 36 x 29 inches | 30 x 37 x 29 inches | 30 x 37 x 29 inches | 29 x 47 x 28 inches |
| Gas Type | Natural Gas | Natural Gas | Natural Gas | Electric | Electric |
| Weight | 291 lbs | 271 lbs | 255 lbs | 170 lbs | 161 lbs |
| Special Feature | Central Oval Burner | Audible Preheat Signal | Heavy-duty Metal Knobs | One-touch self clean | Wi-Fi Connect |
| Editor's Rating | ✸✸✸✸✸ | ✸✸✸✸✸ | ✸✸✸✸✸ | ✸✸✸✸✸ | ✸✸✸✸✸ |
| | | | | | |
Those among you, who had already been doing some looking around, know that there are 4 popular types of gas and electric ranges in the market. 
We will have a look at these models and see what differentiates them from each other and how it would suit you to buy the slide in gas range. Maybe you haven't considered everything before deciding on the type that you want for your kitchen.
The Freestanding Range
The freestanding ranges as the name suggest come as an independent unit and are one of the most popular styles used in the kitchens. They come with finished sides and back panels and sit flush against the wall, snuggly fitting against the counters on either side.
The controls are generally on the back panel of the model which protrudes above the countertop. Some models have the controls on the front panel as well. 
Either way, the whole point of the freestanding range is that it can be snugly fit with its back to the wall, with countertops on either side, one side or even sit as a standalone in your kitchen.
They are the cheapest option when it comes to gas or electric ranges and is also the easiest to install.
The Slide-In Range
The slide-in range is an improvement on the traditional freestanding model in that it blends with its surroundings – by which we mean the countertops in your kitchen. 
They are definitely the more aesthetic looking design of the two. 
With more and more households opting for kitchen islands and decorative backsplashes, the popularity of the slide-in range is on the rise. They have unfinished sides and back and are built in between cabinets on either side. The countertop is wider than the gap that separates the countertops which means that extensions on either side lip over the countertop edges, giving it a better built-in look. 
But the slide-in ranges are more than about the look!
The extensions that hug the countertop ensure that there are no food materials or waste that find its way into the gap between the range and the counters unlike in the case of the freestanding ranges. 
Makes it really easy to clean after your hectic session of cooking!
There are many other places where this design or type of ranges is the 'go-for' choice in the kitchen.
If your kitchen has a beautifully designed island where you would love to do all of your cooking, the proud jewel of your kitchen, bringing in the slide-in range would be the perfect decision. The slide-in range fits seamlessly into your island, with no protuberant control panels and the cooktop overlapping over and blending into the countertop.
On the other hand, if you have outfitted your kitchen with gorgeous backsplash, again the slide-in range will be an ideal design choice.
Slide-in ranges provide a handicap-accessible design with their front control panels and are much safer in such circumstances.
The Drop-In Ranges
Drop-in ranges are exactly like slide-in ranges, in that it has unfinished sides and back panels to blend with your counters in the kitchen and have also protruding cooktop overlapping the counters. 
The main difference with the slide-in range is that it stands on a cabinet at the bottom, which gives it more of a built-in feel. 
But the disadvantage of this type of range is that replacements become a more expensive affair as it would require some remodeling of the bottom counters especially the height to fit for the next range you buy.
And the manufacturers have very limited design variations on this type of range nowadays, perhaps because of its declining popularity in the States.
The Professional Range
If you fancy cooking like the pros, you know, whole nine yards, the professional range for homes is the perfect range for you. But truth be told, despite the fact that I love cooking, there are only rare times when I had wished that I had a professional range. I have found that I can do pretty much a lot with my slide-in range that fits snugly into my kitchen island that I can do with a professional range.
The professional range is the most expensive unit for home use you can buy in the market, which provides a commercial cooking experience, providing for safe-use in a home at the same time.
The professional range is designed after the freestanding model. It has finished sides and back panels which mean it can stand independently, level against the kitchen walls.
The basic models in this category offer multiple burners and the more sophisticated models come with additional cooktops like grills or other specialty cooking surfaces. They have large convection ovens, either running with gas or electricity at 220 Volts.
In the end, what you require is mostly dependent on your needs as a homeowner. The slide-in range is a great midway between the freestanding range and the professional range. 
And the better ones among these ranges are sometimes as good as the professional ranges with most of the features of the pro ranges available in their design. Some slide-in ranges have burners that produce higher temperatures than even pro ranges and the only thing that sets them apart is that they don't look commercial in your kitchen.
But that's okay. If you have made your kitchen fab with great designer backsplashes, the slide-in ranges will suit your counters perfectly. 
It just serves to make your kitchen more beautiful.
How to Decide on the Fuel Type?
If you are still undecided on whether to buy a gas range or one that runs on electricity, we will discuss with you some definite advantages of buying these different types of ranges. 
There are advantages to buying ranges powered by each fuel, but in the end, it definitely comes upon you to decide if those advantages play to your needs and your cooking style.
Make a decision only based on your need and cooking style consideration or you will end up having some severe setbacks than advantages!
What are the Highlights of Using Gas Fuelled Ranges?
Have you noticed? Chefs prefer to use burners that use gas and their reason for choosing gas over electric is that they can judge the heat and temperature looking at the flame.
Well, of course, you can definitely find that working for you if you know how to judge cooking with the intensity of the flame.
Gas ranges are going to cost you slightly more than the comparable electric ranges in the market. But this higher cost of purchase is offset by the operating cost of an electricity-powered range. The cost of running electric ranges can be sometimes 50% higher than using the gas ranges. The reason you ask? The gas ranges are much more energy efficient and combine that with the lower cost of gas compared to electricity, your higher cost of purchase is easily justified. Your gas range will save more gas and thereby more money for you if they are using an electric igniter rather than the traditional pilot light.
Although electric ranges are fast catching up, gas burners are usually faster in heating up your food – it's almost instant. You can save a considerable amount of your time if you are using a gas burner with high output. 
You will want to increase or decrease the temperature of your dish while cooking and when you do, the gas ranges are again faster to respond than the electric ones 
A power outage is a rarity, but if you face one when you are about to entertain guests, it goes without saying that you are definitely better off with a gas range.
What are the Highlights of Using Electric Ranges?
There are many advantages when it comes to electric ranges too and like we mentioned already it's your cooking style and need which ultimately has to be the criteria in deciding which one among these would suit you better.
The electric ranges are comparatively cheaper to buy than comparable gas models but they will end up costing you more to operate. But even then, if your primary concern is to not spend too much initially that might be a good reason to buy this model.
Electric ranges, ever since its introduction into the market has been playing some serious catch-up when it comes to heating speeds and efficiency, and there are models that will heat up your food quite fast – just maybe a couple of seconds behind their gas counterparts.
And the electric cooktops are slow to lose their heat due to the heat retention properties of the coils used in the ranges. The story is entirely different in case of induction cooktops but they do have a major disadvantage that they cannot heat up any pan, only the ferromagnetic ones that can react to the magnetic field created by the cooktop.
If you are into precise cooking with extremely low temperatures for delicate simmering, electric cooktops are a great choice.
One thing that's a great eye catchy feature of the electric range is the glass or ceramic cooktop that adds a beautiful touch to your kitchen and if you have thought about it, they will be very easy to clean.
How to choose between a Gas Oven and an Electric Oven?
In case of ovens and burners both, electric options are better at providing a more even temperature than a Gas-driven one. This is due to the fact that electric ovens can respond faster to temperature changes and therefore deliver lower heat variance inside the oven. 
So if you are going for a lot of baking pastries and cakes, you are definitely better off with an electric oven in your slide-in gas range. 
On the other hand, if you have a lot of baking veggies and meats in your daily cook list, then gas ovens that provide a more moist-type heat inside the oven will be a better-suited choice for you.
If you like to have gas burners but want electric ovens, there are slide-in ranges that provide this option, so you can actually have the best of both the options. This type of slide-in ranges come under the category of dual-fuel ranges.
In our slide-in gas range reviews, we will be presenting the best ranges that come with these different types of ovens. 
What is better for you – natural gas or liquid propane?
This also a choice that you can exercise, with most of the urban homes choosing for a natural gas line connected to fuel the range. 
On the other hand, if you have decided to be away from the hustle and bustle of the crowded towns and made your home in a remote part of the world, you can have your gas range converted to use liquid propane as fuel as getting electric lines and natural gas lines to lake homes or trailer homes in remote parts can be a great challenge.
What Are the Features and Other Buying Criteria You Should Be Aware of While Purchasing Your New Range?
Now that you are familiarized with major types and options you have available when you are setting out to buy your Range for your kitchen and you have decided what fits your requirements, you need to have a look-see at the features before you go on to our Slide-in gas range reviews to see the best of the best in different categories and make your ultimate buying decision.
There are features that are going to be of great help to you in your daily cooking and help you save time, money and cook with great precision to provide your family with the delicious meal that you want to cook for them.
If you think that the food you cook is your art, you need to be at the top of the game.
What to Look for in Ranges in Different Price Ranges?
Price is a major consideration in your buying decision of the gas or the electric range and there are ranges that cost a few hundred dollars and then there are models that are going to cost you a considerable chunk of money – say about a couple of thousand dollars or more.
Well, so what you eventually buy is a matter of what your budget is but you should be also aware of what you would generally be able to purchase in these price ranges.
As we have already told you, gas ranges are going to be a little bit more expensive than your electric models. 
If you are choosing to buy a model which costs you under about seven hundred dollars, you will mostly find that the heat output you get from the burners used in these models are low, usually about 10,000 BTU. You won't find most models in this price range find any digital timing controls or many choices when it comes to color. A basic white appliance is what you are looking at, in this category. 
In the midrange, you will find ranges that can produce heat output to as much as 13,000 BTU and they come with digital panels and self-cleaning features. You can have a choice of color between white, black and stainless steel in this range.
At the high-end when you are prepared to shell out thousands for your range, you will be getting the very best engineered, feature rich works of art. 
They come with high-performance burners that provide heat output up to 17,000 – 18,000 BTU, maybe even with a super-burner that gives out 20,000 BTU and they come with digital and programmable features that will be an absolute delight to work with. Some of these models will also come with a second oven, well, because you obviously know that two is always better than one. The ovens in this price category should be convection ovens, if they are not you are not getting what your money is worth. You will also get 5 burners on the cooktop instead of 4 and stovetop girdles, which trust me, will be a great thing when you have to make those pancakes and bacon. In this range, you can look forward to controlling your range with the Wi-Fi in your phone – which according to me is great.
What Are the Uses of Having a Convection Oven?
With a convection oven, you get the heat transferred from the heating elements in the oven to all parts of the oven evenly, with the use of airflow created by a fan at the back of the oven.
If you are not sure what a convection oven can do for you, it can come in handy when you cook meat like the turkey when you want the sear on the skin to retain the juices of the meat inside and prevent it from drying up.
And like we already pointed out, it helps to even out the temperature in all parts of the oven preventing the meats or other materials from being unevenly cooked. 
No more overly crispy (to be read charred) edges and undercooked (inedible) middles in your baked dishes! And you are going to spend less time baking your favorite dishes, as it reduces your cooking time considerably.
In conclusion, a convection oven is a useful feature to have in your gas range.
More about Convection!
So if you like a convection oven in your gas range you should also become a bit familiar with some of the types of convection ovens that are available in the market so you can make an educated purchase.
Normal Convection: You get a fan at the back of the oven with normal heating elements and the air will be circulated throughout the oven to distribute the heat evenly.
True Convection: Also called European convection, it has a fan combined with heating elements to provide more accurately even temperatures while baking. Great to have if you are baking multiple racks all the time!
Reverse Airflow Convection: In this type of convection, the air flow is reversed to the inside of the oven from the heating elements at the back of the oven, perfecting the convection cooking process as direct heat never reaches the material that's being cooked.
Also great for multiple rack cooking!
What Gas Cooktop Functionalities You Should Choose?
When it comes to selecting the ideal range for your kitchen there are many functionalities and features you need to consider, and it can get a bit complicated.
That's why we thought we would break down the range itself into its component parts to analyze them separately.
What Are Power Burners?
Power burners are basically gas burners that give very high heat output so that the boiling point temperature can be reached in a matter of mere seconds. 
A good power burner would reduce your cook time considerably and it is especially useful when cooking requires you to heat up materials very quickly.
What Are Simmer Burners?
When you need precision cooking with a very low simmer, you need a very low heat output burner and that's exactly what the simmer burner gives you.
What Are Sealed Burners?
Sealed burners are a really handy feature which prevents spillage between the burners into the space between that makes it very easy to clean. 
A great feature to have in your gas range to reduce your cleaning time after cooking!
What Are Continuous Grates?
Continuous grate as the name suggests is a flat and continuous cooking surface over the burners so that you can move your pans or vessels between the burners with ease.
Tremendously improved convenience!
Why Go for a 5th Burner?
Some of the slide-in gas ranges come with a 5th burner so that you can have many pots cooking at the same time. It sometimes comes with a cast iron griddle for contact cooking.
Why Have a Model that Comes with Expandable Elements, Bridge and Oval Burners?
If your gas range comes with these features which enable you to use a girdle or griddle and grill together or any other odd-shaped cooking pans on the gas cooktop, you will have way more cooking options. With your girdle, you can cook multiple items at the same time, something that will be a great blessing for you when you have a few house guests.
And you know what you can use the grill for! You can serve up your famous grill meats and burgers from the comfort of your kitchen.
What are the Useful Electric Cooktop Functionalities?
Now, electric cooktops are as popular as their gas counterparts, mostly because they are cheaper and come with some great options and features.
Here are some of the more useful features you can find in electric cooktop ranges, that can really enhance your cooking experience and help you save time and get more precision cooking done.
What Are the Main Electric Cooktop Design Features?
A smooth glass or ceramic cooktop is an attractive feature of the electric ranges that add a dash of style to your kitchen. These smooth cooktops are really a great look for the range, blending with the countertop and designer backsplash that you have added in your kitchen.
How Many Heating Elements Are Good for You and How Can Different Shapes Help?
The heating elements come in various shapes and sizes to accommodate the different shapes and sizes of the pans and pots that you are using for cooking. 
If you are cooking many dishes at the same time, with different size cookware, it will definitely be of great use to you. 
The electric cooktops also have its own alternative to accommodate your girdle; it's a heating bridge that connects two electric burners to accommodate the shape and size of a girdle.
Do You Need a Radiant Coil Element?
If you have opted for an electric cooktop, choosing burners with radiant coil elements might be helpful, as they are more efficient that your normal coil elements. 
If you like the glass cooktop, the radiant coil elements can fit beneath the glass tops better than the normal heating elements too.
Should You Opt for Induction Burners?
Induction burners use powerful magnetic fields to directly transfer heat energy to the pan without leakage to the atmosphere or other surfaces, making it incredibly efficient and fast. 
Do you want to boil water really fast?
Induction burners can do it in the very short span of 90 seconds. Isn't that something?
You would be well off with induction electric burners if you prefer high-efficiency, high-speed heating.
But you might already know the disadvantage of using induction heat elements. You cannot heat any vessels other than the ones made of ferromagnetic metals.
How Can Warming Zones Help You?
This is a dedicated, specialized heating element placed in the middle of the cooktop to keep the food warm at a steady temperature. 
This extra heating element can help you a lot in your daily life. Especially, when you hate serving your family cold food!
Does Your Electric Cooktop Come with Hot-Surface Warning Lights?
When you are using electric burners you might not understand which elements had been running, making it a great hazard. The warning lights that are placed under the glass top or ceramic glass top lights up to warn you that the burner is live and you are about to encounter a burning hazard.
What Oven Features You Should be Looking for?
The ovens are as important as your cooktop burners when it comes to preparing your delicious spreads. So giving ample importance to selecting the model with an oven that suits your need and purpose would mean that you have taken some wise decisions along the way.
How important are the digital and programmable controls?
There is a range of digital and programmable controls that are available in the ovens that come with the ranges. You have to make sure that these digital and programmable controls are present in the model you buy to ensure that you are getting what your money is worth and that your cooking experience is enhanced with these features. 
The main digital and programmable controls that you should look for in an oven are the time/delayed start, control lockout option to protect children from harm, Self-clean mode, convection conversion controls and more.
What Oven Capacity Will Be Best for Your Needs?
The oven capacity that should be ideal for most home cooks would be something between 3.5 cu. ft. to 5 cu. ft.
It will provide ample space for cooking large food items and also the larger ones can accommodate multiple rack cooking.
Why Go for a Self-Cleaning Oven?
The self-cleaning oven can make your life a breeze; once you are activating the Self-cleaning mode the oven will be heated to about 900 C turning all those sticky, crumbly remains inside the oven cavity to ash.
All you need to do then is just vacuum blow the entire ashy remains outside.
Trust us when we tell you this!
This will decrease your cleaning time significantly.
Why Select an In-Oven Broiler?
If you have the In-oven Broiler function in your oven, it typically improves the baking efficiency of the oven as it serves as a sort of insulation outside the oven, at the same time doing its job. 
Are Storage Drawers Useful in Your Kitchen?
The ranges that come with the storage drawers will be very useful in terms of saving space in your kitchen. You can store many of your utensils in these storage drawers for easy access too.
What about Warming Drawers?
There are many circumstances when you are working, that you might come across some food that you have cooked that hasn't been eaten. These warming drawers come with low, medium and high settings to suit your needs perfectly.
Do You Need a Second Oven?
Well, as we have mentioned already, two ovens are definitely better than one, and a second oven means you are going to have a lot more flexibility when it comes to the quantity of food you want to bake or cook in the oven.
Will You Find a Need for Split oven racks?
It's kind of a great thing to have a split oven rack so that you can have a couple of dishes cooking away in your oven at the same time. Immensely saves on your time and effort, doesn't it?
What's great about Recessed Heating Elements?
Recessed heating elements under the floor panel of the oven give us an unobstructed cleaning experience, which means that cleaning the oven just got easier for you.
It's another great feature that would make your gas range an easier appliance to maintain.
Slide-In Gas Range Reviews – Our Choice of the Best
Best in the Over $2000 Category – GE Profile PGSS86SPSS 30-inch Slide-in Gas Range with 5 Sealed Burner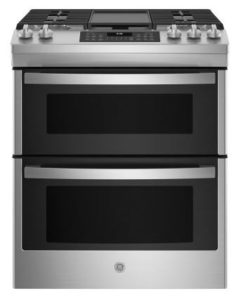 When you have some extra cash to splurge you might as well bring the best that money can buy. Just like the Bloomberg range, the GE PGS is the best one in its class and has won hands down in all our feature assessments and customer feedback surveys. 
We agree you will be spending a bit on this powerhouse in the kitchen, but then every penny you will spend on the GE model will be well spent. 
This double oven with versatile range tops and sleek stainless looks will make your kitchen look like that of a 4-star Michelin chefs' but will not take away from the beauty of your kitchen décor.
Pros
First off – another crowd favorite, the GE model has customer's delighted about its efficiency, durability, quality, and design. So there isn't a doubt in our mind about its place in our top in the above $2000 class of Slide-in gas ranges.

Now it comes with all the features of the Bloomberg and other slide-ins in its own class too. Here are some more features we found were enough to earn this model its coveted place.

The model has very light iron grates that help you to clean the oven very easily.

It has a stupendous oven capacity, complete with convection heating as well as a broiler.

The model boasts five burners, including a left front tri-ring burner, oval-shaped central burner and left rear precise simmer burner that makes you cook with the precision of a 4-star Michelin star chef.

This slide-in gas range comes with a variety of features, like bake, broil, convection bake, convection roast, warm and self-clean which are all great add-on features to have for a slide-in gas range.
Cons
Few units have had electronic issues, but nothing that could steal the top spot away from this monstrosity.

GE's customer service is one of the people's complaints.
Best Double Oven Slide-In Gas Range – GE Profile PGS960YPFS Slide-in Double Oven Gas Range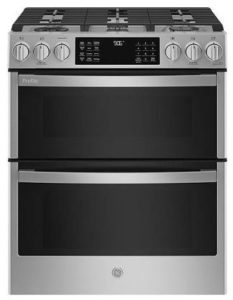 We chose the PGS960 as the best among the Double Oven class of slide-in convection gas range for those of you who want to spend some serious baking time. 
The Range gives you ample scope and space to bake your foods to perfection. Whether the job at hand is to sear, fry or sauté your foods, no other model can do it better than the PGS960.
This model is our one and only choice in the category of double oven slide-in gas range for the special reasons listed here.
Pros
This product has a large, continuous cooking surface that offers you extra room for pots, and pans of all sizes. As a result, you can easily move your cookware from burner to burner. This convenience along with the double oven makes it one of the best buys in the market.

It has a cast iron grill which is reversible and also integrated. And its extra-large size lets you enjoy grilling your food with versatility as we have had many of its customers giving us this feedback.

This model offers you a multi-ring burner that creates intense heat for frying, searing, sautéing your food, and in this respect too, it is the best in its class.

Its dual center burner enables you to cook in various ways. The round burner is perfect for steaming your broccoli and the oval burner will help you in griddling sandwiches.

We can control all the oven functions from the Smartphone wirelessly with the help of Wi-Fi. This is the smartest stove of its class – no pun intended.

You can automatically sync clocks and the range elements with the microwave's surface light and vent, which earns it a few more nice points for cooking convenience. 
Cons
The quality of its convection could have been slightly better but it's better than most in its category anyways.

Its counterintuitive touch screen is a bit complicated, which we find is another problem with the model.
Best of the 5 Burners Slide-In Gas Range – Bosch HGI8054UC 800 30-inch Gas Range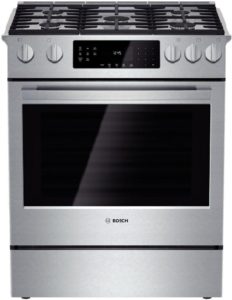 Experience fine and easy cooking with the Bosch HGI8054 slide-in gas range, that comes with flawless five burners that will help you cook more dishes at once. We have enough reasons to give it the top spot among the slide-in ranges that comes with 5 burners in our Slide-in Gas range reviews of 2021.
This new Bosch Slide-in range can also fit into a freestanding range cutout and it is highly convenient to operate because of its smooth touch control system. The feedback on the item as usual like the rest of our top products is great and has been one of the major criteria that catapulted it to the top spot in the review.
Pros
This model has got nine specialized cooking modes and its temperature conversion works perfectly for convection mode of cooking, something that not many five burners can boast.

It has an extra-large door that gives scope to closely monitor your baking all the way to perfection.

The oven's timer allows the oven to turn off automatically once the timer goes off. Thereby, making it absolutely easy to handle, you can be off to watch your favorite show on TV and you don't have to worry about scorching your meats.

The warming drawer keeps your food hot and warm, exactly the way you want the food to be for your dinner parties. Another great feature that we love about this model.

The HGI8054 comes with the pyrolytic self-cleaning method which automatically cleans your machine by simply burning off any grease that will stick to the walls.
Cons
A big time gas consumer when it comes to boiling water.

The stovetop we found will also stain easily and it's hard to get the stains off too.

We have found this model to be quite noisy. If you plan to cook and serve your guests at the same time, then this appliance is not good for you, unless your kitchen area is separated from your dining area. Just beware of this tiny little detail before you buy this product.
Best Slide-in Electric Range in the Under $1000 Price Category– Frigidaire FFEH3054UB 30-inch Slide-in Electric Range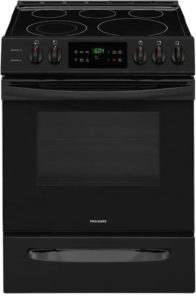 If you are looking for a light but powerful oven and range that runs on electricity that will not pinch your pocket too hard, you can go for this model from Frigidaire. This model is super easy to use and closely controls your cooking temperature to help you cook the perfect meal.
This is our top pick for the under $1000 category in our Slide-in Electric Range reviews.
Pros
This slide-in electric range has multiple broil options that create a variety of dishes in one go.

With its uncluttered designs and smart features, your cooking experience is an enjoyable and fun experience with this model.

The oven that comes with this model is huge and guarantees large meals for holidays or guests.

Its self-clean feature cleans the oven in just about a couple of hours, leaving you ample time to run it in between your meals.

This electric range has 25% more self-cleaning power than average units. Its extra power lets this range do most of the work for you.

Its delay clean feature allows you to set the delay function so that it cleans your oven while you are outside and has it completely cleaned out by the time you are back.

The model has especially designed oven racks which are easy to pull out. Because of these generously sized handles, wrestling with awkward oven racks is a thing of the past.

You can easily monitor your meals while they cook without opening the oven door. It reduces cooking time and cooking becomes more efficient with this model.

Its high-tech control panels adjust your cooking temperature and manage other settings efficiently. All are great reasons to give this tiny and pocket-friendly range the top spot in the Slide in electric range reviews.
Cons
The oven sometimes stops heating at the desired temperature that can really cause difficulties while cooking.

If you are looking to have a convection feature in this model, then it will disappoint you. You can only expect a largely stripped down Range at this price but this one is still better than the rest.
Best Slide-in Electric Range to Buy at Above $2000 – GE Profile PB965YPFS 30-inch Smart Slide-in Electric Range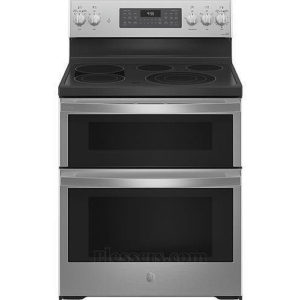 We would just boldly go on to say that it's not just the best in its category but the best overall for all the great features that it packs and the great customer feedback that we have received about this model. This GE Profile model outshines every other choice of the slide in ranges you can find in the market and is the uncontested winner in our slide in electric range reviews. Bring home this new model and its multiple useful functions will make your cooking work all the easier.
Pros
Now the features here are on top of the other standard features of this range that we already love. Its flexible heating element will let all your pots and pans fit in perfectly, something that really makes it a top notch purchase for your kitchen.

Big cookware like griddles can easily be accommodated with its larger cooking surface area.

You can wirelessly control all oven functions from your smartphone, making it easy for you to use this stove even with a busy lifestyle.

Automatic syncing of clocks and the range elements with the microwave's surface is another highly useful feature that makes us love this model.

Its long-lasting racks are not only great looking but can be cleaned at the same time as the oven.

It takes less time for preheating and its internal temperature probe allows you to closely monitor your cooking.

Its dual oven does everyday cooking and party meals with equal amounts of efficiency and perfection. Again in our opinion, any range that comes with a dual oven is a great buy in itself. 

Its hidden bake oven interior ensures easy clean up by eliminating hard-to-reach areas.
Cons
This product only has conventional features in its oven. It will not fit for those who would want to try out convection baking. But truth be told, the conventional heating in the oven is most of the time as great as the convection heating in other ranges.
Where Do We Go Cooking Now?
So here is our Slide-in gas range review and the Slide-in electric range review for you to consider carefully, before you buy the workhorse of your kitchen.
With all your knowledge enhanced and the relevant information on your fingertips, are you ready to go cooking yet?
We are hungry for a delicious meal on your new range, and we are sure you are too!
Frequently Asked Questions
1. Are slide-in ranges worth it?
Many people prefer slide-in ranges to freestanding ranges because they don't have a huge backguard and the controls are always at the front area, making them easier to access than on freestanding ranges.
2. Why are slide-in ranges usually expensive?
Slide-in ranges are quite more expensive than freestanding ranges because of the way they're built and the extraordinary features they are packed with.
3. Which brand makes the best slide-in ranges?
Every brand featured on our list is a top brand and their slide-in gas ranges can be relied on.