Why should there be an immersion blender in every kitchen!
     It is indeed a pleasurable experience to have a home appliance that serves multiple functions, in one; this does not only afford you some space in your kitchen but it also helps you save a couple of dollars. If versatility could be expressed in terms of a home appliance, then it has to be a handheld blender, also called an immersion blender. 
An immersion blender is a versatile, compact tool that enables a whole range of kitchen techniques, from pureeing and chopping to emulsifying dressings and so much more. Whether you're a first time user or a seasoned pro, there are endless ways to expand your mastery of immersion blender uses.
Having an effective and ergonomic home appliance is incredibly fascinating; what is even more fascinating is the versatility of such appliance. An appliance that serves multiple functions does not only help you save hundreds of dollars, it also helps you save a significant amount of space in your kitchen area; using a home appliance that serves multiple functions at once means you do not really need to buy other home appliances for those functions. To put into perspective, a hand mixer is, more or less useless if you have an immersion blender that gets everything mixed for you effortlessly. An immersion blender can be used to puree and emulsify just about anything a regular blender can.
An immersion blender can be used like a countertop blender to blend soups, sauces, and other liquids, despite not being as powerful as regular countertop blenders. It is safe to say that when you pureed soups, fruity smoothies, fresh pestos, and potatoes, you can think of an immersion blender because it purees  efficiently and conveniently too. An
immersion blender may not be as powerful as a countertop blender, but it will puree your food items, especially when it is a small quantity. In addition to this function, handling an immersion blender is also quite convenient. To use an immersion blender, all that one needs to do is hold it firm by the handle and swirl it around in the bowl where your produce is contained, and it does this blending and pureeing you need effortlessly. As a matter of fact, it will interest you to know that immersion blenders can do way more than pureeing but can also chop nuts and veggies, with the addition of some accessories. 
The Difference between an Immersion Blender and Countertop Blender
Primarily, a countertop blender features a jar on top and a motorized blender at the base; this base sits directly on a countertop. Hence, it is called a countertop blender. On the other hand, an immersion blender is operated with a handle. Therefore, it is handheld and does not have a jar. You can insert the blades into nearly any container, including a wide pot of soup on the stove or a narrow smoothie bottle. Because countertop blenders are more powerful, they are more effective at crushing ice as opposed to an immersion blender; hence, if you want to make icy drinks often, a countertop blender may be the right choice for you. Because an immersion blender has no jar, its capacity is not limited to that of a countertop blender. 
The Benefits of an Immersion Blender
Also popularly referred to as hand blenders, immersion blenders are quite easy to use; they are easy to clean up, and they can conveniently do more than make soup. An immersion blender can be a valuable addition to your kitchen tools because they are compact, cheap, versatile, fast, portable, and cuts down on clean-up time.
We often wonder- Is it worth it to get an immersion blender? the answer to this question is mostly subjective, the reason being that one will understand your needs better and the budgets available to meet those needs. However, an immersion blender has a lot of benefits that could interest you, and in fact influence your decision-making, some of these benefits are discussed below;
1. Create in One Dish
One of the benefits of using an immersion blender is that it affords your the convenience of blending your recipes in the same bowls where it has been prepared. This advantage is particularly interesting because you get to do your blending or pureeing without creating a mess. In addition to this, it is suitable for blending hot recipes because hot foods like soups on a stovetop are much easier to puree, as you can leave your ingredients in the pot rather than transferring them to a blender jar.
2. Unlimited Capacity
While using an immersion blender, there are no concerns about doing several sets/loads of pureeing before your pureeing is done. A countertop blender has a jar that can only be filled with a certain level of a food recipe. However, an immersion blender is a direct opposite as the tool can be immersed in your recipe bowl straightaway.
3. Blend Small Amounts
Smaller food doesn't always combine as easily in a regular blender. Use an immersion blender for tasks like emulsifying salad dressing for two or quickly chopping a handful of nuts. 
4. Quick Cleanup
Clean-up, after using an immersion blender, can be quite comfortable and quick, the reason being that the cleaner will have no jars to contend with during clean-up. In the instance of an immersion blender, one only needs to soak the attachment for a while, when the stain is tough, and simply wipe it clean subsequently. However, for a countertop blender with a jar, cleaning its crevices may be quite a challenge.
 5. Compact Storage
An immersion blender offers you compact storage. This is because it is quite portable with or without its attachment- when its attachment is detached, it becomes even more compact and quite easy to store.
6. Variable Speeds
Use lower speed settings for softer or liquid recipes like ultra-smooth gravy, batter, frothed milk, and more. Increase your speed for pureed soups with harder vegetable chunks, smoothies with fibrous greens, and even homemade nut butter.
7. Cordless Availability
With an immersion blender, there is a cordless option available to you. A cordless immersion blender does not only afford you some level of convenience, but it also makes
the blender more compact, allowing for easier storage. Cordless availability also means that you get to enjoy your immersion blender when there is no power supply. When there is no connection to power, cordless immersion blenders run on batteries that could last you quite a long time. Therefore are, the benefits enjoyable with an immersion blender, as opposed to its countertop counterpart
What Is an Immersion Blender used for?
An immersion blender is often cherished for its versatility. It can blend and puree most
recipes that a standard/countertop blender would blend. An immersion blender offers the convenience of blending right on a stovetop; you can easily just swirl your immersion blender inside your creamy roasted vegetable soup.
Similarly, chopping nuts and herbs for a pistachio pesto, for example, is what an
immersion blender does, conveniently. Below are the uses for an immersion
blender.
Blend
You can blend ingredients to your perfect taste using an immersion blender.  It further allows you to seamlessly transition between slower and faster speeds. Or create consistent blends with a set-speed hand blender for the results you love every time. Coupled with the blending feature of an immersion blender, you can use an immersion blender to mix up batters for cakes, brownies, and a nearly endless variety of sweet or
savory pancakes and crepes. Blend wet ingredients, then slowly incorporate dry ingredients, blending until smooth—no more lumpy batters. Use your immersion
blender to experiment with different fruit toppings as homemade Applesauce Pancakes pureed to your perfect texture.
Chop
The beauty of an immersion blender is in how it can be used with many attachments. Hence, a chopper is another attachment sometimes available with immersion blenders.  This attachment helps your immersion blender work effectively as a food processor, chopping ingredients like nuts or fibrous vegetables.
Mixing
Immersion blenders make your mixing a lot easier. Because this blender is handheld, they
are easily swirled around your butter to make a decent batter. You can also use a handheld blender for making fluffy scrambled eggs- this option is often preferred to a whisk or a fork. The yolks and whites are more likely to be combined well when they are blended, as well. This appliance is a perfect hand mixer substitute.
Single Served Smoothies
If you are a  morning person and that morning starts with a smoothie for one, an immersion blender might become your new favorite kitchen tool. Its versatility to blend in various containers makes it a perfect fit for smoothies blended directly in your glass. Save on cleanup by skipping the blender jar and choosing a hand blender with a dishwasher-safe arm.
Immersion Blender Tips and Tricks
As clearly demonstrated in the preceding sections, immersion blenders can be useful for
many functions. Hence, to fully optimize its functions, it is essential to learn the rudiments of it is useful.
1. Use the right container for recipes
It's best to use a container that will be around ⅔ full with all ingredients added. You'll need extra space to allow ingredients to move around as you blend to help prevent splatters and spills. You'll also need enough depth to keep the hand blender blades fully immersed in your ingredients. 
For blending small amounts, choose a tall and narrow container to ensure you have enough depth.
If whipping ingredients, only fill your container about halfway so there is room for your
mixture to expand.
2. Keep Blades Immersed
A handheld blender is also called an immersion blender for a reason- it is an immersion
blender because, its blades or attatchments should be kept below the surface of your recipes at all times. This good practice will not only help guide against messes, while you blend, but it will also make your blending experience completely hassle-free.
3. Move the blades properly for optimum performance
In order to get a desired blending result, one needs to strategically move the blades to achieve a perfect blend.
Smooth: For most completely pureed recipes, blend at a slight angle as you slowly move the blades around the container for even blending.
Smooth & Chunky Combo: Holding the blender at a slight angle, blend for 2 seconds in one spot. Move to a different part of the container and blend for 2 more seconds. Proceed to blend portions of the mixture in 2 second intervals until you have a smooth base but some chunks remain for texture.
Aerated: If you are aerating ingredients for recipes like whipped cream or meringue, move the blades a little more quickly and in all directions. Move up and down as well, but be sure to always keep the blades below the surface.
The Best Immersion Blenders of 2022
Some of the best immersion blenders of 2022 features brands like Breville, Braun Multi-link and so on.
This Breville handhled mixer is made of stainless steel, through and through. It measures approximately 6.2 inches in depth, 7.5 inches in width and 12.4 in height. Its attatchments include; 3-Cup Chopper Bowl With Stainless Steel Chopping Blades, Breville Blender, 1 Year Warranty, Manual, 1.2-Litres Extra-Large Jug With Dual-Purpose Storage Lid & Anti-Slip Mat, Whisk Attachment. This handheld blender costs about 120$ on Amazon. it is one of the best affordable home appliances on the market, and it's ability to create smooth purees, its overall ease of use, and its well-designed extras make it worth the price.
This Breville kitchen appliance is so powerful that it can conveniently puree even fibrous soups and can blend smoothies made with ice. It has an ergormic build with a rubber handling that makes its handling comfortable. Lastly, it may interest you to know that the blending wand doesn't spatter as it purees.
The Braun Multilink 5 immesion blender does not only have an appealing look, it also powerful- It runs on 350 watt with dual speed. Its attatchments include; Beaker, Whisk, 505, Black, MQ505. This handheld blender is built with maximum efficiency as it features Stainless steel blades; a soft-grip, slip-proof, ergonomic handle; and two different speed settings make it simple to whip up your favorite meals.
The Braun Multilink 5 has the EasyClick Accessory System. It is a  versatile EasyClick system that allows you to quickly change attachments to blend, chop, whisk, mash, crush, and purée effortlessly. It serves all these functions at a low cost; it costs about 50$ on Amazon.
FAQs
How does an immersion blender differ from a Countertop blender?
Rather than pouring your liquid recipes into a container, which is the jar of a countertop blender, and turning it. An immersion blmender is inserted into the container of liquid (like a pot of soup, for instance) and turned on. You would then sort of swirl the immersion blender throughout the liquid to ensure that it's uniformly blended. An immersion blender is more helpful than a countertop blender because it makes the pureeing of larger recipes alot easier.
Is an Immersion Blender powerful enough to process all kinds of foods?
A good immersion blender in fact be powerful enough to process all kinds of food. This is exactly why they are so good; they can be used as an alternative to food processors. They can process foods such as cooked meats, potatoes, vegetables and so on. Some home immersion blenders are intended mainly for blending drinks, making smoothies and so on. Obviously, the more heavy-duty models will be more expensive.
ESTIMATED TIME DESIGNING AND UPLOADING THIS ARTICLE
ESTIMATED TIME RESEARCHING AND WRITING THIS ARTICLE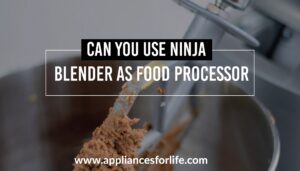 Can You Use a Ninja Blender as a Food Processor?
A popular question amongst those who own Ninja blenders today is "Can you use a Ninja blender as a food processor?" If you've found yourself trying to find an answer to that question, we're here to help. Ninja blenders are very famous for being versatile,
Read More »