Top 3 Most Affordable 36-inch Gas Ranges Comparison Table
| Image | | | |
| --- | --- | --- | --- |
| Name | Bertazzoni Master Series 36-inch Stainless Steel Natural Gas Range | Bosch HGS8645UC 800 Series 36-inch Black Stainless Steel Gas Range | Premier P36S148BP Pro Series 36-inch Stainless Steel Gas Range |
| Brand | Bertazzoni | Bosch | Premier |
| Product Dimension | 35.75 x 27.38 x 36 inches | 36 x 35.94 x 36 inches | 46 x 36 x 36 inches |
| Weight | N/A | 207 lbs | 210 lbs |
| Oven Capacity | 5.9 cu. ft. | 3.4 cu. ft. | N/A |
| Color | Stainless Steel | Black Stainless Steel | Stainless Steel |
| Number | 5 | 6 | 6 |
| Special Features | 5 Monobloc Aluminum Burners | Dishwasher-safe Grates | Electronic Ignition |
| Editor's Rating | ✸✸✸✸✸ | ✸✸✸✸✸ | ✸✸✸✸✸ |
| | | | |
Cooking can be fun for a lot of people because they love being in the kitchen and they also love getting their hands on anything they can to make cooking more fun for them. While these people love being in the kitchen, the same can't be said for others who need all the nudge they can get to get through with cooking every day because it's the last thing they want to spend a chunk of their time doing, not when they have other things that need their attention more. In this case, getting their hands on the best kitchen equipment always looks more ideal, such as affordable 36-inch gas ranges which won't cause them to spend huge without compromising on quality.
Over the years, cooking ranges have grown to be very popular because manufacturers have found a new way to implement the latest technologies, making the modern cooking ranges way different from what existed many years ago. That's no disrespect to how things were done back then, after all, technology wasn't this advanced and the people could only make do with what they had. Things have since changed as the world is now a fully-fledged tech-based setting, with big improvements being made across many industries, including the appliances market where productions and sales of appliances have skyrocketed as a result.
If you're a big fan of the appliance market and you've been studying the market structure, you'll realize gas ranges are becoming extremely popular because of the advantage they have over their electric counterparts, although that doesn't mean they don't also have their drawbacks. Gas ranges also come in different types and sizes, but today we'll be focusing on the best 36-inch slide-in gas ranges, 36-inch freestanding gas ranges with griddles, and even the best 36-inch professional gas ranges which are considered better than the standard gas ranges, although they're more expensive. Altogether, gas ranges are more appealing to people, but that's not to say electric ranges don't also have their benefits which make them popular as well.
According to Spencers TV, gas cooking helps seal in the flavors when preparing meals for large families, and that's why gas ranges have become very popular over the past few years. Another thing is that gas ranges always have this classic look that is coupled with cast-iron grates that make them strong enough to tackle heavy use. These grates are also flexible to handle any meal, making you move your cookware from one burner to another easier than you'll ever imagine.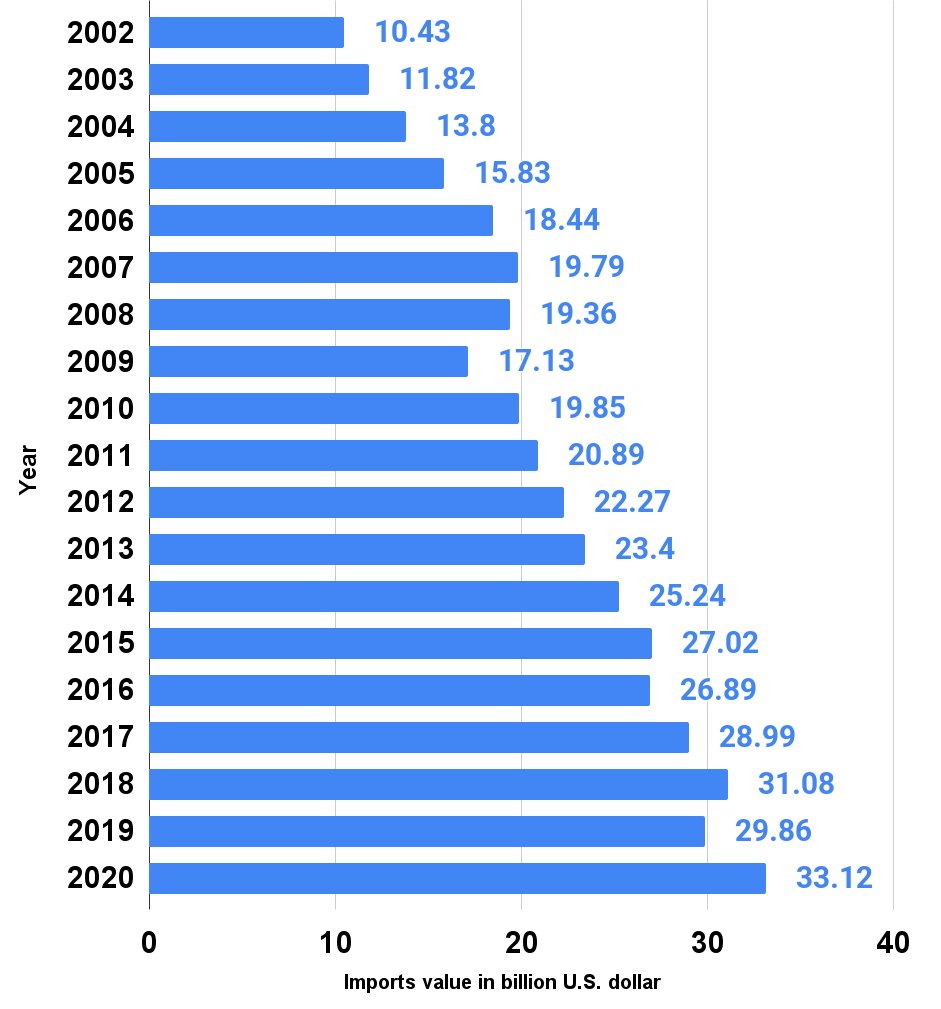 Source: Statista.com
Major appliances are gaining a strong foothold in the United States because a lot of people believe so much in them that they don't mind spending thousands of dollars to have them in their space. As a result, the United States is now one of the biggest appliance markets in the world, with a market value of $37.8 billion in 2018, with the numbers projected to skyrocket in the next few years as people continue to invest heavily in them. People's trust in appliances manufacturers to continue to provide them with quality appliances that will help them make life more convenient is beginning to pay off as these are now the kinds of appliances on the market at the moment.
The appliance market in the United States has grown considerably well, which is why the import value has also increased over the years as far as major household appliances are concerned. The market that only had a value of $10.43 billion in 2002 grew up to have $11.82 billion the following year, and a forward progression was experienced up until 2008 when the market value dropped to $19.36 billion from $19.79 which was recorded the previous year. The market value dropped further down in 2009 when the market value was recorded at $17.13 billion, the worst dip in recent years as far as the import value of the major household appliances in the United States is concerned.
From that point onward, the market value continued to increase as the market value for 2010 was set at $19.85 billion before jumping up to $20.89 billion in 2011, the first time the import value would hit the $20 billion mark for the first time since 2002 according to the chart. The only time a dip was experienced was in 2019 when the import value had dropped down to $29.86 billion from the import value of $31.08 billion that was recorded in 2018. However, things jumped back up in 2020 when the import value was set at $33.12 billion, the most successful year yet.
As popular as 36-inch gas ranges are, most people have found it very difficult to find affordable ones because most of these products, especially the pro-style ones, are usually slammed with high price tags. Before we start discussing the cheapest 36-inch gas ranges available on the market at the moment, let's quickly look at the benefits of gas ranges and how they can help live a more convenient life if you have them in your home.
4 Important Benefits of Using a Gas Range
Whether you're purchasing a 30-inch professional gas range, a 40-inch gas range, or even a 36-inch double-oven gas range, you expect it to serve its purpose, giving you the best value for your money in the process. Going to the market with all these high expectations, you would be more than disappointed not to have your gas range do the things you thought it could do as a result of a lack of proper research, including the benefits of a gas range. Knowing how a gas range could benefit you will help you make the best decision when choosing the perfect gas range for your kitchen.
According to Superiore, gas ranges undoubtedly take all levels of cooking experience to a whole different level regardless of how good you are with kitchen appliances or even cooking ranges. Gas ranges are also packed with enough features that make them a good fit for both home and commercial kitchens. If you're feeling reluctant to invest in gas ranges, you may have to check these four benefits of using a gas range before making your decision.
Optimum Control
One of the things gas ranges are known for is the knobs that are packed with them to give you unparalleled control whenever you're cooking regardless of the meals. All gas ranges are popular for those soft knobs that make them very easy to control, leaving you in total control of whatever you cook as you'll be able to control the boiling temperatures very easily. You can easily start with a simmer before turning up the heat to achieve the boiling temperature you want with ease, thanks to those smooth knobs.
Even heat is distributed with precise control being guaranteed whenever you invest in a gas range. The cooking process is always easier than you think.
It Helps Save Time
If you're looking to spend less time in the kitchen without compromising on the quality of the meals you'll be preparing, then you should get a gas range. Gas ranges have a quick heat source that helps you do a lot of cooking activities in a shorter period such as boiling water or searing meats. This is mostly owed to the fact that most gas ranges are usually packed with 4 burners or more, coupled with consistent heat.
It is Easy To Clean
One thing people love about gas ranges is they're usually very easy to clean because most of them are packed with a stainless steel surface. If the surface gets messy, you shouldn't worry about cleaning it because the surface can easily be wiped clean as long as you have the right cleaning techniques. Grease and stuck on foods can be easily wiped away from the surface, thanks to the AA grade composition of the stainless steel material most gas ranges are made from.
Even Heat Distribution
Lastly, people love gas ranges because of the even heat distribution which helps make cooking faster, making people spend less time in the kitchen as a result. When cooking on a gas range, you'll enjoy even heat distribution because the top burners release flames through a central ring which makes the cookware cook food consistently without the risk of burning or scorching.
Top 3 Most Affordable 36-inch Gas Ranges
Bertazzoni Master Series 36-inch Stainless Steel Natural Gas Range 
Bertazzoni is one brand that doesn't get enough praise for all the good things it does, making it one of the best kitchen appliance brands in the world today. All the new Bertazzoni ranges are great appliances, and as everyone knows, all Italian-made ranges are always strong and up-to-task, making them worthwhile whenever big money is being invested in them. The high-efficiency stovetop houses 5 burners with dual ring 19,000 NTU power burners.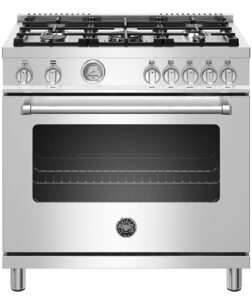 19,000 BTU Power Burner
Every gas range comes with a power burner, but to have an affordable gas range like the Bertazzoni come with a 19,000 BTU power burner is such an amazing feat. The power burner features a dual ring flame that helps deliver fast boil.
Counter-deep Maintop
Even if you don't have a large kitchen space, you don't have to worry about installing this Bertazzoni 36-inch gas range because it comes with a counter-deep maintop that makes it easy for you to install it in kitchen countertops.
Large Capacity Gas Oven
There's no proper gas range without an oven, and despite being affordable, the 36-inch 5-burner gas stove comes with a 5.9 cu. ft. oven with dual horizontal convection fans that help with even baking.
Bosch HGS8645UC 800 Series 36-inch Black Stainless Steel Gas Range
It's great to have an appliance that combines well with the other appliances in your kitchen to give it such a great look, and that's what this Bosch black stainless steel gas range offers. A product with all its quality usually carries a higher price tag than this one carries. The 36-inch 6-burner gas stove offers more flexibility in the way you cook, leaving you in total control of the things you prepare.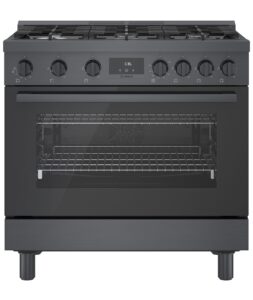 Dishwasher-safe Grates
People love appliances that are easy to clean, and that's what you'll get when you invest in this Bosch gas range. It comes with grates that are dishwasher safe, making them very easy to clean.
Heavy-duty Metal Knobs
To give your gas range that premium look and feel, Bosch has packed it with heavy-duty metal knobs that also make the range very easy to control.
Power Burner
The power burner for this gas range is a 18,000 BTU double ring burner that helps speed up cooking time.
Premier P36S148BP Pro Series 36-inch Stainless Steel Gas Range
This is, by some distance, the cheapest gas range on this list as it is one of the very few gas ranges priced under the $2000 mark. Despite being an affordable gas range, it still manages to be packed with six open 12,000 BTU power burners with an electronic ignition range with hot-surface oven ignition.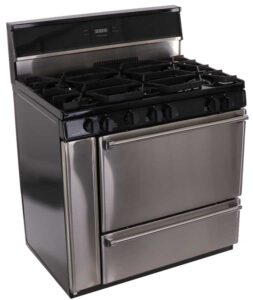 Features
Heavy-duty continuous cast-iron grates

10-inch tempered black glass backguard

Electronic timer

17,000 BTU oven burner for natural gas

Two heavy-duty oven racks
Frequently Asked Questions
1. Does LG make a 36-inch gas range?
LG is a big brand that is expected to make almost everything as far as household appliances are concerned, the giant brand doesn't make 36-inch gas ranges, so if you're looking for one, you might just look to other brands like Bertazzoni, Cafe, Bosch, and KitchenAid.
2. Is there a 36-inch propane gas range?
There are lots of gas range options on the market right now, so getting a 36-inch propane gas range shouldn't be that difficult.
Final Thoughts
Gas ranges are becoming increasingly popular because they play a vital role in efficient cooking in the kitchen. Over the years, manufacturers have continued producing great options for their consumers, and with the help of technology, they have been able to produce more high-end options for their consumers. In this article, we've been able to highlight the top 3 most affordable 36-inch gas ranges you can get on the market today. We've also discussed the benefits of gas ranges and the advantages they have over their electric counterparts.
ESTIMATED TIME DESIGNING AND UPLOADING THIS ARTICLE
ESTIMATED TIME RESEARCHING AND WRITING THIS ARTICLE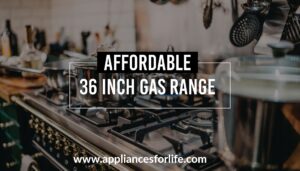 Top 3 Most Affordable 36-inch Gas Ranges
The best gas ranges come at a cost, but on a market filled with so many options, getting your hands on affordable options might not be all that easy. In this article, we're going to be looking at some of the most affordable 36-inch gas
Read More »