Getting Warmed Up
A 40-inch electric range is a great thing to have when you need to cook dinners for your family or special events. For those who love to cook and love something that helps with the efficiency and quality of your food, these 40 inch electric ranges are sure to be your favorite new appliance! Of course, before any major purchase, considerations need to be made. Spending your time researching beforehand may help you land your perfect range at a great price. Without doing the research, you run constant risks such as: buying a range that doesn't fit the theme of your home, buying an unreliable range, or even buying a range that can't cook what you thought you bought it for! Although most electric ranges cook similarly, each brand, and range within that brand, are a little different. Finding your perfect range just takes time!
Below are five choices to get your research started!
| Image | | | | | |
| --- | --- | --- | --- | --- | --- |
| Name | Ilve UMDI10NS3MGG Majestic II Series | Ilve Majestic II UMDI10NS3BKG Electric Range | Ilve UMDI10QNS3RALG Ral Color Induction Electric Range | Bertazzoni MAST304CEMXE Master Series 30-Inch Freestanding Range | La Cornue G49STANDARD 36-inch G4 Chateau 90 Series Range |
| Manufacturer | Ilve | Ilve | Ilve | Bertazzoni | La Cornue |
| Item Weight | 390 pounds | 390 pounds | 200 pounds | 300 pounds | 330 pounds |
| Exterior Width | 40 Inches | 40 Inches | 40 Inches | 30 Inches | 36 Inches |
| Installation Type | Free Standing | Free Standing | Free Standing | Free Standing | Free Standing |
| Number of Heating Elements | 6 | 6 | 6 | 4 | 2 |
| Color | Matte Graphite | Glossy Black | White | Stainless Steel | Stainless Steel |
| Fuel Type | Electric | Electric | Electric | Dual Fuel | Gas |
| | | | | | |
BEST 40-INCH ELECTRIC RANGES
1.

Ilve UMDI10NS3MGG Majestic II Series 40-Inch Freestanding Range



Ilve UMDI10NS3MGG is a 40-inch Majestic Series Induction Range that features 6 elements and a 3.82 cu. ft. capacity oven that brings with it a dynamic cooking experience. This particular Majestic Series was handmade in Italy and that makes it an outstanding masterpiece that draws lots of attention.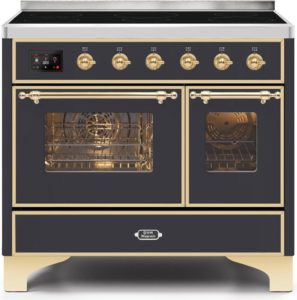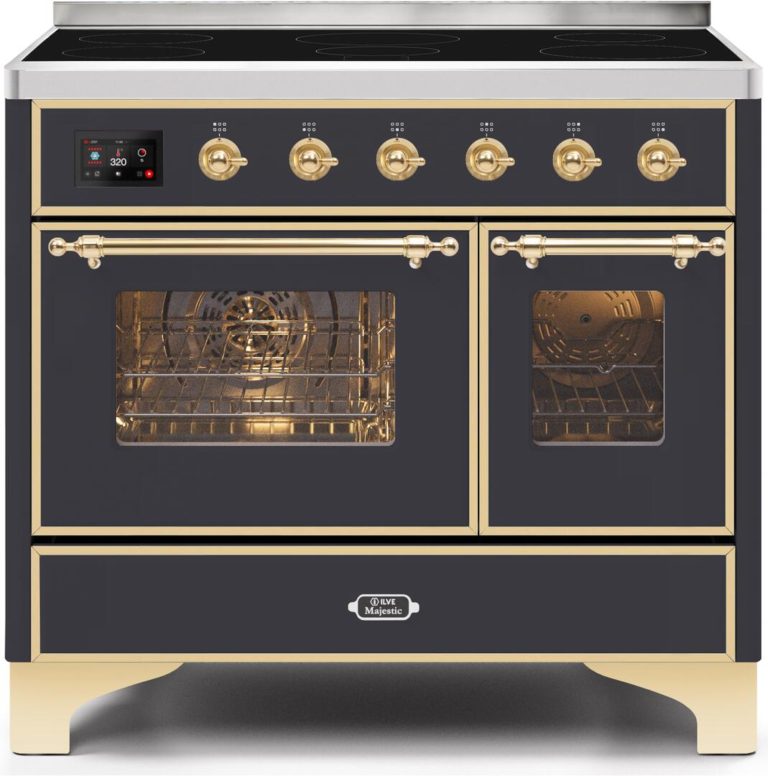 FEATURES
ACCURATE ELECTRONIC TEMPERATURE CONTROLS
This range features accurate electronic temperature controls for optimal cooking, temperature spikes, uniform cooking, and energy saving. With this feature, the temperature is adjustable from 85 degrees Fahrenheit.
FAST PREHEAT
Want a range that can preheat faster than you can ever imagine? Opt for this range. It maintains a European standard A+ energy rating which is why every oven produced by ILVE is equipped with a fast preheat mode. This is also one of the most talked-about features as a reviewer would confirm, "The oven preheats quickly and bakes precisely."
4.3" TFT FULL-SCREEN TOUCH
The Ilve UMDI10NS3MGG electric freestanding range features amazing tech-inspired controls like the 4.3" TFT full-screen touch and easy commands for selecting timer coupled with an automatic programmer for cooking start and finish timers.
2.
Ilve Majestic II UMDI10NS3BKG Electric Range
Ilve UMDI10NS3BKG is an amazing cooking range that features a large European convection oven which allows you to try out so many things with your dishes. With a full-width dish warming drawer, you'll have the option to use the residual heat of the oven to keep your cooked food warm and even warm your dishes before serving with them.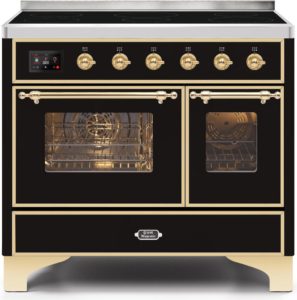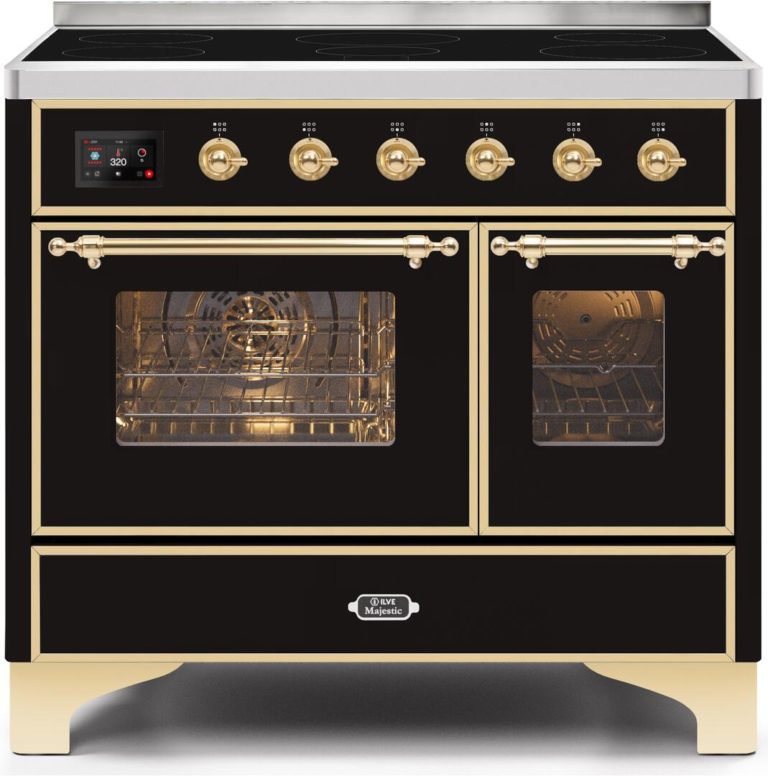 FEATURES
COOL DOOR WITH REMOVABLE TRIPLE GLASS
This cool door makes the cooking range totally safe for children as it features three glass panes, giving the door a whole new structure.
TFT OVEN CONTROL DISPLAY
This oven control display is simple and provides you with real-time graphical information which makes operations on your oven very simple and easy.
INDUCTION TECHNOLOGY
The induction technology used magnetic waves to induce heat directly in your cooking pan for quick boiling and sears without leaving the heat on the surface.
3.
Ilve UMDI10QNS3RALG Ral Color Induction Electric Freestanding Range
Another Ilve Electric Range to feature on this list to highlight the brand's reputation in the appliances market. There's just a lot to love about this range as it is packed with some of the market's most exciting features which we'll be discussing below.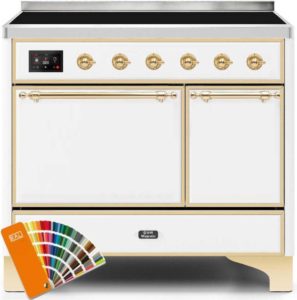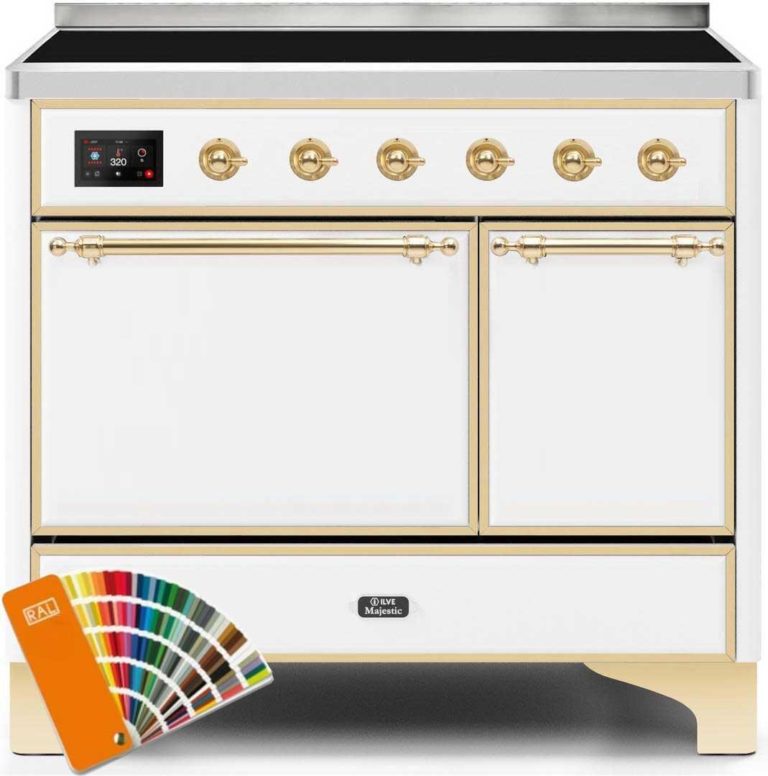 FEATURES
SEALED OVEN
Every Ilve range features a sealed oven cavity that helps trap moisture in the oven to ensure that your meats are always moist and fresh. It also reduces the chances of your meat getting shrunk while cooking.
SELF-CLEANING MODE
One of the things you worry about most with kitchen appliances is cleaning and maintenance and with this electric range, cleaning won't be one of your worries. The range features a self-cleaning mode that helps save time and effort as you can invest them in anything else rather than cleaning.
ROTISSERIE
This feature helps you get the perfect professional roasting you need. The function is also present in both ovens so you'll never run out of options.
OTHER ELECTRIC RANGE OPTIONS YOU COULD CONSIDER
In addition to these 40-inch electric cooking ranges we've listed above, we'd like to suggest a couple of options that would be best for your kitchen too. These ranges are also packed with high-tech features which make them some of the best ranges in the market.
4.
Bertazzoni MAST304CEMXE Master Series 30-Inch Freestanding Range
Bertazzoni is one of the fastest-rising appliances brands in the market at the moment, thanks to the taste for excellence which is always evident in their products.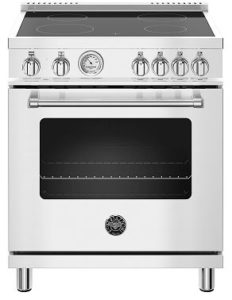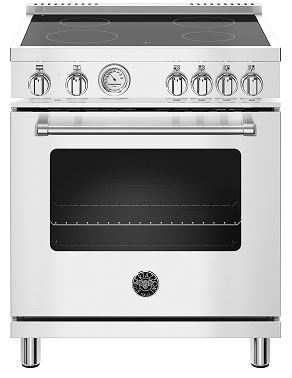 FEATURES
SEAMLESS INTEGRATION
This isn't a new feature but it's worth mentioning. All Bertazzoni products (appliances) integrate smoothly with one another including kitchen cabinetry and countertops.
MULTIPLE OVEN FUNCTIONS
With this range, you have different oven functions like Bake, Convection Bake, Broil, and many more.
5.
La Cornue G49STANDARD 36-inch G4 Chateau 90 Series Range
This range offers 2 elements on black ceramic glass with dual ovens (gas and electric) that have a total of 5.8 cu. ft. storage capacity. Also featured in this range are a host of features that include 5 top configurations among many others.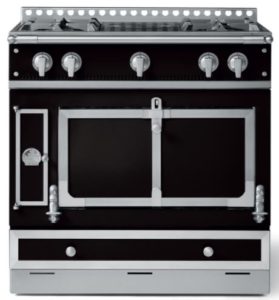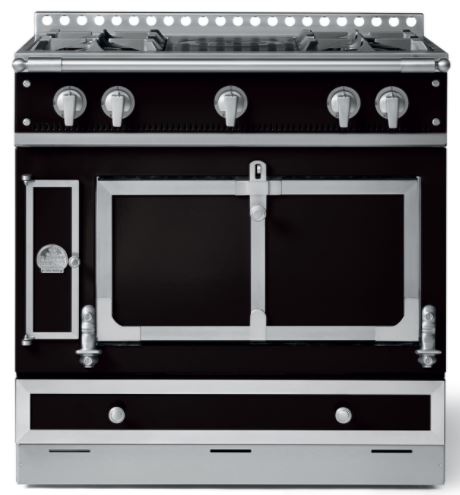 FEATURES
DUAL CENTER ELEMENT
This feature is present in the range to make sure that the range safely accommodates large stockpots.
GLASS CERAMIC SURFACE
The glass-ceramic surface gives your kitchen a touch of class and on top of that, it's easy to clean.
Which 40 inch electric range is right for me?
When purchasing a 40 inch electric range, there are some things to know before you make the financial commitment. According to Consumer Reports, most electric ranges normally have smooth tops (replacing the old coil design) that drastically reduces cooking time because it generates heat directly to the pot or pan and offers more precise control over the cooking process.
Budget
Having a realistic budget for your electric range is essential. Besides the cost of the range itself, other factors can impact your finances such as the long term energy efficiency of your range, or even the cost of installation. Determining accurately what you can afford is the first step in narrowing down which range is right for you.
Style
According to Rebekah Zaveloff of Houzz, matching your electric cooking range with the existing theme of your kitchen can be just the home improvement to wow visitors!. When considering what style of range you would like, think about the theme of your home. Is your home more modern? Is it more traditional? Once you've considered what the theme of your home is, or what you want it to be, you can look at what ranges fit that particular aesthetic. Zaveloff lists different style of ranges for homes such as:
Stainless Steel

Commercial-style

Contemporary

Vintage

Antique

European cast iron
According to Ian Logue of State Street Discount, there are other things you need to consider when thinking about the specific features you want your 40-inch electric range to have:
What kind of top do I want? Glass top or coil top?

Which burner configuration do I want?

Do I want convection or not?

Is it required for my range to have a warming drawer?

Do I want slide-in or freestanding?
Burner Configuration
According to Logue, there are a plethora of options, but the most common choices are 6-inch, 9-inch, 10-inch, and 12-inch options. The best way to figure out what burner configuration you want is by measuring your big and small pots to see what will work best for you. Remember to buy a burner that has received good reviews for durability, besides the hit in your cooking schedule, your wallet will pay the price if your burners are of poor quality.
Convection
Logue states there are several benefits to having a convection oven and it depends on how you'll be cooking most of your meals. There are benefits to having a convection-style range:
Cook multiple trays of food

Food can cook evenly

Utilize more oven space

Lessen cooking time
Other Prime Features
According to Consumer Reports, there are other features for your 40-inch electric range that you would want to consider:
Control lockout

Digital display

Double ovens

High-power elements and burners

Hot-surface light

Low-power simmer burner

Raised edge around the cooktop to avoid spills on the floor

Self-cleaning cycle

Five or more oven rack positions

Time/delay start

Variable-boil
Save Your Energy!
Besides doing your part for the environment, being as efficient as possible with your energy will help limit your utility bill every month. According to Paige Terlip of Energy.gov, there are several tips to consider when thinking about saving energy and enjoying the appliances you purchase:
Are all of your appliances energy savers with the yellow sticker?

Cookware and the time it takes to heat up to cook your food

The right size of your cookware

Cleaning burner pans so they effectively reflect heat up to your cookware for shorter cooking times
FREQUENTLY ASKED QUESTIONS
What's the difference between gas and electric range?
Although they both perform almost the same functions, they are slightly different in their respective modes of operation. A gas range cooks food faster and more evenly which is the best when it comes to thorough cooking but its counterpart, electric range, boils faster with a flat surface that gives stability to pots and pans.
What are the best reliable electric range brands in 2022?
According to the reliability ratings provided by Yale Appliance, some of the best reliable brands are Avanti, LG, Whirlpool, Samsung, Bosch, KitchenAid, and GE, among a couple more.
Let's get cooking!
There are a lot of options when it comes time to purchase your first cooking range. Besides saving you loads of time in the future when cooking meals, doing your research thoroughly can save you a fortune. If you still feel overwhelmed by all the choices, just remember that a wide variety of options isn't always a bad thing. It may simply mean that you now have the chance to find your perfect 40-inch cooking range at a delicious price. Happy shopping!