Popping The Hood
Are you looking to purchase a new ventless range hood? Although the wide variety of options can seem daunting, this process doesn't need to be difficult. Understanding the differences between each ventless range hood is crucial to making a purchase that's right for you, but so is knowing what you want ahead of time. That's where we come in!  Here are 5 of the top ventless range hood options on the market:
Comparison Table of the Best Ventless Range Hoods
| Image | | | | |
| --- | --- | --- | --- | --- |
| Name | Bertazzoni KU30PRO1XV Professional Series 30-inch Wall Mount Convertible Hood | Broan BCSEK130WW Glacier Series 30-inch Under Cabinet Convertible Hood in White | Miele DA1280 30-inch Under Cabinet Chimney Hood | Bosch HUI50351UC 30-inch 500 Series Pull-Out Range Hood with 300 CFM in Stainless Steel |
| Brand | Bertazzoni | Broan | Miele | Bosch |
| Material | Stainless Steel | White | Stainless Steel | Stainless Steel |
| Weight | 50 lbs | 45 lbs | 29 lbs | 26 lbs |
| Venting Type | Convertible | Convertible | Convertible | Convertible |
| Wattage | 400 Watts | 78 Watts | N/A | 120 Watts |
| Size | 30 Inches | 30 Inches | 30 Inches | 30 Inches |
| Editor's Rating | ✸✸✸✸✸ | ✸✸✸✸✸ | ✸✸✸✸✸ | ✸✸✸✸✸ |
| | | | | |
Which Ventless Range Hood Is Right For Me?
If you're still unsure after looking at the table which type of ventless range hoods might be for you, don't worry. We have plenty more information to help you narrow down your search. Making a personal pros and cons list for each option can be a helpful tool when trying to make a decision. Let's jump in!
Bertazzoni KU30PRO1XV Professional Series 30-inch Wall Mount Convertible Hood
This ventless range hood by Bertazzoni is one of the highest-rated in its class. Perhaps what people love the most about this range hood is the single-motor canopy that helps the hood extract up to 400 CFM coupled with 3 power settings. One of the things you'll enjoy when you get this range hood is the aluminum mesh filters that can be removed easily and can also be cleaned in your dishwasher. You can either install this hood on the wall or beneath a cabinet, with the option of an extra-wide duct cover. You'll even find this range hood more convenient to use when you're using it with one of Bertazzoni's professional series cooktops as they perfectly complement other Bertazzoni products.
Bertazzoni also has a glowing customer service reputation, and typically couples that excellent service with mid-quality items at affordable prices.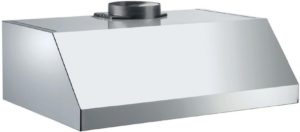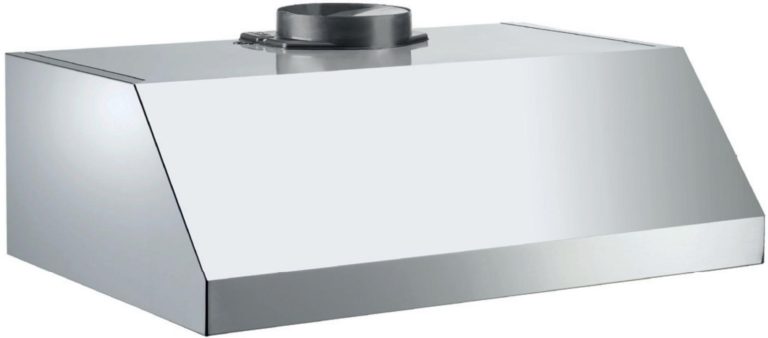 FEATURES
400 CFM EXTRACTION POWER
This ductless range hood by Bertazzoni features 3-speed settings that control the motor that ensures that up to 400 CFM power is extracted to give maximum result.
ALUMINUM MESH FILTERS
Maintaining a range hood might be difficult, especially when you have to change the filters regularly when you're using a ventless range hood. However, regular cleaning of the filters can help reduce the rate at which you'll have to change them. These aluminum mesh filters are easy to clean, even in the dishwasher.
OTHER FEATURES
Multiple installation options

LED Lighting
Broan BCSEK130WW Glacier Series 30-inch Under Cabinet Convertible Hood in White
This range hood is completely different from the first two hoods on this list. Known for being extremely quiet in comparison to its competitors, the Broan BCSEK130WW is for those thinking outside the box when it comes to their purchase. This hood also has nothing but good reviews regarding functionality but has drawn some complaints with its lighting. With a powerful 250 CFM internal blower, this energy star-certified range hood can always blow away the unwanted odor from your cooktop, and your kitchen at large. Let's take a look at some of its exclusive features;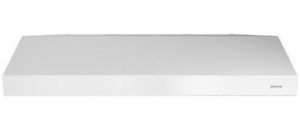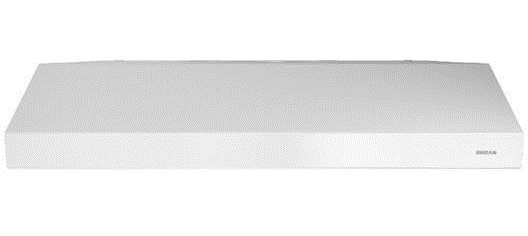 FEATURES
BROAN CAPTUR
Broan Capture is Broan's exclusive features that serve as an exhaust ventilation system to provide proper management of airflow and filtration to achieve the best performance possible. It also helps the hood work quietly and with lesser energy compared to other range hoods.
ROCKER CONTROLS
The range hood comes with a hidden on/off rocker switch to help control both the blower speeds and light levels.
OTHER FEATURES
Brilliant LED Lightning

EZ1 Installation System

Smooth-flow Blower Wheel

Dishwasher-safe Micro-mesh filters

2-speed Blower
Miele DA1280 30-inch Under Cabinet Convertible Chimney Hood
This is a newer model from Miele and is perfect for those who want to manually install but aren't 100% confident in their skills. This range hood comes from every single part (as well as directions on how to put them together) all the way up to the ceiling. Priced fairly modestly, this is one of the largest range hoods on our list. Miele offers a warranty on this hood making it another great option for those valuing peace of mind above all else. There's an automatic activation that automatically shuts off when the fume detector reaches an intense level. The range hood is just packed with a host of amazing features and it's definitely worth every penny spent on it.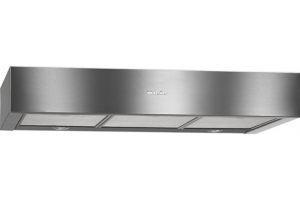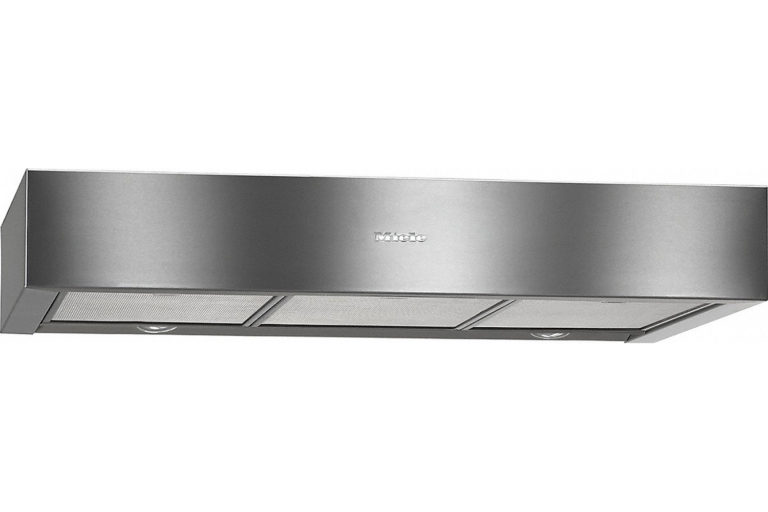 FEATURES
MIELE CLEAN COVER
Miele clean cover is a sealed surface meant to cover the hood up and it is undoubtedly better than some hood's cover which is rather made of sharp metal and electrical components. With safety and convenience in mind, Miele always ensures that they only sport what they deem as safe for the customers to use. You'll also be happy to know that this cover is very easy to clean.
AUTOMATIC INTENSIVE SWITCH-OFF
To help combat intense odors and cooking vapors, this automatic intensive setting is integrated into this range hood to help ventilate thoroughly.
10-LAYER STAINLESS STEEL GREASE FILTERS
These 10-layer stainless steel grease filters are the best protective filters for a range hood of this type. They're dishwasher-safe and can maintain a top-quality appearance for months!
OTHER FEATURES
LED ClearView Lightning

Powerful Motors

Active AirClean Filters

Automatic Activation

Beautiful Craftsmanship
Bosch HUI50351UC 30-inch 500 Series Pull-Out Range Hood with 300 CFM in Stainless Steel
Our final entry on the list, this range hood from Bosch is very much coveted by people who have seen unique reviews from customers who have witnessed the brand's genius first-hand. The range hood features a 3-speed slider switch control with a powerful 3000 CFM blower, four aluminum mesh filters, a stainless steel front panel and many more. The halogen lights offer bright views so your kitchen can look astonishing even at night. Generally, the range hood is just an ideal one for every kitchen. You'll definitely love the features.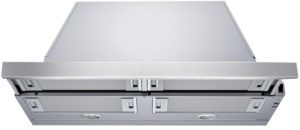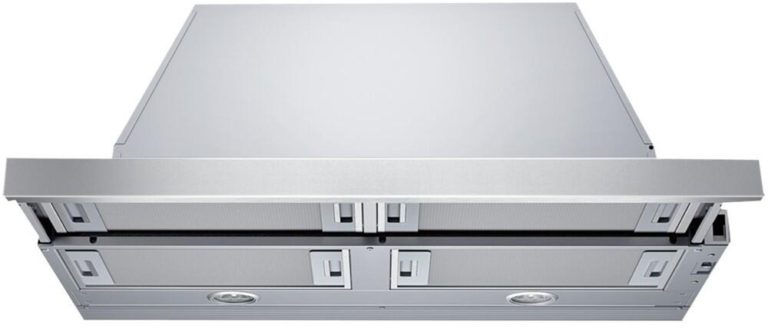 FEATURES
300 CFM BLOWER
To reduce odor and cooking heat to the barest minimum, this powerful CFM blower works effectively and might perhaps be the highlight of how good this range hood really is.
STAINLESS STEEL PANEL
The stainless steel panel is located at the front side of the hood, providing the cover the hood needs to last longer. The good thing is that whenever you feel like you're not getting the kind of service you need from the panel, you can replace it using the exclusive User's Own Custom Strip.
ALUMINUM MESH FILTERS
This ventless range hood, like every other range hood featured on this list, features aluminum mesh filters that are dishwasher-safe to make cleaning easier and more convenient.
OTHER FEATURES
Pull-out hood visor

3-speed slider control with halogen lights

6-inch round duct at discharge
VENTLESS RANGE HOOD: PROS AND CONS
Range hoods have become an integral part of every kitchen these days, and that has definitely increased the demands in the market. However, when it comes to purchasing one, people are faced with the decision of getting whether the vent or the ventless hood. Both are nice; no doubt, and their performances will leave one pondering on which one to get, especially when one hasn't figured out the most needed type of range hood. Before you make any decision to settle for any type of these range hoods, you need to know honestly which one you really need. In case you opt for the ventless range hood, which we have chosen to discuss in this article, we'll highlight some of the pros and cons to give you heads up on what you'll be up against. We hope this will help you make the best decision.
PROS
One of the many things people rave about the ventless range hood, also known as the ductless range hood, is that it is very easy to install. If you ever find yourself in a house where ducting doesn't exist, it is easier to put one of these anywhere in your kitchen, depending on where you think it will be needed the most. Installing this type of range hood is easier because you do not need to connect it to any ventilation system before you get what you need out of it; making it a more popular option of the two range hood types.

People love a product they don't have to spend a fortune to get and that's why this ventless range hood is mostly chosen over the other type. You can easily afford to buy one of these ventless range hoods.
CONS
If you're opting for a ventless range hood, you should be prepared for a regular change of filters every 3 to 6 months and this might not look like a lot at first but in the long run, you might be tired of having to change the filters every time.

Ventless range hoods might make your kitchen humid because they do not vent air outside, instead; they recirculate it back into the kitchen.
FREQUENTLY ASKED QUESTIONS
Why do I need a range hood? Is it that important?
Nobody likes cooking in an unsafe environment, and that's what you get when smokes and steams get so much that they begin to affect you. So, to eliminate excesses of smokes and steams, and even grease, you'll need a range hood which uses its filtration system to clean the air in your kitchen, leaving your space in a cool state.
Are there other options in case I can't afford a range hood?
Although the prices for these ventless range hoods vary and they range from as low as $60 to as high as $5,000; some people still find them generally affordable as they always opt to go for what's within their reach and still get the desired results from them. However, there are also some great alternatives in case one can't afford one of these ventless range hoods. These options include window fans, HEPA air filter, grease splatter guard, and many more.
What are the things I should look out for in a ventless range hood?
It is important to watch out for some things if they perfectly fit in the purpose which you're getting the range for. Things like your cooking range size, filtration system, the fan's power, mounting style, and even your budget should never be left unconsidered. These things will help you make the best decision making the purchase of the exact range hood your kitchen needs.
Parting Thoughts
Now that you have the information, it's time to go put it to good use! Understanding the difference between each range hood is essential for making a purchase that you're happy with long term. It's worth remembering that while these are some of the absolute best options for ventless range hoods on the market, they aren't the only options. Do as much research as you're comfortable with until you're sure that you've found a ventless range hood that's right for you!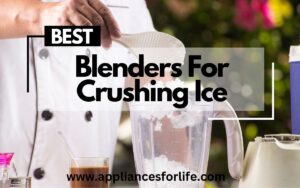 The Best Blenders For Crushing Ice like a Pro
Over the years, blenders have become an integral part of the kitchen and we've seen their stock rise drastically in the market among other household appliances. From our time of researching various blenders, we've had people ask us what blenders are the best for money;
Read More »