The Question Of The Day
What is a range kitchen appliance?  Countless consumers in the market for new kitchen appliances can be easily confused by this, especially with all the options on the market.  Traditional kitchens will have both an oven and stove, however, a kitchen range combines both!  It performs both functions in one convenient appliance, with the upper part of the range acting as a stove, and the lower part acting as the oven!  Most kitchen ranges are made of stainless steel and are accordingly durable.
Best Range Comparison Chart
IMAGE

NAME

Frigidaire FGGH3047VF

Whirlpool WEG750H0HZ

GE 30Inch Stainless Steel

BRAND

Frigidaire

Whirlpool

General Electric

MODEL

FGGH3047VF

WEG750H0HZ

JGSS66SELSS

DIMENSIONS H x W x D

36.625 x 29.875 x 26.75 inches

36 x 29.875 x 27.375 inches

36.25 x 30 x 29.25 inches

COLOR

Stainless Steel

Stainless Steel

Stainless Steel

FUEL TYPE

Gas

Gas

Gas

RANGE TYPE

Slide-in

Freestanding Range

Slide-in

NUMBER OF BURNERS

5

5

5

OVEN TYPE

Sabbath mode, Digital Oven Control Type, Interior Oven Light

Manual Convection Cooking Mode and Oven Control

Single Oven

Total Oven Capacity

5.6 cu.ft.

5.8 cu. ft.

5.6 cu.ft.

Oven Modes

3

3

3

Front Left
Back Left
Back Right
Front Right
Center Burner

14,000 BTU
950 BTU
5,000 BTU
18,000 BTU
10,000 BTU

18,000 BTU
9,500 BTU
5,000 BTU
15,000 BTU
8,000 BTU

15,000 BTU
5,000 BTU
9,500 BTU
15,000 BTU
10,000 BTU

Self-Cleaning

Yes

No

No
The essential question to ask when considering purchasing a kitchen range:  what is a range kitchen appliance for you? If you spend most of your time baking or cooking in the oven, there are brands which sell kitchen ranges with double ovens.  Spend most of your time cooking on the stovetop?  Try a range with EZ Clean.  Deciding what kitchen range is best for you is all about personal preference.  Identifying your cooking habits is the first step towards getting the perfect kitchen range for you.
FRIGIDAIRE
Frigidaire FGGH3047VF is a Gallery series 30-inch Slide-in gas range with 5 sealed, burners, griddle, and many others. Being a global brand that's well reputable for producing nothing short of the best, Frigidaire made sure this range was packed with exotic features like Self-Cleaning Mode, Storage Drawer, Air Fry, and Quick Clean, among many others. Frigidaire has done an absolutely great job with this Gas Range and this is evident in a review by a verified owner who gave the product a 5-star with the caption, "I bought this a month ago, and I wish I did sooner!"
What sets the Frigidaire FGGH3047VF apart from the competition?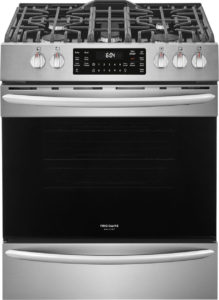 WHIRLPOOL
The Whirlpool WEG750H0HZ remains one of the best-selling Freestanding professional all gas ranges ever to be produced by Whirlpool.  It is packed with a range of features including  a 5.8 cu. ft. capacity which will allow you to cook some of your largest meals. The Frozen Bake will also let you skip the preheating process and cook frozen foods like your Pizza and Lasagna faster than you think, while automatically adjusting the time for you. The Whirlpool WEG750H0HZ is a range kitchen appliance that strives constantly for innovation.  Examples of this passion include:
General Electric
Lastly, we come to the GE JGSS66SELSS. This kitchen range is packed with features like a smooth glide storage drawer, steam clean, two 15,000 BTU power boil burners, an extra-large integrated non-stick griddle, and many more.  This range is the most expensive, but for good reason.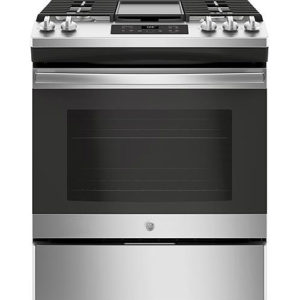 What is a range kitchen appliance?  Well, depending on the brand, it could be many things.  Identifying your cooking habits and future needs will help you pick a brand (and a range!) that's right for you.
FREQUENTLY ASKED QUESTIONS
WHAT IS THE DIFFERENCE BETWEEN A COOKTOP AND A RANGE?
More often than not, people mistake a cooktop for a range and vice versa, but both are different although they serve almost the same purpose. Basically, a cooktop is a range without the oven! A range on the other hand is a freestanding appliance that features the burners on top and the oven below.
WHAT IS CALLED A RANGE IN THE KITCHEN?
Sometimes people wonder what is called a range in the kitchen because it might have a different name to them. However, a range is a must-have kitchen appliance that has both the burner and the oven, which makes it an ideal appliance for most people because it'll save them the stress of purchasing separately.
CONCLUSION
Being an all-in-one oven and stove, a range, over the years, has emerged as one the kitchen's most important appliances, making it an ideal choice for people due to its versatile nature. Of course, you won't want to get it wrong in the market when you're about to get what you'll assume to be the perfect range for your kitchen, having in mind your cooking routine. Hopefully, this article will help you make the best decision but do not forget to weigh your options properly before making your final decision.
Happy Shopping!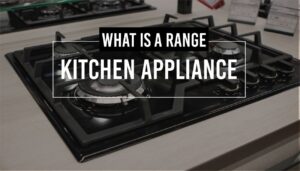 What Is A Range Kitchen Appliance?
The Question Of The Day What is a range kitchen appliance?  Countless consumers in the market for new kitchen appliances can be easily confused by this, especially with all the options on the market.  Traditional kitchens will have both an oven and stove, however, a
Read More »