As the world continues to move towards a huge tech advancement, the production of modern refrigerators has also been at its highest. Refrigerator manufacturers are now under an obligation to produce quality refrigerators that consumers will find worthy of their investments. Way before this rule came into place, refrigerator manufacturers have identified the need to create modern refrigerators, which we have all benefited from in one way or the other. The importance of modern refrigerators in the world we live in today cannot and should not be overlooked. People are now aiming towards getting refrigerators they can operate conveniently, and that's what's been made available to us over the past few years.
With comfort and convenience two of the biggest reasons why people purchase a refrigerator, manufacturers have made sure these two elements are implemented into every refrigerator they produce. From LG to Frigidaire, Samsung to Whirlpool; there are lots of options that have these two elements right at the center of the features they offer. To even keep brands on their toes, topics like "LG vs Samsung refrigerators", "LG vs GE refrigerators", and other similar topics have trended over the past few years. The goal is to remind these manufacturers that there is competition in the industry that forces each brand to produce its best refrigerators.
Government data provided in a 2015 press release showed at the time that almost every American household owned a refrigerator. This was backed by Anne Holst in another statistic posted on Statista that at least 118.2 million households owned a refrigerator in 2015. All these statistics all point to one thing, and it's that Americans love refrigerators. Heather Long of CNN also published an article in 2016 that showed that as of 2016, you would find more than 1 refrigerator in nearly 1 out of every 4 households in the U.S. 96% of American households have a microwave, 90% use a stove, 82% use a washing machine, 79% use a dryer, 60% own a coffee maker, while the least, according to the U.S. Energy Information Administration, is the dishwasher with 59%. This shows that of all the kitchen appliances you can think of, the refrigerator is the most used appliance in the United States.
Despite Samsung being a great manufacturer of refrigerators, Samsung refrigerator door problems have become common in every household. Thankfully, some of the causes are minor and can be solved personally. Samsung refrigerator noise complaints have also become popular in recent years, and whether or not it's down to how the refrigerators are maintained is yet to be known. We guess that's one of the drawbacks of modern Samsung refrigerators. Your Samsung refrigerator making a vibrating noise might be down to a lot of things. The sooner you identify the problems, the quicker the process will be.
Before we get into the causes of your Samsung refrigerator popping noises, let's take a quick look at some of the most popular refrigerator types we have today;
Popular Refrigerator Styles
Purchasing a refrigerator is always a big deal as you'll want to get to be familiar with every refrigerator type before making the big decision. A lot of people often make the mistake of purchasing any refrigerator style that's available to them without conducting in-depth research on each refrigerator style and how each of them can best serve them. Since the refrigerator is not something you're going to think of replacing in the next 5 years at least, it is very important to get used to the different styles of modern refrigerators so you can know which of them best suits your needs.
Side-by-side refrigerators
A side-by-side refrigerator is a popular option because of its slim nature. It is an ideal option for people who have limited space, and that's why it remains a popular option in the market today. Side-by-side refrigerators feature vertical refrigerator and freezer compartments that are located next to each other. Most of the modern options of this refrigerator come with exciting features like external water and ice dispensers. Despite these great features, side-by-side refrigerators are still fairly priced. They are not as popular as other refrigerator styles because of the space limitations.
LG is one of the best manufacturers of side-by-side refrigerators. Read our LG side-by-side refrigerators review here.
Top freezer refrigerators
It's safe to say that this is one of the oldest refrigerator styles, and it's regarded as a traditional style, although the ones in production now come with modern features. It is not as popular as a side-by-side refrigerator and in terms of functionality, a lot of people would choose a side-by-side refrigerator. They are called top freezers because their freezer compartments are located at the top of the unit while the refrigerator compartments take up the lower part of the unit. It is the best option for those who are on a budget. It is a great option, and it comes in different sizes such that it'll fit into any kitchen setup.
French door refrigerators
The French door refrigerator is the Ferrari of refrigerators. It is the most classic and modern style of all the refrigerator styles available in the market today. Whether you're purchasing the one with a water dispenser or not, you're sure to be getting a great choice. You'll particularly enjoy how it'll make your kitchen look modern and lift the other appliances around it. Using a French door refrigerator comes with lots of benefits that include space and energy efficiency. Because it is built like the actual French doors, you'll have a clear view of the inside area of the refrigerator once you open the refrigerator doors. They are called French door refrigerators because they usually feature two refrigerator doors that can be opened outwardly, accompanied by either one or two bottom freezer compartments, depending on the model.
Bottom freezer refrigerators
Bottom freezer refrigerators are similar to French door refrigerators in terms of how they're built but they don't feature two refrigerator doors like French door refrigerators.  They are popular because of the large freezer section which provides enough room for perishable food items to be stored. It is the direct opposite of a top freezer refrigerator because it has its freezer compartment at the bottom and refrigerator section at the top. It is a popular choice in the appliance market in the United States because a lot of people prefer having their refrigerator compartments at eye level, which is something a bottom freezer refrigerator will give them.
Factors to consider when buying a new refrigerator
You can't just go into the large appliance market in search of a new refrigerator without having an idea of what you want and how it'll best serve you. A lot of people make the mistake of not knowing what they need, and they end up, not only spending above their budgets but also purchasing the wrong product. You need to be able to nail your search down to a few important factors, some of which we'll be discussing below.
Features
As a refrigerator enthusiast, there are certain features you want that help you define an ideal refrigerator. If you can't identify them, you'll end up purchasing the wrong refrigerator. If you have little kids in the house, you should consider the 'Child Lock', which is a feature that makes the refrigerator not accessible to younger kids. Although your budget will most likely determine whether or not you'll get all the features you want in a refrigerator, you should always look to consider the features that are the most important to you and your family. This way, you can prioritize your needs and go for them without having your budget limit you
Energy efficiency
.Naturally, the refrigerator is one of the appliances that consume the most electricity in the house because people run it all day long. Having that at the back of your mind, you can only make matters worse if you decide to spend your money on a refrigerator that is not energy-efficient. Make sure you're buying a modern refrigerator because modern refrigerators are more energy-efficient than old refrigerators. Also, try to purchase a refrigerator with an Energy Star rating. This sticker shows how much energy your refrigerator will consume over a period, usually 12 months. Doing this will definitely reduce the pressure on your electricity bill, and you might end up saving up to $500 on energy consumption for the entire lifespan of the refrigerator.
Other important factors
Budget
Size of your space
Size of the refrigerator
Refrigerator style
Why does my Samsung refrigerator make noise?
According to Samsung, a functioning refrigerator will always make little noises to show that some elements in it are perfectly working, like the compressor and ice maker. However, you should know things are getting out of hand if the noises are so loud that they become annoying to you. Sometimes, the causes are not that serious and are things you can fix on your own. Other times, you'll have to request the service of a technician, preferably from Samsung. The most important thing is identifying the source of the problems. If your Samsung refrigerator is noisy, it may be down to some of the things below.
Samsung refrigerator compressor noise
A little noise coming out of the compressor is normal as it shows that the compressor is functioning properly. However, if you notice irregularities in the sound and it's nothing like you've heard before, then you should know something is wrong with the compressor. The sound of the compressor is usually hum or a buzz. When it gets too loud, then it indicates that the compressor is not functioning properly anymore. In this case, there's nothing you can do other than to change the compressor, but that should come after you've confirmed that the noise is coming from the compressor.
Samsung fridge buzzing noise
If your Samsung refrigerator is making a buzzing noise, it might be one of these two reasons. Firstly, the noise might be coming from the compressor. The buzzing noise of a compressor shouldn't be so loud that it'll get annoying. If so, it means the compressor needs a replacement. The second reason is the ice maker. If your Samsung ice maker is making noise and you don't have a water line connected, Samsung advises that you turn the ice maker off because if the noise continues, it may damage your refrigerator. It indicates that something is wrong with the ice maker and it needs to be replaced.
However, if a water line is connected to the ice maker, the buzzing noise is absolutely normal, but it shouldn't be loud enough to disrupt you from hearing comfortably. Although when the ice maker is refilling water, the noise might be louder if the pressure is high.
Samsung refrigerator popping noise
If your refrigerator is new, it might be producing this sound because it's adjusting to the temperature levels and humidity of its new home. The longer it spends in the same place, the sooner the popping noise stops. The noise is caused by the plastic parts of the refrigerator contracting and expanding as there are temperature changes in the refrigerator. If the popping sound doesn't stop in a while and the noise grows worse and more annoying, you'll have to request the service of a technician.
Samsung refrigerator rattling noise
Rattling is considered normal in a refrigerator if it's not too loud. It is usually caused by the compressor going off and it mostly happens when the compressor putters to a stop. You can also hear this noise if something is rattling against the unit from the back. You may just have to move the unit out an inch to try and see if the noise will stop. However, if the noise is very loud, you may need to involve a technician.
Samsung refrigerator loud fan noise
Samsung refrigerator noisy fan is always caused by ice buildup in and around the fan. The best thing to do if this happens is to perform a manual defrost. You'll also notice that your Samsung refrigerator noise stops when the door opens and continues making noise when the door is closed. Performing a manual defrost will temporarily get rid of this noise which will eventually come back unless you have a professional check it out for you. 
Samsung warns against using any heat source including a hairdryer to speed up the defrost process in the refrigerator as it will damage some components in the refrigerator.
Samsung refrigerator squeaky door
Your Samsung refrigerator can make squeaky sounds when;
1. The doors were recently removed and reinstalled. If the doors are not properly installed, it might cause the doors to make squeaky sounds.
2. If it's a new refrigerator, the doors might make squeaky noises but the noises will reduce or stop totally as you continue to use it. Samsung advises seeing how things go for a week before making a move if things don't improve after that.
3. The doors usually make squeaky sounds when the wheels of the refrigerator are touching the floor. In this case, you need to read your user manual on how to level a refrigerator.
Frequently Asked Questions
1. Why is my Samsung fridge making a loud humming noise?
Humming can come from your compressor or your ice maker. If your Samsung fridge is making a loud humming noise, it indicates that something is wrong with either the ice maker or the compressor. You need to quickly reach out to Samsung by requesting service from the brand's support center.
2. How do I stop my fridge from making noise?
The first thing to do is to identify the problems. We've listed the likeliest causes of refrigerators making loud noises. Conducting a thorough troubleshooting process will help you to identify the problem and proffer possible solutions to solve the problem.
Final Thoughts
Your Samsung refrigerator is one of your household's most important appliances, and you should always pay attention to every detail. Over the years, questions like "Why does my Samsung refrigerator make noise" have become very common because some of these sounds are absolutely normal. While some of them are normal, you should know when your refrigerator needs special attention from the way it sounds because it'll definitely sound different. We hope that we've been able to help with some of the causes and solutions we've discussed in this article.
ESTIMATED TIME DESIGNING AND UPLOADING THIS ARTICLE
ESTIMATED TIME RESEARCHING AND WRITING THIS ARTICLE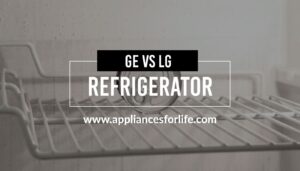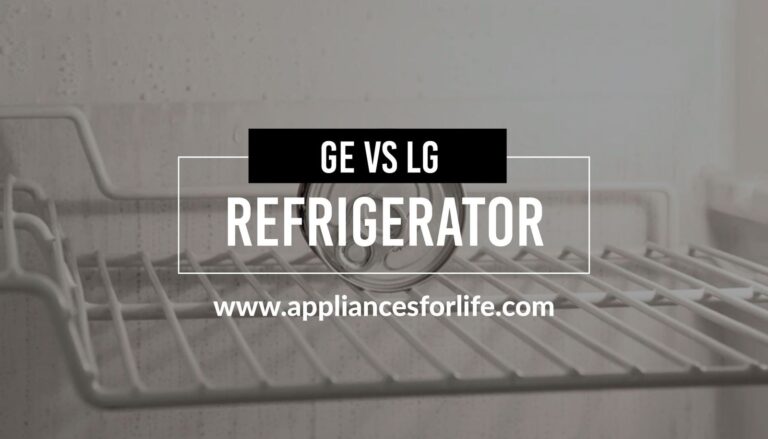 In the appliance industry, some brands do it better than others, and that's why the market remains one of the most competitive markets in the world. GE and LG are two of the biggest players in the appliance market. The talk of which brand does
Read More »