Ninja blenders are very famous for being versatile, strong, powerful, and extremely affordable, which is why the brand has been one of the best on the blender market over the past few years. Due to their popularity on the market, people have often wondered if their versatility means they can also be used as food processors, hence prompting the question "can you use a Ninja blender as a food processor?" Despite having access to different resources online, people have not stopped trying to find answers to this question, and that's what this article is about – knowing if using a Ninja as a food processor is possible.
While personal blenders are bowing out in favor of high-performance blenders which are more efficient and more powerful, Ninja has managed to stand out by producing blenders that are in the price range of personal blenders but with the power and efficiency of high-performance blenders. The production of high-powered blenders that also happen to be extremely affordable has made Ninja a very popular blender manufacturer on the market, fighting for bragging rights with the likes of Vitamix, Blendtec, and KitchenAid – all of which boast richer histories than Ninja. The brand's mission to catch up with the rest of the big brands has caused people to liken its blenders to super blenders in a bid to put their versatility to test.
Although if you take a good look at things, you'll realize blenders, regardless of their types, are generally underrated, and this has caused people to look for new ways to best explore their functionalities over the years. An average American only uses a blender for smoothies and other simple tasks when the versatile machine can be used for a whole lot more than that including crushing ice, pureeing food, preparing hot and cold foods, and many more. People are gradually realizing how important blenders are in the kitchen and that has caused them to invest heavily in the versatile appliance in the past few years, especially in the United States where the sales of blenders have gone up since the start of the last decade, making the country one of the fastest-growing blender markets in the world.
Using a Ninja blender as a food processor is something most people have tried to test to see if it's been possible all along. The Ninja kitchen blender is gaining a lot of popularity due to its versatility and affordability, causing people to want to explore the blender as much as they can. This is great for those who want to get the best value for every penny spent on acquiring this machine.
You can get your hands on a Ninja blender with food processor attachments, leaving you with a Ninja blender that can also double as a food processor, so in a way, that kind of answers the question "can you use a Ninja blender as a food processor?" However, for some people, using a Ninja blender as a food processor goes beyond getting food processor attachments for a Ninja blender. To truly answer this question, we'll need to explore the differences between a blender and a food processor, leaving us to also find out the similarities, hence finding if one can be used as a replacement for the other.
It's hard not to picture a Ninja blender doing all the hard tasks that personal blenders wouldn't dare do, but according to The Whole Portion, a Ninja blender cannot be used for mixing or kneading dough because it is designed to work effectively when there is liquid in the jar in the form of oil or water. Processing dry baking ingredients without any form of liquid can only be done in a standard food processor and not a blender because, as mentioned earlier, a blender needs liquid to function properly.
People love to draw comparisons between similar appliances with the hope of finding a way to replace one with the other, and that's why topics like "Ninja blender vs food processor" have become popular over the years. While most of these appliances can act as direct replacements for the others, a blender has often been thought to at least execute some food processor tasks. Thankfully, the brands responsible for manufacturing blenders are also responsible for manufacturing food processors so they've found a way to add some food processor attachments to blenders, making them function as though they were food processors themselves.
The Ninja brand hasn't given its competitors enough breathing space on the market with the production of blenders with the innovation of different technologies that help make blending easier for everybody as well as efficient. This doesn't mean that these Ninja blenders can directly replace food processors without the necessary attachments. Before we get into whether or not a Ninja blender can be used as a food processor, let's quickly discuss the functionalities of a blender and food processor, the types each machine has, and their differences.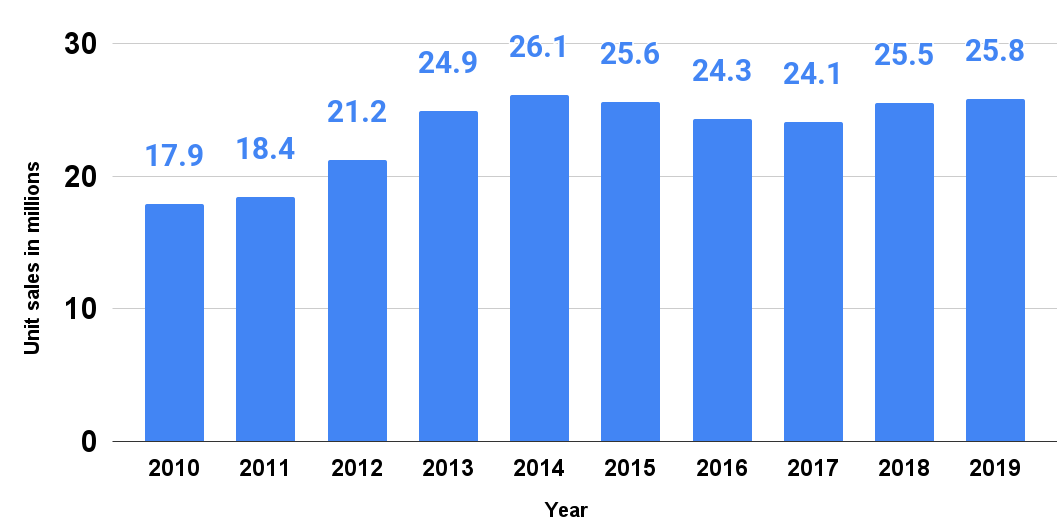 If you're in the United States, chances are that you own a blender because almost every household in the country reportedly owns a blender. Since blenders are great for making healthy smoothies and milkshakes, their popularity is a no-brainer. Whatever you crave to make in your kitchen, having a blender in it helps make the whole process very easy. According to Aham Blog, being one of the most versatile kitchen appliances, over 90% of households around the world reportedly own at least a blender.
Thanks to the information provided by Arne Holst of Statista, we were able to create the chart above that shows the unit sales of appliances in millions in the United States from 2010 to 2019. Blender sales have grown considerably high over the past few years, thanks to the creative efforts of top manufacturers who will stop at nothing when it comes to producing quality blenders for their consumers to enjoy. Despite the effect the coronavirus pandemic had on every business across the world, blender sales continued to skyrocket as everyone was forced to work from home, making people bond more with their kitchen during that period.
In 2010, 17.9 million blenders were sold over several retail channels in the United States, and the numbers would grow to 18.4 million in 2011. In 2012, the retail unit sales of blenders in the United States amounted to a total of 21.2 million, one of the most successful years for blender sales in recent times. Most recently on the chart, the total retail unit sales of blenders in 2019 was 25.8 million.
What is blending?
The blender is a very important appliance to have in your kitchen or "kitchen arsenal" as Jessica Gavin declared back in 2018. As mentioned earlier, many households across the United States own at least a blender, and that's to show how important the versatile machine has been over the years. While many people only use blenders for simple things like soups, smoothies, and shakes, blenders can do a whole lot more than these things, but people have not realized this yet, limiting them to only use their blenders for simple tasks.
Jessica Gavin, in a post where she discussed the uses of blenders, explained how she used her blender to make desserts, burgers, sauces, soups, beverages, dips, spreads, and many more. Blenders are mostly used for breaking down solid items with the help of liquids to help make salad dressings, hot soup, pancake batter, smoothies, sauces, ice cream, and even fruit popsicles. They are capable of producing very smooth products at the end of every blend process.
Important Blending Tips
It's one thing to own a blender, it's another thing entirely to know how to operate the machine to get the best out of it. It's a general thing that people don't know how to get the best out of their blenders, leaving them to only use some functionalities out of the many functionalities their machines are packed with. Below are some of the important blending tips that'll help you get the best out of your blender, making you get the best value for your money in the process.
Cut solid ingredients into small pieces
One thing you can't afford to do with your blender, especially when it is a small blender with a not-so-large blender jar, is to put all your solid ingredients in it without cutting them into smaller pieces. If you don't cut your solid ingredients into smaller pieces before putting them in your blender, you risk damaging the blades as they'll try to work extra hard to cut what's in the jar, making them go beyond their limit. If you don't want to go through this, you may consider purchasing a super blender with a large capacity that allows you to throw all your ingredients in at once without cutting them
Always close the lid properly
Another mistake people make when they use their blenders is that they don't always close the blender lids properly before operating their blenders. Most folks get away with this because they have high-powered blenders which give them a sign that the lid is not properly locked by not working at all. Once you notice this in your blender, try to lock the lid properly before proceeding with whatever you want to do with your blender.
If you don't own a high-performance blender, you may get yourself injured while trying to operate the blender without the lid closed. This is why you need to make sure your blender lid is closed at all times whenever you're operating the machine.
Unplug the machine when it's not in use
If you own a blender, you must have forgotten to unplug your machine after use at least once since you've been using it. This is a very common occurrence and we believe people should be more intentional about unplugging their blenders from electrical outlets as soon as they're done using them. This helps you curb any risks of fire accidents or any other risks connected to leaving your machine plugged into an electrical outlet even when it's not in use.
Don't immerse the base in water
The blender base is the brain of the blender which houses the motor and important buttons of the blender. The last thing you want to do is to immerse the base in the water while trying to clean it. There are many ways to clean your blender base without immersing the blender base in the water. Doing this may cause electrical shock or even damage the blender base completely. It's safe to note that without the blender base, the other parts can't function, and if it can't be fixed, you'll have to get a new one.
What can you make with your blender?
Frozen drinks

Beverages

Smoothies

Cookie crumbs

Pancakes

Muffins

Hot and cold soups

Baby food

Ice cream

Fruit-based treats

Spreads

Pesto

Hummus

Vinaigrettes

Mayonnaise

Breadcrumbs

Low carb sides
What should you avoid?
Grinding tough meat

Mashed potatoes

Kneading dough

Extracting juice from fruit without the proper setting
What are food processors?
While blenders need liquids to give you the best results, food processors don't. They help break down tough ingredients and they usually feature larger blades and cups. They are usually tasked with grinding, chopping, and slicing tough ingredients. Just like you can't do some of the things you can do with a food processor with a blender, you can't also make beverages like smoothies or blended drinks in a food processor.
We won't deny that both appliances have similarities that often confuse people, making them believe one can be used to directly replace the other. After all, both have similar attachments like blades, jars, and many more. However, the difference between blenders and food processors is that the latter is designed to perform a series of kitchen tasks like slicing, dicing, chopping, and mixing though – what blenders are not known for.
Can you use a Ninja blender as a food processor?
Ninja blenders are quite famous for being able to do anything. Thankfully, we also live in a world where we now have a series of high-quality blending machines that can help make life more convenient and comfortable, but as versatile as these machines are, there's a limit to what they can process as regards food processing. This has caused people to ask different questions like "can you use a Ninja blender as a food processor?"
We'll be answering that question in this article, discussing some of the best ways a Ninja blender can be used as a food processor. The process begins by knowing that food processing, as opposed to blending, means processing anything without liquid. A blender can be tasked with little food processing tasks like making nut butter, which is considered food processing.
While a blender can be tasked to double as a food processor sometimes, you need to get your hands on the right blenders to achieve great results. Some Ninja blenders like the Ninja BL770, Ninja MasterPrep QB1004, and the Ninja Duo Auto IQ are some of the blenders you can use as a food processor because they can be paired with a unique Ninja food processing bowl. This way, you can turn your ordinary Ninja blender into a powerful food processor, although the bowls will be different from the actual blender jars you're used to. Thankfully, finding the right food processor attachments for your Ninja blender is pretty easy.
Frequently Asked Questions
1. Can a Ninja be used as a food processor?
What we've tried to discuss throughout this article is how a Ninja blender can be used as a food processor. If you happen to get your hands on the right blenders that can be used with Ninja food processor attachments, you will be able to use them as food processors.
2. Does the Ninja blender work as a food processor?
The right Ninja blender will work as a food processor with the right attachments.
Final thoughts
If you've found yourself asking the question "can you use a Ninja blender as a food processor" too often, then you must have found your answers in this article. Understanding the limitations of your standard blender should be one of the most important things to be aware of. If you manage to purchase the right Ninja blenders that can be connected to unique Ninja food processor attachments, you'll have your blenders also doubling as a food processor. Alternatively, which is often the best option, you should invest in the Ninja Kitchen System which can be used as a food processor, blender, and some other appliances in the kitchen.
ESTIMATED TIME DESIGNING AND UPLOADING THIS ARTICLE
ESTIMATED TIME RESEARCHING AND WRITING THIS ARTICLE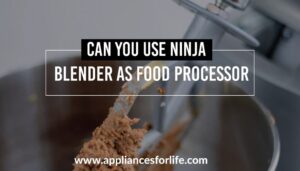 Can You Use a Ninja Blender as a Food Processor?
A popular question amongst those who own Ninja blenders today is "Can you use a Ninja blender as a food processor?" If you've found yourself trying to find an answer to that question, we're here to help. Ninja blenders are very famous for being versatile,
Read More »