Bosch is literally a leading company when it comes to innovative technology and reliable appliances. It is a German multinational engineering company and it is currently classed as the world's largest supplier of household appliances, power tools, garden tools and heating and hot water necessities. Founded in 1886, Bosch has been growing and growing and is regarded as one of the most reliable appliances brands to buy your home appliances from. They do everything from electric stove tops to incorporating new microwave oven technology into their appliances. Their products are made in Germany and Switzerland and everything is tried and tested before sale making sure that you are only getting the best possible. Check out their company website.
Bosch Refrigerators
Bosch experts have created fridges with the most up-to-date technology such as innovative refrigeration features such as the hidden door hinge, premium tempered glass, and beautiful LED lighting throughout.
Bosch Refrigerators Comparison Chart
| Image | | | |
| --- | --- | --- | --- |
| Item | Bosch B26FT50SNS 36-inch French Door Refrigerator with 25 cu. ft. Capacity in Stainless steel | Bosch B10CB81NVB: 24″ Glass Door Counter-Depth Bottom Freezer B10CB80NVB 800 Series – Black Glass | Bosch B10CB81NVW: 24″ Glass Door Counter-Depth Bottom Freezer B10CB81NVW 800 Series – White Glass |
| Color | Stainless Steel | Black Glass | White Glass |
| Dimensions | 32.5 x 35.6 x 69.75 inches | 23.5 x 25.75 x 72.875 inches | 23.5 x 25.125 x 72.875 inches |
| Weight | 325 pounds | 192 pounds | 256 pounds |
| Standout Feature | Hidden Hinges | Multi-Airflow | HydroFresh Drawer |
| Editor's Rating | ✸✸✸✸✸ | ✸✸✸✸✸ | ✸✸✸✸✸ |
| | | | |
Whether you choose freestanding or built in, you really can't go wrong when choosing their fridges. They offer everything you need from a fridge and freezer space as well as combining your needs into their design making it energy efficient, easy to use, practical and stylish.
Bosch B26FT50SNS 36-inch French Door Refrigerator with 25 cu. ft. Capacity in Stainless steel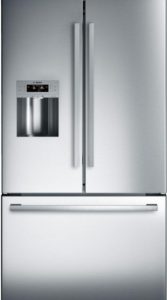 When we saw this model out we couldn't help ourselves. This is a stunningly beautiful fridge with state-of-the-art features and amazing technology. Soundly engineered, these fridges are made to keep your food fresh for longer while being energy efficient and affordable at the same time. It comes with adjustable glass shelves which are spill-proof, an exterior ice and water dispenser, a superfreeze section and a VitaFresh section plus LED lighting throughout. It works at a low noise level and will give your kitchen a beautifully classic finish. We love all the neat drawers included in the bottom of the fridge so you can easily store vegetables, dairy and meat in different areas and keep them separate.
FEATURES
External Water Dispenser

Crisper Drawer

Wide Gallon Door Bin

Right Hinge with Reversible Doors

Automatic Defrost

Fingerprint Resistant Finish

Open Door Alarm

Control Lock

5 Glass Shelves

Multi-Airflow
Bosch B10CB81NVB: 24″ Glass Door Counter-Depth Bottom Freezer B10CB80NVB 800 Series – Black Glass
This Bosch freezer might not be high-ended as the first two but you'd be wrong to write it off so quickly. Compared to other refrigerators, this counter-depth bottom freezer is a top product as it is packed with lots of exceptional features that make overall operations smooth and convenient. To prevent warmth from entering into the freezer, a SuperCool function has been integrated into the system to constantly reduce the temperature in the freezer to keep the food in it cool. When the button is pushed, the temperature drops down to 36 degrees Fahrenheit and it also helps reduce the amount of power consumed.
FEATURES
Crisper Drawer

Right Hinge with Reversible Doors

Frost Free Defrost

LED Lightning

VitaFreshPro Technology

HydroFresh

2 Glass Shelves

SuperCooling

SuperFreezing

Wine Rack
Bosch B10CB80NVW: 24″ Glass Door Counter-Depth Bottom Freezer B10CB80NVW 800 Series – White Glass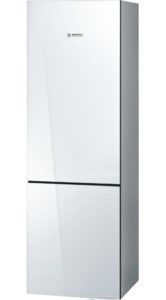 This is a lot similar to the product we mentioned earlier. The reason is not far-fetched; they are both part of the 800-series which is a very popular series of counter-depth bottom freezer. Perhaps the only obvious difference is the color as this comes in white while the other one is designed in black glass. The LED lightning featured in this freezer is one of the most talked-about features. It combines well with other high-end features including the freezer's compact and sophisticated design.
FEATURES
Right Hinge with Reversible Doors

Automatic Defrost

Humidity-controlled Crisper Drawers

Organized Freezer Drawers

Electronic Controls

Open Door Alarm

Wine Rack

2 Glass Shelves

HydroFresh

Energy Star Certified
Bosch Dishwashers
Bosch dishwashers have been created with the customers needs in mind. They have been designed to be energy efficient, spacious, efficient and stylish. They are made to give you maximum flexibility when loading it and it has been proven that they take 30% more dishes than other regular dishwashers. They come in all types of sleek designs such as ones with custom panels so they can't be seen, ones with top controls, ones with front controls, built in options and slimline fits if you are cramped on space. Bosch has thought of everything right down to the noise level and lights.
Bosch SHPM65Z56N 500 24″ Black Fully Integrated Dishwasher – Energy Star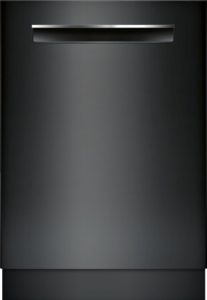 We are really in love with this snazzy dishwasher at 24 inches in a full black design. It is great value for money, has five different wash cycles and wash options available and it has an adjustable rack. It is really quiet when running a cycle and has a light indicator to show you when it is in use. This model has some great reviews and customers are raging over it. You can also order in stainless steel if you don't want plain black. This specific model is slim as well so you can make the most out of your space in your kitchen. It is really spacious inside and can fit bulky pans and large plates in it as well making it super practical even though it is small.
FEATURES
InfoLight

Delay Start

Flexible 3rd Rack

16-place Settings

5 Wash Cycles

Pocket Handle

Optimized Detergent Tray

RackMatic

FlexSpace Tines

AquaStop
Bosch SHV878ZD3N 800 Series 24-inch Built-in Dishwasher with 6 Wash Cycles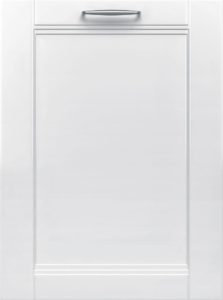 This is the big brother of the Bosch dishwasher discussed up there but what makes this outstanding are the more advanced features it is packed with. People hail Bosch as perhaps the brand that produces the quietest dishwashers in the U.S. How have they been able to achieve this? They use 18 noise reduction systems which include the company's EcoSilence motor system, grindless food filtration, and multiple insulation layers among many others.
FEATURES
Flexible 3rd Rack

Sanitize Option

InfoLight

16 Place Settings

6 Wash Cycles

Full Size Stainless Steel Tall Tub

Silverware Basket

Extra Dry Option

PrecisionWash

CrystalDry
Bosch Slide-in Ranges
Alongside their cooktops, built in ovens and microwaves we love their unique and hard to beat slide in ranges which are great for any kitchen. We love that they make their ovens with a purpose, they are really, really stylish and deliver faster cooking performances than ever before. They like to keep things simple and have designed them with amazing features like quiet close doors, a dual stacked burner, adjustable oven temperatures, dual and single fuel types and a design which makes it easy to keep clean. We also love their control pads on the front which are so much more reliable than the traditional knobs generally used on ovens.
Bosch HGI8054UC 800 30″ Stainless Steel Gas Slide-In Sealed Burner Range – Convection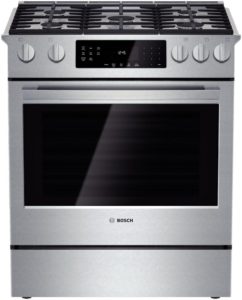 Although not the newest model on the market we love this slide in oven at 30 inches because it gives you just enough space and room to cook different dishes and has some great features as well and all at a really affordable price. It has five sealed burners, nine different cooking modes, a self-clean option and a nifty computer display pad on the front. You can't beat an oven that has a warming drawer as well. It is also made so that it easily slides in and over countertops so you don't get any gaps where grease and fat can drop into making this is a super-clean and efficient range.
FEATURES
Self-clean Oven

Storage Drawer

Self-cleaning Mode

Heavy-duty Metal Knobs

Warming Drawer

Large Oven Capacity

5 Sealed Burners
Bosch HEI8056U 800 30″ Stainless Steel Electric Slide-In Smoothtop Range – Convection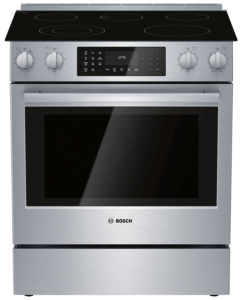 If you are looking for an electric range rather than gas then we would go for this model. It has an amazing eleven cooking modes and dual elements giving you the precise cooking temperature you need. Although this is a convection oven it isn't as noisy as other average convection ovens usually are. It comes in the same style as the gas range, stainless steel and they haven't missed adding the warming drawer on this one either! Don't forget that the cooktop has a safety feature on it which shows you when the plates are hot – this is great if you have children or young ones around the house.
FEATURES
Warming Drawer

5 Sealed Burners

Self-cleaning Mode

Heavy-duty Metal Knobs

Self-clean Oven

Large Oven Capacity

Storage Drawer
FREQUENTLY ASKED QUESTIONS
1. How good are Bosch appliances?
Bosch is rated as one of the most reliable appliances brands in the world and that's because for so many years, they have been consistent with the quality of their home appliances which has earned them a high level of trust among their customer base.
2. Are Bosch appliances German?
Bosch is a German brand but also a global brand because they have factories all across the globe, including the United States.
3. Are Bosch appliances high-end?
Bosch appliances are considered to be consumer-grade as they are generally affordable but they have some expensive appliances too.
Fit Out Your Whole Kitchen
The one great thing that we love about Bosch is you can fit out your whole kitchen with their appliances. From kettles and toasters to fridges and ovens, their products will literally change the way you cook, store and prepare food and drink. They offer microwaves, ovens, cooktops, fridges, freezers, dishwashers, washing machines and many more appliances which are designed to make your daily routine stress free. Bosch even does package promotions if you buy several appliances in one go and if you are a returning customer then you might even get a discount.
Their customer service is one to beat and they have a really helpful team of experts ready to give you advice on what you need. Check them out at – Link 7. We also love the fact that complaints are dealt with swiftly and they are quick to give returns on warranty products. You can choose from a range of styles in black, white and stainless steel and you can even order a custom made fridge or dishwasher to suit your personal specifications. Bosch offers support you can depend on, appliances you can rely on and all at a price which is simply unbeatable. When choosing Bosch for your appliances for the home you will be guaranteed satisfaction.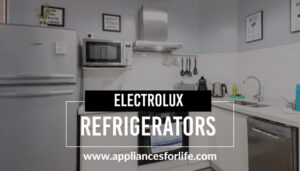 Top 4 Best Electrolux Refrigerators
The best fridges require you to put a lot of effort so you don't make the wrong decision. The Electrolux company is one of the best in the business, and in this article, we'll be reviewing the top 4 best Electrolux refrigerators. Every modern home
Read More »