A lot of people would say technology has greatly affected the way humans live. Some would say it has given a different direction to the concept of life. Others would say that it has had positive and negative impacts on the human race entirely. These claims from different kinds of people might not be put in the same words or constructed the same ways, but all still point to one direction; technology is influential.
We now live in a world that is largely dominated by technology, and it's only a matter of time before we go full-fledged. Artificial Intelligence is being built to wipe off every manual way of getting tasks done. Years to come, we'll witness a world that depends less on the manual workforce, but rather, technology.
We see these things in our homes, with the appliances that we have around us; refrigerators, washers, dryers, blenders, cooking ranges, microwaves, and many more. These appliances have eased our reliance on the old-fashioned execution of domestic chores. These appliances have taken up the responsibilities of getting a lot of things done, albeit, little human efforts still have to be involved to get them to be fully operational.
LG, for many decades now, has been one of the most consistent appliance brands, wasting no time to come up with trendy appliances to match every season. Only brands that produce relevant products/appliances have managed to stand the test of time and to still see LG remain a top appliance brand is a testament to the brand's ever-growing reputation.
An LG French door refrigerator is a popular refrigerator type in the appliance industry. The truth is that just like with every other appliance, you might encounter some problems with your LG French door refrigerator, and one of the most popular issues would be the temperature. You can't afford to get your LG French door refrigerator temperature settings wrong if you want to really enjoy the refrigerator. We all know the temperature is everything when it comes to cooling, which is exactly what a refrigerator is built for.
Before we get into how to adjust the temperature on your LG French door refrigerator, let's briefly discuss the idea behind the French door refrigerator as well as its pros and cons.
The concept behind the French door refrigerator
We talked about the importance of technology and the impact they've had on our daily lives earlier. To say that we've greatly benefited from technology would be an understatement. It has improved the way we live and given a different meaning to what humanity should be. The French door refrigerator is another wonderful product of technology and has changed the conventional method of refrigerating (side-by-side refrigerators). Lots of tech innovations come with the French door refrigerator, giving it an edge over the other refrigerator types.
French door refrigerators are built like the actual French doors which are popular door types in every home. The idea behind French doors is to illuminate and provide open space to the area whenever they are opened. French doors, which used to be found in homes of elites back in the days, have now become popular in different homes, regardless of the social status because they've been made affordable. This concept has now been introduced to the appliances market, adopted by different manufacturers including LG.
The good thing is that in modern-day kitchens, there is no shortage of trendy refrigerator designs, and one of the newest ones is the French door refrigerator. This refrigerator type features two separate doors that can be opened outwardly, accompanied by a bottom freezer. The big idea is that when you open the two doors, everything becomes visible, giving you clear access to the entire space, meaning that the content of the refrigerator becomes clear and can easily be seen.
French door refrigerators mostly come with either one or two drawers for the freezer at the bottom of the unit. According to Consumer Reports, French door refrigerators have attained new heights due to offering consumers ease through easy access to fresh-food items, sleek designs, and many more.
In summary, the idea behind a French door refrigerator is to have a refrigerator that offers what other refrigerators offer in a more sophisticated way by creating more storage space and visible access to the refrigerator area of the unit.
Benefits of the French door refrigerator
The French door refrigerator is now, perhaps, the most popular refrigerator type because of the sophistication people will get to enjoy when they buy it. Refrigerators don't just rise to the summit of the appliances market if they don't have what consumers would need in them; that's the concept of sales, anyways. The rather trendy design of French door refrigerators has left many in awe of them. If you're in the market for a new French door refrigerator, you might as well get used to the many benefits you're going to enjoy along the line. Below are just some of them;
The layout is top-notch
If you were to gather 20 French door refrigerator users and ask them what they love most about their refrigerators, most of them would point to the layout as one of the most likable things about the refrigerator. We earlier discussed the concept behind the French door refrigerator and this is where it comes into play. There's a certain pleasure that you derive when you open your refrigerator and you enjoy great views of the refrigerator content, especially when you open both doors.
Unlike other refrigerators where you'll need to do lots of bendings and twistings, the same doesn't apply to a French door refrigerator. Everything is crystal clear with this refrigerator type, and this lets you organize your refrigerator exactly how you want.
French doors also feature chiller drawers, wide door bins, and produce drawers, all of which provide additional storage options, leaving you with more options to keep your refrigerator well organized. With the help of the movable shelves that come with most French door refrigerators, you can have easy access to some items that are naturally hard to reach.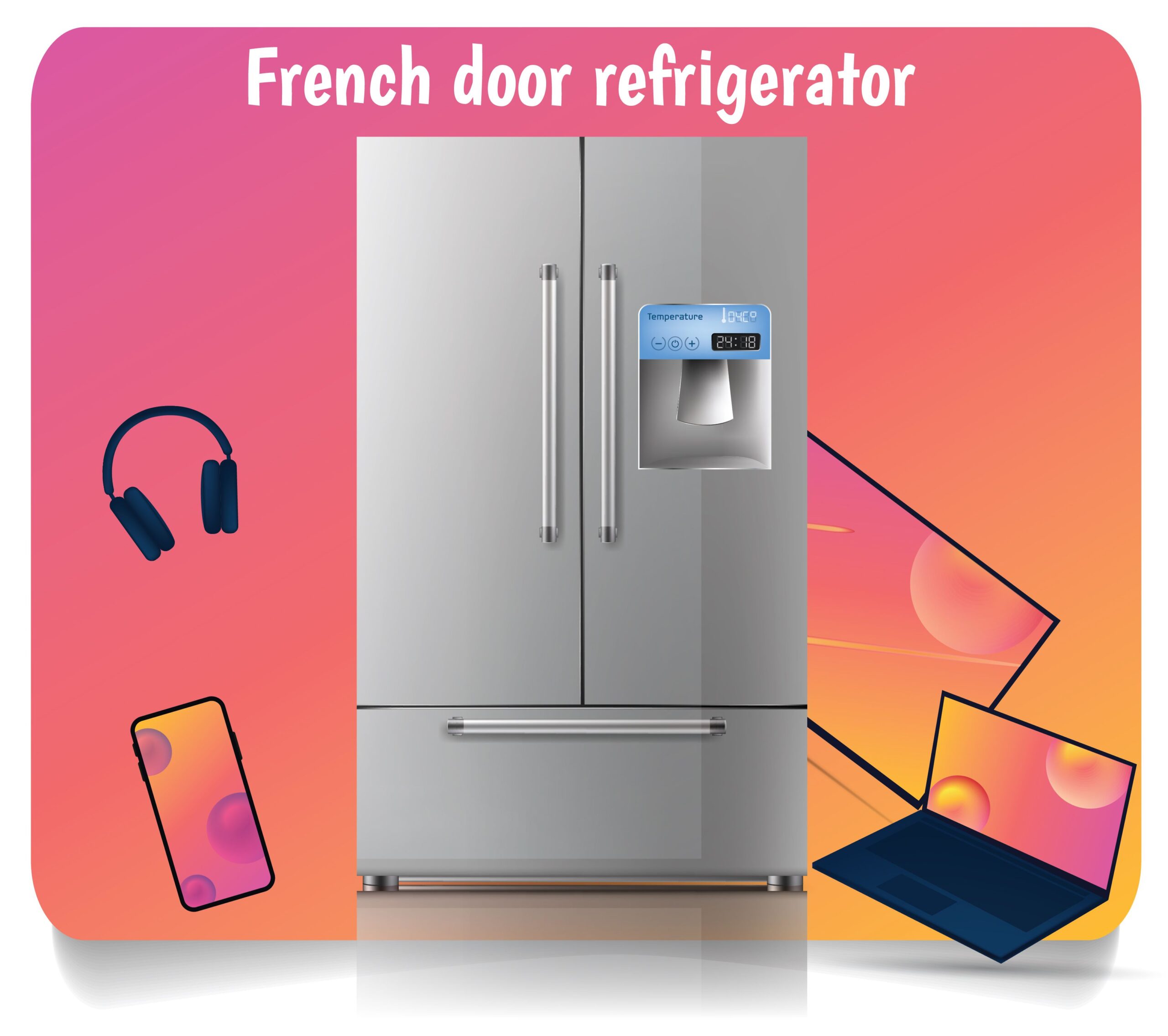 Energy saving
Anybody looking to get a new appliance always sees energy consumption as an important factor to consider because it'll have a lasting effect on one's electricity bills as long as the appliance in question remains in use. If energy consumption is a big thing for you, then you should look to own one of these classy and trendy French door refrigerators. Thor Kitchen, in an article posted a couple of years ago, pointed out that the refrigerator is forced to work harder than it normally should anytime its door is opened, causing it to consume more energy at that particular time.
The good thing with the French door refrigerator is that it features two doors that can be opened outwardly. You can open one of these doors at a time to prevent loss of cool air which might force the refrigerator to work harder to regain the lost cool air. This way, you're conserving as much energy as you can by reducing the amount of air lost in the process of opening the refrigerator doors.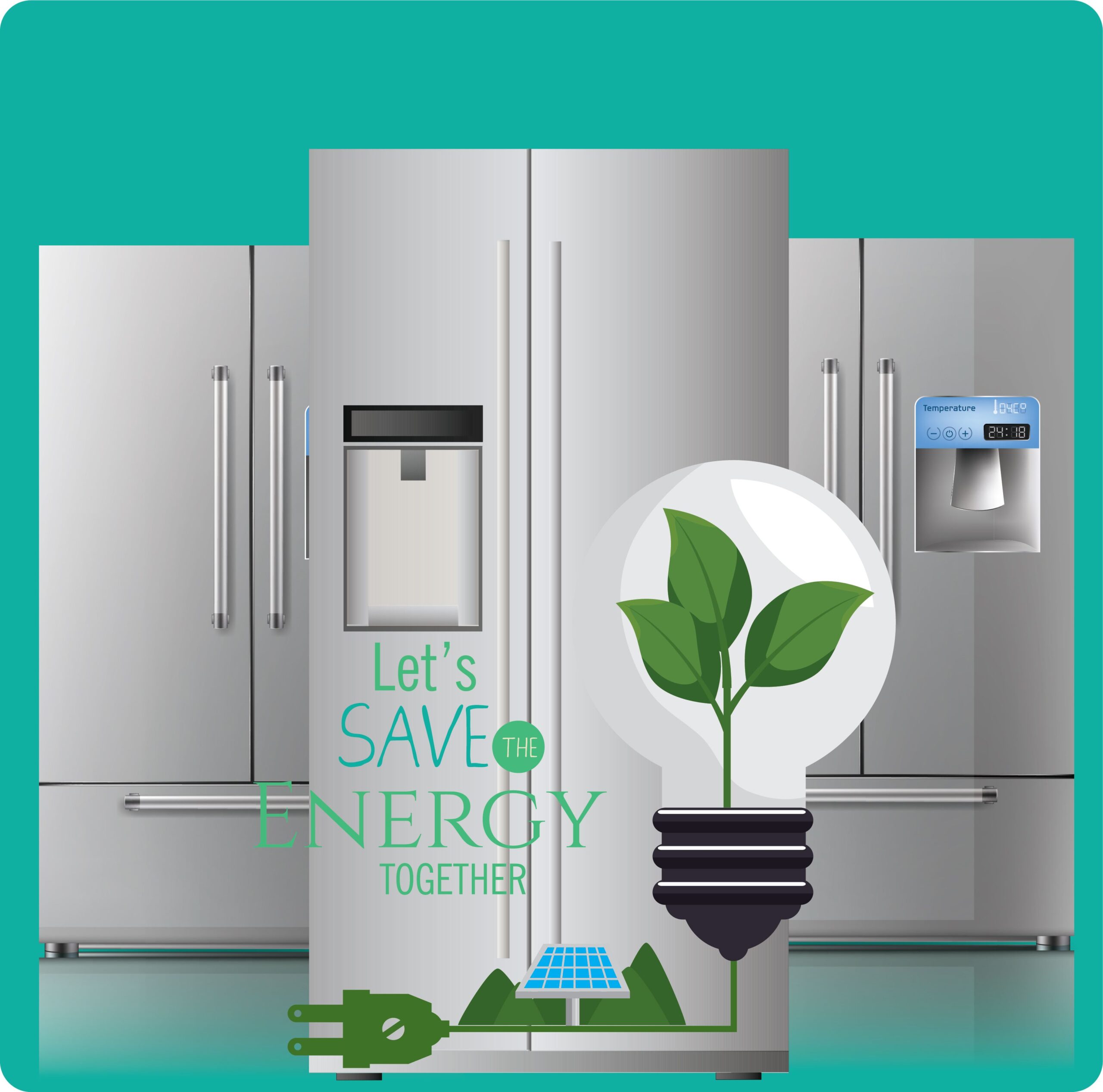 Cut-fit size
This is a common thing, even amongst other refrigerator types. However, one thing that makes the French door refrigerator a stand-out option is that regardless of the space you're willing to give up for it, it always has a way of fitting in. The fact that the doors are cut in half, instead of being a full single door like the conventional refrigerator, makes it a space-saving option. The amount of space required to accommodate a full door is not the same as required to open the doors of a French door refrigerator, especially when you have the option to open them one at a time.
You'll need to have to get the measurements of your space right, though. The bottom-freezer style might pose a problem if you have a ridiculously tight space. Getting the measurements right will help you avoid possible troubles, and also help you make the right purchase.
Complements other appliances
Most French door refrigerators come in stainless steel and matte black surface finishes. These finishes have "beauty" written all over them and when you have one of these as your French door refrigerator finish, it's always a great thing. Naturally, French door refrigerators are built greatly. Sleeky design and elegant, you can be very confident that a French door refrigerator will perfectly complement other appliances in your space and also lift the mood in there. You want your space to look modern? Get yourself a French door refrigerator.
Tech features
With technology giving a different meaning to how humans should live, it is normal that the latest appliances in production today are packed with some of the most sophisticated features we've ever seen. It will even get better with technology constantly on the rise, with changes and tweaks being made with each day that passes by. Many French door refrigerators come with LED lighting. The job of LED lighting is to provide an eco-friendly way of viewing the content of your refrigerator.
Another amazing feature is the door alarm system. We all know that leaving the refrigerator doors open will have adverse effects on your electricity bill. We can't prevent human errors sometimes, after all, to err is human. However, with this door alarm system, you'll be instantly notified that the doors have yet to be closed, thereby causing you to take immediate action that will stop energy wastage.
Drawbacks of the French door refrigerator
There's no perfect appliance out there. There will always be one or two drawbacks to give you a rethink, obviously not the deal-breakers. You probably shouldn't be put off by these drawbacks, especially with French door refrigerators. Regardless, you should still be kept at bay of the things you probably won't appreciate too much about the French door refrigerator if you're going to own one.
Below are some of the drawbacks of the French door refrigerator;
It is expensive
All good things come at a cost; although some are usually higher than the others, and the French door refrigerator happens to be in the former category. If you're on a budget, you might actually be put off by the rather outlandish prices slammed on some French door refrigerators, especially if you have a high taste for sophisticated features. Prices for French door refrigerators depend on the types. Usually, three-door units usually cost around $2,000 to $3,000.
A lot of things are put into consideration when pricing a product. In the case of a French door refrigerator, the sophistication of each type plays a huge role in the pricing. Many four-door models are priced around $3,000, and some can even cost as high as $5,000. If you can afford it regardless, it'll be great because you'll be getting your hands on the most trendy refrigerator design. Not just that. It'll last longer than you expect and durability is very important in every appliance in and around the home.
Less vertical storage
French door refrigerators come with split shelves, making it a "not-so-great" option for storing straight/upright bottles/containers. Vertical storage is what you won't get to fully enjoy if you're opting for a French door refrigerator. This might be a total turn-off if most of the things you keep in the refrigerator are upright containers.
Factors you should consider when buying a French door refrigerator
When you're looking to purchase a new French door refrigerator, there are certain things you need to put into consideration. When you're purchasing a new appliance, money is always definitely involved. Therefore, it is very important to make the right purchase and not to get things wrong. If you're getting a new French door refrigerator, the following are what you should seriously consider before making the purchase;
Budget
The size of your space
Energy consumption
The features you want in a refrigerator
Surface finish
How to adjust the temperature on an LG French door refrigerator
Most LG refrigerators come with a default temperature setting which is between 37 degrees F for the refrigerator and 0 degrees F for the freezer. The LG refrigerator freezer temperature is set to these figures because that is the LG refrigerator recommended temperature setting. However, sometimes, these recommended settings might be below or above our expectations or what we really need, thereby causing us to make some tweaks to them. If you're looking to adjust the temperature of your LG French door refrigerator, take a good note of the following procedures as provided by LG;
STEP 1: Tap the display
STEP 2: Locate "Settings" and choose the option
STEP 3: In "Settings", you will find many options but locate "Refrigerator Manager" and choose the option
STEP 4: Press + or – to adjust the temperature
NOTE: it is very important not to hasten the adjustment process. If you're increasing the temperature, you should look to move one step at a time. From the current level, move a step ahead and wait for the results. If you don't get the desired results, you can proceed to the next level, and repeat this process until you get the right temperature settings. This is to ensure that you don't cause major damage to the content of the refrigerator, or the refrigerator itself.
If your French door refrigerator features the LG SmartThinQ, which is the brand's smart feature, you can adjust the temperature of both the refrigerating and freezing units through your smartphone. To do this, open the app on your smartphone and press the "Refrigerator" tab twice. Once the temperature setting appears on your screen, you can adjust, but remember to do this one step at a time. Once you're done, press "Save" and the changes will be made.
Frequently Asked Questions
What temperature should my LG freezer be set at?
LG's recommended temperature for the freezer is 0 degrees F. It is always ideal to play by the books sometimes.
How do I reset my LG French door refrigerator?
To reset your LG French door refrigerator, open one of the two doors and hold both the "Refrigerator" and "Ice Plus" buttons simultaneously for five seconds. You will hear a beep from the control panel afterward with a text on the temperature settings, reading "Demo Mode is deactivated."
Does an LG refrigerator have a reset button?
Yes, it does.
Conclusion
Temperature is an important part of the functionality of a refrigerator and must be treated as such. Getting the right temperature settings will greatly improve the functionality of your refrigerator, and will even make it last longer. We've provided the best ways to adjust the temperature of your LG French door refrigerator, but you can research further to learn about more ways to get this done
ESTIMATED TIME DESIGNING AND UPLOADING THIS ARTICLE
ESTIMATED TIME RESEARCHING AND WRITING THIS ARTICLE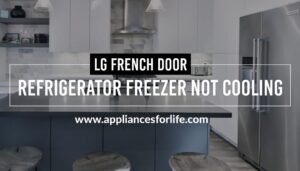 LG French Door Refrigerator Freezer Not Cooling
Investing in one of many LG French door refrigerators is always amazing. From its aesthetic looks to its effective operations, you can't help but like the idea of owning a French door refrigerator. Despite being a great refrigerator type, it also comes with its own
Read More »