You can tell that modern appliances are important in the world we live in today from the sales records from manufacturers year after year. They rake in huge yearly revenues only from sales of these appliances, and that's enough proof that people are heavily investing in these appliances. Having these appliances around has greatly improved our lives. The new generation won't know what it means to not have a refrigerator that can stream TV shows or an air conditioner whose temperature settings can be controlled from a smartphone. A lot of these things were only concepts half a century ago, and you could forgive people who never thought these appliances would ever be produced, but here we are. The people who witnessed the transition from conventional appliances to modern appliances now know what possibility feels like.
General Electric has been one of the biggest contributors to the growth of sophisticated and quality appliances in the United States. Being one of the biggest appliance companies in the United States, General Electric's commitment to the immense growth of quality appliances in the country has long been lauded by many. As a result, the company has created many job opportunities for people living in the country over the years, although the impact of Covid-19 on the sales of appliances worldwide has caused the company to lay off workers.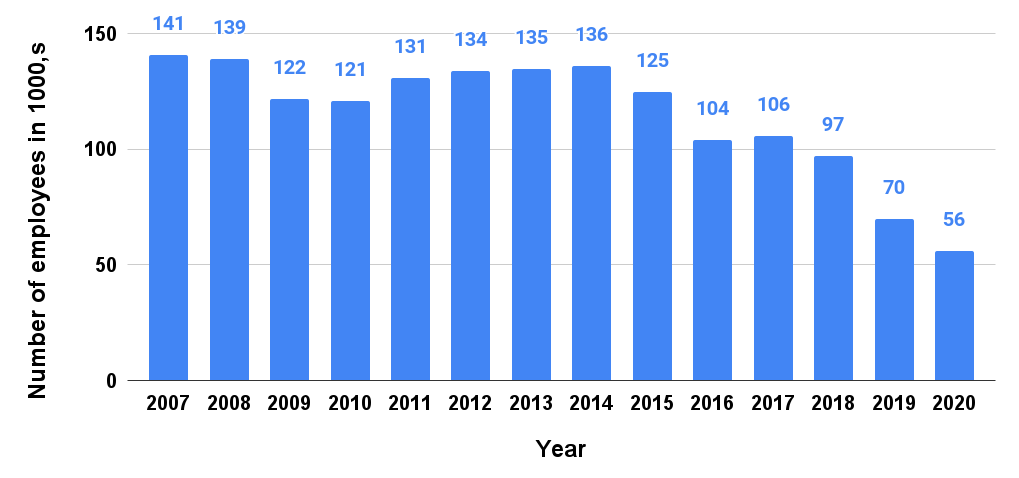 General Electric is one of the biggest appliance companies in the United States, and that is being backed with these statistics by E. Mazareanu for Statista. From 2007 up until 2021, the chart shows just how much the company has invested in the workforce in the United States, creating job opportunities for many as a result. Although when you compare 2007 to 2021, you'll realize the numbers have tanked badly, and only less than half of what they had in 2007 remained in 2020. This has been the case since 2017 where the numbers have been consistently reducing as shown in the chart above.
106,000 employees in 2017 were reduced to 97,000 in 2018. 2019 recorded only 70,000 employees while the number dropped greatly back to 56,000 in 2020. Despite the drop, it doesn't take away the fact that GE remains a big appliance manufacturer in the country, and the dream of creating high-quality appliances remains the same. GE's contribution to the growth of home appliances and items in the United States cannot be overemphasized. The company is even more famous for always moving with purpose and intent, and that's why questions like "What is the difference between GE and GE Profile" have become very popular over the years. It's just hard to think of General Electric without thinking of excellence.
People in the United States love home appliances. It's hard to keep up with the tasks life is presenting us daily and still manage to put the home in order. This is why many people don't mind spending a huge sum of money in a bid to land appliances that will make life generally easier for them. The United States is such a big appliance market. According to Arne Holst of Statista, the U.S. is the largest household appliances market in the world, and in 2018, the market had a value of $37.6 billion, which surpassed any other appliance market in the world. This is why in the past decade, the importation of appliances into the country has seen a great surge because people can't just stop buying appliances that will make their lives easier generally.
The whole world, not just the U.S., is head-over-heel about modern domestic appliances. Sales have improved drastically and the global appliance market has experienced huge turnover over the past few years. Only in 2018, the consumption of major appliances on a global scale resulted in $177 billion, further highlighting how much people love modern domestic appliances in their respective homes. This has paid off heavily for leading companies such as South Korean electronics giants, LG and Samsung, the German company, Bosch, America's GE and Frigidaire, and many more appliance companies in the world. These giant appliance manufacturers have all contributed to the growth of home appliances in the world, and it's safe to say that they got us where we are today.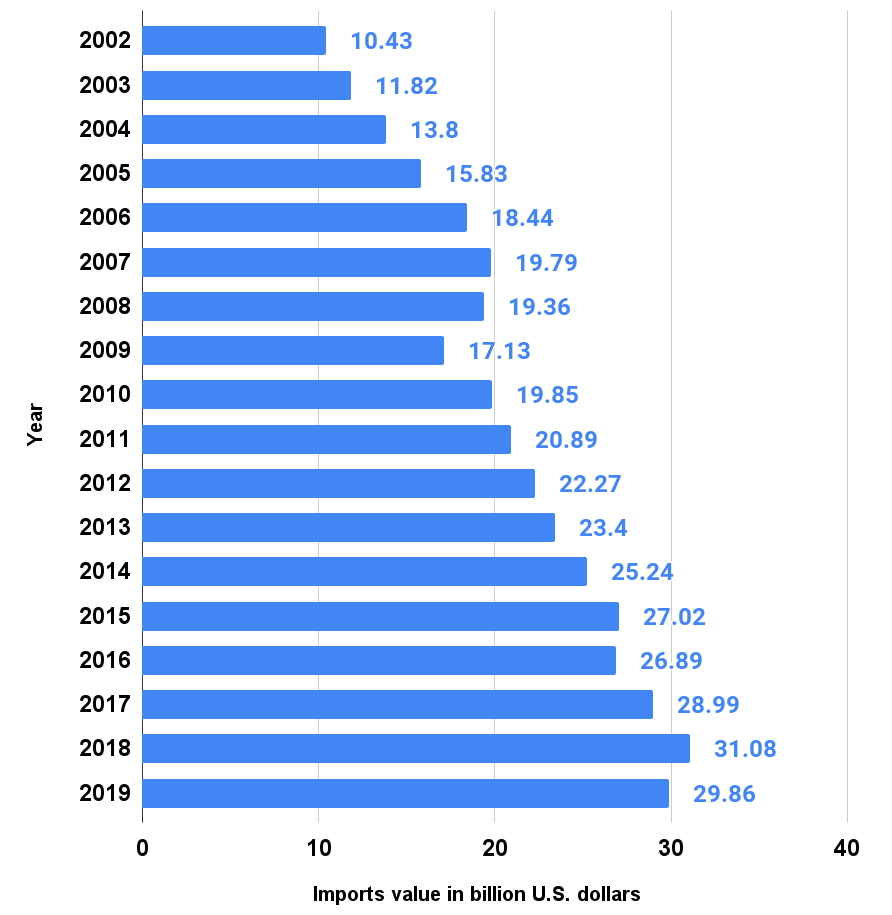 This is another statistic by Arne Holst of Statista, and it shows the value of imports of home appliances, including kitchen appliances, into the U.S. from 2002 up until 2019. This is still to prove that the United States is the bigger player when it comes to the appliance market, and we can tell by looking at the imports value rise consistently from 2002 by almost 200%. It also shows what domestic appliances mean to Americans as they have proved to be the biggest buyers of these appliances over the years. That's the only explanation we can give to the surge in the value of imports of household and kitchen appliances we have in the chart up there.
Benefits of modern appliances
Generally, home appliances play a huge role in making sure our daily tasks are successfully achieved with little effort, and also allow us to focus on other aspects of our lives. Modern appliances have brought more direction and purpose to the existing concept, making home appliances more important than ever. There's a reason why they've become so common that they can be found in almost every household in the United States and beyond. People are willing to invest money to land their dream appliances because they know what possibility is and how much convenience these appliances bring to their lives. Today, we have smart appliances (including smart refrigerators) that can connect well with other appliances and function more conveniently than you've ever imagined. People don't just spend their money on appliances because everybody else is buying them. They want to get value for their money, and that's exactly what they'll get if they invest in these modern appliances. Some of the benefits of using modern appliances include;
They are durable
When people purchase appliances, they always look not to get them replaced in the next few years, which means that they expect these appliances to last long. The good thing about modern appliances is that they always serve their purpose. When they're maintained properly, they always last long. Appliances are significant investments, so when people purchase them, they don't see themselves purchasing the same set of appliances in the next few years. When you invest in modern appliances, you should know that you'll get the best value for your money. The only thing would be for you to give them proper maintenance by cleaning them regularly, checking out for signs (check here for the signs of a bad AC capacitor), and regularly servicing the appliances that need to be serviced. This way, you'll be prolonging the lifespan of these appliances.
They consume less energy compared to old-fashioned appliances
One of the many advantages modern appliances have over traditional appliances is that the former consumes less energy than the latter. Energy consumption is a big deal when purchasing an appliance, and rightly so. A lot of people see it as a big factor to consider as it will have a big effect on electricity bills in the long term. If you purchase an appliance that is not energy-efficient, you will be forced to pay more money on utility bills than you're supposed to. Thankfully, most modern appliances are built to be energy-efficient, and that's why it is always advisable to invest more in them. Most of them also come with Energy Star stickers that indicate how much energy each appliance will consume over a period.
They have modern designs
We always say that modern homes are sometimes defined by the modern appliances you have in them, and that's a fact that can't be denied. A lot of people invest in modern appliances because of the other benefits they can get from them. What's also true is that the designs these appliances have make them a great fit for every home, regardless of the existing design. Homeowners believe when they invest in modern appliances, the move will help them hold out for a better deal when they're trying to sell their homes in the future. What modern appliances do is add value to your space, giving it the lift it deserves and making it look like a new-school kind of house. All these advantages put together are the reasons people always opt for modern appliances rather than their traditional counterparts.
A brief history of General Electric
General Electric is one of the oldest American appliance brands having been founded in 1892 in New York, United States. Being one of the oldest is not enough reason to continue to perform at the highest level, but GE has quite formed a reputation for producing industry-best appliances that always prove to be significant for every generation since the company was brought to existence. The famous Thomas Edison co-founded the company with four other people, Edwin J. Houston, J.P. Morgan, Charles A. Coffin, and Elihu Thomson. Although the company is now headquartered in Boston, Massachusetts, it continues to serve worldwide with a wide range of products such as electric vehicles, software, aircraft engines, and wind turbines among many others. According to a Wikipedia post, GE ranked the 14th most profitable company among the Fortune 20 in 2011, and in 2020, the company also ranked 33rd largest firm in the country by gross revenue among the Fortune 500. These statistics prove how big the company is not just in the country but in the world as well. As of 2020, the company had about 205,000 employees worldwide, with 56,000 of those accounting for those in the United States.
Difference GE and GE Profile
A lot of people have always wondered about the big difference between GE and GE Profile, and we're about to help you solve the mystery. GE's appliances are always divided into different product lines which are meant for different kitchen styles. While GE appliances are modern, GE Profile appliances are more sophisticated, leading to the latter being more expensive than the former. GE Profile appliances are packed with next-generation features that make them quite a bit more expensive than ordinary GE appliances.
Other differences include styling, functionality, and designs to mention but a few. If you take a good look at GE Profile refrigerators that are packed with GE Profile ice makers or GE Profile gas range, you'll realize they are built to look sleeker than the basic GE appliances. They also have streamlined door handles and curved profiles. People who often opt for them are those who are looking for contemporary designs in their homes, and the good thing about these appliances is that they are always worth whatever amount of money people spend on them. From GE Profile double oven to GE Profile dishwasher; GE Profile stovetop to GE Profile induction range, you will always be able to note the difference between GE and GE Profile by taking a quick look at the glamour in the latter.
Frequently Asked Questions
1. What is the GE Profile series?
Like we mentioned earlier, the GE Profile series is the product line of GE that houses appliances that are more sophisticated and come with more flair than the basic GE appliances. In terms of styling and design, appliances in the GE Profile series always take all the glory because they are built with a total flair that sets them apart from the other product lines under the GE Appliances brand.
2. Is the GE Profile worth the money?
Appliances in the GE Profile series always prove to be the best as consumers always get the best value for their money. This has also been one of the reasons why the series is still very popular in the market, especially for those with a high taste for high-end appliances like the ones that can be found in the GE Profile series.
Final thoughts
The difference between GE and GE Profile, two of the best product lines by GE, is that one is built to be more stylish than the other. They are two great product lines that give different concepts to different homeowners. While GE is more basic and can easily be afforded, GE Profile appliances are more high-end, and that means people have to pay more to have them in their spaces.
ESTIMATED TIME DESIGNING AND UPLOADING THIS ARTICLE
ESTIMATED TIME RESEARCHING AND WRITING THIS ARTICLE
Best Rated Kitchen Appliance Brand
If you have ever been confused on what the best rated kitchen appliance brands are, this article will help you sort that out with detailed and well-researched facts. Hopefully, you'll find this really helpful and perhaps might help you make the best decision on your
Read More »