A Question And Its Answer
What is the best brand for kitchen appliances? Obviously the answer is hotly contested because 'best' is all subjective. A better question is "what is the best brand for me?" There are countless options to choose from.
There are the titans, LG and GE. Many will say that Samsung is taking the lead right now, or that Frigidaire is their one and only but the truth is, these brands all together at the best Kitchen appliance brands you will find out there. Electrolux is a really strong kitchen appliance brand. And then, there is Cuisinart, Danby, KitchenAid, Breville, Miele and Panasonic. While this huge array of choices makes deciding confusing, it actually improves the chance of getting appliances right for you. It just takes a little research!
What Is The Best Brand For Kitchen Appliances…And Me?
It will all boil down to 5 characteristics when choosing your kitchen equipment – function, features, design, price and reliability . All of these will have to go together when which kitchen appliance is best. Let's jump in with some stats:
As an Amazon Associate we earn from qualifying purchases. We may earn a small commission for our endorsement, recommendation, testimonial and/or link to any products or services from this website. Thank you, your qualifying purchases help support our work in bringing you real daily gift ideas.
| Brands | Founded | Previously Known As | Country Of Origin | First Products | Pioneering |
| --- | --- | --- | --- | --- | --- |
| LG | 1958 | Goldstar | Korea | Radio | Plasma TV 60in. |
| GE | 1878 | Edison Electric Light Company | USA | Light Bulb | Central Power Station |
| Danby | 1947 | – | CANADA | Hot Plates and Slow Cookers | Portable Air Conditioner |
| Breville | 1932 | – | AUSTRALIA | Radio and Mine Detectors | Sandwich Toaster |
| Cuisinart | 1971 | – | USA | Food Processor | Food Processor |
| Frigidaire | 1916 | Guardian Frigerator Company | USA | Refrigerator, Freezer, Aircon, Electric Range | Refrigerator |
| Panasonic | 1918 | Matsushita Electric Industrial Co., Ltd | JAPAN | Lamp Sockets | Audio Speaker |
| KitchenAid | 1919 | – | USA | Stand Mixer | Stand Mixer |
| Samsung | 1938 | – | SOUTH KOREA | Groceries | Mid-Size Tablet |
As an Amazon Associate we earn from qualifying purchases. We may earn a small commission for our endorsement, recommendation, testimonial and/or link to any products or services from this website. Thank you, your qualifying purchases help support our work in bringing you real daily gift ideas.
LG
LG is a South Korean company that was founded in 1958 as Goldstar. They have made many FIRSTS in the field of home appliances and that has made them popular globally for really cool innovations. They were also pricing their products quite reasonably – people can afford a luxurious looking and quality appliance at LG.
High Rated Products:
1.

MICROWAVE OVEN – LG LMH2235ST 30-inch Over-the-range Microwave Oven
With a whopping 1000 cooking watts, this LG microwave oven is one of the most coveted microwave ovens in the market today, and the reason why is not far-fetched. Priced reasonably (a little over $400), people find it worthy of the money, and perhaps with a little bit more features than what they're paying for. A 2.2 cu. ft. interior capacity leaves you with enough room to cook your favorite dishes, while the 400 CFM venting system ensures that you get the best results.
According to the Consumer Reports blog, after a series of tests conducted on the LG LMH2235ST, it was discovered that this product does not only have heating evenness it also defrosts evenly, utilizing its automatic-defrost program. Most importantly, it is considered to be a really quick heater
FEATURES
SENSOR COOK
With most kitchen appliances now coming with tech integration, LG has done enough to convince the general public that they're still one of the best ever in the market. This microwave oven comes with a sensor cook function that uses humidity-sensing technology to know when the cooking process is done before shutting off the microwave in order to prevent under or over cooking of foods.
ECO-ON FEATURE
This feature helps you to save a few bucks on energy bills as it turns up the display when your microwave unit is not in use for about 5 minutes. When this Eco-on feature is active, the power consumption drops down to below 0.1 watts.
OTHER FEATURES
Auto defrost
1-touch settings
Easy clean
Hidden vent
Add time controls
Quiet ventilation system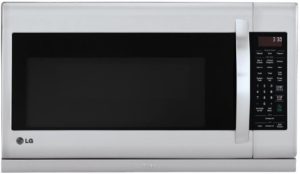 2.

COOKING RANGE – LG LSG4513BD 30-inch Slide-in Gas Range with 5 Burners
Known for being a top brand with high-quality products, LG has taken their game a little bit higher with the 5-burner, 30-inch Gas Range which they've packed with a host of features including the brand's exclusive EasyClean Technology which guarantees fast and easy cleaning. It also features a convection roast system that helps lock flavors in by circulating heated air from all sides. LG is indeed a tech giant, manufacturing the appliances of the future and for the future
Features
EASY CLEAN
This is one of LG's exclusive features, and with just three steps, you can have a perfect cleaning result. Add water to the oven interior, activate the EasyClean system for about 10 minutes, then in case of any leftover grime, wipe off with a clean towel.
NUMEROUS COOKING MODES
When operating the oven, you have different cooking modes to work with and they include Convection Roast, Convection Bake, Bake, Delay Clean, Delay Bake, Broil, Warm, Proof, Pizza, Favorites, and Multi-Rack Convection Baking.
OTHER FEATURES
Fast boiling burner
Glass touch controls
Automatic safety shutdown
Front tilt control knobs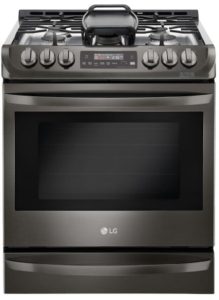 3.

REFRIGERATOR – LG LFDS22520S 30-inch Freestanding French Door Refrigerator
Wrapping up LG's brilliance in the appliances market is this brilliant and powerful 21.8 cu. ft. 30-inch freestanding French door refrigerator with a freezer capacity of 7.3. cu. ft. capacity, external water dispenser, and ice maker. This powerful stainless steel refrigerator is loved by many who have tasted the amazing features that come with it first-hand. For all these great features, this refrigerator still comes with a reasonable price tag, and the affordability, perhaps is what people love the most about it.
FEATURES
SMART COOLING SYSTEM
This smart cooling system is one of the most important features in the refrigerator and it helps maintain the best conditions within the refrigerator. It combines well with a linear compressor to quickly react to temperature changes.
LINEAR COMPRESSOR
We talked about how this feature combines well with the smart cooling system earlier, but it does more than just that. With the help of the moving parts in the refrigerator to work more efficiently.
OTHER FEATURES
Water dispenser
Multi-air flow
4 split shelves
Wi-fi connectivity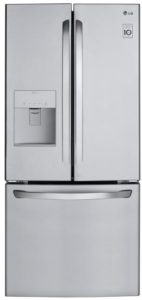 GE
GE (General Electric) has provided more than 130 years of customer service and satisfaction. For consumers who particularly love companies that have stood the test of time, GE is the industry juggernaut for you.
High Rated Products:
1.

MICROWAVE OVEN – GE Profile PVM9179SKSS 30-inch Over The Range Microwave Oven
This GE microwave oven is a whole lot similar to LG's which we discussed earlier. However, there are some differences like the cooking watts (GE has 950 compared to LG's 1000), oven capacity, and of course, brand features. GE is arguably America's most successful electronics brand and having survived over a century in a highly competitive market, you can tell how rated their appliances, including this microwave oven, are in the market.
FEATURES
CHEF CONNECT
This feature helps you sync clocks and range elements automatically with the oven's light and vent system.
EASY CLEAN ENAMEL INTERIOR
This microwave has an enamel interior finish that makes cleaning easier and more convenient.
OTHER FEATURES
Removable oven rack
Charcoal filter with indicator light
Convection rack
Cooktop lightning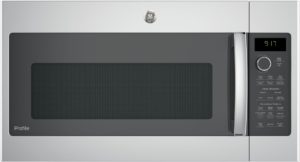 2.

COOKING RANGE – GE JS760SLSS 30-inch Slide-in Electric Range
If you're looking to buy cheap cooking ranges with almost the same qualities as luxury counterparts, then look to no other than the ranges by GE. This is an electric range with 5 cooking elements and it is packed with great features like Fifth Element Warming Zone, Convection Mode, Storage Drawer, Glass Ceramic Surface, and many more.
FEATURES
FAST PREHEAT
With this preheat feature, you can quickly make hot meals with less time.
SELF-CLEAN WITH STEAM CLEAN OPTION
Thanks to technology, you can sit back and watch your oven clean itself up, amazing right?
OTHER FEATURES
Fifth element warming zone
Fit guarantee
Audible preheat signal
Sabbath mode
Control lock
Delay option
3.

REFRIGERATOR – GE GFE28GMKES
GE is also one of the reliable brands you will find out there. The GE GFE28GMKES French Door Refrigerator measures 69.88 Inches in Height and 35.75 Inches in Width. Its Depth is 36.25 Inches. Being a brand that's generally popular for making high-end products that are very affordable, GE has seen its stock rise over the years. This 36-inch freestanding French door refrigerator is quite popular in the market too due to the host of features it is packed with.
FEATURES
ADVANCED WATER FILTRATION SYSTEM
This is one of the refrigerator's most important features. It helps remove about 98% of pharmaceuticals including fluoxetine, ibuprofen, atenolol, trimethoprim, and progesterone.
SPACE-SAVING ICE MAKER
This ice maker is located just on the fridge door so there will be enough space for other sections in the refrigerator.
OTHER FEATURES
Twin Chill evaporators
Showcase LED lightning
Optional second ice maker
Humidity crispers
Danby
Danby is a family-owned company which manages to create compact kitchen appliances that really outperform expectations. Their products look stylish and are inexpensive, they even offer warranties that extend up to 24 months – which is longer than what most other brands propose.
High Rated Products: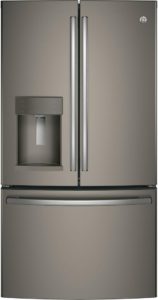 Danby might not be as popular as the first two brands we had earlier talked about, but yeah, they make some good products which include this powerful microwave oven with 1200 cooking power, push-button door, energy saving option, and 10 power levels among other great features. With all these features, you'd Danby should have priced it at around $400 but guess what? It's just a little over $100.
FEATURES
ECO-BUTTON
Once this button is turned on, it begins to drop power to less than 1 watt when the microwave is not being used, thereby saving energy.
CONTROL PANEL
This panel houses some of the great features needed to keep this microwave oven to function effectively. These controls include auto reheat, power level options, popcorn time toggle, two defrost options, and many more.
OTHER FEATURES
Blue LCD timer
Easy clean
Beautiful design
Powerful capacity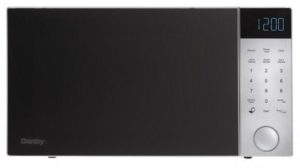 2.

COOKING RANGE – Danby DR202BSSGLP 20-inch Stainless Steel Gas Range
This Danby gas range might only be 20 inches but it is rated highly in the market alongside ranges of bigger sizes. The range is ADA compliant and with 4 sealed burners, it's not too far away from other highly-rated gas ranges from other brands.
FEATURES
COMPACT DESIGN
With its compact design, this gas range can fit into your small space if that's all you can make out for a cooking range, and perhaps that's why it's so popular in the market.
EASY-TO-CLEAN OVEN
This Danby range comes with a pyrolytic blue oven that's very easy to clean.
OTHER FEATURES
Sealed burners
LP convertible
Broiler drawer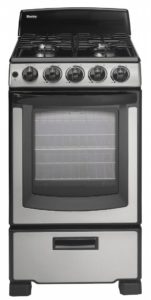 Bosch
This Germany-based company specializes in appliances and electronics for the home. From entertainment systems to refrigerators, Bosch has a product to fit. Bosch's products are best known for their sleek and functional designs. Bosch as a manufacturer if high-end appliances was founded in 1886 and since that time it has scaled up the food chain to now become a major distributor outside Germany. 
The Bosch Condenser Tumble Dryer WTG86400KE
The Bosch Condenser Tumble Dryer WTG86400KE is built with a lot of interesting features including the Auto-Dry function that dries laundry to exactly the degree of dryness you want. Apart from this interesting feature, it has the Antivibration Design that keeps the dryer extremely calm and stable while it works. Its Sensitive Drying system combines warm air currents and a gentle drum structure for dry clothes
Breville
This Australian brand has proven to be a consistently great kitchen appliance provider. From their humble beginnings in the 50's to their state-of-the-art food appliances of today, Breville is another battle-tested company offering quality products at a reasonable price.
High Rated Products:
1.

TOASTER OVEN – Breville BOV800XL
The first of its kind to feature on this list, toaster ovens are not so popular in the appliances market but one can't deny their essence. Let's take a look at some of its features
FEATURES
9 PRESET FUNCTIONS
The preset functions in this toaster oven include Cookies, Reheat, Warm, Toast, Bagel, Broil, Pizza, Bake, and Roast. These preset functions are there to make cooking easier.
BACKLIT LCD
Everything is easy and clear with this toaster oven as it features a backlit LCD that displays information like temperature, time, and the preset functions (including the one in use at that particular time). This light goes from blue to orange when in use.
OTHER FEATURES
1800 watts
Interior oven light
Slow cook function
2.

JUICER – Breville JE98XL
This is the second Breville product to feature on this list and it is a centrifugal juicer that is regarded as one of the highly-rated juicers in the market today. Breville is known for making quality kitchen appliances. Although not on the same level with the likes of Samsung or LG (this is largely due to the fact that they offer different types of products), Breville is still seen as perhaps the best small kitchen appliance brand, alongside Cuisinart which we'll be discussing next.
FEATURES
3-INCH FEEDER CHUTE
This juicer features a 3-inch feeder chute that can make up to 8-ounce cups of juice in a short while (just 5 seconds).
STAINLESS STEEL CUTTING DISC
The stainless steel cutting disc featured in this juicer combines well with an Italian-made mesh filter to help extract up to 30% more juice and retain about 40% more nutrients than any other juicer
OTHER FEATURES
850 watt dual speed motor
Overload prevention LED
Safety locking arm
Dishwasher safe
Heavy grade polymer body
Cuisinart
Savor the Good Life® – this is the Cuisinart guarantee. Culinary experts swear on this brand and this brand is widely regarded and advertised as being for professionals. Chefs endorse this brand with a full heart and stomach.
High Rated Products:
Over the years, coffee makers have become so popular all around the globe, especially the automated ones as they can ease up on the stress of having to manually extract coffee. Let's have a look at some of its features;
FEATURES
REMOVABLE DRIP TRAY
To keep things clean and safe for everyone, Cuisinart has built a removable tray with this coffee maker which is located just right under the coffee dispenser. In case of drips and spills, the tray will hold them firmly. All you need to do is to make sure you're offloading the content in the tray regularly.
CLEAR DISPLAY
The coffee maker features a temperature gauge that tells you the current temperature which the coffee maker is operating on. There's also a backlit LED display that shows time.
OTHER FEATURES
Sleek materials (metal and plastic)
Removable water reservoir
24-hour programmability
Coffee-on-demand technology
1.

COFFEEMAKER – Cuisinart DCC-3000
Over the years, coffee makers have become so popular all around the globe, especially the automated ones as they can ease up on the stress of having to manually extract coffee. Let's have a look at some of its features;
FEATURES
REMOVABLE DRIP TRAY
To keep things clean and safe for everyone, Cuisinart has built a removable tray with this coffee maker which is located just right under the coffee dispenser. In case of drips and spills, the tray will hold them firmly. All you need to do is to make sure you're offloading the content in the tray regularly.
CLEAR DISPLAY
The coffee maker features a temperature gauge that tells you the current temperature which the coffee maker is operating on. There's also a backlit LED display that shows time.
OTHER FEATURES
Sleek materials (metal and plastic)
Removable water reservoir
24-hour programmability
Coffee-on-demand technology
2.

FOOD PROCESSOR – Conair Cuisinart DLC-2ABC
The last Cuisinart product we'll be discussing in this article is the DLC-2ABC food processor in brushed chrome and nickel. This food processor is loved by many because of the price tag (less than $40). This price will go up if you choose to buy this food processor with a salad spinner or a toaster which leaves you with more options when making your final decision.
FEATURES
EASY-TO-CLEAN MOTOR BASE
With a wet cloth or sponge, you can easily clean the base of this processor's motor without having to go through much stress.
DISHWASHER SAFE PARTS
Some parts of the food processor are safe to be washed in the dishwasher and these parts include the bowl, spatula, and the lid.
OTHER FEATURES
24-ounce work bowl with handle
Push-button control panel
Lightweight plastic body
250 watts
Reversible stainless steel blade
Frigidaire
Most of their products are extremely energy efficient, so if you are environmentally conscious, simply looking to save on your bills, or both, Frigidaire may be the brand for you. Proudly USA made, they even offer 4-piece packages that may suit your entire kitchen!
High Rated Products:
1.

MICROWAVE OVEN – Frigidaire FGMO206NTD Gallery Series Microwave
This microwave oven by Frigidaire is rated very highly in the market for many reasons. It is fairly priced, packed with high-tech features, and even competes with the supposed 'high-end' microwave ovens because it is just as reliable as the others are perceived to be too. Its features include Sensor Cooking, Effortless Reheat, Auto Defrost, and many more.
FEATURES
EFFORTLESS REHEAT
With just a touch of a button, you can reheat almost anything in this Frigidaire microwave oven.
SENSOR COOKING OPTIONS
This microwave features several sensor cooking options including Frozen Entrees, Chicken Breast, Rice, Ground Meat, Seafood/Fish, and many more.
OTHER FEATURES
Fingerprint resistant finish
Several cooking settings
Auto defrost
Snack menu options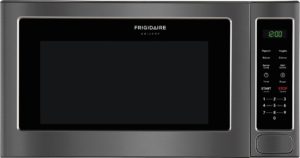 2.

GAS RANGE – Frigidaire FFGF3054TS 30-inch Freestanding Gas Range
Without doubts, this is one of Frigidaire's most affordable gas ranges and with the features this cooking range is packed with, it's a bit unbelievable it is priced that low but that's not a surprise; that is what Frigidaire is quite known for (making affordable high-end appliances).
FEATURES
ONE-TOUCH SELF CLEAN
The oven in this range can self-clean, that means you have one less thing to worry about. The self-clean options, which are available in 3 different cycles (2 hours, 3 hours, and 4 hours), make cleaning easier and since it's automated, you only have to be there to inspect.
QUICK BOIL
The burner dedicated to this quick boil is packed with a powerful 17,000 BTU which helps boil water faster than any traditional method.
OTHER FEATURES
Large capacity
Electronic kitchen timer
Continuous edge-to-edge grates
Auto shutdown
Delay clean
Storagedrawer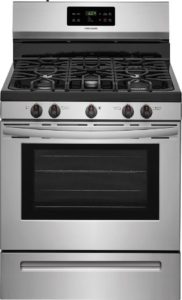 Panasonic
Panasonic is one of the more minor players in the appliance game but their functional products at extremely low prices have kept them thriving for years.
High Rated Products:
1.

MICROWAVE OVEN – Panasonic NN-SN661SAZ
This Panasonic microwave oven comes in three color options; black, stainless steel/silver, and white. It is packed with a host of features and people also love that it comes with an affordable price tag.
FEATURES
INVERTER TECHNOLOGY
This inverter technology helps generate microwave cooking power which in turn evenly distributes to every part of the microwave oven.
SMART CONTROLS
The microwave features smart controls including a 3-level popcorn button that is not so common among microwaves in this price range.
OTHER FEATURES
Genius sensor
16 sensor cooking functions
Reheat function
Inverter turbo defrost
2.

BREAD MAKER – Panasonic SD-YD250
This is the first bread maker to feature in this article, and it's no coincidence that it's coming right under Panasonic. Once you learn the necessary how tos, you'll realize having this is way better than getting your bread anywhere else. However, the greatest obstacle might be the price tag if you can dig deep into your pockets, this product is worth it.
FEATURES
GREAT TEXTURE
One of the reasons why people turn to this Panasonic bread maker despite its high price tag is because of the great results they get from it. The bread maker gives them a nice bread texture that is no different, or even better than what money would get them in a public bakery.
PORTABLE DESIGN
With a net weight of 16 lbs., it's safe to say this bread maker is easy to move around if the need arises.
KitchenAid
This brand has been in the market for more than 100 years and was acquired by Whirlpool Corporation. Kitchen aid is time-tested and consistently great, with their primary focus being on offering variety to their customers.  People who love window shopping will love KitchenAid.
High Rated Products:
1.

MIXER – KitchenAid KSM3316XAV Tilt-head Stand Mixer
Although a mini mixer, this KitchenAid stand mixer performs powerfully and can make up to 5 dozen cookies in just a single batch. It is naturally smaller in size compared to other KitchenAid tilt-head stand mixers but offers the same power, despite being 25% lighter too.
FEATURES
POLISHED STAINLESS STEEL BOWL WITH HANDLE
This mixer features a stainless steel bowl that's capable of mixing up to 5 dozen of cookies, pulled pork, a batch of guacamole, and a loaf of bread without stress.
1O OPTIMIZED SPEEDS
You don't have to worry about how daunting preparing a recipe might be. With these 10 optimized speeds, you can mix ingredients and recipes (whether wet or dry).
OTHER FEATURES
Flex edge beater
Wire ship
Dough hook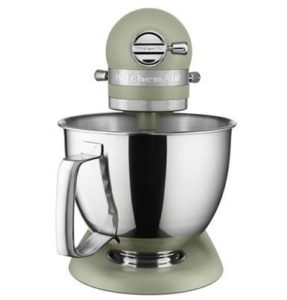 2.

FOOD GRINDER – KitchenAid FGA Food Grinder
Some people will always remember KitchenAid for making high-end products with outlandish price tags but with this product, they have changed the narratives. This food grinder is unarguably the best food grinder under $40.
FEATURES
COARSE PLATE
This coarse plate is dedicated to help grind vegetables, fruits, and cheese.
COMPATIBILITY WITH OTHER KITCHENAID MIXERS
This grinder is compatible and works well with other stand mixers from KitchenAid.
OTHER FEATURES
Grinder attachment
Dishwasher-safe parts
Coarse grinding plates
Vitamix 
It is unarguable that, in 2022, Vitamix conveniently sits at the top when we speak of exquisite blender makers worldwide. It manufactures some of the best luxury appliances out there.
The Vitamix 5200 
The Vitamix 5200 is one of the best blender products of the Vitamix so far. This blender is built with incredible strength, that which will comfortably surmount any recipe its loaded with, no matter how tough, because of its stainless steel material. The Vitamix 5200 measures approximately 8.75 in Length, 7.25 in Width and 20.5 inches in Height. And apparently, it has a large jar, a size that is ideal for blending medium to large batches. The crushing ability of this blender is apparent in its motor capacity as it runs at 120 volts. Purring with any Vitamix blender has never been as easy as it is with the Vitamix 5200. This is so because, it has a variable speed control feature that adjusts its speed to achieve a variety of textures. As if that feature was not juicy enough, this motor speed adjustment can be done at any point during the blend.
In addition to the aforementioned, the Vitamix 5200 has a 10-setting speed dial. There's also a 'High' speed setting, which activates the highest speed available, and a 'Variable' setting, which activates the lower variable speed. It is indeed the best fit for domestic use and even for a Café 
Wolf
Wolf are two separate brands that fall underneath the umbrella of Sub-Zero Group Inc. Sub-Zero is the brand name for the company's refrigerators, while the Wolf brand is used to market kitchen appliances.
A remarkable feature of this Wolf blender is that it has preprogrammed walkway settings. They are; Smoothies, ice crush, puree, and soups. These programs allow for a more efficient blending of these recipes. It has a large container of about 64 ounces. This is large enough to whip up smoothies or milkshakes for a large group. This container is also Shatterproof, it is a BPA-free Triton polyester jar that holds water comfortably.
Kenmore
The first Kenmore kitchen appliance was a washing machine that was released in 1927. In 1976, Sears added a line of refrigerators and freezers to its lineup. They developed a reputation as selling kitchen appliances that were long-lasting and affordable under the Sears brand
With the Kenmore 223709 digital tea kettle, you can brew enough of your favorite beverage for a considerably large number. It is truly built to stand the test of time with its attractive and stainless steel construction. The digital temperature control makes setting your intensity level and heating your tea to perfection super easy, and this is why this product stands out amongst other kettles. A stainless steel body is durable and sleek. Forget about overfilling. The transparent water level indicator is ideal for letting you know how much water you are working with.
FREQUENTLY ASKED QUESTIONS
Is buying my appliances in bundles better?
Yes, it is better. You'll save yourself some money. Most brands offer great discounts on their bundle deals and it's just better to watch out for them than buying your appliances one by one.
Should all the appliances in my kitchen be the same brand?
Because these days, most brands now offer their products in packages which are more affordable than when you're buying them piece by piece, it is always advisable to get your appliances together.
Wrap Up
So, to answer your initial question "What is the best brand for kitchen appliances?", I again counter with this: Which is best for you?  Use the plethora of information given here to help you decide which brand most identifies your needs and makes products to fill them!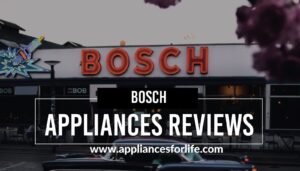 Bosch is literally a leading company when it comes to innovative technology and reliable appliances. It is a German multinational engineering company and it is currently classed as the world's largest supplier of household appliances, power tools, garden tools and heating and hot water necessities.
Read More »