GE vs LG Refrigerator Comparison Table
| Image | | | | | |
| --- | --- | --- | --- | --- | --- |
| Name | GE GWE19JSLSS 18.6 Cu. Ft. Counter-depth French-Door Refrigerator | GE GDE25ESKSS Energy Star 24.8 Cu. Ft. Bottom-freezer Refrigerator | GE GZS22IYNFS 21.8 Cu. Ft. Stainless Steel Side-by-side Refrigerator | LG LRSES2706V Platinum Silver Side-by-side Refrigerator with InstaView door-in-door | LG LTCS24223S 24 Cu. Ft. Stainless Steel Top Mount Refrigerator |
| Manufacturer | GE | GE | GE | LG | LG |
| Refrigerator Style | French door | Bottom-freezer | Side-by-side | Side-by-side | Top Freezer |
| Total Capacity (cu. ft.) | 18.6 | 24.8 | 21.8 | 26.8 | 23.8 |
| Installation Type | Freestanding | Freestanding | Freestanding | Freestanding | Freestanding |
| Special Feature | Quick Space Shelf | Sliding Snack Drawer | Adjustable Door Bins | Automatic Ice Maker | Multi-air Flow Freshness System |
| Editor's Rating | ✸✸✸✸✸ | ✸✸✸✸✸ | ✸✸✸✸✸ | ✸✸✸✸✸ | ✸✸✸✸✸ |
| | | | | | |
"GE vs LG kitchen appliances" remains one of the hottest conversations in the appliance world. These are two of the biggest players in the game, and people will often compare the products from both manufacturers. Competition is highly needed in every industry to keep every brand on its toes. Imagine an industry dominated by just one brand with little to no competition from other brands. Complacency will definitely set in and consumers will be forced to make do with whatever the brand dishes out to them, even if they are outlandishly priced. That's why most industries in the world have excelled so well because there are healthy competitions throughout the different industries. LG and GE fridges are often compared by experts and users. Things like this inspire these brands to do better because they know that how well the consumers accept their products will determine the level of success they achieve in the industry.
Check out our article on Samsung vs LG refrigerator reviews here.
In the world we live in today, we need modern appliances to get us through each day, and that's what brands like GE and LG are committed to. The importance of modern appliances in our world today cannot be overemphasized. Although they are initially costly, when we think of the running cost, we'll realize investing in them is worthwhile because they'll end up saving you a lot of money in the end. These modern appliances are now pushing traditional appliances into becoming obsolete, although the latter continue to command good sales in the market due to affordability. We now have refrigerators that are packed with features from other home appliances and let you seemingly have other appliances integrated into your refrigerator. Modern refrigerators by LG and GE are often packed with smart features like large LCD screens that let you cast your favorite TV shows from your smart TV to the refrigerator screen.
Sometimes, comparing doesn't have to be in an unhealthy way, which will, in the end, point out which product is good or bad. When we compare GE and LG refrigerators, we're doing so to let you have a clear idea of the strengths and weaknesses of each product. GE vs LG refrigerator? We'll get into that shortly but before that, let's take a look at some of the things you should seriously consider if you're looking to purchase a new refrigerator so you don't make the wrong purchase.
Things To Consider Before Buying A Refrigerator
Buying a refrigerator is a great investment. When purchasing one, you need to make sure that you're purchasing the right refrigerator for yourself and your family. Purchasing a refrigerator usually involves a lot of money, and if you don't get things right the first time, you risk either losing your money or settling for a refrigerator you don't like. A lot of things need to be seriously considered when purchasing a refrigerator to make sure you're making the right purchase. The appliance market is a huge market with lots of options. If you don't go in there with a clear idea of what you want, you'll end up purchasing the wrong refrigerator.
Considered one of the biggest appliances in the house, buying a refrigerator means that you're investing in something significant, according to Houseopedia. If you're looking to purchase a new refrigerator, below are some of the things you need to seriously consider;
Style
Refrigerators come in different styles that range from side-by-side to French doors. If you're buying a new refrigerator, you need to nail your options down to a few details which include the style of the refrigerator. Each refrigerator style has its drawbacks and benefits. You need to look at your needs before you settle on the kind of style of refrigerator you're purchasing. A side-by-side refrigerator features the refrigerator and freezer compartments right beside one another. If you're a fan of large freezer space, a side-by-side refrigerator should be your go-to style. If you love bottom-freezer models, you should consider French door refrigerators. Whatever your needs are, you'll always find a refrigerator style that perfectly matches them.
Size of Your Space
This is one of the common mistakes people make, and it's one you should be looking to avoid. A lot of people purchase a refrigerator without knowing if it can perfectly fit into their spaces. This is why experts always advise that you measure the space meant for a refrigerating unit. With this measurement, you can be confident that you'll make the perfect size choice when it's time to purchase. "All the features in the world mean nothing if the refrigerator doesn't fit in your space," a Houseopedia blog post points out. From the doorways in the house to your preferred location in the house, the refrigerator has to be perfect in size.
Budget
Another important thing you need to put into consideration when you're purchasing a new refrigerator is your budget. If you don't want to spend more than you should, you need to have a clear idea of how much you're willing to spare for a refrigerator before going into the market. Sometimes, you might have to make a compromise on your budget if you find a refrigerator that you really love but is a little bit above your budget. If you're on a budget, it can be tough to get a refrigerator with all the features you want. However, if you're not on a budget, you have the freedom to choose a refrigerator with as many features as possible.
Energy Efficiency
It is very important to get an energy-efficient refrigerator. Thankfully, newer refrigerator models use less energy and that means that you can save more money on electricity than you would if you invested in traditional refrigerators that are quite known for consuming more energy. If you're purchasing a new refrigerator, always look to get a refrigerator that comes with an Energy Star rating, which usually shows how much energy the refrigerator will consume over a period. Getting an energy-efficient refrigerator will ease the pressure off your electricity bill, and since refrigerators are put to use almost every day, you might not know how much money you're saving in the process.
Features
Everybody has certain features they want in a refrigerator, and we believe you're not an exception as well. Although, it is safe to say that the more the features in a modern refrigerator, the more money you'll be required to pay. Features like water and ice dispensers usually cost extra money. If you're on a budget, you might not be able to get all the features you want in a refrigerator as you'll be limited by your budget. Some refrigerators also come with adjustable shelves. You need to know what your needs are and get a refrigerator with the features that are in line with your needs. Some refrigerators also come with a lock feature that prevents small kids from accessing them. You need to also know that the features that come with modern refrigerators make things very convenient for consumers.
GE vs LG Refrigerator Reviews
Whether it's GE vs LG French door refrigerator or LG vs GE bottom-freezer refrigerator, people will always compare refrigerators produced by two of the biggest brands in the world. Both brands are famous for producing some of the highest-rated appliances in the industry. GE is a Kentucky-based appliance manufacturer while LG is the famous South Korean electronics company that is globally known for producing high-end appliances which include modern refrigerators.
The Best GE Refrigerators
This GE French door refrigerator is not only famous for its built-in, counter-depth design that makes it a great option for any kitchen space but also its affordability because it comes with such a fair price tag. The GE counter-depth refrigerator comes in two beautiful surface finishes; black stainless steel and stainless steel. These surface finishes are considered two of the most beautiful surface finishes you can ever get in the appliances market.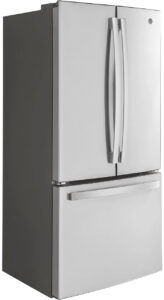 Features
ICE MAKER WITH WATER FILTRATION SYSTEM
This GE refrigerator comes with a factory-installed ice maker with a water filtration system that is always ready to dispense ice. The convenience that comes with having a built-in ice maker is one of the reasons why you should purchase this refrigerator.
TWO DRAWERS
If you're looking for a refrigerator with enough space to store your fruits and vegetables, this GE refrigerator will provide you with just that. It features two humidity-controlled drawers which are accompanied by an extra full-width drawer.
TURBO COOL AND TURBO FREEZE SETTINGS
These settings put you in full control of the temperature of your refrigerator. They give you an extra boost of cold air to keep your food item fresh.
GDE25ESKSS is another popular GE refrigerator. This refrigerator is packed with lots of features that make it an exciting choice if you're considering purchasing a GE refrigerator. It is 33 inches in width, and this means that it is built to fit into smaller space, despite offering large storage capacity.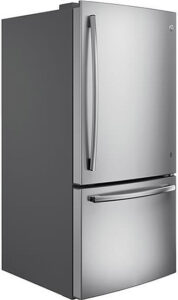 Features
ADVANCED WATER FILTRATION
Advanced water filtration has one responsibility and that's to reduce trace pharmaceuticals from ice and water coming out of the dispenser.
DOOR ALARM
A door alarm is an energy-saving feature that comes with most modern refrigerators. If your refrigerator doors are left open, your unit will work harder trying to regain lost cold air. But with this feature, you'll be alerted immediately that the doors are open.
SLIDING SNACK DRAWER
One of the things that define a good refrigerator is how much space you can get to store your food items. This GE refrigerator features a sliding snack drawer that creates more space where you need it.
The last GE refrigerator we'll be reviewing is the GZS22IYNFS side-by-side refrigerator which is popular for its fingerprint-resistant stainless finish. From the reviews available online, its finish is one of the most likable things about this refrigerator, as fingerprints and smudges can easily be wiped away from its surface.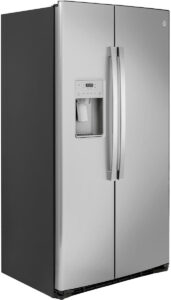 Features
LED LIGHTING
The inside of the refrigerator is illuminated with LED lighting which can make you find your food items easily both in the freezer and refrigerator compartments.
ADJUSTABLE CLEAR LOOK DOOR BINS
There is enough space in the refrigerator door for large containers. This way, you can maximize the space in your refrigerator by storing some of the other things in the door.
IN-DOOR DISPENSER
The refrigerator comes with an in-door water dispenser that has the same finish as the rest of the unit.
The Best LG Refrigerators
LG is globally famous for producing best-in-class appliances, and this refrigerator is a perfect depiction of that. Its 27 cu. ft. of space is an advantage of other refrigerator types because it gives you the room to store more food items. The refrigerator is packed with enough high-end features despite only having a fair price tag.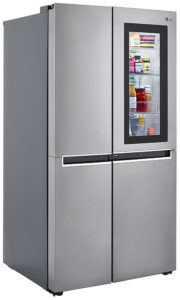 Features
INSTAVIEW
With LG, technology is always a big deal. This refrigerator comes with one of LG's most exciting features as far as refrigerators are concerned; the InstaView door-in-door. Apart from the beauty this feature adds to the unit, it is also an energy-saving feature because it saves you the stress of having to open the refrigerator door before accessing its content. You can have a glance at what's inside the refrigerator without opening the door, which will, in turn, reduce cold air loss.
AUTOMATIC ICE MAKER
The refrigerator also comes with a built-in ice maker that automatically creates ice cubes for hot summer days.
MULTI-AIR FLOW SYSTEM
The refrigerator features digital sensors that monitor the temperature conditions within the refrigerator and automatically adjust the temperature settings.
This is one of LG's most popular top-mount refrigerators. This refrigerator is popular for many reasons. Firstly, it comes with a fair price which makes it a great option for those who are on a budget. Secondly, despite its fair price, it comes with a host of exciting features, some of which can only be found in high-end refrigerators with outlandish price tags. Its compact design is another thing people love about it. It is only 24 cubic feet. This means that even if you have limited kitchen space, there will always be a place for this refrigerator to fit in.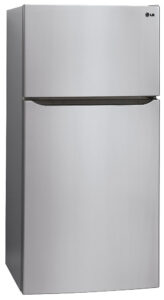 Features
LED PANELS
The refrigerator features LED panels that light up the interior and lets you find anything you're looking for in the compartments very easily.
AUTOMATIC ICE MAKER
This LG refrigerator might not be as high-end as some people would have wanted but it comes with some of LG's most exciting features which include the automatic ice maker.
Frequently Asked Questions
1. Is LG refrigerator better than GE?
It is hard to tell which brand produces the best refrigerators because both brands produce best-in-class refrigerators with quality tech integrations. However, we believe LG would edge out in terms of tech integration because LG refrigerators come with more modern appliances than GE refrigerators.
2. Are GE refrigerators good?
We believe so. A reliability survey by Designer Appliances proves that GE refrigerators are some of the most reliable brands in the market.
3. Are LG and GE the same company?
LG and GE are different companies with the former being a South Korean brand while the latter is a US-based appliance brand.
Wrapping Up
GE vs LG refrigerator review is one of the appliance industry's most discussed topics. The truth is that both brands are two of the world's biggest appliance brands. They have both done a great job in producing great appliances for consumers. We believe from the refrigerators we've reviewed from both brands, you can tell that both brands are doing a great job. Brand loyalty is another thing consumers are used to. People who have often used products from a particular brand and liked them tend to always stick to products from the brand if they're purchasing again.
ESTIMATED TIME DESIGNING AND UPLOADING THIS ARTICLE
ESTIMATED TIME RESEARCHING AND WRITING THIS ARTICLE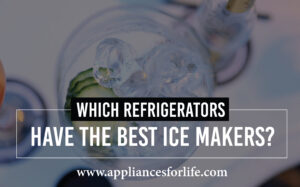 Which Refrigerators Have The Best Ice Makers?
Refrigerators are a big part of our lives. Things have even been made better than they were decades ago. Today, we have some of the best features we could ever want in our refrigerators. From water dispensers to ice makers, glass shelves to smart connectivity
Read More »