Smart Electrical Appliances for the Kitchen
Technological advancements largely characterize modern life. Technological advancement has allowed us to experience smart homes seamlessly. Not only are there devices built to serve great purposes, such as speed and efficiency in the home, but there is also the enabling of broadband technology, famously called the internet, to make the operation of these appliances a lot easier.
Modern life has given us a kitchen full of appliances that turn on and off at the push of a button. Electric dishwashers, stove tops, ovens, washing machines, clothes dryers, refrigerators, water heaters, and air conditioners are standard in many homes, and smaller kitchen appliances like microwaves, toasters, and electric kettles provide effortless convenience as well. However, home appliances have some advantages and disadvantages, and you may want to weigh your options before making a purchase.
Advantages and Disadvantages of Electrical Appliances 
Electrical appliances and other forms of appliances have become quite popular in our homes and our kitchens because they help us save a lot of time on our tasks- while they help us save time, they also help us achieve a lot more than we would if some things were to be done manually. When you do not have to soak and wash your clothes and dishes by yourself, you will have more time on your hands to focus on other, more important things like your career, school, or study. You even get to focus more on your family and your hobbies. Even the humble refrigerator allows us to shop for fresh produce about once a week rather than every day.
Appliances afford many immeasurable benefits, but at the same time, they come with their hazards, just like other technological devices available on the market today. From the use of your electrical home appliances, you may be exposed to dangers like fire and electrocution- these dangers never scare us away from using them anyways, and it really should not; all that is necessary is a high level of care and caution, and you will be safe while using your electrical home appliances. However, some appliances create fire and flood hazards. For example, the U.S. Fire Administration reports that approximately 2,900 house fires are caused by dryers each year, resulting in an average of 5 deaths, 100 injuries, and $35 million in property damage. In addition, appliances require electricity, natural gas, or water, and none of these utilities are cheap, especially if you run your appliances all the time or do not use energy-saving models.
Advantages of Electrical Home Appliances
First and foremost, when compared upfront, electrical appliances are cheaper than their gas counterparts. An electrical appliance is relatively cheaper because the installation of a gas line, needed for a ga-powered appliance to function, is not needed. An electric appliance only needs an outlet for plug-in and power connection, and these apparatuses are cheaper when compared to an installed gas line. However, not only are electric appliances believed not to last as long, but they also cost more to operate. Electricity is almost always more expensive than gas, meaning energy bills will be noticeably higher. These costs can add up depending on the size of a club's kitchen and when using equipment throughout the day.
Another advantage of an electric appliance is that it affords you a lot of mobility and ease of movement–you can easily move your electrical appliances around the house without any constraints because they are not attached to a gas line like other gas-powered appliances. It is now even easier to move when dealing with a refrigerator with wheels. Electric appliances, such as stoves, are usually much easier to clean than gas ones. Also, due to the connection and fuel, electric appliances are generally safer than gas. Unfortunately, electric appliances heat up slower, and the intensity of the heat is harder to control. Temperatures with an electric appliance do not reach as high as with gas, and temperatures cannot change as rapidly. Because the electric coils heat and cool slowly, the radiant heat produced is fairly steady and even, with fewer spikes and drops in the temperature.
It is crucial to note that one other major disadvantage of electrical energy and, by a stretch, the use of electrical appliances is that it's relatively easy to become disconnected from this power source- when you are disconnected, and all the appliances you own are run on electricity; no matter how energy efficient they are, they will not work without power supply. It is quite unfortunate, but weather events tend to disrupt electrical lines- this is completely an act of God and unavoidable. When the management of your home entirely depends on electrical appliances, it's easy to feel lost during a power outage. Suddenly you can't wash or dry your clothes, store your food or even cook meals.
Alternatives to Electrical Appliances
If you want to reduce your dependency on electricity, alternatives exist. You can often return to doing things "the old-fashioned way." For example, you can hang your clothes out to dry or wash dishes by hand. You can also buy gas-powered appliances (such as stoves and water heaters), which are less susceptible to outages but pose health risks if the gas line leaks.
You can even build an outdoor clay oven for cooking anything from casseroles to pizzas. Washing your clothes without electricity can be accomplished with a simple sink or a clever pedal-powered agitator.
Once you start searching for an alternative to electrical appliances, you're bound to find a solution. After all, electricity is a relatively modern invention. However, some modern appliances, such as refrigerators, are more difficult to replace. For these few remaining electrical necessities, you may be interested in supplying and controlling your source of electricity, such as with a solar panel or mini wind turbine.
What to consider when buying an electrical appliance 
Dishwashers, refrigerators, electric kettles, food processors, toasters, microwave ovens- all of these appliances make life significantly easier by their efficiency and ability to save time. However, none of them is immune from damage and breaking. When this inevitability occurs, what factors will you consider to make a good choice amongst the myriad of excellent home appliances? 
Perhaps you are asking, what exactly do I buy?- do I go for a more cost-effective option or invest in a more expensive alternative? It is possible that you do not find the less expensive appliances completely efficient for you, but the more expensive ones may be good in design and efficiency, but this does not happen in all cases. Hence, when you visit the nearest store for your new appliances, do not only go for an appliance because of its cost. You can also check other factors like environmental friendliness, efficiency, and aesthetic design.
Efficiency
When sold or bought new, refrigerators, televisions, washing machines, dryers, fridges, and heat pumps must show an energy-efficiency label to indicate how energy efficient your new appliance is, using a 'star' symbol. Hence, as a rule of thumb, the higher the star rating, the energy efficiency of the appliance in question. And, of course, when an appliance is energy efficient, you will spend significantly less to run it.
Environmental Impact
It is essential for you also to join the trend to save the planet. As funny as that may sound, your little contribution to your home appliance choice is not so little. It can go miles. That being said, home appliances vary in their degree of eco-friendliness- the energy and water consumption rates of an appliance will greatly determine that appliance's eco-friendliness, and they differ between brands.
Longevity
Buying a new appliance is often associated with higher quality and longevity. Hence, there is an original assumption that they will last quite a long time, especially if they are from a reputable manufacturer. However, things can always happen along the line of use to warrant a repair or a replacement. But you want to know what your appliance needs before you get into action. 
Your dishwasher may only need minor repairs, requiring you to purchase an appliance repair kit and try fixing it yourself- before you look for top appliance repair companies. While all that you need in another circumstance is a dishwasher replacement.
Electric Appliances in the kitchen 
It can be utterly discouraging to get into the kitchen and fix something for a meal if the process is onerous, inconvenient, and stressful. This is why electric appliances are available to make your job easier. They do not cost much, and their installation is not quite expensive. A few examples of electric Appliances in the kitchen are discussed below.
Dishwashers
Dishwashers are not a recent technology, although their adoption has not gained popularity in the kitchen until recent years. People had always believed that dishwashing is a thing to be done manually, but indeed, cleaning is a lot more effective, faster, and interesting with a dishwasher. Electric dishwashers make things even easier around the kitchen.
BLACK+DECKER BCD6W Compact Countertop Dishwasher 
This is an aesthetically finished dishwasher and has 6 place settings. It is made of stainless steel and metal; hence, very strong. On this dishwasher, you will find 7 superior wash settings. You find the right wash cycle that works for you and your dishes. Our 7 wash cycles for this 21.5" x 21.7" x 17.2" dishwasher machine include Normal, Intensive, Eco, Glass, 90 Minutes, Rapid & Soak. Save water and time cleaning the kitchen by letting this stainless steel dishwasher do all the hard work. With this dishwasher, you can easily set your wash cycle and time, thanks to this intuitive dishwasher LED display. Thanks to its easy-to-navigate electronic touch controls, you can see the remaining cycle time and even delay start time. Child lock included with portable dish washing machine to secure maximum safety.
Air Fryer
This Air fryer is equipped with 11 cooking presets. The beauty of this Air fryer is that it s nearly completely automatic, as it incorporates new and modern tech- Its touch screen allows for easy navigation. It works with Alexa & Google Assistant. The new-generation smart air fryer Pro II CS358-AF from COSORI provides a new professional stage cooking function and a more convenient and faster cooking experience than CS158-AF. Search "CS358-AF" and get your new smart air fryer.
It cooks your food efficiently and reduces your food's oil content by up to 85% more than traditional deep-frying, giving it the same crispy taste without health drawbacks. It is built with removable, dishwasher-safe baskets and nonstick surfaces, making cleaning simple and easy. Find more COSORI air fryer accessories by searching C158-6AC and parchment paper liners CLR-R581-WUS, making washing easy and leaving no mess.
Microwave Oven
If you've ever wished you could simply talk to your microwave, now's your chance. This GE microwave connects to Amazon Alexa so that you can control it with your voice. It also has scan-to-cook technology that helps cook your food perfectly every time. It is equipped Complete with Scan-to-Cook Technology and Wifi-Connectivity. Its Voice-enabled cooking allows you to turn the microwave on and off, add time or change power level via Alexa or Google Assistant; Scan-To-Cook Technology saves time and optimizes frozen food preparation.
It has an easy setup with convenient controls; Its simple, one-touch operation with convenience cooking controls; kitchen timer, child lock controls, and cooking complete alarms add convenience.
Coffee Maker
This coffee maker is famous for its massive capacity. Much more interesting is the fact that it is a smart coffee maker that works very well with Alexa voice command- o need to download additional apps to control the coffee maker you only need the Alexa app to turn the connected brewer on or off. You can use the Alexa app to set morning routines for the brewing program, which gets you out the door faster.
To use this coffee maker, easily add coffee and water from the front. The front-fill design of the reservoir lets you add water without moving the smart coffee maker from under the cabinets. The brew basket uses a standard coffee filter and swings out for front filling. 
FAQs
What should I do if my electric appliance continuously blows a fuse?
First, ensure that not too many appliances are plugged into one circuit, which can overload it. If it's just one appliance, unplug it and either replace it or call us to repair it. You could also try connecting another appliance to the problematic receptacle. 
What's the difference between a blown a fuse and a blown circuit breaker?
When the electrical current that passes through a fuse exceeds the limit, it burns a hole in the thin metal strip. This stops the flow of current, and it means you have blown a fuse. Fuses need to be replaced (not reset). When the electrical current exceeds the limit through a circuit breaker, however, the breaker trip setting opens to stop the current flow. Breakers are re-settable by flipping the handle on the face of the breaker.
ESTIMATED TIME DESIGNING AND UPLOADING THIS ARTICLE
ESTIMATED TIME RESEARCHING AND WRITING THIS ARTICLE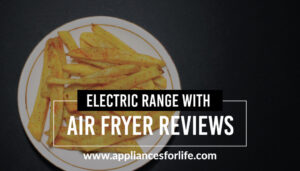 Electric Ranges With Air Fryers Review
Electric ranges are coming with many features that are putting them on the same level as gas ranges. The air fryer is one of these features, and our electric ranges with air fryers review discusses the best electric ranges with air fryers.   Electric Ranges
Read More »