Blenders play a huge role in society, more than they'll ever get credit for, and much of that lies in the simplicity of a blender's functionality. Despite the anonymity, blenders have become very popular on the market, with lots of new options hitting the market every single year, new and improved. Just like with every other kitchen appliance on the market right now, as an enthusiast and fanatic, you'll always have newer models to consider every time as manufacturers compete to give the customers what they need.
You can invest in baby food makers when you're looking for what to use to make the best baby food, but the problem is that once your baby grows, the baby food maker will become useless, and it may not even be in vogue by the time you have your next baby, so that makes you want to invest in something else. Rather than investing in baby food makers, blenders are a great alternative, and the fact that they'll serve their purpose other than making baby food makes them a great option. Blenders can puree well, making them ideal when it's time to whip up sweet potatoes, make soups, and mushy peas.
People's understanding of the functionality of a blender has always been limited because as much as people know the importance of the versatile kitchen appliance, people can't open their minds to the possibilities. According to Eat This, Not That, one of the common mistakes people make with most kitchen appliances is that they always purchase some of these appliances with the hope of getting them to fulfill a purpose, and people don't always seem to open their minds to the possibilities of getting the appliances to do more. If you purchase a blender for the single purpose of using it to make smoothies, you may not explore other functionalities of the blender like making it to make other things other than smoothies.
There's nothing compared to making your own baby food yourself as it puts you in total control of what your child eats, playing a vital role in the child's development in the process. The truth remains that the baby foods sold over at the grocery store can be overpriced, and won't provide the best nutritional value for your baby. Preparing your own baby food is a special way to gain complete control over what your child eats, after all, what's greater than a mother's love for her beloved child.
It also gives you the chance to try out many things, and get used to how children react to different foods they eat. It may seem like one of the hardest tasks you'll ever have to do, but compared to the overall health of your child, you'll know that's one of the greatest contributions you can ever make to your child's growth as a toddler. When you eventually get used to the whole process of making baby food using a blender, you'll realize people have been wrong all along to ever think the process was a time-consuming one.
Making baby food with Nutribullet or any blender at all can be done in two basic steps; roasting and steaming. To know how efficient a blender is in making baby food, you need to have tried using it on vegetables to get a proper evaluation of its ability to puree. A good blender proves to be great at blending baby food by being able to serve up smooth and perfect consistency for purees and soups without any trace of stingy fibers.
The best blenders for baby food and smoothies are the ones that come with portable blending cups that allow you to process your baby food and smoothies in small batches. Some of these blenders also come with built-in heaters that help steam your food in the jar rather than having to go through the stress of cooking the vegetables in a pot before you blend them. Being able to identify the best blenders for making baby food will save you a lot of stress, and to help you ease the pressure further, we'll be looking at some of the best blenders for making baby food later in this article, but before then, let's take a quick look at some of the factors you need to consider before purchasing kitchen appliances.
Factors To Consider When Purchasing Kitchen Appliances
Kitchen appliances are becoming increasingly popular on the market, and people have given different reasons for their increasing popularity. Long before technology came into play, these appliances were necessary for every household, and now that technology has impacted every single one of them, they have become more functional than anything they've ever been. Today, there are lots of options on the market, and if you don't take your time to put the important things into consideration, you'll end up purchasing the wrong product which may result in a waste of money, especially if you purchase a product you can't return.
The effort you invest in ensuring you get your hands on the right product is nothing compared to the disappointment you'll feel if you ever make the mistake of buying the wrong product. Sadly, some brands don't pack their products with warranties or they have strict return policies, leaving you unprotected when something goes wrong with the product. To help you prevent making the wrong purchase, below are some of the things you need to seriously consider before deciding to invest in some kitchen appliances.
Warranty
One of the worst mistakes you can make as a buyer is knowing a product doesn't come with a warranty and still going ahead to invest in it. When a product doesn't come with a warranty, it means the brand producing the product doesn't trust it enough to offer a warranty on it. When you can't share the confidence of the manufacturer, you shouldn't go ahead to make the purchase because it leaves you very vulnerable, and you won't be in a good position when things go wrong.
A warranty is a special way of assuring you that the product you're investing in is worth it, and if anything goes wrong, you will receive special treatment. Thankfully, there are not too many products that come without a warranty as many brands are looking to win people over, and they know people love to get the best value for the money they spend. In the world of online shopping, you need to be very sure that the product you're investing in has a warranty.
Energy Efficiency
Just like a warranty, energy efficiency is an important factor to consider whenever you're purchasing a new kitchen appliance. When you're purchasing a new kitchen appliance, you should know how much power the appliance is going to consume over a certain period. Thankfully, modern kitchen appliances are designed to be energy-efficient, consuming less energy than conventional kitchen appliances.
One of the many advantages of modern kitchen appliances is that they're designed not to consume energy so they won't have huge pressure on your electricity bill. The initial price may be hard to cough out, especially when you're on a budget, but if you're purchasing for the long-term, you should not back down, instead, look to make the investment because it'll prove to be the best in the end.
Other Factors To Consider When Purchasing A New Kitchen Appliance
The size of your space

The size of the blender

Your needs

Features

Your budget

Online reviews
As an Amazon Associate we earn from qualifying purchases. We may earn a small commission for our endorsement, recommendation, testimonial and/or link to any products or services from this website. Thank you, your qualifying purchases help support our work in bringing you real daily gift ideas.
This Vitamix immersion blender for baby food is one of the best blenders to puree baby food at the moment and the fact that it is a very affordable choice makes it a great choice even for those who are on a budget. Judging from the online reviews, this Vitamix stainless steel immersion blender is so great that it is rated very highly across different e-commerce platforms. Its scratch resistance blade guard feature is also enough to protect it from scratching your pots and pans.
5 Variable Speed Settings
To make blending convenient for you, this Vitamix is packed with 5 variable speed settings that you can choose from when you're blending different ingredients, including baby food.
Powerful Motor
Every blender is judged by how powerful its motor is, and for this Vitamix blender, you don't have to worry about power because it comes with a powerful motor. With this powerful motor, every blending process has been made easier and faster than ever.
Finding a blender that serves the basic purpose of making baby food might be a daunting task, especially on a market with lots of options. However, you deserve a great blender for baby food, and that's exactly what you'll get if you invest in this Sage spoonfuls puree and blend baby food maker. The easy-to-use blender can be used to make baby food, prep toddler meals, and easily make family-friendly recipes from the comfort of your home in minutes. It is also ideal for ingredients like fish, nuts, grains, and meat.
Easy To Clean
If you're going to be using this portable baby food blender to prepare your baby meals, you should be worried about how easy it is to be cleaned because you'll need proper hygiene to ensure what's going in your baby's mouth is clean enough. It comes with dishwasher-safe parts, making it very easy to be cleaned. You can also self-clean the blender by adding warm water and a drop of dish soap before blending continuously for about 30 seconds.
Safe For Babies
This blender is made with food-safe plastic that is free of BPA, so you don't have to worry about whether or not it is safe enough to be used to make food for your baby. Its parts are also free of lead, PVC, and phthalate.
This Cuisinart blender can also double as a food processor because it comes with the necessary food processor and blender attachments. With a 700-watt base motor, you can be confident that fast processing is guaranteed because this is one of the best options in its class.
2-in-1 Operation
The machine comes as a blender and as a food processor, but with only one base. All you need to do is attach each jar (blender or food processor) to the base whenever you need to use it to process your food.
Pre-programmed Functions
This Cuisinart machine also comes with pre-programmed smoothie and ice crush functions so you can have enough options to choose from when you're processing different ingredients. If you're trying to crush ice, all you have to do is to choose the "ice crush" function, then your machine will be set to function to crush ice. If you're also trying to use the machine to process smoothies, all you have to do is to choose the "smoothie" option from the base of the blender/food processor.
Frequently Asked Questions
1. What is the best hand blender for baby food?
The best hand blenders for baby food are mostly immersion blenders that can also be used to process baby food. To be sure if the blender you're looking to get can be used to make baby food, try and read from the product description if it's safe enough to be used to make baby food, such as having BPA-free parts.
2. Are there Ninja blenders for baby food?
It is very important to know that the main purpose of a blender is not to make baby food, but part of the big discovery of the many functionalities of blender is knowing that it can also be used to make baby foods. Some Ninja blenders are ideal for making baby food.
Final Thoughts
Blending baby food is something most people think can be daunting because it has to be a precise process, but it's not as difficult as most people think it is. As a parent, you need to be directly involved in what your baby eats, and one of the best ways to do that is to ensure you prepare their meals yourself. Investing in baby food makers is great, but you'll be surprised to know their functionality is only limited to baby food. But when you invest in blenders, you can get the best value for your money as you'll be able to use these blenders for other things other than baby food. We've reviewed what we think are the top 3 best blenders for making baby food, so if you're on the market for a new blender for making baby food, you can have an easy choice to make.
ESTIMATED TIME DESIGNING AND UPLOADING THIS ARTICLE
ESTIMATED TIME RESEARCHING AND WRITING THIS ARTICLE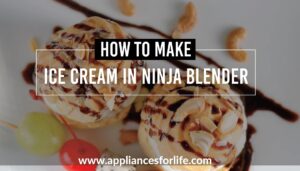 How to Make Ice Cream in a Ninja Blender
The blender is one of the most underrated kitchen appliances in the world today because people barely pay attention to how much they can do with them. This article discusses how to make ice cream in a Ninja blender using different ice cream recipes as
Read More »