Top 5 Best 30-inch Professional Gas Ranges Comparison Table
| Image | | | | | |
| --- | --- | --- | --- | --- | --- |
| Name | Frigidaire 30-inch Stainless Steel Gas Range FCRG3051AS | Viking White 30-inch Gas Range VGIC53024BSS | Thermador 30-inch Gas Range PRG305WH | JennAir RISE 30-inch Stainless Steel Gas Pro-Style Range | Thor Kitchen 30-inch Gas Range in Stainless Steel |
| Brand | Frigidaire | Viking | Thermador | JennAir | Thor Kitchen |
| Product Dimension | 29.88 x 29.25 x 30 inches | 35.88 x 29.88 x 28.69 inches | 35.75 x 29.94 x 27.38 inches | 38.75 x 29.88 x 29.81 inches | 36.7 x 29.88 x 28.3 inches |
| Weight | 166.25 lbs | 410 lbs | 368 lbs | 358 lbs | N/A |
| Oven Capacity | 5 cu. ft. | 4 cu. ft. | 4.6 cu. ft. | 4.1 cu. ft. | 4.55 cu. ft. |
| Color | Stainless Steel | Stainless Steel | Stainless Steel | Stainless Steel | Stainless Steel |
| Number | 4 | 4 | 5 | 4 | 5 |
| Special Features | Low Simmer Burner | Black Chrome Knobs | Exclusive Star Burner | Remote Access | Black ABS Knobs |
| Editor's Rating | ✸✸✸✸✸ | ✸✸✸✸✸ | ✸✸✸✸✸ | ✸✸✸✸✸ | ✸✸✸✸✸ |
| | | | | | |
Even as an amateur, you'll be moved by the thought of owning a professional gas range because it just takes your cooking experience to a whole new level you will grow to cherish for as long as you have the gas range in your kitchen. When you have a pro-style gas range in your kitchen, you'll be confident about whatever cooking activities you have to carry out because you know the gas range can get things done for you more efficiently and easily. Size is an essential factor when purchasing a pro-style gas range, and the best 30-inch gas ranges are not so easy to find out, especially when you're new to the market.
Choosing a pro-style gas range for your kitchen has to be one of the most difficult tasks you'll ever face as long as getting a range in your kitchen is concerned. This is because there are so many options on the market at the moment that buyers may find it difficult to settle for an ideal option as professional gas ranges come in different styles, sizes, and prices. If you don't conduct proper research, you may end up with the wrong product or find the options too overwhelming to decide on which one to settle for at the end of the day.
That being said, it is safe to say that purchasing a pro-style quality range doesn't mean it has to be the big, mighty gas range you see in your favorite restaurant, and because you love it, you have to force it to be housed in your small kitchen space even when it's obvious it can't fit in. According to a blog post on Appliances Connection about the best 30-inch slide-in gas ranges or 30-inch double-oven gas range, it is revealed that the most popular gas range models are usually 30 inches wide, which is large enough to handle large meal preparations. In other words, although gas ranges come in different sizes, 30-inch pro-style gas ranges manage to be the most popular gas range models on the market at the moment.
Industrial-type appliances growing popular in different domestic settings was not something that existed a long time ago until the 1980s when people began to clamor for more powerful BTUs, larger oven capacities, and features that would make cooking more convenient. Some of these ranges featured even heat distribution, indoor grills and griddles, downdrafts, knobs, and other features that made them more appealing to people than standard ranges. It'll be hard to win an argument in support of the fact that professional chefs or restaurants are the only ones in need of pro-style ranges, after all, normal people can also bake frequently and prepare restaurant-quality meals for their family and friends in their home.
Despite the popularity commercial ranges were enjoying, there was a huge problem that gave people heartache, especially the ones that didn't have enough kitchen space to house the only available size – 36 inches. Commercial ranges being only available in one size didn't make their popularity worthwhile as many people had to reach a compromise to have these ranges in their homes. Anyone with an average cooking space couldn't have a commercial range in their home because they would not just fit in properly.
Knowing that this was a problem that needed to be solved and solved very fast, manufacturers began looking for a way to introduce pro-style ranges in different models that are available in different sizes that range from 30 inches to 40 inches and even 60 inches. These days, the larger the width, the more burners the range will have because there'll be more than enough room for as many burners as possible, and this leaves people with several options to choose from. The best way to bring that pro-style into your kitchen is to have a professional gas range that can give you whatever you need as far as convenient cooking is concerned.
30-inch commercial gas ranges became popular in the 90s and have since remained like that because they're compact enough to fit into any kitchen space, which is nice for those with smaller kitchen space. 30-inch gas ranges with griddles are also enjoying increased popularity but not only are they compact – they are also packed with enough features to help make cooking more convenient for whoever decides to invest in them, and thankfully, they don't cost a fortune. Before we start talking about the top 5 best 30-inch professional gas ranges you can get your hands on in the market right now, let's quickly look at some of the things you should consider when purchasing a pro-style range, helping you make the best decision in the process.
5 Important Factors To Consider When Buying a Pro-Style Range
Just like with every other kitchen appliance, cooking ranges need to be properly researched and evaluated before you decide on which one you think is best ideal for you. If the proper evaluations are not made, it is easy to go on the market and purchase the wrong cooking range considering the overwhelming options that are available on the market today. Below are 5 important factors to consider when purchasing a pro-style range for your kitchen to ensure that you purchase the right cooking range.
Power Source
If you're buying a new pro-style range for the first time, you need to make sure that your home is configured properly for a gas or electric setting. If you're purchasing an electric cooking range, you need to make sure that the electrical outlet the oven will be connected to has the right voltage, probably 240 volts which is the standard requirement for most electric ranges. And if you're not sure what the required voltage is, you should read the manual properly and get an electrician to help you inspect your wiring to make sure you're making the right decision.
If you're opting for a gas range, you need to make sure that a natural gas pipeline or propane task is properly fitted to help provide fuel for the burners. Just like with electric ranges too, you need to contact a technician to help you install the necessary pipes to help supply fuel to the range burners sufficiently.
Cooking Style
Many people hardly pay attention to this, but the truth is that your cooking style should play a huge role in helping you decide which cooking range will be most ideal for your kitchen. If you love to cook multiple meals at the same time then still put meat in the oven to roast almost the same time you're baking a break, then what you need is a large cooking range with lots of burners. Remember we said earlier that the larger the size, the more burners the cooking range will have, so if you cook for a large family, then you'll need more than a 30-inch cooking range.
Your cooking style will also help you determine the type of burner grates you'll end up with because interlocking burner grates allow you to slide pots and pans from one burner to another with ease. This is great for those who cook multiple meals at the same time because it helps them prepare their meals faster rather than having to wait for one meal to finish cooking before processing the other meals.
Budget
Without this, every other factor won't be relevant because your budget will determine how good of a pro-style cooking range you can get in your kitchen. It is safe to say that pro-style ranges cost more than standard ranges, so if your budget is below what an average pro-style range would cost, you should opt for a less-expensive non-pro range with fewer features. However, if you can afford a pro-style range, it might as well be the best decision you'll ever make as far as purchasing a cooking range for your kitchen is concerned.
One of the most common mistakes people make is seeing a pro-style range they want and plan to get the same range without looking too much into their budget to see if they can afford it or not. As a result, they end up disappointed when they finally learn about its price, and knowing it's way above their budget, they're forced to opt for something that is within their budget but not even close to the one they initially had in mind.
Space
One of the most important things you need to seriously consider when purchasing a cooking range is your kitchen space. If you don't have enough kitchen space, you'll have to opt for a 30-inch professional gas range which is the most common size among pro-style cooking ranges. We highlighted earlier that the larger the size of the range, the more burners the cooking range has, but if you're low on kitchen space, you need to properly assess your needs as well as your kitchen space before you decide on the size of cooking range needed in your kitchen.
Exhaust
Cooking, roasting, and baking all at the same time is why you need to invest in a pro-style range. However, this investment can quickly turn into a nightmare when all the smoke coming out of the range starts to change the look of your kitchen, leaving the whole house pretty smoky sometimes. To lessen the effect of smoke or grease in your kitchen and around the range, the best thing to do is to install a range hood that'll help keep the range and your kitchen smoke-free.
Top 5 Best 30-inch Professional Gas Ranges
Frigidaire 30-inch Stainless Steel Gas Range FCRG3051AS
Frigidaire made a name for itself for producing some of the most affordable appliances in the world today, and the brand is now one of the best appliance brands around the world. The Frigidaire 30-inch pro-style gas range has high ratings online, showing that the cooking range is as efficient as it's affordable. One thing people love most about the gas range is its look as a lot of people have reviewed that the stainless steel finish perfectly complements the other appliances in their kitchen.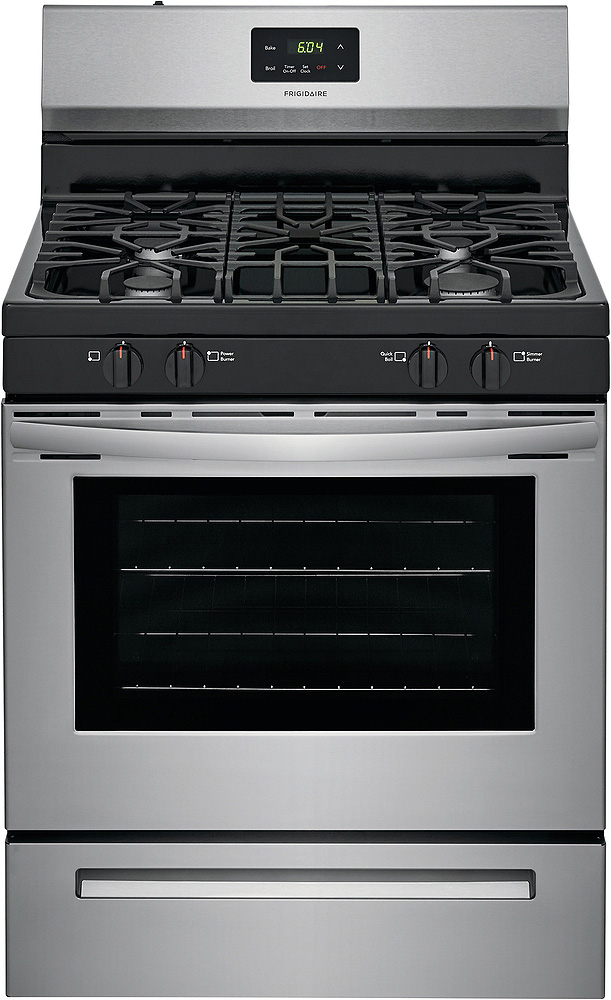 Even Baking Technology
If you love baking, you're going to find this Frigidaire 30-inch gas range very efficient because it comes with the right technologies such as the even baking technology that helps your food come out evenly when you bake. This leaves you in total control of whatever it is you're baking and promises you a great result at the end of the day.
Low Simmer Burner
The Frigidaire 30-inch professional gas range comes with a low simmer burner that is used to prepare delicate foods and sauces such that they come out as planned without any surprises.
Quick Boil Burner
The gas range features 4 different burners, two of which perform special functions, including the quick boil burner which is the most powerful burner of the four available burners. It's just to help you prepare meals faster than any other burner, so if you want your food to be ready in no time, this is the perfect burner to use.
Viking White 30-inch Gas Range VGIC53024BSS
The Viking 30-inch gas range is available in two gas types – liquid propane and natural gas. When you're choosing, you need to choose which one you think is best for your kitchen by properly evaluating your needs and other important safety factors. If you're looking for a commercial-type cooking range you can trust, this Viking 30-inch gas range should be one of the first options on your list.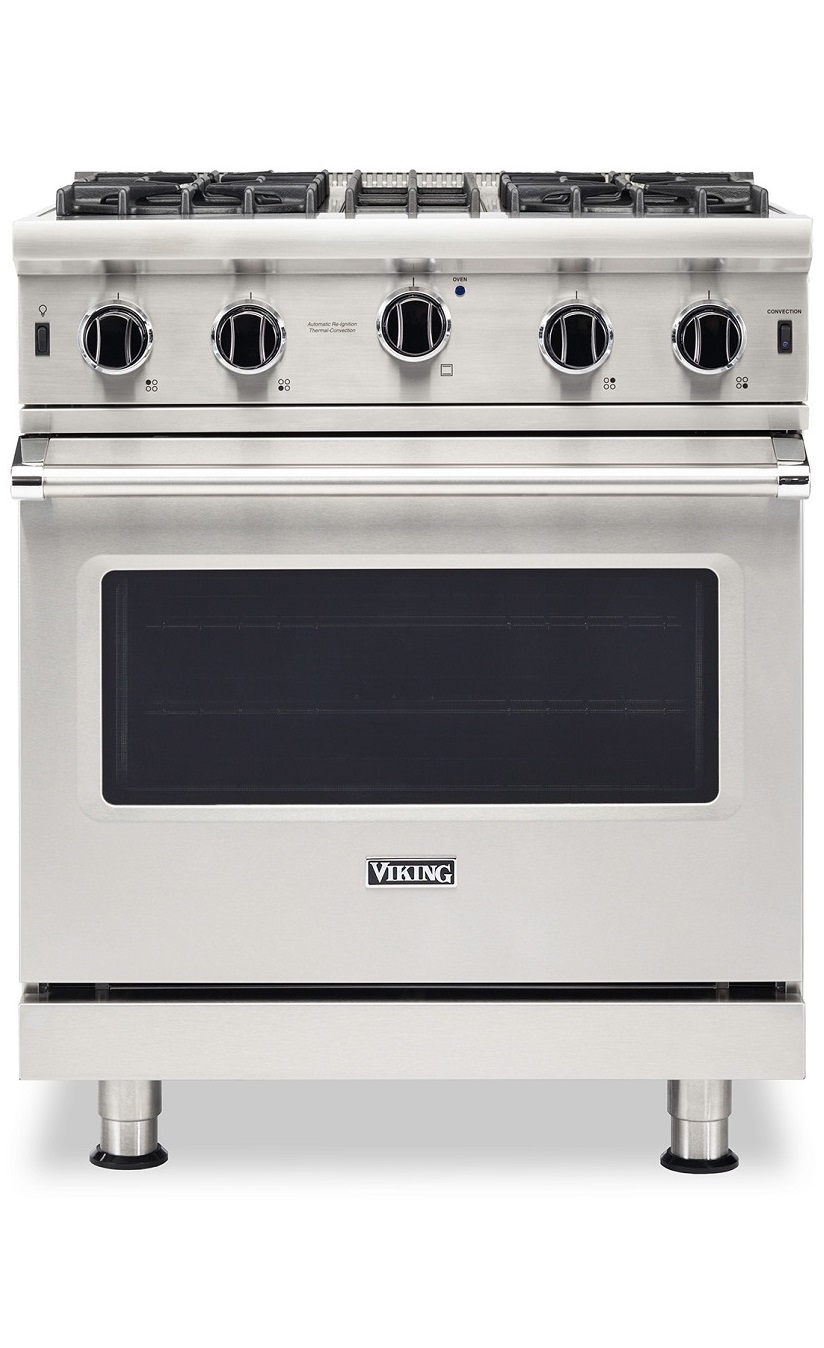 Automatic Re-ignition
This is a great feature for those who cook a lot. The surface burners light up at any position on the knob and re-ignite if the light goes off.
Six Functions
You'll get to enjoy all the range's six functions including infrared broil, convection defrost, natural airflow bake, convection dehydrate, convection infrared broil, and convection bake.
Easy to clean
The gas range features removable porcelain burner bowls that make cleaning very easy to do. The burner caps are also very easily removable for quick cleaning.
Thermador 30-inch Gas Range PRG305WH
Thermador may only be producing high-end cooking ranges and appliances generally with outlandish prices, all their appliances are always worth whatever price tags are slammed on them because you'll get the best value for them whenever you decide to invest in them. A verified buyer raved about the product online saying, "This is the best stove ever. Cooks even. The star shaped burners control that."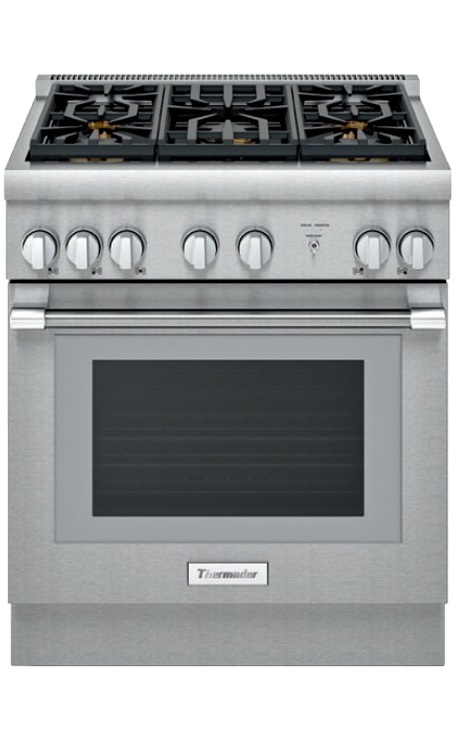 QuickClean Base
This is the one of the many exclusive features you'll get to enjoy with high-end Thermador cooking ranges, and the PRG305WH is not an exception. The QuickClean Base feature makes the surface very easy to clean.
Convection Bake
People who love to bake always find special features like this very exciting. If you're one of them, then the convection bake feature will provide you with precise multi-level baking results.
Exclusive Star Burner
This is the burner that provides the most even heating and unsurpassed flame coverage that help cooking faster than the other burners.
JennAir RISE 30-inch Stainless Steel Gas Pro-Style Range
Everything from the precise, dual flames produced the precision-drilled brass burners to the steady heat available inside the oven cavity – makes the JennAir 30-inch gas range one of the best on the market at the moment. JennAir claims the range offers unmistakable firepower, and it'll be unfair to disagree with those claims if you've ever seen the JennAir RISE pro-style range in action.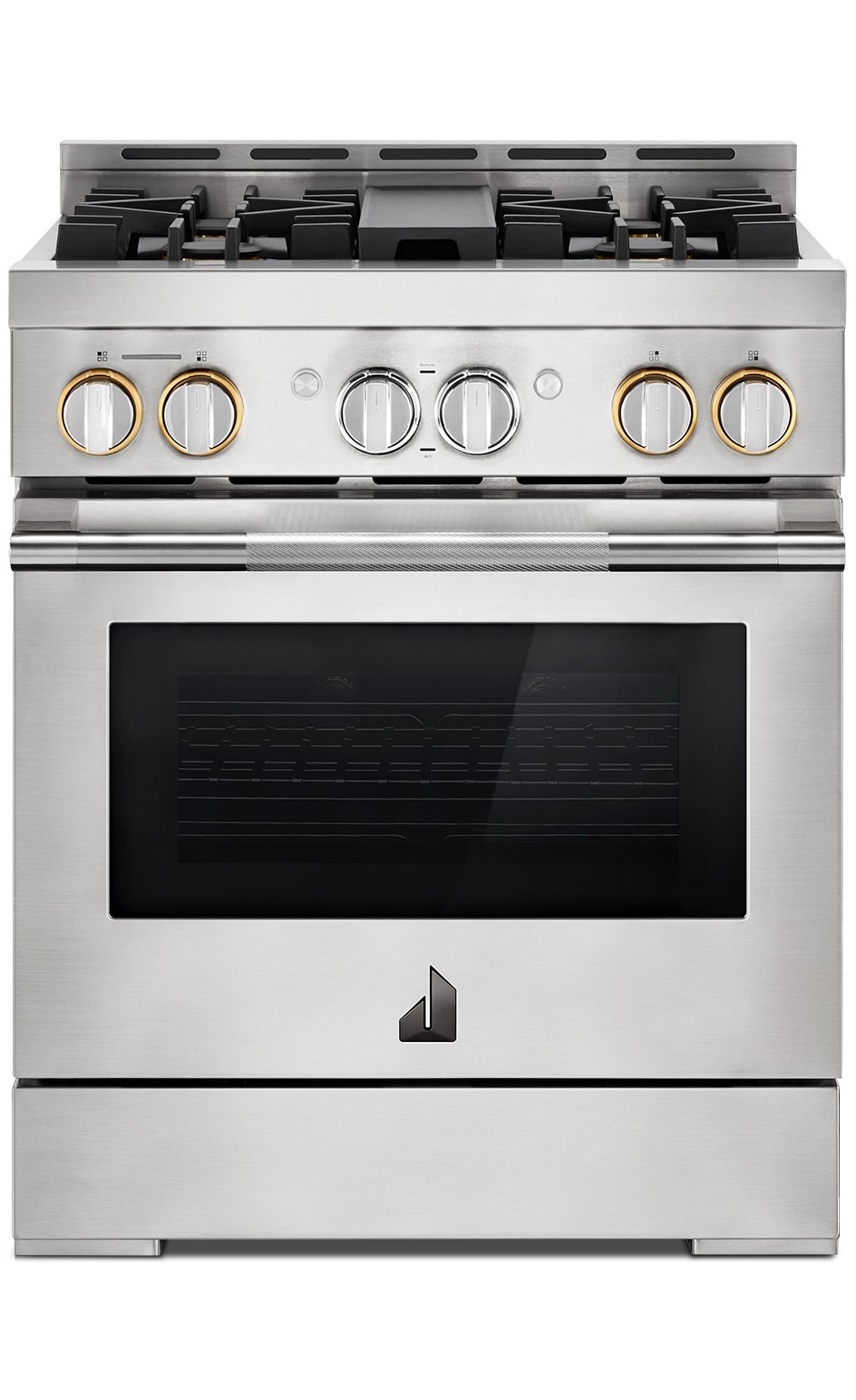 Remote Access
Technology is at the forefront of everything in the world today, and that's what JennAir has implemented in its products, including this JennAir 30-inch gas range. You can do things like personalizing settings, preheat, and check the cooking status by connecting your range to Wi-Fi for real-time notifications and control.
34 Range Configurations
You can enjoy this range with 34 total range configurations. It is packed with a JennAir griddle that helps make cleaning easier even after heavy usage.
Dual-stacked PowerBurners
This JennAir 30-inch gas range features two symmetrical flames that offer total control over heat levels.
Thor Kitchen 30-inch Gas Range in Stainless Steel
Pro-style gas ranges are usually slammed with outlandish prices, so it's quite hard to see one priced below $2000. This Thor Kitchen 30-inch gas range, as a result, remains one of the most affordable gas ranges you can get your hands on in the market today because it comes with such a low price tag compared to other high-end pro-style gas ranges. The good thing about the 30-inch 5-burner gas range is that Thor Kitchen hasn't compromised on the most important features of a pro-style gas range as it's packed with all the necessary features needed in a pro-style gas range.
Black ABS Knobs
If you love easy controls, you'll love this gas range because it comes with several black ABS knobs that make controlling the range very easy.
Bottom Storage Drawer
The bottom storage drawer at the bottom of the range provides additional storage options for your pots, pans, and other cookware.
Heavy-duty Continuous Cast Iron Cooking Grates
The cast iron cooking grates make it easier for you to move your cookware around different burners on the gas range, especially when you love to cook multiple meals at a time.
Frequently Asked Questions
1. What is the best 30-inch gas range?
There are lots of options on the market right now, so it might be hard to decide which 30-inch gas range is the best. However, we've tried our best to explore many of these options to list the top 5 best 30-inch professional gas ranges on the market at the moment using different factors like cost, features, power, and technologies.
2. What is a professional gas range?
A professional gas range is different from the standard gas range, and that's one thing people have struggled to understand over the years. A professional gas range is a commercial-type gas range with features and power that make cooking easier and more convenient for whoever invests in them.
3. Is a 30-inch range big enough?
This depends on what you define as "big enough." A 30-inch range is big enough for a small kitchen space, and since that's the most popular kitchen size, people have grown to love 30-inch ranges over the years because they fit just right in.
Final Thoughts
30-inch gas ranges have become very popular over the years because they're considered the perfect size for most modern kitchens. To have 30-inch pro-style gas ranges is considered a blessing in the world today because, as much as people don't love to admit it, we all want appliances that make our domestic obligations easier to carry out. In pro-style ranges, we have commercial-style ranges that can help bring more power to our kitchens, making cooking more convenient, especially if you prepare meals for a large family.
ESTIMATED TIME DESIGNING AND UPLOADING THIS ARTICLE
ESTIMATED TIME RESEARCHING AND WRITING THIS ARTICLE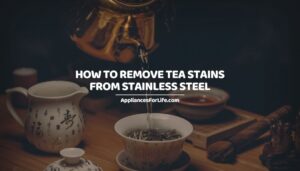 How to Remove Tea Stains from Stainless Steel
Tea is one thing that can be found almost in every home because of how easy it is to prepare. However, tea can leave lasting stains on your stainless steel items (teapots, cups, or travel mugs) and that will forever change the beautiful look that
Read More »