For most folks, cooking is not just what they have to do to put food in their stomach, after all, we all need food to survive. Cooking is what they derive joy from doing because they love it and they don't mind spending hours in the kitchen trying out different recipes or even doing as much as recording their sessions and putting them online for people to learn from. However, as much as these people find cooking exciting, they always need to do it in the most convenient of ways, and that's where range hoods come into play.
According to This Old House, a kitchen hood vent is an extremely important tool to have in your kitchen when there's a range because the range hood is regarded as a workhorse that helps keep your kitchen air clean. Experts have even gone as far as asking people to forget to turn on the fan while trying to cook in the kitchen to know how important a good ventilation system is. Just imagine yourself in a kitchen where unwanted odors, grease, moisture, and even carbon monoxide are keeping you from having a great time in your own kitchen space.
The responsibility of a range hood is to make sure elements like nitrogen dioxide and other pollutants don't have enough room in your kitchen, and these elements are usually released into the air when cooking. Making a mess in the kitchen, however careful you try to be, is almost inevitable, and it should always be planned for – even time-seasoned chefs always expect this to. Food splatters, gases, grease, fumes – all these should be expected no matter how careful or precise you are.
Sadly, despite the kitchen being one of the busiest and most functional rooms in the house, people don't often pay more attention to it as much as they do with the other rooms in the house. Things have improved greatly over the years as kitchen appliances are now becoming very popular, with manufacturers realizing billions of dollars every year, and the market itself boasting a billion-dollar market value. Truly, if you take a minute to reflect on how often people use the kitchen, you'll realize it might as well be regarded as the most important room in the house.
According to Apollo Heating and Air Conditioning, despite being largely overlooked, a range hood is, in reality, one of the most important elements to have in the kitchen because they're designed to remove unwanted elements from the kitchen. Experts usually recommend installing a range hood in your kitchen if you make use of the room a lot, and that's to help you get unwanted elements that could cause you harm out of it. The purpose of a range hood is to come in and save the day!
The problem people have faced regarding buying a range is selecting a range hood that is ideal for their kitchen because the market is full of overwhelming options that make choosing very difficult. Knowing how to buy a range hood or how to pick a range hood in the kitchen will help you make the right decision when you get on the market. Some of the things you need to note, according to Lowe's include mounting type, size, and the shape of the range you're looking to get.
Brian G of Lowe's advises that the new hood should ideally be as wide as the cooktop or range, or maybe leave it 3 inches longer on each side of the cooking appliance. Just like with cooktops and ranges that have 30 and 36 inches as their most popular sizes, range hoods also have the same common widths, and that's why it's advisable to install a hood with 20 to 24 inches away from an electric cooktop, and 24 to 30 inches away from a gas cooktop for optimal performance. However, not to take chances, you're also advised to read all the specified requirements for the proper installation height of the range hood you're purchasing before you start working on it.
What is a Range Hood?
Every kitchen needs a range hood, but, unfortunately, not too many people realize this, so they're forced to put up with all the unwanted elements produced by their ranges or cooktops. Oftentimes, people have asked the question – what are range hoods used for? The simplest answer you can give to that lies in the basic responsibility of the range hood itself, which is to help get rid of odors, smoke, and other harmful particles from the air as you cook.
The range hood usually features powerful fans to help get rid of bad elements from the air around the cooktop which is pulled through filters before being sent out of the house. The range hood is responsible for filtering or removing completely elements like moisture, microscopic food particles, smoke, heat, and other impurities out of the kitchen to prevent them from contaminating the air. This is why experts always advise that you purchase a range hood as soon as you buy a cooktop or cooking range to make sure everything is in order.
If you've ever wondered if you'd ever need a range hood, Yvonne Harbison of Build with Ferguson thinks everyone needs a range hood in their kitchen. The question of whether or not you need a range hood, according to Yvonne Harbison, shouldn't be debatable as there are more debatable questions surrounding the kind of range hood that will be perfect for your space and how big the range hood should be. However, before you decide to settle for a range hood, there are a few important considerations you need to make the best decision regarding the best range hood for your kitchen.
Why Do You Need a Range Hood?
A lot of people have often wondered if a range hood is ever needed in their space, but according to Yvonne Harbison, the answer is a one-way answer and it will always be a "yes." If you have a range or a cooktop, regardless of its type, you'll most likely need a range hood because the appliance's basic responsibility is to make your kitchen as comfortable as possible by filtering unwanted elements such as steam, odors, smoke, and other unhealthy particles. As appealing as the idea of having a range hood may sound, some folks won't purchase until they begin to see the reasons to.
If you're one of those that need that little nudge before moving to purchase a range hood for your kitchen, then we'll be looking at some of the reasons why you do need a range hood in your kitchen. Below are some of the reasons why a range hood is a very important tool to have in your kitchen.
Extra Light Source
While this may not be the primary reason for anyone to have a range hood in their kitchen, it is one of the few perks that come with having a range hood above your cooktop or cooking range. Most range hoods are built with light panels and bulbs under the hood that are aimed to direct more light towards the cooktop or cooking range below it. This gives you total visual access to whatever you're cooking even if you have enough lighting in your kitchen.
The fact that the light is directly over the working space as you cook makes meal preparation more convenient because everything right in front of you is as clear as possible. Even when you're done cooking and you want to clean up, it makes cleaning easier and also more convenient. Having enough lighting around will motivate you to try to get things done as soon as possible, and a range hood can contribute hugely to that.
Added Property Value
A lot of people will think a range hood is not necessary until it's time to sell their property and not having a range hood will be a part of the reason buyers are not willing to meet up with the seller's asking price. Real estate agents usually use this as a point of interest to convince buyers to pay more for the house they're selling because they believe range hoods are an important investment and improvement around the kitchen. The fact that they help add safety and access to some dark corners around the kitchen makes range hoods very important.
Agents will also state to buyers that range hoods will help them remove hazardous elements from the air in the kitchen and minimize the circulation of smoke and cooking grime, which is, in fact, true. Also, in regards to using range hoods as a selling point for modern properties, range hoods are in demand and it's just hard to want to sell a property to a modern person or family without telling them a range hood is present in the kitchen. Many home buyers are looking for standard homes, and one of the best ways to ensure that is to have a properly installed range hood in the kitchen.
Kitchen Safety
Have you ever thought about what could happen if you constantly inhaled carbon monoxide from the gas in the kitchen, or even concentrated fumes? If you constantly inhale these things unnoticed, it could result in several chronic diseases that could do a lot of harm to some vital organs in the body. Nobody has to go through that when the whole thing could be easily avoided by having a range hood installed in their kitchen.
When you have children around the house, having a range hood installed in your kitchen should not be about "why" but "when" which needs to be as soon as possible. A kitchen with a range hood is a whole lot safer for the whole family, especially when you cook a lot. A range hood in the kitchen will ensure that unwanted and hazardous materials like carbon monoxide, smoke, grease, and other harmful materials will be eliminated from the air, and your kitchen will be as safe as possible for everybody around the house.
Promotes Good Hygiene
When you have a range hood hanging over your cooking range or cooktop, unwanted elements that would make the kitchen an uncomfortable place to be won't have a chance to dwell in there, and that's a good thing to know. Range hoods are known for dispersing lingering cooking smells that clog the air and are also responsible for directing grease and food into the ductwork and filters. This makes the kitchen a cleaner place as opposed to how it would have been without a range hood hanging over the cooktop or cooking range.
Different Types of Range Hoods
There are different types of range hoods available on the market today, and knowing the one that will perfectly fit into your kitchen space as well as budget is a very important process that must be dealt with carefully. This means that you need to get familiar with the available types of range hoods on the market at the moment to help you make the best decision when it comes to choosing the most ideal range hood for your kitchen. Below are the basic types of range hoods you can get your hands on today.
Island Range Hood
If you have a kitchen island with the cooktop or cooking range sitting right in the middle of the kitchen, then this is the type of range hood you need in the kitchen. Unlike other range types, the island range hood covers a large and more direct surface area without the help of the surrounding walls. It is directly ducted into the ceiling to help get rid of fumes, smoke, and contaminated air directly out of your kitchen.
Wall Mounted Range Hood
This is the most common range hood available on the market today because it is what is needed for most kitchen styles today. It usually looks like a fireplace chimney and is also made from metal. It's also usually wide at the base to match the width of the cooktop, but with a narrow column at the top.
Downdraft Range Hood
If you're looking for a minimalist design, then this is a perfect choice for you. Most modern kitchens opt for a downdraft range hood because it helps make them look more beautiful, and the fact that it can retract when not in use makes it a great choice.
Under-cabinet Range Hood
Of all the available range hood types, the under-cabinet range hood is the most economical, and on top of that, it's also very efficient.
How To Pick A Range Hood
Buying a range hood can be daunting because you can't just walk into the market to purchase any range hood. You need to find the range hood that is perfect for your kitchen, and that means you need to put some important factors under the microscope and consider them carefully before making your decision. Below are the important factors to consider before buying a range hood.
Your kitchen style

The size of your kitchen

Size of the range hood

Range hood type

Your budget

Power of air movement (usually measured in cubic feet per minute)

Shape

Mounting type

Features of the range hood

Range hood filters
Frequently Asked Questions
1. How wide should a range hood be?
When you're purchasing a range hood, you need to ensure that the range hood is as wide as the cooktop or range you have in your kitchen. According to Lowe's, the width of the range hood should be at least 3 inches longer on each side of the range or cooktop.
2. What is the best CFM for a range hood?
The power of your range or cooktop will determine how powerful the range hood you're looking to get should be. Pro Line Range Hoods advises that to get rid of harmful particles from your kitchen efficiently, you'll need a range hood with at least 600 CFM.
3. What size hood for a 48-inch range?
If you have a 48-inch gas range, then you should purchase at least a 54-inch hood if you're going to be using it indoors, or a 60-inch hood which is perfect for outdoor use.
Rounding Up
Range hoods have become very popular over the years because people are beginning to realize just how important they are. If you can't stand unwanted elements like cooking grease, steam, smoke, carbon monoxide, and moisture in your kitchen, then you need a range hood. The job of a range hood is to ensure those elements don't have to be in your kitchen as it will efficiently get rid of them. In this article, we've highlighted how to pick a range hood by putting the necessary factors into consideration.
ESTIMATED TIME DESIGNING AND UPLOADING THIS ARTICLE
ESTIMATED TIME RESEARCHING AND WRITING THIS ARTICLE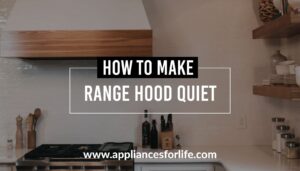 How to Make a Range Hood Quiet
How does a range hood work? That's one of the few questions you'll get to ask yourself while you're exploring many ways to maximize the functionality of your range hood. In our ultimate guide on how to make a range hood quiet, we'll be looking
Read More »