Most folks believe that cooking is an activity that should be done most comfortably and conveniently, and that means having the right appliances that make the process a very easy one. We share that sentiment as we also believe to efficiently cook meals in the most comfortable way possible, you need to own the right appliances which are, sometimes, not so hard to get. This is where the idea of several kitchen appliances like the refrigerator, cooking range, blender, cooktop, and microwave oven comes in – these are the appliances that get things done.
Perhaps the greatest misconception people have about these appliances is that they have to cost a lot of money before they can land the appliances that can serve them the way they want. While this may be true for some top appliances that cost a lot of money, you don't have to break the bank to have the best appliances in your kitchen because manufacturers are now working so hard to make the best appliances available to people regardless of their budget. For example, you can get quality 30-inch electric and gas cooktops at affordable prices compared to what most people think these appliances are worth on the market.
The fact that these appliances are now accessible to many regardless of their budgets shows just how far the industry has come and how much it has grown. Many years ago, the best appliances could only be purchased by elites who had enough financial prowess to land the best appliances on the market, leaving the fewer quality ones for those who didn't have as much to spend. Even now that people have easy access to these appliances, some of them need other appliances to function as much as people want them to, such as cooking ranges and cooktops that need range hoods or downdrafts to function efficiently.
The mystery with range hoods is that if you want the ones that will be very effective, it means you have to opt for the ones with higher CFMs. You also need to understand that the higher the CFM, the louder the range hood, according to a blog post on ProLine Range Hoods. Do you now have to compromise on the quality of the range hood because you don't want noise in your kitchen as a result of the CFM rating of the blower?
The truth is that if you're looking for a range hood that will effectively get rid of grease, cooking exhaust, and smoke from your kitchen, you'll need a range hood with a high CFM, meaning that it's not possible to get your hands on an effective range hood without preparing to deal with some noise. You can't ever get your hands on a range hood that is completely quiet because it doesn't exist. However, since some range hoods are quieter than others, you may get your hands on the one that doesn't make that much noise enough to make you uncomfortable in your kitchen space.
As important as a kitchen range hood is, nobody likes it when the range hoods in their kitchen space make a lot of noise because the kitchen has to be as comfortable as possible for them. For some people though, the solution to a noisy range hood is to replace the entire range hood, which doesn't always prove to be the best solution, but since it's the quickest way to get rid of the noise, it's the method people adopt the most. When you think about the stress you have to go through before choosing the perfect range, you'll realize the energy can be channeled into fixing the old one in some simple and easy steps.
Investing in a range hood is easy, after all, there are lots of options on the market, and it's very easy to point at any range hood if it fits into your budget as well as your kitchen space. However, getting your hands on a quality quiet range hood has been a problem for many people as past experiences and online reviews keep telling them there's no way they can make their range hoods quiet, a very discouraging point. If noise is a huge issue for you as it is for many people, then you need to try to purchase a quiet range hood, especially if the other appliances in your kitchen are also quiet.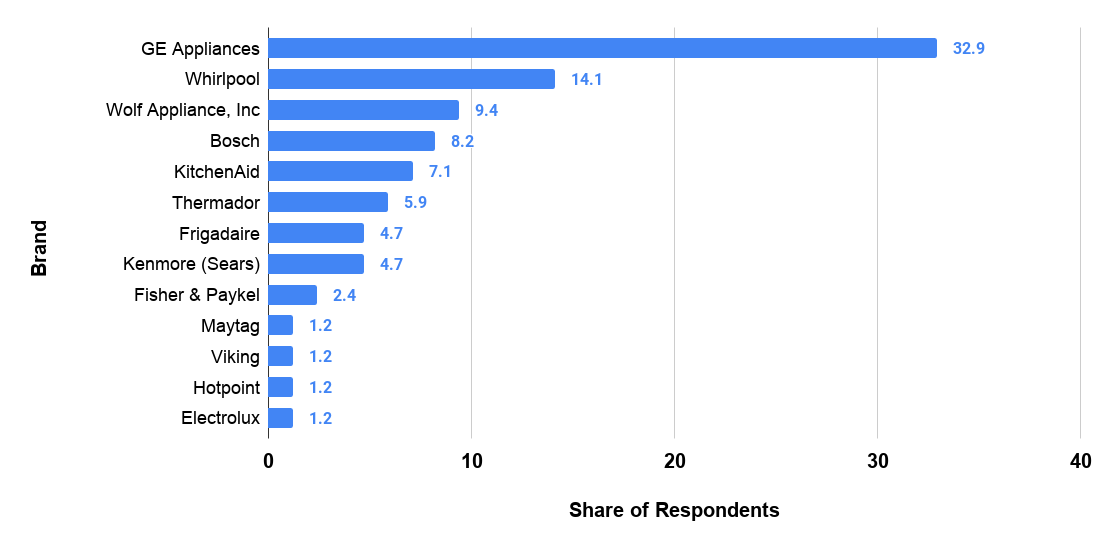 We used the information provided by the Statista Research Department to create the chart above that shows the most used ranges/cooktops brands in the United States in 2015. From the chart above, we can tell that Electrolux, Hotpoint, Viking, and Maytag all had a share of 1.2%. The next in line in 2015 was Fisher & Paykel with a share of respondents of 2.4%. The survey also revealed that Kenmore had the same share of respondents as Frigidaire, with a share of respondents of 4.7%.
The biggest winner in 2015 in terms of how people used ranges and cooktops was GE Appliance with a total share of respondents of 32.9%, leading Whirlpool by a country mile which was ranked second with a share of respondents of 14.1%. Wolf Appliance, Inc. came behind Whirlpool with a share of respondents of 9.4%, with Bosch, KitchenAid, Thermador, and Frigidaire all boasting shares of respondents of 8.2%, 7.1%, 5.9%, and 4.7% respectively. The chart simply shows these appliance brands are growing and will only get more popular with each year that passes by.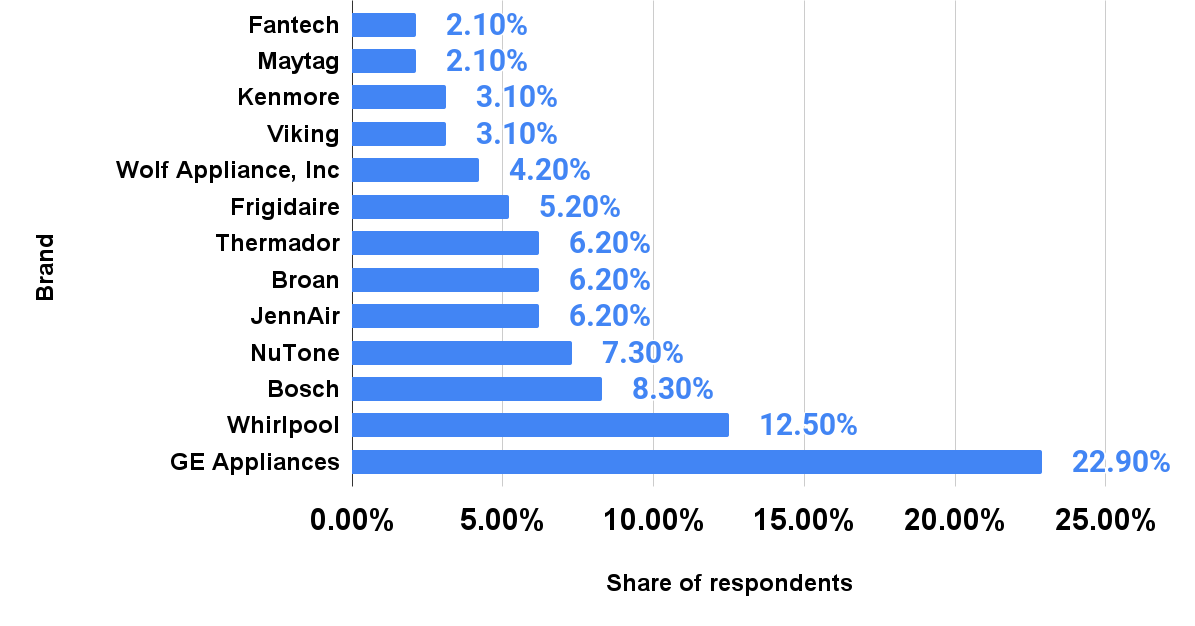 With range hoods gaining more popularity across the globe, especially in the United States, it's only normal that lots of appliance brands are making huge money from them, and according to this chart created using the information provided by the Statista Research Department, the biggest winner in 2015 was GE Appliances with 22.9% of the respondents using range hood manufactured by the brand. Whirlpool was right behind with a share of respondents of 12.5%, a little way off GE Appliances, but enough to be ranked ahead of Bosch which had a share of respondents of 8.3%.
3 Possible Causes For A Noisy Range Hood
Your range hood making noise when windy or range hood making noise when off shouldn't force you to go purchase a new range hood as this is what a lot of folks always end up doing when they can't go through the stress of taking care of their range hoods. Before you make any decision, you need to be able to tell what's wrong with the range hood that's causing it to make the loud noise it's making. We understand that troubleshooting any appliances can be hard, but think about the cost involved in replacing an important appliance like a range hood.
The whole trouble you go through troubleshooting your range hood or any other kitchen appliance always proved to be the best decision at the end of the day. Once you determine the source of the problem, which is the cause, the next step to take is to start thinking of how to best tackle it. We're going to be discussing 3 possible causes for a noisy range hood below.
Faulty Insulation
When the insulation in the range hood begins to malfunction, it causes the range hood to start making a lot of noise which often starts small before growing worse. The job of the insulation featured in a range hood is to protect the metal framework which is responsible for carrying air through the vents to get rid of heat and smoke. Once this protection has been damaged, then the sound from the vent will be carried into living spaces, making it seem like the range hood is making a lot of noise.
What usually causes the insulation to be damaged is when you try to clean the stains such as grease on the range hood with ammonia-based cleaners. What you should know is that these chemicals are strong enough to travel through the ductwork and cause the insulation to be damaged. According to Soundproof Nation, you should try as not as possible not to use ammonia-based cleaners on your range hood.
Damaged Ductwork
When the range hood's ductwork is damaged or is not installed properly, it often causes air to rush through the whole system and this creates louder sounds even when the range hood is operating on lower levels of airflow. As a result, the fans featured in the range hood work harder to try to make up for the loss of air that is needed to get rid of unwanted substances from the air. When this happens, it eventually leads to wear and tear, damaging the range hood way before its time.
This is why it is advised that the exhaust grill should be tightly sealed and shouldn't have too many bends because when the metal framework has too many bends, it can cause amplified sound waves which are heard as noise. If you hate noise coming from your range hood, you might want to ensure that everything is properly fitted and there are no bends with the ductwork.
Grease on Range Hood Fan Blade
If you notice clattering noises during high-heat cooking, it may be as a result of grease buildup on the range hood fan blade. One of the most common causes of a noisy range is grease buildup on the range hood fan blade, and it happens when liquids evaporate under heat, forcing liquid fats to form around where the air comes into the system via the fans. Grease building up on the range hood fan blade will cause nothing but harm to your range hood, and it goes beyond just making noise; it might damage the range hood at the end of the day.
Always ensure that you frequently clean the range hood fan blade before grease starts building up around it. If you don't do this, the ultimate penalty would be to deal with noise, and, at the end of the day, maybe change the range hood. Remember, it's better to identify these problems soon enough so you can move to solve them as soon as possible.
How To Make Your Range Hood Quiet
Loud noise coming from your range hood is not out of the world, which is why it is great to detect the problem early before it completely damages the range hood itself. To avoid replacing your range hood prematurely, you need to have proper knowledge of how to reduce kitchen exhaust fan noise and how to fix a noisy range hood fan. These things may not seem like a big deal until you find yourself in an awkward situation with a range hood that's almost damaged but there's nothing you can do to save it.
Many companies are trying to help solve this problem, and that's why there are now products such as acoustic foam panels and decoupling materials to prevent or absorb sound. If you're investing in a newer model of range hood, you can get extra insulation around the ductwork to make sure the sound is reduced to the barest minimum. Thankfully, there are lots of ways to make your range hood quiet, and we're going to be exploring some of them below.
Clean The Range Hood Frequently
One of the best things you can do to ensure that your range hood stays as quiet as possible is to regularly clean the range hood, especially the grease filters because that's where most of the cooking particles and odors go before they're taken out of the kitchen through the top vent of your range hood. Cleaning the filters is not as tedious as many people think as you can get it done in minutes, and you can choose to do it every fortnight. This way, you can reduce the noise coming out of the range hood to a point where it doesn't disturb anybody in the house.
Run The Hood at Lower Speeds
Your range hood may be powerful, but if you keep it functioning at the highest level possible, there's no way you can stop it from producing a sound that you may find disturbing. Remember we said earlier in this article that the more CFMs a range hood has, the more noise it produces. Even if you have a powerful range hood, always try to run the hood at lower speeds to make sure that the spinning blades don't run too fast, reducing the noise levels in the process.
Get an Inline Blower
Sometimes, you just need to make that extra effort to get your desired results, and in this case, you can purchase an inline blower that is compatible with your range hood. The range hood comes with a local blower that is usually installed inside the range hood, but sometimes, even that may not be enough. To make the range hood work more efficiently, you can get an inline blower that can be installed inside the ductwork instead of the range hood.
Make Sure All Parts Are Properly Fitted
Most folks always think whenever a range hood is making a rattling noise, the best thing is to replace the appliance. However, the best ways to combat range hood damper noise are often the easiest such as making sure all the range hood parts are properly screwed such that there are no loose parts. Tighten the blower properly with screws and all the other parts of the range hood.
Frequently Asked Questions
1. Why is my range hood so loud?
There are several factors responsible for a loud range hood including loose screws, dirty grease filters, damaged fan blades, and many more. Always ensure that you find this problem as early as possible and move to fix it.
2. How quiet should a range hood be?
Saying a range hood should be quiet doesn't mean it won't produce any sound, after all, the appliance runs on fan blades. However, according to Meal Prepify, a quiet range hood will still produce at least 40-60 decibels.
3. Which brand makes the quietest range hood?
Some of the best brands for quiet range hoods include Broan, Iktch, Cosmo, GE Appliances, and Empava among many others.
Final Thoughts
Noise can make you very uncomfortable in your space, and there's nothing worse than knowing that it's coming from the appliances you've spent so much money on purchasing. With a range hood, you have to always know that sound production is not an abnormal thing because the appliance comes with fan blades that help it function effectively. However, you need to start paying attention to the range hood once it begins producing unbearable sounds that you find very disturbing. In our ultimate guide on how to make a range hood quiet, we've discussed the possible causes as well as the things you can do to make sure your range hood operates as quietly as possible.
ESTIMATED TIME DESIGNING AND UPLOADING THIS ARTICLE
ESTIMATED TIME RESEARCHING AND WRITING THIS ARTICLE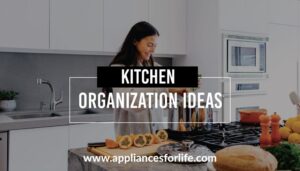 61 Effective Kitchen Organization Ideas
Our kitchen organization ideas will help you know where to put things in the kitchen, and how to organize kitchen appliances. The kitchen is one of the busiest places in the house, and a lot of people spend so much time in there that they
Read More »