Top 5 Best Washing Machines with Agitator  Comparison Table
| Image | | | | | |
| --- | --- | --- | --- | --- | --- |
| Name | GE GTW465ASNWW White Top Load Washer with Stainless Steel Basket | Maytag MVWC565FW 4.2 White Top Load Washer with Deep Water Wash Option | Samsung WA44A3205AW White Top Load Washer with Agitator | LG WT7305CW White Smart Wi-Fi-enabled Top Load Washer with Agitator | Whirlpool WTW49955HW 3.8 cu. ft. White Top Load Washer with Soaking Cycles |
| Brand | GE | Maytag | Samsung | LG | Whirlpool |
| Color | White | White | White | White | White |
| Capacity | 4.5 cu. ft. | 4.2 cu. ft. | 4.4 cu. ft. | 4.8 cu. ft | 3.8 cu. ft. |
| Control Type | Digital and Knobs | Digital and Knobs | Digital and Knobs | Digital and Knobs | Knobs |
| Drum Material | Stainless Steel | Stainless Steel | Stainless Steel | Stainless Steel | Stainless Steel |
| Product Dimension | 44 x 27 x 27 inches | 42.75 x 27.25 x 27 inches | 44 x 27 x 29.31 inches | 44.5 x 27x 28.38 inches | 43.75 x 27.5 x 27 inches |
| Maximum Spin Speed | 700 RPM | N/A | 700 RPM | 950 RPM | N/A |
| Weight | 147 lbs | 141 lbs | 130.1 lbs | 146.9 lbs | 115 lbs |
| Editor's Rating | ✸✸✸✸✸ | ✸✸✸✸✸ | ✸✸✸✸✸ | ✸✸✸✸✸ | ✸✸✸✸✸ |
| | | | | | |
Agitators are now a common element people look out for in top load washers because they help make washing better. The component has been around since modern washing machines were first introduced, which only explains why people want it in their washing machines. Long before front load washers existed, people only used top load washing machines, and they enjoyed doing so because these appliances gave them everything they wanted.
The recent change in the design of washing machines would be the introduction of front-load options, which have also grown popular over the years. However, as popular as this type of washer is, it's not as popular as a top load washer because, let's face it, making people turn away from top load washers after they've grown accustomed to them. According to Appliances Connection, this unsurprising connection with top load washers is for the sake of familiarity because people don't often entirely embrace sudden changes. However, front load washers have now been around for a while.
Top load washers come with components that help enhance performance, leaving you with the results you want at the end of the day. That's why we have impellers and agitators which clean in different ways but provide almost the same results as far as washing is concerned. Heavy-duty washing machines with agitators feature a central post that goes back and forth, rubbing against your clothes to remove the tough stains.
Although the agitator is not necessary to wash your clothes, it is still an essential part of any top load washer because it technically replaces hand washing actions when doing laundry. People love it because they think it's one of the best ways to clean dirty laundry effectively despite its wild nature. The downside of the component is that, over time, the quality of your clothes will degrade as you repeatedly use this action to combat tough stains, which brings us to the question – what does an agitator do in a washing machine?
What Is A Washing Machine Agitator?
You will find the agitation inside the middle of your top load washer. The large spindle is integrated into top load washers to provide handwashing actions of manually cleaning your clothes, and it usually has blades and fins attached on its sides. The edges go through the spindle part of the agitator in a spiral flow to press dirty clothes up and down the washer basin.
Without a doubt, the agitator has been very efficient in helping to wash clothes for modern washing machines. Still, one drawback is that when your top load washer comes with an agitator, it operates aggressively to get tough stains out of your clothes. This way, your clothes can lose their quality, rip, or tear. When you consider how much is spent on clothes, an average of $1500 a year, you will realize that the clothes need to be protected, so you may not need an agitator after all.
You should carefully look into your needs before deciding whether or not you need to invest in a top load washer with an agitator. As much as the risks of your clothes getting damaged are evident with an agitator, people still surprisingly invest a lot in top load washers with agitators. If you're looking to purchase a great washing machine with an agitator, you might as well buy one of the best options available on the market. Without further ado, let's delve into our top-loading agitator machine reviews.
Best Washing Machines with Agitators
1. GE GTW465ASNWW White Top Load Washer with Stainless Steel Basket
This GE top load washer has to be the best washing machine with an agitator on this list if the reviews are anything to believe. One of the best ways to judge a product is by the number of positive reviews it has online, and, boy, this washer has a lot of them. 80% of those who took a survey about the product online said they would recommend the washer to a friend. These positive comments only show how much people love the products and how willing they preach them to others. With 4.5 cu. ft. of capacity and stainless steel basket, there's nothing more you would have wanted GE to include in this machine.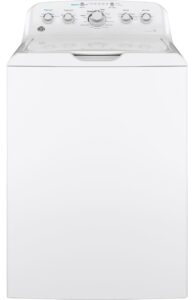 Features
Speed Wash
One thing with the washing machine is that people think you have to run the normal cycle even when only washing light items. This doesn't apply to this GE washer, thanks to its speed wash action that helps you save time with a quick wash that gets your laundry ready in just minutes.
Dual-action Agitator
While most top-load washers only come with single-action agitators, this GE washer has a dual-action agitator that helps achieve a thorough cleaning. The agitator can perform a reversing wash action, leaving you with clean clothes at the end of every wash cycle.
Auto Soak
Before your washer activates a wash cycle, you can set it to automatically soak your clothes for as long as you want before the machine starts washing the clothes properly. This helps you achieve efficient cleaning at the end of the day.
Other Features
Deep fill

Speed wash

Deep rinse

Water level/load size

6 water temperatures

700 RPM spin speed
Pros
Automatic operation

Comes with a very powerful agitator

It is easy to install as it can be placed anywhere in the house as long as the connection is proper

The washer comes with lots of great features

The washer dries clothes quickly

It does not wrinkle clothes

It is incredibly affordable
Cons
The machine doesn't have the auto-balance feature

Some customers have complained of the machine making loud noises
2. Maytag MVWC565FW 4.2 White Top Load Washer with Deep Water Wash Option
Maytag has gone a step ahead of its direct competitors by producing this powerful washer with equally powerful performance. We're not surprised that the washer has amassed so many positive reviews online because it is just what anyone who prioritizes powerful washing needs in their home. This Maytag washing machine with agitator is one of the best-rated washing machines with agitators available on the market right now, thanks to its PowerWash cycle, which unleashes the power of the agitator.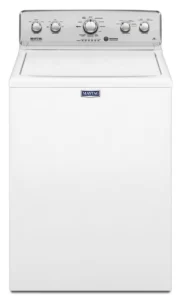 Features
PowerWash Agitator
If you deal with tough stains regularly, then this is the washer you should consider purchasing. The PowerWash cycle uses the agitator to break up the mess.
Auto Sensing Option
The modern washers have one great advantage over traditional washers, and that's the fact that they're packed with more high-end features. With the auto-sensing feature, your washer can sense if the water level is not enough in the drum, affecting the washer's effectiveness in the process. It automatically adjusts the water level to provide efficient cleaning.
Large Capacity
If you wash many clothes regularly, you'll find the large capacity very helpful. Its extra-large 4.2 cu. ft. of capacity is enough reason to invest in it.
Other Features
Deep water wash option

Deep rinse option

Maytag commercial technology

PowerWash cycle

Bleach and fabric softener dispenser

6 temperature settings

11 wash cycles
Pros
It washes very efficiently

Amazing performance

Great features

Very easy to install

Easy-to-use controls

Large capacity
Cons
It may develop transmission and clutch issues later when it's old

If you don't install the machine properly, you may not get it to work at the highest level
3. Samsung WA44A3205AW White Top Load Washer with Agitator
This Samsung WA44A3205AW/A4 is a new washing machine with an agitator, and you can tell by the reviews it has managed to amass that it's such a great product. It is rated very highly on the market because it is more affordable than most washers in its class without compromising quality features. The Samsung washing machine with agitator features a whopping 4.4 cu. ft. capacity, the same as other machines, but with a lower price tag. Despite its decent price tag, it comes with Samsung's ActiveWave agitator  designed to work efficiently without vibrating or making a lot of noise.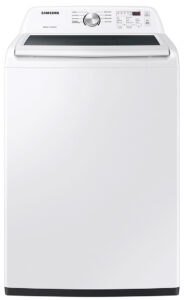 Features
ActiveWave Agitator
While many washing machines with agitators are known for making a lot of noise, and aggressive washing, Samsung's ActiveWave agitator is designed to reduce tangling, noise, and vibration without affecting the performance of the machine.
Diamond Drum Interior
What we love about Samsung (and we're sure other people do too) is how the brand always tries to integrate the best technologies into most of its products so users can have a great experience using them. The diamond drum interior in this washer has smaller water holes that help prevent your fabrics from being damaged. This is a feature to make sure the agitator in the machine doesn't damage your clothes.
Self Clean
We love that this Samsung washer comes with a decent price tag and exciting features that seem to be higher than the washer's price. The washer will notify you when to self-clean so the washer tub can stay clean and fresh.
Other Features
Smart care

Extra high water level

Large 4.4 cu. ft. capacity

Soft-close lid

Vibration reduction technology+

8 washing cycles
Pros
Quiet operations, thanks to its ActiveWave and Vibration Reduction technologies

Delivers powerful performance

The self-clean feature keeps your washer fresh and clean at all times

You'll enjoy its large capacity

Amazing design

It is affordable
Cons
The draining hose is a little short
4. LG WT7305CW White Smart Wi-Fi-enabled Top Load Washer with Agitator
Many think this LG washer is priced higher than usual. Still, we believe it's worth it because the machine has all the features you need to make cleaning very practical and convenient. The smart washer comes with features like TurboWash3D technology, LG's exclusive feature to help clean gently in less time. Its 4.8 cu. ft. capacity also makes it one of the largest-capacity washers on this list. Overall, this LG washing machine with an agitator is a great washer to invest in, which is why people have invested in it.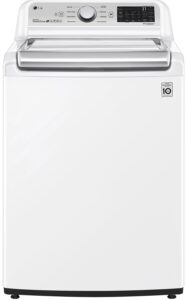 Features
4-Way Agitator
You'll be wrong to think this washer is not worth the price tag slammed on it. Not many washers come with a 4-way agitator, but LG has made it happen with this smart washer. It gently helps your clothes move left and right, up and down, to achieve a thorough clean.
TurboWash3D Technology
The TurboWash3D is LG's exclusive technology that gives you a complete gentle clean in just 37 minutes. With this feature, the clothes with soft stains can be ready in just over half an hour.
Smart Pairing
If you're looking to pair this washer to a dryer, the washer can even send a command to the dryer to select the perfect drying cycle for the clothes you've just washed in it.
Other Features
Large capacity

LG ThinQ

Deep fill option

Smooth surface

ColdWash technology
Pros
It comes with a clear glass that makes it very easy for you to access the inside of the washer visually

It has many exciting features

It washes and rinses thoroughly, leaving you with a fresh smell at the end of the day

Quiet operations

A 4-way agitator that is not as aggressive as the ones in most washing machines
Cons
You may need a manual before you get used to how the machine works
5. Whirlpool WTW49955HW 3.8 cu. ft. White Top Load Washer with Soaking Cycles
Whirlpool may not be enjoying the global success brands like LG and Samsung are enjoying at the moment, but this brand can't just be written off, at least not yet. With productions like this Whirlpool washing machine with an agitator, it's only a matter of time before the brand catches up with the big guns. Everything about the washer is amazing. It is reasonably priced, it comes with some of the best features in a top load washing machine, and it is loved by many as suggested by the online reviews.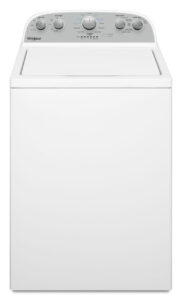 Features
Water Level Selection
This feature allows you to choose the water level you need for the wash cycle you've chosen as well. If it ever happens that the water is not enough, the Auto-Sensing technology adjusts water based on the load size to balance the load and make the washer function more efficiently.
Soaking Cycles
These cycles allow you to soak and wash in one cycle rather than having them done separately. When the soaking cycle finishes, the machine senses it and begins cleaning the clothes almost immediately.
Late Lid Lock
Even if you're halfway through the wash cycle, this feature allows you to add some clothes to the ongoing cycle.
Other Features
3.8 cu. ft. capacity

Quick wash cycle

Whites cycle

Bulky/sheets cycle

Extra rinse option

Soil level selection

Two-way wash action agitator
Pros
Best value for your money

The machine operates very quietly

It helps save a lot of time

Amazing wash/rinse selections

Effortless to use
Cons
The machine may vibrate when spinning if not installed properly.
Frequently Asked Questions
1. How do I know if my washing machine's agitator is bad?
The job of an agitator in a top load washer is to help combat tough stains in a traditional way by bringing the effect of handwashing into the machine. If you don't get the desired results and you notice the agitator is not agitating as it should, then that only indicates something might be wrong with the component.
2. Is it better to have an agitator in a washing machine?
While agitators are not necessary for washing machines, a lot of folks prefer to have them because they provide a better cleaning performance. The drawback, however, would be the effect on your clothes over time as a result of aggressive washing.
Conclusion
Whether you're looking for a portable washing machine with an agitator or one of the most reliable top load washing machines with an agitator, there are lots of options on the market. However, picking the right product for you might be one of the most difficult things you'll have to face because it's never easy to decide on what the best of anything is. To help you make the best choice, we've briefly discussed the pros and cons of an agitator in a washing machine. We've also reviewed some of the best washing machines with agitators you can get your hands on if you're looking for great options to consider.
ESTIMATED TIME DESIGNING AND UPLOADING THIS ARTICLE
ESTIMATED TIME RESEARCHING AND WRITING THIS ARTICLE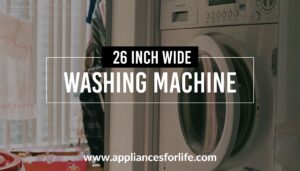 Top 3 Best 26-inch Wide Washing Machines
With washing machines getting very popular with each that passes by, we're not surprised that people are looking to explore all the available options that are suitable for them. People that love portable washers have been on the look out for the best 26-inch wide
Read More »