Brief History of KitchenAid Refrigerators.
KitchenAid is an American home appliance brand, and it is one of the subsidiaries of the Whirlpool Corporation. The KitchenAid brand was started in 1919 to build stand mixers but expanded to the manufacturing of refrigerators later in 1986. After acquiring Chambers Corporation of Oxford, MS to enable the introduction of a line of ovens and stovetops — KitchenAid adds its first refrigerators —leading to the brand's first full line of major home appliances; since this time, they have become a reputable brand in the refrigerator industry.
The decision to purchase a refrigerator is not a simple one- If done right, you'll enjoy its rewards, and if done wrongly, you'll have to live with its consequences; every day. This decision-making process can be tedious because there are many models, brands, designs, and varying qualities in the market. You can go for an open box Kitchenaid refrigerator if that suits your purpose and you can also choose something else if you consider it the best for you. To assist your decision-making process, we have prepared a checklist of factors to consider to make the right refrigerator purchase. 
Hence, whether you can afford to spend under $600 for a basic model, or over $3,000 for a door-in-door fridge with many options, there's a refrigerator out there calling your name. You just have to research before clicking that "buy" button. Hence, these factors are to be considered before buying a refrigerator and not after you must have bought the refrigerator.
Make necessary measurements
When it comes to getting a fridge that serves your purpose satisfactorily, you just have to take a measurement of everything- the fridge itself; to ascertain its size, the path through which you'll get to the location it'll live and finally measurement of that location where it'll live. 
The failure to take into consideration any of these necessary measurements can indeed carry grievous consequences- Just imagine you get home with your new refrigerator for the first time, and you cannot even get through the main door; wouldn't that be frustrating; it'll be more frustrating even, to realize that the refrigerator itself cannot fit into the designated spot; if you have to make an impromptu reconstruction just to fit your refrigerator, then there is a problem!
Design/Style
Modern refrigerators are categorized into several styles. You can tell one differently from the other simply by the kind of door attached to it. Not that there aren't other distinguishing factors, but that is the apparent one. The various refrigerator styles include; the Top freezer, Bottom freezer, the Side by Side and the French door;
Top Freezer: This category has existed a long time, and as the title implies, the freezer is situated above the refrigerator compartment. These refrigerators may look old school but are highly efficient. Apart from their efficiency, they are also quite affordable and easy to use-Most them do not have any complicated operating system or technology. Some of the best of this design include; the Insignia NS-RTM18WH7 and Samsung RT18M6215SG.
Bottom Freezer: There aren't too many of these on the market, but if you find one you like, they're cheaper than French door models, with some of the same advantages.
Side-by-Side: Just like the name suggests, the refrigerator and freezer on this are right next to each other on the side. When we speak of the easiest refrigerator, we just have to pick this one because it keeps both fridge and freezer compartments very well within arm's reach. Apart from this, a side-by-side has just enough room for nearly all of your produce; If you like to keep large frozen pizzas, pans of lasagna, or similar wide foods, be sure the freezer side has room.
French Door: French doors are rather recent and stylish. Like the others, you can easily tell it apart by its door positions. has two doors for the refrigerator compartment and a freezer drawer on the bottom. They're quite stylish and expensive. There are a few common variants of the three-door French door look, including the four-door version that has an additional pull-drawer, and a quad-door version. 
Columns: Columns are relatively new in the fridge scene, and they have been making waves since they came around. It is a major trend for people who are just constructing a kitchen space and those who are carrying out major renovations in their kitchen. Column refrigerators are built into walls and kitchen cabinets, hence allowing you to customize your kitchen space however you please. Columns refrigerators also afford the benefit of versatility as they are great for storing wine, allowing for a precise temperature and humidity and this is even more fascinating as temperature and humidity are now your exclusive reserve. Judging by all the attractive benefits you get from a column refrigerator, you can tell that they're relatively more expensive than other refrigerators on the list.
Budget
This may seem cliche, but it is true to an extent that the quality you get from a product is significantly relative to the amount of money you are willing to throw at it. That said; if, for example, you want a French Door refrigerator equipped with modern technology features, you just have to be ready to pay the price because they do not come cheap.
Storage
The size of your kitchen and your family's eating habits will determine how many cubic feet of storage your refrigerator needs. While the footprint of the fridge (i.e. the exterior width and depth) may be restricted due to your kitchen design, there are fridges that make great use of space and those that don't. In-door ice dispensers, for example, are convenient, but they take up room that might otherwise hold more groceries. For further item accommodation, some fridges also have flex-shelves customizable to purpose.
Finish
Another consideration to make when you choose is the particular finish or outward look of the refrigerator in question. This is good aesthetic beauty as well as durability. To a significant extent, the ease or otherwise of cleaning your refrigerator also depends on its finish- Stainless steel materials are quite easy to clean.You can conveniently wipe its stainless steel body with baking soda; When the stainless steel finish is black, it harbors more dirt and it is way easier to clean.
Stainless: Stainless steel has a clean, metallic look, and from this look, you can tell it is durable. More importantly, many of today's stainless refrigerators are smudge-proof, so you won't spend hours polishing off fingerprints.
Black stainless steel: The up-and-coming finish, each brand has its own take on it, making it hard to mix brands. Black stainless resists fingerprints, making it easier to maintain. Although magnets will stick to most black stainless finishes, they can scratch easily, so think twice about using them.
KitchenAid Open-Box Refrigerators; What does Open-box mean
A lot could happen in the process of selling or shipping out a particular appliance; it could suffer some damage in transit, especially if manhandled, if not, it can also succumb to necessary 'in-transit harzards'. When damage occurs, such product is bound to be returned by a purchaser, to the store from which they have been purchased. Hence, These like-new appliances can no longer be sold as new, so they are sold as "Open Box" appliances with a huge reduction in price.
It is important to note that open-box appliances are not refurbished; there is always this misconception that they are refurbished. They are completely new, but usually unboxed; they are not used products- In simple terms, they are like-new appliances that have minor aesthetic blemishes and therefore cannot be sold at full retail prices like you would, a new appliance. The worst case scenario for these open box appliance is a minor fault that can easily fixed by any top appliance repair companies at your beck kand call.
You may be wondering why an open-box appliance should ever be an option of purchase since they already have a blemish and not perfect. Well, buying open-box appliances is a great way to save money on appliances and also find something nice. For example, if you want a high-end appliance you can receive a huge discount when purchased as open box. Insignificant blemishes equal money in the customer's pocket. Most of us can live with a few minor blemishes if it means we get a fantastic deal.
KitchenAid Refrigerators
From the explanation done above, you can already tell that just any model of KitchenAid refrigerator can turn out to be an open-box item. However, we have provided a guide to certain KitchenAid refrigerator below;
A KitchenAid KRSF705HPS ADA 24.8 Cu. Ft. is a stainless steel side-by-side Kitchenaid refrigerator equipped with exterior ice and a water dispenser, providing quick and easy access to chilled water and ice. This 24.8 cu ft. side-by-side refrigerator features the Preserva Food Care System, for ultimate preservation of your produce. Its two independent cooling systems help keep food fresh while the FreshFlow Air Filter minimizes odors, and the Produce Preserver delays over-ripening. PrintShield Finish on the stainless steel exterior resists fingerprints and smudges for easy cleaning- The specialized coating for stainless steel is easy to clean with just water and a soft cloth, so you can spend more time cooking and less time cleaning up.This refrigerator is one of the best refrigerators for with a water dispenser.
It has a measured Water Fill feature that displays and automatically dispenses water in varying measurements that you choose. You can choose from three programmed settings to pour a measured amount. Plus, two custom presets can be programmed for items you frequently fill like a coffee pot or water bottle. Its clear door bins and metallic accents allow you to easily glance through labels. It also allows you visibility and easy access to your condiments and other items. Each bin is removable, making them perfect for carrying items to the counter.
The KitchenAid KBFN502ESS is French-Door refrigerator with a beautififul stainless steel built and a platinum interior design and beneath this beautiful aesthetics is an entirely efficient maachine. Just like the Kitchenaid refrigerator above, it has pthe Preserva Food Care System feature. This food care system has two independent cooling systems that provide a dedicated refrigeration unit to help keep food fresh longer, and a separate system for frozen food. Also, it has FreshFlow and Air Filter programmes which minimize odors while the FreshFlow Produce Preserver helps delay over-ripening. 
It measures approximately 83.38 inches in height, 42.25 inches in width and 27.75 inches in it width. This Kitchenaid refrigerator combines a bold blend of professionally-inspired styling with sleek touches for the home. It also features Satin Textured Handles and the KitchenAid Badge, a symbol of uncompromised quality. Finally it features adjustable Spill-Resistant Glass Shelves that allows you to easily clean it up and help prevent messes from spilling over into other parts of the refrigerator; these shelves are detatchable, hence, you may detach them and place them in your dishwasher for washing. The shelf edges are nano-etched with a finely textured surface that helps contain spills, and lets you use the whole shelf from edge-to-edge.
This 25.5 cubic feet refrigerator has a beautiful PrintShield stainless steel build. It meaures approximately 83.38 inches in height, 42.25 inches in width and it is 27.5 inches deep. It featues an ExtendFresh Plus Temperature Management System that helps keep ingredients fresh with the aid of in-built sensors that constantly adjust temperatures in the refrigerator and freezer by monitoring the airflow betweeen them.
Just like many Kitchenaid refrigerators, it has an adjustable Spill-Resistant Glass Shelf which are quite easy to clean. They help prevent messes from spilling over into other parts of the refrigerator. The shelf edges are nano-etched with a finely textured surface that helps contain spills, and lets you use the whole shelf from edge-to-edge. Finally, this refrigerator has Intuitive controls that Provide an easy-to-use touch pad control system that puts every refrigerator function right at your fingertips.
This is the largest capacity counter-depth refrigerator in its class; it measures approximately, 71.88 inches in height, 35.81 inches in width and 31.5 inches in depth. Its total capacity is 24 cubic feet.
It has the Preserva Food Care System with linear compressor. This feature Provides the height of food preservation with two independent cooling systems plus a Produce Preserver to help keep food at its peak. The linear compressor on the other hand is an efficient cooling system that offers minimal temperature variation and is our quietest freestanding french door refrigerator. Using its measured water-fill system, it Displays and automatically dispenses water in ounces, cups or liters. You can choose from three programmed settings to pour a measured amount. Plus, two custom presets can be programmed for items you frequently fill like a coffee pot or water bottle.
Other Features
Indoor Ice system

Exterior Ice and Water Dispenser 

Self-Close FreshSeal Crispers 

Removable Door Bins with Metal Accents

An Under-Shelf Prep compartment
FAQs
What do I look for in an Open-box appliance?
First and foremost, ask questions. Then look at details. You want to find an appliance that is clean, has minimal damage, and a valid warranty, Small dings, surface scratches, or a decal not aligned perfectly won't hinder the functionality of the appliance in any way. Furthermore, many of the cosmetic blemishes are in areas you would never notice anyway, especially once they are installed in your home.
How do i get rid of disturbing odour in my Kitchenaid refrigerator?
You may discover that despite all the baking soda you have used to clean your refrigerator, it still smells. Follow the following steps to get rid of odour in your refrigerator;
Remove all itms from the refrigerator

Throw away any spoiled foods 

Clean the shelving

Wash the door gasket with hot soapy water

Wash the interior walls and the door liner

For stubborn odors, try spreading a box of baking soda out on a couple of cookie sheets.
ESTIMATED TIME DESIGNING AND UPLOADING THIS ARTICLE
ESTIMATED TIME RESEARCHING AND WRITING THIS ARTICLE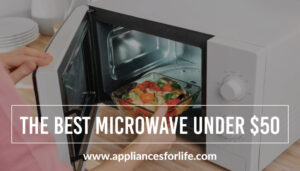 It's hard to imagine a modern kitchen without a microwave oven. The microwave is now one of the most important kitchen appliances, maybe only behind the refrigerator and cooking range. We understand how it might be to get your hands on an affordable microwave, especially
Read More »