KitchenAid vs LG Refrigerator Comparison Table
| Image | | | | |
| --- | --- | --- | --- | --- |
| Name | KitchenAid KRFC302ESS Counter-depth French Door Refrigerator | KitchenAid KRSC703HPS Side-by-side Refrigerator with Water Dispenser | LG LRDCS2603D PrintProof Black Stainless Bottom-freezer Refrigerator | LG LSXC22396S Smart Refrigerator |
| Manufacturer | KitchenAid | KitchenAid | LG | LG |
| Refrigerator Style | French door | Side-by-side | Bottom-freezer | Side-by-side |
| Total Capacity (cu. ft.) | 21.9 | 22.6 | 25.5 | 21.74 |
| Ice Maker | Yes | Yes | Yes | Yes |
| Special Feature | SatinGlide System | Measured Water Fill | Smart Cooling System | InstaView |
| Editor's Rating | ✸✸✸✸✸ | ✸✸✸✸✸ | ✸✸✸✸✸ | ✸✸✸✸✸ |
| | | | | |
With everything going on in the world right now, modern appliances are needed in our lives more than ever because they can save us a lot. Every modern kitchen is quantified by the number of modern appliances it is filled with. Thankfully, we have numerous options by top brands like KitchenAid and LG, who have been consistent in their production of high-end appliances we all enjoy. These modern appliances have undeniably made life a whole lot easier for everyone. From air conditioners to refrigerators, smart televisions to microwave ovens; there will never be a shortage of modern appliances in the tech-dominated world that we live in today. Modern appliances have changed the way we live as humans. We've seen smart refrigerators that can do a whole lot more than what traditional refrigerators would do.
Wondering how smart refrigerators work? Check here for our detailed guide on smart refrigerators and how they work.
Today, we now see modern appliances that come in different sizes and designs. The good thing about these modern appliances is that they do more than just the electrical wonders we all know them to be good at. Modern appliances come in different modern designs and surface finishes that make them ideal for a supposed "modern home." Adding a modern appliance to your space will do more than its basic responsibilities. We've been blessed enough to have these appliances, and things will even get better as technology continues to advance more and more. The benefits are exclusive, and the same can't be said of traditional appliances.
In a big industry like the appliance industry, competition is needed to keep everyone at their best. Comparison is absolutely normal across different industries in the world. From sports to politics, automobiles to agriculture; people always want to compare the best brands. LG is a South Korean electronics powerhouse, and over the years, has taken over the global market by producing what its consumers most appreciate and find valuable. KitchenAid, which is an American brand, has mainly focused on kitchen appliances but remains one of the biggest players in the industry. It's no surprise that topics like "KitchenAid vs LG refrigerator" or "LG vs KitchenAid fridge", or however form they take, have become a norm. Comparisons will always be drawn between two big brands, and that's what we're going to be doing today.
Are we going to compare KitchenAid vs LG refrigerators? Yes, we are. However, before we get into the big deal, you need to know the benefits and drawbacks of a modern refrigerator. You may have been using a modern refrigerator for a while but you're not fully aware of the many benefits that come with it, or how much it's saving you. Below are some of the benefits and drawbacks of a modern refrigerator;
Benefits of modern refrigerators
Modern refrigerators have become very popular over the years. The fact that they do not only perform their basic responsibilities but do more than just those is what makes a lot of people prefer them to traditional refrigerators. According to information provided by Steffani Cameron of Hunker, 99.9% of American households own refrigerators. The funny thing about these stats is that 23% of the 99.9% own two or more refrigerators. This shows how important refrigerators are to every household in the United States. With these stats, it's not surprising that top refrigerator brands have raked in a lot of money from sales of refrigerators only in the United States considering the amazing number of households that own at least one of them.
Your Food Is Kept Fresher For Longer
Modern refrigerators are popular for so many good reasons. Being able to perform their basic tasks is one thing people appreciate the most about them. Unlike older refrigerators that used to come with single compressors, newer refrigerators are packed with dual compressors which is a big part of the tech evolution that is taking over the appliance industry. The dual compressors that come with modern refrigerators mean that the fridge and freezer compartments don't need to depend on the same refrigeration system to work effectively. Both compartments operate on different refrigerator systems, which give room for more precise temperature controls, and as a result, your food items will be kept fresher for longer. This is an important part of modern refrigerators, and it's safe to say it's one of the reasons why people often choose them, especially those with large families as they will be storing lots of food items.
They Are Energy Efficient
An average refrigerator consumes about 13% of the energy consumed in a home, according to Mother Earth News. Energy consumption is a big deal, and you should seriously look into it before purchasing a refrigerator. Another thing people love about modern refrigerators is that they consume less energy compared to traditional refrigerators which are popular for their absurd energy consumption. They also come with lots of energy-saving features like door alarm systems that will alert you if you ever leave your refrigerator doors open. Leaving the doors open means that the refrigerator will have to work harder than it normally does because it's trying so hard to regain lost cold air while the doors are open.
They Are Stylish
We discussed earlier that modern refrigerators do more than their basic responsibilities. Another big benefit of a modern refrigerator is that it will make your space look more beautiful than it already is because it comes in great designs and styles. Modern refrigerators come in different surface finishes like stainless steel, black stainless steel, matte black, and many more. All these surface finishes will help lift your space and make it more beautiful. Modern refrigerators are designed for modern kitchens, and that's exactly what you'll get if you have one of these modern refrigerators in your space.
They Have Exciting Features
You didn't think we would make a list of the many benefits you can get from modern refrigerators without talking about their exciting features, did you? Modern refrigerators have "modern" added to their names because of the high-end features they are packed with. Over the years, we've seen these refrigerators come with many exciting features like large LCD screens that will let you stream your favorite TV shows, water and ice dispensers, ice makers, and many more. The downside of having a refrigerator with all these features is that its initial cost is usually high, and you'll have to be ready to feel the impact on your electricity bills because the more features you have in your refrigerator, the more energy it consumes.
You Will Always Find The Right Size
Modern refrigerators come in different sizes. It doesn't matter what space you're willing to spare for a refrigerator, you will always find a refrigerator that will fit right in. To avoid purchasing the wrong refrigerator, always try to measure your space which includes the doorways that lead to your kitchen so you can have the proper and fitting refrigerator. Modern refrigerators are versatile, and they are made to be compact.
The major drawback of modern refrigerators
They Are Initially Expensive
If you consider the average initial price of a modern refrigerator, you might be discouraged to even buy one at all. They are more expensive than their traditional counterparts which are usually priced within the $500-$700 range. An average modern refrigerator doesn't go below the $1000 mark, which might be a whole lot for some households, forcing them to opt for cheaper options at the end. If you won't mind the price, purchasing one of these refrigerators is always worth it in the end, because modern refrigerators are durable, and will serve you for many years.
KitchenAid vs LG Refrigerator Review
Topics like "KitchenAid vs LG French door refrigerator" or "KitchenAid vs LG bottom-freezer refrigerator" will always be big topics because people love to draw comparisons between the biggest brands. In the appliance industry, competition is something that keeps different brands on their toes, and that's why top brands have managed to survive the test of time because the competition has caused them to produce the best appliances for every model year. Our KitchenAid vs LG refrigerator review will give you a great insight into the best KitchenAid and LG refrigerators.
KitchenAid
If you're looking for a refrigerator with a large capacity as well as exciting features that will give your food items the right storage, you should consider this KitchenAid French door refrigerator. Despite being a counter-depth refrigerator, its height makes it better than a traditional counter-depth refrigerator, offering you more space in every possible way. Its height might also be considered a drawback to those who have limited space. If you don't have enough space for a refrigerator of this size, you should probably consider other size options.
Features
TEMPERATURE MANAGEMENT SYSTEM
Almost every KitchenAid refrigerator comes with an exclusive feature – ExtendFresh – which is a temperature management system that monitors the temperatures in the freezer and refrigerator compartments separately. Both compartments have a sensor that helps manage the temperature and ensures your food items are kept fresher for longer.
HUMIDITY-CONTROLLED CRISPERS
It's always good when you know that there are more than enough storage options in your refrigerator. This KitchenAid refrigerator comes with humidity-controlled crispers that provide you with adjustable humidity levels for each compartment.
LED LIGHTING
The refrigerator is filled with enough LED lighting which can be found in every important corner in both the freezer and refrigerator compartments.
KitchenAid KRSC703HPS is a side-by-side refrigerator that has 22.6 cu. ft. of space, making it one of the largest KitchenAid refrigerators you can get your hands on. It comes with a PrintShield Finish, exclusive to only KitchenAid refrigerators. This feature helps your refrigerator resist fingerprints and smudges. With this feature, cleaning your refrigerator is made easy as you can only wipe them off with a soft cloth and water.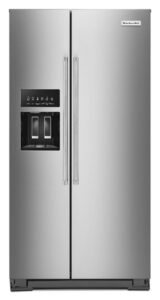 Features
IN-DOOR ICE MAKER
The convenience that comes with having a refrigerator with an ice maker is what makes this refrigerator a popular choice in the appliance market. This refrigerator comes with an in-door ice maker, which also creates more storage space on the inside of the refrigerator.
MEASURED WATER FILL
The measured water fill automatically dispenses water which is displayed in cups, ounces, and liters.
Other Features
Clear door bins with metallic accents
Exterior water and ice dispensers
LED lighting
Preserva Food Care System
LG
A 26 cu. ft. refrigerator is a large-capacity refrigerator that is coveted by many who have a flair for enough storage space in their units. That is exactly what you'll get if you invest in the LRDCS2603D PrintProof refrigerator by LG.
Features
DOOR COOLING+
This is one of LG's most exciting features in a refrigerator. The feature helps your refrigerator keep consistent temperatures, which, in turn, helps keep your food fresher for longer.
SMART COOLING SYSTEM
Part of the smart cooling system is the linear compressor which is designed to keep the refrigerator in superior conditions.
Other Features
LED lighting
Multi-air flow system
LG PrintProof
Large space
Smart refrigerators have created quite an impression to be outlandishly priced, but this LG smart refrigerator has broken the concept because it's extremely affordable. There's a lot to enjoy about this refrigerator which also features the popular InstaView Door-in-door feature that helps you save a lot of energy by giving you clear access to the inside of the refrigerator without having to open its doors.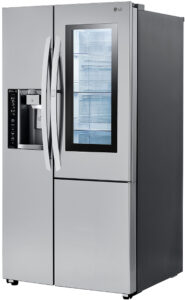 Features
Multi-air flow
Hidden hinges
LED lighting
Energy star
SmartThinQ
Frequently Asked Questions
1. Which is better; LG or KitchenAid?
Competition in a big industry like the appliance industry is a good thing, and we can't stress how important that is. KitchenAid might not enjoy the global popularity LG enjoys, but it is still a big brand in the United States. It's safe to say that LG is the more popular brand globally but that doesn't mean that KitchenAid is far behind in the production of quality home appliances.
2. Is KitchenAid a good refrigerator brand?
KitchenAid produces high-end refrigerators with some of the world's most exciting features as far as refrigerators are concerned.
3. Are LG refrigerators good?
Considered to be one of the biggest electronics brands in the world, LG refrigerators can't be anything less than good.
Wrapping up
KitchenAid vs LG refrigerator is something that will always be discussed as long as both brands remain two of the biggest players in the appliance market across the United States. The comparisons, sometimes, do not necessarily point out which of the two brands is better. It is to highlight the best refrigerators produced by both brands so consumers can have more than enough options when it's time to make a purchase. We have highlighted two refrigerators each from both brands, and we hope if you're looking for something affordable, yet classy, you'll find some of these options worthy of your money.
ESTIMATED TIME DESIGNING AND UPLOADING THIS ARTICLE
ESTIMATED TIME RESEARCHING AND WRITING THIS ARTICLE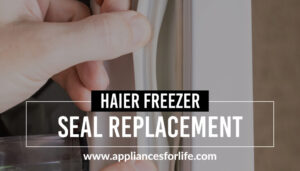 Replacing  Your Damaged Haier Refrigerator Door Seal
A refrigerator door seal is oftentimes called refrigerator door gasket. The major function of a refrigerator door gasket is to help it lock appropriately. Without a good gasket, the cold air that preserves your produce will innevitably leak out. On the other hand, the hot
Read More »