Using a washing machine comes with a lot of responsibilities, but, sadly, people are not familiar with this reality, hence why their washers get damaged almost as soon as they get them, and they don't have any problems digging into their pockets to get new ones. Living like this, of course, has consequences, and it's only a matter of time before you realize that you've spent far too much money on washing machines or other appliances when you could have saved yourself a lot of money by simply maintaining these machines the best way possible. Being able to look after the washing machine such that it lasts for many years is one of your responsibilities as a washing machine owner.
According to Consumer Reports via a post on CNet, a standard washing machine, on average, can last around 10 years, which around the same time other major household appliances like the refrigerator and blender also last. Your washing machine may last or not last longer than the average given time, depending on some crucial factors, including maintenance, usage, and many others. If you don't maintain the washing machine regularly or you don't understand some things about how the washing machine operates, chances are that the washing machine may not last that long because it's only a matter of time before the lack of regular maintenance catches up with you and the washer.
There's a lot to learn about our regular home appliances, and the more we know, the better for us because whatever knowledge we gain will only help us prolong the lives of these household appliances. Since the washing machine is a big part of every modern household and some cost a fortune to buy, maintaining them regularly to ensure that they continue functioning at the highest level for a long time should be your own smart part to play. Let's all face it – we can try to turn a blind eye to the money spent on acquiring a washing machine, but that doesn't mean we should not look after it like we're supposed to.
For many years now, the Samsung brand has played a big part in the evolution of washing machines to what over 2 billion people in the world now use according to the information extracted from The Atlantic. The washing machine, considered a miracle to those who witnessed its invention has now become one of the most popular household appliances in the world, and many even consider it the greatest invention of all time as far as home appliances are concerned. No one can downplay the crucial role of the Samsung brand in making the washing machine one of the most sought-after appliances in the world today, and the brand has justifiably made a lot of profit from that.
Knowing how to use a Samsung washing machine, regardless of its type, goes a long way because it keeps you on top of every situation you're likely to encounter, which is why topics like 'how to use a Samsung top loader washing machine' and 'how to use a Samsung front loader washing machine' have become very popular over the years. Knowing your Samsung washing machine usage and Samsung washing machine settings will help you get familiar with the washer, keeping you informed on the right way to use and maintain the washer to keep it functioning at the highest level for a long time. Before we discuss how to use a Samsung front loader washing machine and the other type, let's take a quick look at the Samsung brand, how the company has impacted the washing machine industry and the other things the brand is currently involved in.
About Samsung
Although Samsung has been one of the top washing manufacturers of the past few years, the washing machine industry is not the only one the South Korean giant as it has also made a name for itself in the phone industry, creating a huge competition with another tech giant, the Apple Inc. The company is so involved in other industries that it's regarded as one of the best companies of the 21st century after only being founded in 1938, making it one of the oldest South Korean companies. According to Britannica in one of their posts in the Banking & Business category, Samsung is one of the world's biggest manufacturers of electronic devices with production that ranges from major household appliances to industrial electronics.
The brand's expansion into the appliances market has to be one of the sweetest success stories to tell as far as brand expansion is concerned, and while it's primarily a South Korean company, it operates across many countries around the world. If you love high-tech products, chances are that you must have, at least once, used a Samsung appliance, gadgets, or any other electronic device before in your life, and that's to show how much the brand has grown to become a giant in the tech space, competing with the very best in the industry. For a company that was initially founded as a grocery trading store by business tycoon Lee Byung-Chull, to make that transition and now become one of the biggest companies in the world now is an amazing story that needs to be told to motivate others.
The company's subsidiaries include Samsung SDI, Samsung Engineering, Samsung SDS, Samsung Fire & Marine Insurance, Samsung Biologics, Samsung Life Insurance, Samsung Heavy Industries, Samsung Electro-Mechanics, Samsung C&T Corporation, and Samsung Electronics, the arm of the company that is in charge of many electronic devices, including major and minor household appliances. The Samsung Electronics arm of Samsung is headquartered in Suwon, South Korea, and in 2012, the brand contributed to about 70% of the Samsung company's revenue, making it one of the biggest arms of the company. According to a Wikipedia post, today, Samsung Electronics has many plants and sales networks in about 74 countries around the globe, with over 290,000 employees.
Back in 2019, Samsung Electronics was the second-largest tech company in the world by revenue, with a market capitalization that stood at a whopping $520.65 billion, making it the 12th largest company by revenue in the whole world. The brand's exploit in the washing machine market has also accrued some respect from many people across the globe, and in 2016, the company recalled about 2.8 million units of top-loading washing machines sold at home appliances stores between 2016 and 5 years prior. The reason was that these machines' top could easily detach from the rest of the chassis as a result of excessive vibration.
Samsung made a strong debut in the electronics industry in 1969, making some industry-changing statements, including the black-and-white televisions, which were the company's first products. In the 1970s, the company thought it would benefit greatly from going big, which was why it started exporting home electronic products to foreign countries, becoming a major manufacturer in Korea in the process while also buying a 50-percent stake in Korea Semiconductor. The company's big break didn't come until the late 1970s and early 1980s when there was a rapid expansion of the company's technology businesses, which resulted in different semiconductor and electronics branches being established before the Aerospace division was founded in 1978.
Samsung's cause was also helped greatly by the creation of two development and research institutes to help broaden the brand's tech integration into its telecommunications, nanotechnology, semiconductors, genetic engineering tools, and aerospace. The company's role in making the washing machine one of the most sought-after household appliances in the world today cannot also be overemphasized as the brand has invested millions of dollars into the washing machine industry, although it has also benefited hugely from those investments. For all its contributions to the growth of the appliances industry generally, Samsung Electronic was ranked second in the "Best Global Brands' ' by a market research firm, YouGov in November 2021, two spots ahead of what it was ranked in 2020 (fourth).
Samsung Washing Machine Cycles Explained
Your washing machine is one of the most important appliances in the house, but chances are that you may not get to fully explore the washer's many functionalities and features if you're not open to new ideas and ways to get the best out of your washer. According to Samsung, many people do their laundry by tossing their jeans and t-shirts in the washer before running the Normal cycle, which is not so unusual. However, if you want better results, there are many ways to put your washer to good use because a standard Samsung washing machine can do so much more than just the Normal cycle which you've become so used to. Every Samsung washing machine (the modern ones at least) comes with many pre-programmed and customizable features that ensure that your clothes are washed efficiently.
NOTE: Samsung advises not to wash waterproof items and non-waterproof items together to prevent damage to both the items and the washing machine.
The wash cycles you have on your Samsung washing machine depend on what model you have, and, trust us, Samsung knows how to make different washing machine models, which is why they're one of the best in the industry at the moment. To get you familiar with the wash cycles in your washing machine, we'll be explaining the most common wash cycles available on most Samsung washers in the list below that was created using the information provided by Samsung.
Active Wear
Sports clothes can be very difficult to wash with the Normal cycle, and Samsung perfectly understands the need to have your clothes washed efficiently, which is why it has introduced this wash cycle to help provide effective soil removal for sportswear such as shirt tops, training pants, jerseys, and other performance clothing. You'll get to enjoy some gentle action for special fabric care so your clothes can be in the best conditions without even compromising efficiency.
Downloaded
With a Samsung washer, you can access wash cycles beyond what's listed on your washer's control panel, and that's why a lot of people prefer Samsung washers to the ones by other manufacturers because Samsung gives them the chance to explore the best features. SmartThings is Samsung's special app that allows you to gain access to additional wash cycles apart from the ones that are preprogrammed on your washer. You will see it clearly on your washer's control panel if you're using a downloaded cycle rather than one of the pre-programmed ones.
Allergen
Allergen is another special cycle that doesn't come with most washers, but Samsung understands how hard it is to get pet dander and other allergic substances out of your fabrics, which is why Samsung has included the Allergen wash cycle in most of their washers. The cycle helps you efficiently remove dust and pet stains (hair mostly) out of your fabrics.
Delicates
This is a very common wash cycle among most washing machines in production now, and Samsung is not an exception. The cycle is meant for delicates such as lingerie, silk, bras, sheer fabrics, and many other fabrics that can only be washed with hands. Some of these things are naturally meant to go in the washing machine, but the cycle will help use some gentle action coupled with the power of liquid detergent to help you get the best results.
Darks
If you want to wash dark or bright-colored items, you don't have to run them under the Normal cycle. There's a dedicated wash cycle called "darks" on some Samsung washing machines, and we bet you'll find it very helpful.
Bedding, Waterproof
Remember we said earlier that waterproof and non-waterproof items are not meant to be washed together in the washer machine except you're prepared to cut your loses on whatever damage incurred during this process, which we don't believe is a risk worth taking. This Samsung washer bedding setting is ideal for bulky items like sheets, comforters, and sheets, but can also be used for water-proof items like raincoats, ski pants, and plastic mats among many others. Always ensure that you use liquid detergent whenever you're running this cycle.
Eco Wash, Eco Cold
Samsung has had a reputation for leaving quite an impressing on its customers for many years now, and this wash cycle is another way to impress the public, gaining doubters' trust in the process. The energy-saving cycle can be used to provide gentle and useful daily care for lightly-soiled items using just cold water.
Heavy Duty
As the name implies, this cycle is for colorfast fabrics and heavily-soiled garments that can't be efficiently washed with the Normal cycle. You need the toughest wash cycle to combat the toughest stains, so if you have this cycle available in your Samsung washing machine, you had better put it to good use.
Rinse + Spin
Rinse + Spin is one of the most common wash cycles you can find in most washing machines today, and its job is to save you some time by rinsing only before spinning to also save you some drying time. This cycle is perfect for loads that only need to be rinsed and it can also be run after a different cycle for some extra rinsing and spinning.
Spin Only
The Spin Only cycle can be used after running a different cycle for some extra spinning as it provides a spin to remove water. On some models, you can select the cycle by pressing and holding the Spin button for about 3 seconds until the cycle time pops up on the display. You can proceed to choose your desired setting and run the cycle as normal to get the results you want.
Wool
If you have machine-washable wool, this is the perfect cycle to run them through, although you need to be very sure the clothes can be put in the washing machine before trying to run them through any cycle whatsoever. Always make sure that the loads are less than 8 pounds so you can get the best results at the end of the day. The fewer the loads, the better the results you'll get at the end of the cycle.
Towels
You just can't run different clothes with different materials through the Normal cycle if you want the best results. This is a special wash cycle for mats, towels, and washcloths. These clothes have high absorbency, so you shouldn't overload your washer with them if you want the best results. Samsung advises not to wash more than a half load at a time to get the best results, which is equivalent to about 6 pounds of towels.
Pure Cycle
Many people have misconstrued this cycle more times than you can imagine, but it's not meant for washing clothes. Its responsibility is to make the washer self-clean, so you shouldn't use any detergent or bleach when using this cycle. Samsung recommends running this cycle after 40 washes.
Normal
This is the Normal cycle we've been talking about since the start of this article and it's the most popular wash cycle in any washing machine. It is the default cycle on every washing machine and it's perfect for items like shirts, towels, underwear, bed linens, cotton, and table linens among many others, although you have to confirm if these things can be washed with the normal cycle before you proceed with the process. When the cycle is activated, the washing time and the number of rinses needed are automatically set according to the load.
Samsung Washing Machine Settings
How does the Samsung washing machine work? To get familiar with the Samsung washing machine usage, you need to understand some important concepts like wash cycles and settings that all come together to help you get the best out of your Samsung washing machine. There's no knowing how to use bleach in Samsung washing machine or how to work a Samsung washing machine without properly understanding how a Samsung washing machine works, including its settings, features, cycles, and every other necessary thing you need to know about your Samsung washer. We'll briefly discuss your washing machine settings in three categories; Temperature, Spin, and Soil Level; all of which are very vital parts of the washer.
You may need to see your user manual for some specific details about your model because this is a general template.
Temperature
Extra Hot, Hot
Temperature settings are a very important part of every washing machine, and Samsung washing machines are not an exception. This is the hottest temperature setting on any Samsung washing machine and it's usually for heavily-soiled and colorfast items. You can only use this setting with certain cycles, so you shouldn't expect it to work on every cycle you choose.
Hot
This is the second-hottest setting on your Samsung washing machine and you shouldn't be surprised that it serves almost the same purpose as the first one, but may not be as effective. It is also used for whites and heavily-soiled items.
Warm
This is the middle-temperature setting and it's for colorfast items. When you activate this setting, only the final rinse will be warm and that's what it's most effective as the other rinse will be cold to help conserve energy and not make the washer consume more power.
Eco Setting
This is the perfect temperature setting for moderately-soiled and colorfast items, but not only that – it's also ideal for most wrinkle-free items. Most people mistake this for the Middle setting, but the Eco setting uses less energy, so it should be your go-to temperature setting if you're looking to save some money on electricity.
Cool, Cold
This is the second-coldest setting and it's the perfect temperature setting for lightly-soiled and brightly-colored items. The good thing about cold settings is that they help you conserve a lot of energy so you don't have to worry about consumption when you're using them.
Cold, Tap Cold
This is the coldest setting, and, as a result, it consumes the least energy of all the temperature settings. It uses only cold water for lightly-soiled items.
Spin
Extra-High
The extra-high spin setting is the fastest spin setting and it helps remove more water from loads during spin and even does it faster than every other spin setting. However, you have to be careful of what you put in your washer when you want to use this setting because it doesn't work well on wrinkle-free or no-iron fabrics. You should also ensure that you don't overload the washer just so you can get the best results.
High
This is not as fast as the highest spin setting, and nor does it remove as much water from your clothes as the highest one. Still, it does the job better than the other spin settings as it is perfect for sturdy cotton, t-shirts, underwear, and jeans.
Medium
This is the medium spin setting; it doesn't spin as fast but also manages to get the job done at the end of the day. The medium spin setting is very perfect for synthetics, jeans, wash-and-wear items as well as wrinkle-free clothes.
Low
Some people will advise against putting delicate items in the washing machine in the first place as these items should be washed by hands to protect the quality and whatever there is to be protected. However, top washing machine manufacturers like Samsung have made it a mission to solve this problem, which is why they've included the Delicate cycle in most of their washers. This spin setting is perfect for delicate items because they require a slow spin speed.
No Spin
Some items are extremely delicate and can't handle any spin, otherwise, they'll tear and that'll be the end. The perfect spin setting for these items is this No Spin setting because it only drains the washer without spinning.
Rinse Hold
In some cases when the Rinse + Spin cycle is activated, it automatically begins to spin after the rinse cycle ends, but you may want to extend the time or just keep things in check without spinning, which is why this spin setting is very important. This setting prevents spinning and draining just so your laundry can remain in the water and the cycle doesn't end. In some Samsung washer models, the Rinse Hold setting can be selected by cycling the Spin setting until no indicators are lit.
Soil Level
Extra Heavy
This is for soiled loads that are extremely heavy. If you have clothes like this and you choose any other soil level, you may not get the efficient cleaning you want and that can be very frustrating. You need the perfect settings to combat the toughest stains, and that's what this setting will help you achieve.
Heavy
This is the perfect soil level for clothes that are heavily soiled but not as extreme as the ones meant for the Extra Heavy soil level. This is also ideal for tough stains and will help you avoid a hard time trying to get your heavily-soiled loads cleaned efficiently.
Normal
This is the most common and popular setting for most loads because you won't always have clothes that are extremely soiled. This setting is perfect for moderately-soiled items and you will always get the best result when you run your cycle with it.
Light
The thing about choosing the perfect soil level for your loads is that it mostly guarantees you the results that you need. If you choose the wrong setting, you may end up not getting what you want, which will only frustrate you at the end of the day. This setting is the perfect soil level for lightly-soiled items.
Extra Light
It is as simple as it sounds – it's for loads that are barely soiled.
Samsung Washing Machine Features
Alarm Off
By default, your washing machine's alarm is always on because that's what alerts you and makes you aware of whatever is up with the washer. However, you can turn the alarm off, but when you do, the sound that you hear after the completion of each cycle will stop; you won't even hear that beep again when you turn the machine on and off. Your choice.
Deep Fill
The thing about the washer is that you may think an element (water, detergent, or even clothes) is enough until the cycle starts and you have to make everything balanced. Deep Fill is the feature that helps you add more water to the cycle that is currently running. However, it can't be used with certain cycles like Spin Only, Waterproof, Normal, Bedding, and Self Clean.
Delay End
You can set a cycle to automatically finish at a later time than what you had initially programmed. You can choose the delay time from 1 to 24 hours with 1-hour increments. The time will display when the cycle will end.
NIght Wash
If you have a small load of laundry under 2.5 pounds (usually 1 pair of pants and 2 shirts), this is the perfect setting to use because it will clean and dry the clothes in 6 hours without you transferring the clothes to a dryer. However, this Night Wash feature is not perfect for all clothes as you can't use it for sensitive clothes with leather, clothes that have the label "Do Not Tumble Dry," silk, napping, bulky items, mink, fur, latex, items with glue, and many more.
Frequently Asked Questions
1. What is Perm Press on Samsung washers?
Perm Press is a special cycle in Samsung washers that is most ideal for wash-and-wear items, synthetic fabrics, and garments that are lightly soiled.
2. How do you know how much detergent to use in a Samsung washing machine?
While there's no rule of thumb anywhere on how much detergent to use with each load, it's very important to keep everything moderate because you don't want to destroy your clothes as a result of over or under-using your detergent.
Conclusion
Samsung washers are very popular on the market today, and that's because Samsung has been doing a great job since it broke into the appliances market many years ago. Today, it is one of the strongest washing machine manufacturers, increasing competition between fellow South-Korean brands, LG, and other brands like Amana, Hotpoint, and many others. If you have a Samsung washer, you need to be able to explore all the features that come with it, which 50% of washing machine owners don't often get the chance to do.
ESTIMATED TIME DESIGNING AND UPLOADING THIS ARTICLE
ESTIMATED TIME RESEARCHING AND WRITING THIS ARTICLE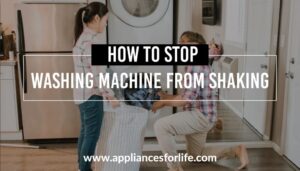 How To Stop Washing Machine From Shaking?
One of the most annoying issues you can ever face with your washing machine is constant vibration. To best deal with that, you'll need to know how to stop washing machine from shaking, which is what we'll be discussing in this article. Living in the
Read More »