If the technological advancements in the world could provide us the comfort and convenience we've always craved as humans, can you take a minute to imagine what the next 50 years would look like? The truth is, if anybody had pictured that a time would come when people could now control their appliances from their smartphones even if they were miles away, most people would have called the different names, with "nuts" being the most common one.
Some people call this time the "Space Age" while others call it the "Big Data Age" and that only shows how far the world has come, and if you put all the advancements into consideration, you'll realize the only way from here is further forward, with more improvements to be made and more records to be broken.
Without technology, there would have been no difference between now and many centuries ago because, while so many people would have come and gone, there would have been nothing separating both times because things would have remained pretty much the same way.
According to AgingInPlace, technology has played a crucial role in improving our world, and its revolution has put us in a great place where we now have so much useful information, high-end devices, and very helpful tips at our fingertips. You would agree that without technology, we would not have had the privilege to witness what people consider the norm today, such as super-fast computers, smartphones, smartwatches, tech-inspired household appliances, etc.
If you take crime and global warming out of the world's biggest problems, life would be very enjoyable because we now have access to the best of everything that's ever been created. Technology has undoubtedly made the world a better place to live, making our lives better, easier, and more fun as we can now get some tasks done in no time, thanks to the efficiency of these machines and how much they bring to the table.
With all the big changes the world continues to go through as far as the tech revolution is concerned, we're not surprised that people are willing to spend whatever amount they deem affordable just to bring convenience into their lives by heavily investing in some of these tech-inspired appliances. The washing machine, as many would imagine, has been very vital to human existence, considering how much convenience it has brought to people over the past few years. If you've always used the washing machine, you'll know how important it is to have one in your corner because it saves from unnecessary stress compared to when you wash by hands.
LG and Samsung have been two of the biggest appliances brands of the past two decades, with heavy competition from American brands like Frigidaire and GE, and the popular German brand, Bosch. It's never easy for a brand to remain relevant after all these years in business, but that's exactly what the popular South Korean brand has managed to do; consistently creating appliances that people find very appealing and would continue to spend their money on getting. What LG has done in the appliances industry has been nothing but magnificent, with the arm of the company that controls electronics being one of the biggest in the entire world.
According to a Wikipedia post, as of 2020, LG was the world's largest display company by revenue which was followed by a huge revenue recorded at an estimated $61.513 billion in 2021, making the company one of the most successful appliances brands in the world. With operations in 128 outlets worldwide and over 83,000 employees across the globe, there's no denying how big of a company the LG brand is, and you can tell from its products that it's just as reliable as much as it's popular.
If you have an LG washing machine, you have one of the strongest and most reliable washing machines available on the market. However, just like every other washing machine, you should be prepared to encounter some problems, some of which may not be caused by you, rather by some factors that are out of your hands. In this case, knowing to decipher LG washing machine problem codes will help you fix these problems as soon as possible.
People with old washing machines don't have access to this luxury as their washing machines do not display error codes that can help you know what might be wrong with the washing machine, making fixing it very easy for you. While some of these error codes may require professional services, most of them indicate problems that can be fixed in minutes or hours without the help of any technician, and have you any idea you may be saving yourself in the process? LG washing machines come with built-in control panels that help you diagnose some washing machine problems and communicate them to you in codes, which you have to decipher to be able to solve the problems.
This system was created to help people solve washing machine problems very easily, but most people are not familiar with these codes, and this takes away the importance of the system if you have no idea what the codes it's trying to communicate with you. For LG front-loading washing machine users, you need to understand to be able to decipher LG front load washing machine troubleshooting codes to solve these washing machine problems. LG washing machine fault codes usually come in two or three letters so they're very easy to read and clear enough to understand as long as you have the knowledge of what these LG Direct Drive washing machine codes mean.
The good thing about these LG True Balance washer error codes is that they'll give you a clear idea of what you're up against and how to best fix them. Sometimes, the problems might be as simple as you leaving the washing machine door open or complicated as a damaged drain pump. Whatever it is, it's always great when you're on top of the situation by knowing the error codes, knowing what they mean, and how to best solve the problems.
If you have an LG washing machine and you have no idea what the error codes on your washing machine are, we're here to help you solve the big mystery as we'll be looking at the most common LG washing machine troubleshooting codes. Before we get into details on what these codes mean and what you can do to clear them, let's quickly look at a table that displays the error codes and what they mean.
LG Washing Machine Troubleshooting Codes and What They Mean
| S/N | ERROR CODES | MEANING |
| --- | --- | --- |
| 1 | UE or Ub | Unbalanced load |
| 2 | OE | Washing machine can't drain water |
| 3 | IE | Inlet water supply is abnormal |
| 4 | tCL | Tub clean cycle error |
| 5 | dE | Door is open |
| 6 | FE | Water overflow error |
| 7 | CE | Current is high in the electrical circuit |
| 8 | Cd | Cool down |
| 9 | PF | Power failure |
| 10 | LE | Drive motor is locked |
| 11 | CL | Child safety lock |
| 12 | tE | Heating error |
| 13 | PE | Water level sensor error |
| 14 | SUD | Too many suds in the washer |
| 15 | Buttons Do Not Respond | |
| 16 | Time Does Not Advance | |
| 17 | dE2 | Door is closed but not locked |
UB or UE
In our table, the UB or UE error code means that the load is not balanced, and when you leave this to happen for too long, you have to deal with loud noises or even worse – the washing machine may get damaged at the end of the day. The drum unit of the washer is the part where the problem is, so you don't have to look too far when you get this code, knowing that the load in the washer is unbalanced.
Solution
Once you get this code on the display of your washing machine, stop the machine altogether, open the door, and try to balance the load in the washer by making sure it is evenly distributed. If your LG washing machine comes with a special feature that automatically adds more water to ensure that the load is balanced, you may not get this error code, and if you do, it won't be long before it goes away without you having to intervene.
Should you even let your washer bring this code? No, you shouldn't. It's better to prevent your washer from displaying this code because when it happens too often, it's only a matter of time before it tells on the washer and you may just be forced to start looking for a replacement very early.
Always ensure that you load your washing machine properly by not putting more clothes in the washer than it can actually take. If you have a portable washer, you should always make sure you put in what the washer can take and not overload it.
OE
This is an error code that tries to let you know that the drain hose is clogged or kinked, thereby only allowing water to come out of the washer slowly, which may affect the washing machine's overall efficiency. It may also mean that the drain hose or the drain pump is faulty, and when this happens, you may need to replace these two important parts of your washing machine and you have to do it as soon as possible.
Solution
The drain pump or drain hose is perhaps the most underrated part of the washing machine because people hardly pay attention to it, yet, without it, the washing machine won't function as it should. As soon as you get this error code, you should check the drain hose for an obvious clog. You can even take things further by checking the drain pump for any little clog because it can also cause the washing machine not to drain water properly. If you try to fix the clogged drain pump or hose and the error code doesn't clear, you should try to check each section of the hose for clogs. If you also try that and it still doesn't work, it may be that the drain pump is faulty and might need to be replaced.
IE
This is an error code that indicates that the washer can't fill water for the load you're about to wash due to some faults that range from clogged inlet filter to closed supply taps. If there's a misconnection in your usual water supply, you will get this code on your washing machine because it means there's nothing bringing in water into the washer and it needs water to take care of your laundry.
Solution
This is an error code that needs a lot of patience because the problem could be caused by many factors, all of which you have to carefully assess before moving on to the next one until you find what the actual problem is. You'll have to check the inlet filter if it's clogged. You'll also have to check the drain hose if it's correctly installed, and if after you check all the possible causes, the error code doesn't go still, it might be time to involve a professional.
tCL
tCL is an error code that lets you know that it's high time you cleaned the washer tub because it's dirty and it's only a matter of time before your clothes start coming out dirty and smelly. If you use your washing machine frequently, over time, detergent residues and stains may build up in the tub and that can be bad for your laundry. This is why many washing machine experts usually suggest cleaning your washer at least once a month.
Solution
Clear the washing machine tub and ensure there's nothing left in it. Once you're done, fill the detergent container with bleach before you proceed to choose the tub clean cycle option on your washer. This should clear the error code as soon as the cycle ends. However, if it doesn't go away, you may have to involve a professional.
dE
If you're getting the dE error codes, you should understand that they come in three styles; dE, dE1, and dE2, and they all indicate that something may be wrong with the door. If your LG washing machine says dE1, it means the door is not closed and you're trying to force the washing to run without that. The LG washing machine dE error code is one of the simplest codes to get rid of because it doesn't indicate a serious problem with the washing machine.
Solution
To clear the dE error codes, you'll have to turn off the machine by pressing the power button before unplugging it from a power source. While the washer is off and disconnected from the power source, you should press and hold the Start/Pause button for about 5 seconds after which the circuit breaker will reset as soon as you turn the machine back on. Once this happens, the error code will go away as you'll now be able to close the door and lock it in place.
FE
FE is an error code that tries to tell you that the washing machine is overfilling, which may be as a result of a faulty water valve, another important part of the washing machine. If something is wrong with the inlet water valve assembly, it may cause your LG washer to display the FE error code because it's taking in too much water than it needs and that's usually a problem.
Solution
This is a complicated one, so you have to be very careful when trying to clear the FE error code. Firstly, you'll have to close both water taps (cold and hot water taps) before you press the spin button to ensure that no spin cycle is selected, press the Start/Pause button to drain the trapped water out. Draining the water from the washing machine and restarting it will help clear the code, but you need to try and fix the inlet water valve if you notice something might be wrong with it. If you drain the washer and restart it but the code still doesn't clear, your washer needs a professional service call.
CE
The CE error code is very important to note as soon as you can because if it stays on for too long, it might damage your washing machine. It simply means that there's a short circuit in your washing machine, and this happens when there's a broken motor, wiring problem, or a faulty power control board.
Solution
The solution to this problem is very easy and clear. To clear the error code, you need to power off the washing machine by pressing the power button before unplugging it from the power source for about 10 seconds. Plug it back, power it back on and try to run a washing cycle, and you'll see that the error code will clear off. However, if this method doesn't clear the error code, it may be to reach out to a professional for help.
Cd
Whenever you see this code on your washing machine, you don't have to be scared of anything because it doesn't mean there's something wrong with your washing machine. When you see the code, it means the machine has reached the cool-down period, which is a feature that runs immediately after the drying cycle is complete. Since the dryer will be hot after completing a cycle, the machine will automatically take some minutes to cool down, and that's when you get this code on the machine's display. If the error code doesn't clear after the machine has cooled down, it may indicate a possible electronic panel malfunction, which you can't actually do anything about but to request a professional service.
Solution
You won't need to do anything if your washing machine is functioning properly because the error code will clear by itself as soon as the machine cools down after it must have completed a dry cycle. However, in some cases where the electronic control panel is faulty, the error code won't go by itself, so you'll have to get a service call to have someone come help you fix the problem.
PF
Power failure during your wash cycle is very rare and it's a sign that the power going in your washing machine has been interrupted during a cycle. It doesn't happen too often, but PF is the code you see on your washing machine's display whenever there's a power failure. It could be with the washing machine cord, the power source, or an external power supply.
Solution
This isn't one of those complicated problems, so soon as the power is restored, the code should clear on its once after you restart the cycle. If the problem persists, you might have to confirm if the power cord is plugged properly into the power source, or even the power source has enough power in it to send to the washing machine. You can also check for a tripped breaker because that can also cause the problem to persist. If you try these things and you still can't seem to get the code off, it might just be the right time to involve a technician.
LE
This is one of the problems you can cause by overloading your washing machine as the heavy load will put a heavy strain on the motor and possibly lock it. You get the LE error code when the motor is locked, which shouldn't happen because the motor is the brain of the washing machine and doesn't need that much strain on it if you want it to continue to function at the highest level. If you put large and heavy-sized loads in the washing machine, it will put a strain on the motor, causing code to display on the washing machine.
Solution
The first thing you should do when you see this code is to try to reset the washing machine, which will normally clear the error code, although that's when you've also made an effort to reduce the load size that initially put a strain on the motor. To reset the washer, press the power button to turn off the washer before unplugging it from the power outlet to avoid any accidents. Once the power has been cut off, you should press and hold the Start/Pause button for about 5 seconds after which you turn the washer back on. This process will automatically reset your washer and the LE error code will be cleared as soon as the washer is turned back on.
CL
Most folks are familiar with this because it's a safety feature called "Child Lock" and once this feature is activated on your washing machine, the CL code appears on the display. This feature is to ensure that nobody has access to the washer's control panel once it's been activated and to also prevent children from adjusting the washer's settings.
Solution
You may get a different position for the child lock button from another LG washing machine model because the position usually varies. To activate or deactivate the child lock feature, press and hold the button for 3 seconds.
tE
This is one of the simplest codes to decipher on your washing machine. The tE error code indicates a heating error that is mostly caused by a faulty thermistor, the sensor in the washing machine that is responsible for measuring heat. The thermistor is a very crucial part of any washer and dryer combo because it helps measure the heat needed to dry your clothes in your dryer.
Solution
The solution is pretty straightforward. Turn off the machine with the power button before unplugging it from a power outlet for about 10 seconds. Plug the machine back in, press and hold the spin button until the "No Spin" option is highlighted, then release the button. The machine will begin to drain whatever water it has in it after which the error code will clear and you'll be able to start a new wash cycle.
PE
The PE error code is displayed when the water level sensor in your washing machine is not reading properly. While this may not stop your washer from working, you may not get the efficiency you need out of the washer because you won't know there's enough water in the washer to take care of your laundry. Since you need the right amount of every element to get the result you want, getting the perfect water level is more than important, so you can't afford to have this error code on your washer for too long.
Solution
To get rid of the error code, unplug the washing machine from a power outlet for about 10 seconds. Once you put the machine back on, try to run another wash cycle, and if the code remains, then you'll most definitely need to contact a technician for service.
SUD
When the SUD error code pops up on your washing machine display, it means there are too many suds in your load, and it will automatically enter the sud-reducing cycle, which may take up to 2 hours.
Solution
The problem may also be from your water hose or water line, so ensure to check them for clogs, and if there are any, make sure you clear them out immediately. Rerun the cycle as soon as you clear the clog, but if the problem persists, you have to try to reduce the amount of detergent you use in your loads.
Buttons Do Not Respond
If your washing machine buttons are not responding, it might be that the child lock feature is activated, which will deactivate the control panel so nobody can access the washing machine settings. It might also be that you can use the button at the same time as another option on the washing machine. More than the child lock feature being activated, you can also check the control panel for some malfunction.
Solution
If the child lock feature is on, try to turn it off and see if the buttons respond. If they don't, you may have to call a technician to have your washer's control panel checked out.
Frequently Asked Questions
What does cD mean on an LG washer dryer combo?
If you see cD on your washer/dryer combo, you shouldn't be scared because it's not an error code. It means "cool down" and it is automatically set as soon as the drying cycle is completed. However, this feature can fluctuate if you do not remove your clothes promptly after the drying cycle ends.
What does Sud mean on LG washers?
The Sud error code means there are too many suds in your load, and it will automatically enter the suds reducing cycle which can take some hours, usually up to 2 hours.
Final Thoughts
Using a machine is one thing, knowing how to get the washer to serve you for a long time at the highest level is a whole different ball game. If you happen to have one of these modern LG washing machines in your laundry room, it means you have the chance to stay on top of every problem that could arise because these machines are built with a system that shows error codes whenever something's wrong with the machine that needs to be fixed as soon as possible. In this article, we've explored several LG washing machine troubleshooting codes so you can be aware of what these codes mean whenever they pop up on your washing machine's display.
ESTIMATED TIME DESIGNING AND UPLOADING THIS ARTICLE
ESTIMATED TIME RESEARCHING AND WRITING THIS ARTICLE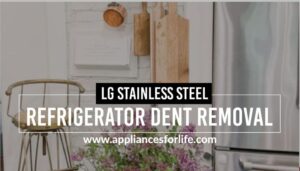 LG Stainless Steel Refrigerator Dent Removal
Despite being called stainless steel, the finish is very susceptible to stains and dents. Stainless steel is the face of modern appliances, including refrigerators, some of which are produced by LG. The integration of stainless steel into modern refrigerators has totally changed the concept of
Read More »