High-end appliances like the French door refrigerator are needed to meet our needs in a modern world, just like the one we live in now. Brands like LG have made that possible by consistently delivering innovative appliances that are packed with enough tech-inspired features to help us get through each day comfortably, as far as home appliances are concerned. There's no doubt that in this modern world, we need brands like LG, whose tech innovations have helped us get to where we are now; it can only get better. The world is heading towards a fully-fledged tech mode, and the sooner we embrace the innovations we have now, the better prepared we'll be for what's to come.
We are lucky to live in an age where everything seems to be "very possible." Think of any device and it has been developed by a tech brand. Needless to say that the convenience French door refrigerator brings to every home is so invaluable. That's arguable since French door refrigerators come with price tags, anyways. The bottom line is that over the years, French door refrigerators have become the go-to refrigerator type on the appliances market, and that shows the progressive growth of the refrigerator type and how it has successfully competed with the conventional side-by-side refrigerator. We can't deny how much the French door refrigerator has breathed new fresh air into an industry that was heavily dominated by side-by-side refrigerator type for so long.
From being an ordinary concept to becoming what we all love today, there's just so much to love about this refrigerator type. For those who are new to the concept of the French door refrigerator, it was coined from the actual French doors that are opened to illuminate the space, and also provide clear views of the inside of the space. French door refrigerators usually feature two refrigerator doors that can be opened outwardly individually or together.
There are lots of LG refrigerator freezer problems, so if your LG freezer is not freezing, you should know it has encountered one of these problems, and you should be quick to troubleshoot and proffer a possible solution before it gets too late. The truth is that LG French door refrigerators cost a lot of money, and you don't want to take chances with anything at all. If your LG refrigerator freezer is not freezing or working properly, there are several ways to troubleshoot it, and possibly get a solution for it.
Before we get into that, you need to understand that as good as a French door refrigerator is, it also has its downsides, although, they are not spoilers and shouldn't discourage you from purchasing your dream LG French door refrigerator. It's just always nice if you are informed earlier about the downsides so there are no surprises at the end of the day, which might hurt you even more.
The benefits and downsides of a French door refrigerator
There are always two sides to every appliance; the good and bad sides. There's no perfect appliance out there, but there are many great options. The good thing is that once the benefits manage to outweigh the downsides by a country mile, it is very easy to know that the appliance is a great one. You don't want to go into the market looking for "a perfect appliance." You will just end up wasting your time and resources. The French door refrigerator has lots of benefits and just a couple of downsides, making it a great option when you realize that the former manages to outweigh the latter. Below are some of the pros and cons of a French door refrigerator you need to get familiar with if you own one or you're planning to get one;
Benefits
It conserves energy
If you're thinking of the long-term effect of this refrigerator on your electricity bills, you should be confident because it's not one of those refrigerators that zap energy, thereby causing your electricity bills to skyrocket. A French door refrigerator features two refrigerator doors that are accompanied by either one or two freezer drawers. The good thing about the French door refrigerator is that you don't have to open both refrigerator doors at once. When you open the refrigerator door, the refrigerator loses cold air, causing it to work harder than it normally should in order to regain the lost cold air. Having two doors leaves you with an option to open just one of the refrigerator doors, which means that the refrigerator will not lose as much cold air as it would if both doors were to be opened at a time. It is very important that you have an appliance that will lift some pressure off your electricity bill, and that's exactly what you have in a French door refrigerator.
A clear view of the content of the refrigerator
Another great benefit of having a French door refrigerator is that you will have clear access to the content of the refrigerator. A French door refrigerator features two doors that can be opened outwardly, just like the actual French doors. The good part is that as soon as you open your French door refrigerator, everything in the refrigerator becomes very clear, leaving you with a clear view of what's inside. This is particularly good for people with large families. They will always have food items to store, and there's no more wasting time looking for some of the things you've stored in the refrigerator. A French door refrigerator will grant you that kind of access and it's always good to know that there's a refrigerator that can give you that kind of access.
More storage space with big door bins and wider shelves
You can be confident that there's enough storage space to accommodate your food items even if you have a large family. You will always find extra spaces on the door bins because the French door refrigerator features large door bins that can accommodate bottled and canned items as well as fruits. With other refrigerators, you might have to strive to make room for some of your food items, but with the French door refrigerator, the wide shelves and large door cabins will always create those extra spaces you need for your food items.
Saves extra space in your kitchen
There's a lot to like about a French door refrigerator. A French door refrigerator usually has its freezer drawers at the bottom, accompanied by two refrigerator doors that can be opened outwardly. You can save extra space in your kitchen by opening one of the two refrigerator doors at a time instead of opening both doors. The conventional refrigerator features a big single door. Having a French refrigerator in your kitchen will provide extra space for you to put other things. The French refrigerator doors will not make you bang into cabinets anymore.
Drawbacks
Consumes energy in some cases
The French door refrigerator, just like every modern refrigerator, comes with high-end features that can consume more energy than refrigerators that have fewer features. According to Appliances Connection, the more features packed with a refrigerator, the more energy it consumes trying to run these features. Apart from that, with its large space, the refrigerator will use more energy to keep releasing cold air to comfortably store your food items. Another thing is that if you open both refrigerator doors at once, the refrigerator will have to work very hard to keep producing cool air to make up for the lost air it loses.
Costs more
If you're going to enjoy all the features that come with a modern refrigerator like this one, you'll have to be ready to pay a premium fee. If you're on a budget, it might be ideal to consider other options that are more economical than a French door refrigerator. The good thing is that every dime spent on a French door refrigerator always proved to be the right investment.
Factors to consider before buying a refrigerator
It is good to research properly before deciding on which refrigerator you want to buy. A French door refrigerator always proved to be the right purchase but you don't want to jump to purchase without putting a lot of things into consideration. It is always a big decision when you're trying to purchase a new refrigerator. A lot of things need to be considered before jumping right into making the purchase. A refrigerator is always purchased for the long term, and you need to be as careful as possible to avoid making the wrong purchase. There are too many options out there, and if you don't filter your options down to a few things, you might end up buying the wrong thing and even spending out of your budget. Below are some of the things you need to seriously consider while purchasing a refrigerator;
Energy consumption

Refrigerator type

The size of your space

High-end features

The size of the refrigerator

Surface finish

Your budget
LG refrigerator freezer not cooling
You can't talk about the biggest and most important appliances in the kitchen without making mention of the refrigerator. It is perhaps the most important kitchen appliance, and if you're investing that much in a refrigerator, you don't always expect it to get damaged that easily. It is not uncommon for your LG refrigerator freezer not to be cold enough. It is a common problem amongst the modern LG refrigerator. According to How To Fix It, 90% of cases related to LG refrigerators not cooling are usually down to the linear compressor. Modern LG refrigerators don't always have reliable compressors, which often lead to your LG fridge not working.
You need to perfectly troubleshoot your LG refrigerator if the freezer is not freezing properly. That is a great point to start. The solutions you need to solve these problems will come after that. Below are some of the reasons why your LG French door refrigerator freezer is not cooling;
Temperature control thermostat problem
The thermostat is an important part of any refrigerator and an LG French door refrigerator is not an exception. Its job is to control the flow of power to some of the motors in the refrigerator such as the compressor, evaporator fan, and many more. The thermostat is a great place to start because if the thermostat is not working, other parts of the cooling system such as the compressor and condenser fan will not work.
TROUBLESHOOTING
The thermostat is located at the back of the unit (the bottom part of the refrigerator), making it very easy to find. If you want to know if the thermostat is still fully functional, turn the knob. If you hear a click after turning the knob, it means that it's still perfectly working. Trying it once might not be enough as you might confuse the click sound for other sounds, which is why you need to try it continuously to know if it's truly working or not.
SOLUTION
The best way to get a replacement part of the thermostat is by contacting LG. You need to make sure the replacement part is exactly for your refrigerator model. Once you're able to get the new thermostat, install it at the back of the unit and try it out.
Condenser coils are dirty
Just like the thermostat, condenser coils also play an important role in making the freezer work properly and effectively. Some LG refrigerators have condenser coils located within the freezer walls. For other refrigerators, the condenser coils can be accessed from underneath or behind the unit.
TROUBLESHOOTING
The condenser coils are just one of many things you need to properly check out if your LG fridge freezer is not cooling. Thankfully, it is very easy to locate (the ones which have their condenser coils outside the unit).
SOLUTION
According to the Repair Clinic, it is ideal to get the condenser coils of your refrigerator cleaned every 6 to 12 months.
Evaporator fan motor
The evaporator fan motor's importance cannot be overemphasized. Its job is to take air from the evaporator coils and spread it throughout the freezer to make it produce cool air. The freezer will definitely not cool if the evaporator fan motor is not working properly.
TROUBLESHOOTING
Locate the evaporator fan motor and try to troubleshoot it by checking if it'll work while the freezer door is open. The evaporator fan motor will not run on most refrigerators if the freezer door is open. To know if the fan motor is still working while the door is open, activate the freezer door switch manually. You'll know if the fan motor needs to be replaced or not.
Other problems
Start relay problem
Evaporated coils problem
Main control board
Sealed system leak
Frequently Asked Questions
What should I do if my refrigerator freezer is not freezing?
The first thing to do is to troubleshoot and determine the source of the problem. A good place to start is the compressor. If the compressor is not working properly, the freezer will not cool. We've discussed the different causes for a freezer not cooling properly.
How do I fix my refrigerator that is not cooling?
Firstly, check if the freezer is properly connected to a power source. If the problem is not from the power source, then proceed to check the likeliest problems we've discussed in this article.
Wrapping up
It is very important to be aware of the things that are likely to happen to your refrigerator if they haven't happened yet. You'll be well informed about the first steps to take and how to correct the problem. One important thing to know when you're troubleshooting your LG refrigerator is that you should always unplug it from the power source. Safety is very important when troubleshooting your refrigerator. If your LG French door refrigerator freezer is not cooling, we've highlighted the best ways to troubleshoot, and the possible solutions to those problems.
ESTIMATED TIME DESIGNING AND UPLOADING THIS ARTICLE
ESTIMATED TIME RESEARCHING AND WRITING THIS ARTICLE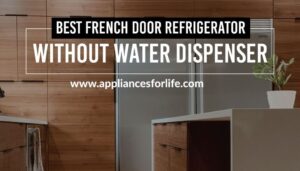 Best French Door Refrigerator without Water Dispenser
French door refrigerators have risen to the summit of the appliances market. Demands have been on an all-time high lately, so if you're looking for the best French refrigerators without water dispensers, this is the right piece for you. In this article, we're also going
Read More »