The appliance market is one of the biggest industries in the world. Several appliances can be found in almost every household across the United States, and that's enough proof that electrical appliances have grown to become very popular in recent years. We can't overemphasize the importance of these appliances in our lives. They've made life easier for everyone by reducing the number of manual efforts required to get our domestic daily tasks done. As technology begins to take over the world in a big way, so are high-end appliances that have taken the world by storm. Without being in denial of the truth, everyone who has tasted the usefulness of these appliances first-hand would know that they do more than just getting daily tasks done.
These days, high-end appliances have been on the rise, ranging from cooking ranges to microwave ovens, refrigerators to blenders. They are now packed with advanced technology that makes them perform amazingly well. We now have refrigerators that can be connected to your smartphones and can even let you play music and watch your favorite TV shows via the apps that come with them. Thankfully, we live in an age where these things have been made to add ease and comfort to the way we live as humans.
LG has been in the middle of that development and has spearheaded the charge with other brands like Samsung, Frigidaire, and many others. It's no surprise then that LG has attained new heights over the past decade. Life will indeed be made good when you pack some of their appliances in your home. Truly, some question marks have understandably hung over some of LG's appliances. This is a brand that has thousands of strong competitors across the globe who offer similar products and try to make them even better than LG's. This doesn't take away the fact that LG is still one of the most reliable appliance brands you can find on the appliance market.
From the stats available online across many e-commerce platforms, LG refrigerator LMXS28626S is a reliable refrigerator with great ratings that cover features, value, and quality. What we do know about this refrigerator is that people who have used it love it dearly. A satisfied customer once said "Finally upgraded my refrigerator. Love this open concept. It's so much easier to see the items that you have there." Before we fully review this product, let's briefly discuss the pros and cons of the French door refrigerator which is what this LG LMXS28626S is.
Pros and Cons of the French Door Refrigerator
In this tech-dominated world, we've seen the rise of high-end appliances that have hugely bettered our lives. One of these appliances is the French door refrigerator which drew inspiration from the actual French doors. The concept behind this refrigerator is to offer space and appeal differently from side-by-side refrigerators. French door refrigerators offer clear views of the refrigerator by featuring two refrigerator doors, accompanied by either one or two bottom freezers. These space-saving and energy-saving doors are the reason why a lot of people prefer them to the other refrigerator types.
Despite being a good appliance, the French door refrigerator also comes with its own downsides, which is a natural occurrence. The good thing about the French door refrigerator is that its benefits hugely outweigh its downsides, which is how you identify a good appliance. Let's take a quick look at some of the pros and cons of the French door refrigerator;
Pros
Easy access to your food items
One thing that is very clear about French door refrigerators is that they feature two refrigerator doors that offer you clear visual access to the inside of the refrigerator, especially if you have a large family and you store lots of food items in the fridge compartment. The goal is to give you more visual access to the refrigerator by packing the refrigerator with two doors that can be opened outwardly, either together or individually. French door refrigerators feature big door bins and shelves, so you can be confident there's more than enough space to store your food, but not just that. The layout of French door refrigerators makes them an ideal option if you're looking for something that can give you visual access to your food items, making them very easy to spot and take out.
Large door bins
Do you have large gallon jugs and you're scared they might not fit into any refrigerator door bins? The French door refrigerator is obviously not one of those refrigerators! These refrigerators feature large door bins that create more storage space in the refrigerator compartment. Bottled drinks and snacks can now be stored in the door, that's where they belong, after all. But we've been made to believe that's not the case with side-by-side refrigerators because they don't offer the same large door bins French door refrigerators offer. If you have a large family, you will find this particularly helpful because you'll have more storage space for other things in your space.
Saves space
Despite having two traditional doors, as long as you don't open both doors all at a time, you still have a space-saving refrigerator at your disposal. Regardless of the size of your space, there are lots of refrigerators that'll perfectly fit. This is also one of the reasons why a lot of people prefer French door refrigerators. With the two doors, you can open one while the other one remains closed, and you'll still achieve what you want with it. Another thing people put into consideration is how often they open the refrigerator compartment of a refrigerator. Having the freezer drawer at the bottom of the unit is always helpful and reduces how often you have to bend over to get things if the refrigerator compartment were to be at the bottom.
When you have the fridge compartment at the top of the unit, it is always very easy to pick things out, reducing the stress you have to go through to get things out in the process.
They add an aesthetic view to your space
People already know this about French door refrigerators but those who are looking to get a new one should also know this as one of the many benefits that come with them. French door refrigerators like the LG LMXS28626S refrigerator will definitely lift your space because they come with beautiful surface finishes like brushed metal, matte black, stainless steel, black stainless steel, and many more. They are the perfect definition of what should be found in a modern kitchen and that's exactly what these refrigerators bring to the table.
Cons
They consume more energy when both doors are opened
French refrigerators come with two refrigerator doors and some even come with two freezer drawers, making them 4 doors altogether. Every time you open the door, the refrigerator loses cold air and that causes it to work harder to regain the lost cold air. Always look out for LG refrigerators that have an Energy Star rating, which means that they'll consume less energy than other refrigerators of the same model. Also, French door refrigerators come with lots of high-end features and according to Appliances Connection, refrigerators with lots of features need more energy to keep functionality up.
The bottom freezer might not be ideal for some people
The bottom freezer might be ideal for some, but for others, it is a setback, especially for those who have tight kitchen spaces. We all are well aware of the fact that the bottom freezer drawer is a must-have for every modern refrigerator because it makes things more compact. However, this feature won't always meet everyone's needs and that's why you need to explore all the options available to you before you make a decision; that's very important.
They are expensive
French door refrigerators are costlier than other conventional side-by-side refrigerators because of the many features they're packed with. Without a doubt, these features will definitely improve the manual ways of getting things done, and if you have the financial capacity to pull it off, just go for it. You'll realize it'll be worth every penny spent on it in the end.
Things to consider before purchasing a French door refrigerator
When you're purchasing a refrigerator, you should know you're making plans for the long-term, thereby you should be getting everything right if you don't want to end up making the wrong purchase. Since it's not an impromptu decision, and it involves thousands of dollars in some cases, you should take your time when making big decisions like this because it's what you have to live with every day for the next couple of years. To avoid making the wrong purchase, a lot of things need to be put into consideration. It is easy to make the wrong purchase, and you must do everything you can to avoid this. Below are some of the things you need to consider when purchasing a new refrigerator;
The size of your space
Your budget
The size of your family
Features
Style
Capacity
Color and finish
This LG 28 cu. ft. refrigerator remains a popular choice on the appliance market, further cementing LG's much-needed innovative contribution to the growth of the global appliance industry. LG is spearheading tech takeover in the appliance industry and this LG 2.8 cu. ft. French door refrigerator is redefining the concept of a modern refrigerator. With this refrigerator, you have everything you need in a stainless steel refrigerator. Its LG PrintProof is a fingerprint-resistant feature that allows you to easily wipe off fingerprints and smudges with little to no effort. Being a popular refrigerator, LG LMXS28626S has received lots of reviews that have convinced us and many other people that this is an ideal refrigerator for a modern-day kitchen setup.
SPECS
Type: 4-Door French door
Refrigerator capacity: 18.6 cubic feet
Total capacity: 27.8 cubic feet
Installation type: Freestanding
Ice storage capacity: 6.5 lbs
Defrost type: Automatic
Dimension: Height: 69.75 inches; Width: 35.75 inches; Depth: 36.25 inches
Unit weight: 322 lbs
NOTABLE FEATURES
Huge space
With 28 cubic feet of space, it is hard to imagine what you can't store in this refrigerator. It is always great when you have a refrigerator that has more than enough storage space and with a space this huge, that's exactly what you'll enjoy with this refrigerator. If you have a large family, you're going to find this particularly handy, especially when you have large door bins and shelves to make more rooms for things to be stored.
Multi-air flow system
The Multi-airFlow System creates multiple temperature settings for each compartment in the unit. This means that the freezer and refrigerator compartments don't depend on the same temperature to operate.
Two freezer drawers
This LG French door refrigerator is a 4-door refrigerator that has two separate freezer drawers, leaving you with more storage space to easily store your food items.
Door cooling+
Apart from the cold air coming from the inside of the refrigerator, the door bins also get cool air from the door. This helps you keep the bottles on the door bins cool without having to depend on the cool air coming from the inside of the refrigerator.
GREAT ALTERNATIVES
Frequently Asked Questions
1. Are LG refrigerators reliable?
According to Designer Appliances, LG refrigerators have been the recipients of many J.D. Power awards for kitchen appliances. This is just proof that LG refrigerators are very reliable.
2. Is LG refrigerator better than Samsung?
It is hard to tell which of these refrigerators is better. But what we know is that both brands produce high-end refrigerators. Read our full comparison guide of Samsung and LG refrigerators here.
3. Which refrigerator brand is most reliable?
The 2021 reviews of the best refrigerators by Good Housekeeping ranks LG as the manufacturer of the best door-in-door refrigerator, thanks to its innovative InstaView feature.
Conclusion
This LG 4-door French door refrigerator review is to give you a detailed insight of what everything this refrigerator is all about just in case you're looking at it as an option. This refrigerator is a great refrigerator indeed and that's exactly what some of the reviews on the internet have pointed at.
ESTIMATED TIME DESIGNING AND UPLOADING THIS ARTICLE
ESTIMATED TIME RESEARCHING AND WRITING THIS ARTICLE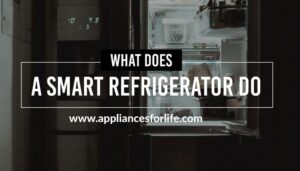 What Does a Smart Refrigerator Do?
The question: "What does a smart refrigerator do?" – Smart fridges with smart fridge technology have become very popular over the years. We can't stress enough how valuable smart appliances are to us, and over the past few years, smart refrigerators have taken over with
Read More »