Miele vs. Bosch Washing Machines  Comparison Table
| Image | | | | |
| --- | --- | --- | --- | --- |
| Name | Miele WXD160WCS 24-inch Compact Front-Load Washer with 2.26 cu. ft. Capacity | Bosch WAW285H1UC 500 Series 24-inch Smart Compact Front-Load Washer with 2.2 cu. ft. Capacity | Miele WXF660WCS 24-inch Front-Load Washer with 2.26 cu. ft. Capacity | Bosch WAT28400UC 300 Series 24-inch Compact Front-Load Washer with 2.2 cu. ft. Capacity |
| Brand | Miele | Bosch | Miele | Bosch |
| Color | White | White | White | White |
| Capacity | 2.26 cu. ft. | 2.2 cu. ft. | 2.26 cu. ft. | 2.2 cu. ft. |
| Control Type | Digital and Knobs | Digital and Knobs | Digital and Knobs | Digital and Knobs |
| Number of Wash Cycles | 11 | 14 | 20 | 15 |
| Product Dimension | 23.5 x 33.5 x 26.31 inches | 23.5 x 33.25 x 25 inches | 23.5 x 33.5 x 25.31 inches | 23.5 x 33.5 x 24.25 inches |
| Maximum Spin Speed | 1600 RPM | 1400 RPM | 1600 RPM | 1400 RPM |
| Weight | 221 lbs | 160 lbs | 221 lbs | 158 lbs |
| Editor's Rating | ✸✸✸✸✸ | ✸✸✸✸✸ | ✸✸✸✸✸ | ✸✸✸✸✸ |
| | | | | |
In the world we live in today, people barely tend to their domestic obligations because they would rather shift the focus elsewhere. It has now become a norm as everyone is racing to be part of the future by evolving with technology while also trying to have that life-work balance. Since people are too busy with other things, purchasing appliances that will improve their domestic lives has now become a necessity rather than the luxury people used to view it as.
Home appliances have been around for as long as civilization has been in the play. Things have even improved greatly with the emergence of technology, which has made these appliances more efficient, budget-friendly, and long-lasting. Many years ago, only the elites could afford to have high-end appliances like French door refrigerators, washers with the most sophisticated tech-inspired features, and even stainless steel cooking ranges.
Despite being one of the most underrated household appliances, the washing machine remains a valuable item to have in many households across the United States and the rest of the world. The usage of washing machines is higher than ownership rates in other European, Asian, and North American countries like Russia, Spain, Turkey, Japan, Germany, the UK, and Canada. According to a Statista post, over 80% of households in the United States own a washing machine, which means that, although the appliance may not get the hype it deserves, people still find it to be very valuable.
Amanda Rumble of Hunker thinks having a washer or dryer, or even both at home should not be seen as a luxury, rather as a necessity because these appliances make life easier and more convenient. A laundromat is an excellent choice, but with people opting for more convenience and ease, it doesn't seem enough compared to having an efficient washing machine in your space. This explains why most households in the United States just prefer to have a washer at home because they know all they can enjoy with the machine in their corner.
Now, we know how important washers are despite being very underrated compared to other appliances like the refrigerator, air conditioner, cooking range, and even the dishwasher. The problem, however, has always been which brand to trust as there are a ton of them available on the market today. Some big brands can claim all the bragging rights, but does that mean they're credible enough for you to trust them with your money and loyalty?
Truthfully, brands like LG and Samsung have done enough to earn people's trust and loyalty. We've seen people draw comparisons between these two brands over the years to have them battle it out for their consumers. Similarly, 'Miele vs. Bosch washers' is also an interesting topic that has commanded a lot of curiosity among washer machine users over the past few years. It has never been a battle of the best European washing machine brands; rather, which ones do it better.
If you've been confused about the right brand of washing machines to invest your money in, our Miele washing machine review and Bosch compact washer reviews will discuss some of the best washers manufactured by both brands in recent years. Without further ado, let's take a good look at some of the best Miele vs. Bosch washing machines available on the market today.
Miele vs. Bosch Washing Machines
1. Miele WXD160WCS 24-inch Compact Front-Load Washer with 2.26 cu. ft. Capacity
Miele may not be as popular as Samsung, LG, or Danby as a brand that manufactures washers, but you'll be wrong not to give the brand the props it deserves because people love its washers. People that have taken a chance on this German-made washing machine have heaped praises on it as one of the best compact washers they've ever seen. With only 2.26 cu. ft. of capacity, it's very easy to discard how efficient the washer can be. However, if you take a look at some of the high-end features the washer has, you'll realize it is worth every penny of its price tag, which some people may consider a little over the line.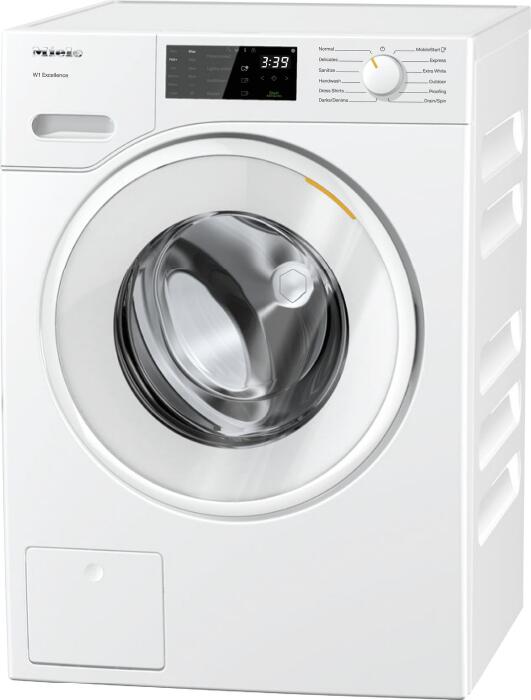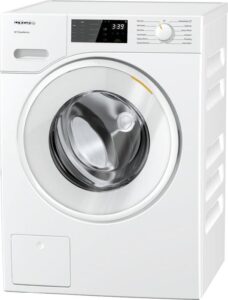 Features
CapDosing
If you're processing laundry that requires special applications, you need to have the right features to help you get through this process efficiently. Miele has included some portioned capsules as a convenient solution for that special laundry. The capsules are placed into the washer's fabric conditioner compartment while the machine dispenses them automatically whenever the need arises during the wash process.
Add Laundry
This is a must-have for many washers, but despite this, you won't get to enjoy it in most washers on the market today, even the modern ones. Miele has broken boundaries by including this special feature in this Miele compact washer. With this feature, you can add the new laundry by opening the door even when the appliance is still running. However, you have to be very careful not to get your hands too deep into the machine to avoid accidents.
SoftSteam Option
What people love about this washer is how Miele has managed to include some of the best high-end features of this generation in it, which explains the hefty price tag. Using the washer will reduce the need to iron your clothes by up to 50%. You can run a smoothing program at the end of a normal wash program. Your clothes are thrown in a moist, warm drum, to create a soothing effect.
Other Features
WiFi connect

DirectSensor controls

Honeycomb washer drum

1600 RPM maximum spin speed

11 wash programs

Mobile control

Digital and knob controls

Stainless steel drum
Pros
The washer has some of the best tech-inspired features

It has the best features to help deliver an outstanding performance

It works well with Miele dryers

Powerful washing operation

It has widespread positive reviews
Cons
The price may be too high for many people
2. Bosch WAW285H1UC 500 Series 24-inch Smart Compact Front-Load Washer with 2.2 cu. ft. Capacity
Bosch is in the category of appliance brands that have nothing to prove because their respective reputations always speak volumes. The Bosch front-load washer is rated very highly on the market. If you're looking for a washer that has some of the best features you can find in a compact washer, this is a fantastic option to seriously consider. The Bosch front-loading washing machine is called smart because it has high-end features like SpeedPerfect, Home Connect, Energy Star, Stainless Steel Tub, Internal Water Heater, and EcoSilence Motor.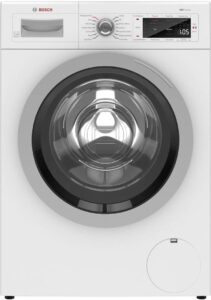 Features
14 Wash Cycles
Investing in this Bosch small washing machine will give you access to 14 wash cycles including Permanent Press, Jeans, Delicates, Outdoor/Sport, Quick 30 Min, Rinse, Spin/Drain, Cotton, Whitest Whites, Sanitize, Mix, Drum Clean, Bulky/Large Items, and Handwash/Wool.
Energy Star
When purchasing an appliance, it is very important to consider how energy-efficient it is so you don't spend all your money on electricity bills. With this energy-efficient washer, you don't have to worry about spending a bulk of your money on electricity bills because it comes with an Energy Star rating. Every Bosch 500 Series washer and dryer has been awarded the Energy Star Most Efficient in 2020.
Home Connect
You can connect this Bosch 500 Series washer to the Home Connect app via WiFi to operate it from anywhere whenever you want. The ease of investing in this washer is a good reason to invest heavily in it.
Other Features
10 wash options

EcoSilence motor

AquaShield hose

Stainless steel drum

Digital display

Soft touch panel

SpeedPerfect
Pros
The washer is energy-efficient

It operates quietly, thanks to the EcoSilence motor

High-quality performance

You can operate the washer from anywhere

Fantastic design

Luxurious stainless steel tub

Enough wash cycles and wash options to attend to your laundry needs
Cons
Too expensive for a compact washer

2.2 cu. ft. capacity may not be enough for most consumers
3. Miele WXF660WCS 24-inch Front-Load Washer with 2.26 cu. ft. Capacity
When a washer has 20 different wash cycles and other important features you need in a washer, you should know you're about to get the best value for your money even if the washer costs a lot of money. This might not be the best option if you're on the market for a budget-friendly washer because you'll be wondering how a portable washer could cost up to $1000. However, if you're not limited by your budget, it's a fantastic option to consider for all the amazing features Miele has included in it. With 1600 RPM maximum spin speed, you can save yourself a lot of drying time because your laundry will be as good as dry when the washer is done spinning it.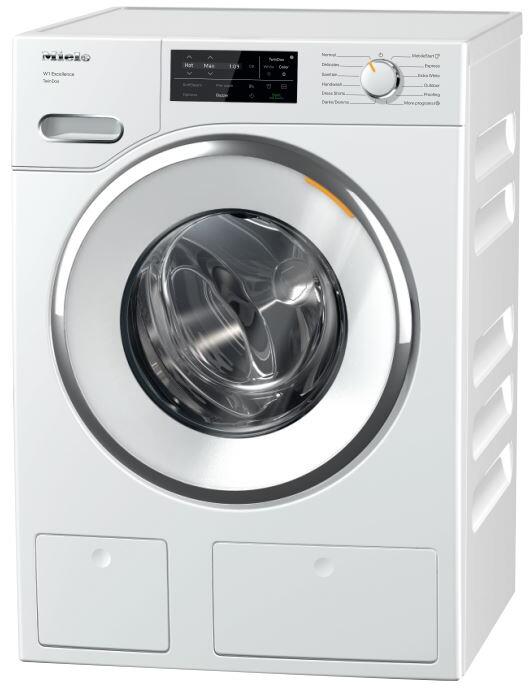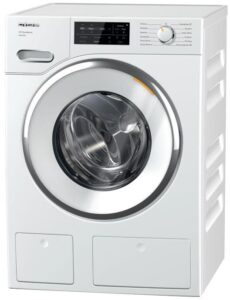 Features
Honeycomb Drum
The Miele honeycomb drum is just what you need for perfect laundry care. The structure creates a thin film of water between your laundry and the drum, producing gentle gliding, which is perfect for protecting your clothes. There are also small holes in the walls of the drum that prevent laddering and piling. This Miele clothes washer is just what you need if you want a machine that will protect your fabrics.
Automatic Load Control
You'll be disappointed if you invest heavily in a washer that won't bring the convenience you need into the picture. An efficient washer should have all the features needed to make life easier for you, and that's what this Miele washer brings to the table. The washing has an intelligent automatic load recognition that analyzes the current load and dispenses the right amount of water to get the best result.
Automatic Dispensing of Detergent
This Miele washer has a liquid detergent system that can be activated at the push of a button. Because the washer comes with the TwinDos feature, you'll get to receive 4 UltraPhase 1 + 3 UltraPhase 2 cartridges without spending a dime more.
Other Features
CapDos

1600 RPM maximum spin speed

WiFi connect

Mobile control

Delay start

Time left display

MultiLingua

Double waterproof system

DirectSensor controls
Pros
Many people see the WiFi connect feature as a huge plus

You'll get to enjoy intense wash

Works well with Miele dryers

It has many high-end features

The washer is perfect for smaller space
Cons
You can purchase an equally good washer for lesser price
4. Bosch WAT28400UC 300 Series 24-inch Compact Front-Load Washer with 2.2 cu. ft. Capacity
If the Bosch 500 Series washers are too costly, Bosch has given cheaper alternatives in their 300 Series siblings with almost the same features. You can only spot the difference if you pay attention to details. Otherwise, you'll be convinced you're getting a fantastic product for a much lesser price than one of the 500 Series washers. The washer's space-saving design will sweep you off your feet, but when you put other high-end features like Child Lock and EcoSilence Drive into consideration, you'll realize that you're getting a real coup in this washer. We're not surprised it has the highest ratings of all the washers reviewed in this article.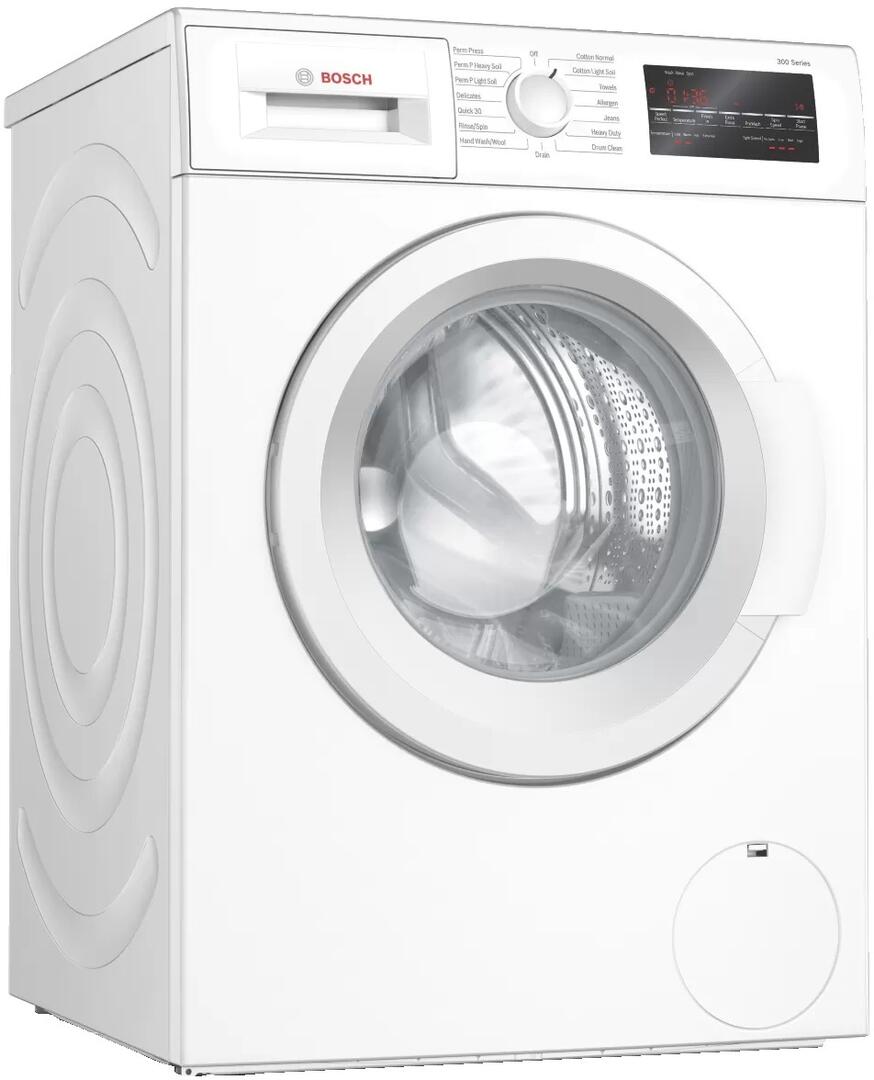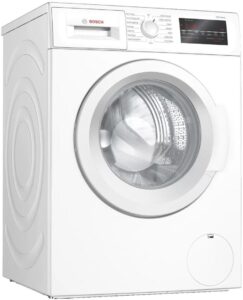 Features
Child Lock
If you have kids at home, the child lock feature is an important feature to look out for when buying a washer. It protects the machine from being operated by children or anyone that doesn't know how to operate the washer. The feature helps reduce the risk of accidents and damage to the washer.
15 Wash Cycles
The wash cycles include Drum Clean, Heavy Duty, Jeans, Allergen, Towels, Cotton Light Soil, Cotton Normal, Drain, Hand Wash/Wool, Rinse/Spin, Quick 30 Min, Delicates, Permanent Press Light Soil, Permanent Press Heavy Soil, and Permanent Press.
EcoSilence Motor
One of the things people worry a lot about when purchasing a new washer is how loud the washer can be operating. With this Bosch washer, silent operation is not something you should be worried about as the washer comes with an EcoSilence motor that delivers efficient yet quiet performance.
Other Features
SpeedPerfect

Energy Star

Allergen cycle

ActiveWater technology

9 wash options

See-thru white door

Large LED

Space-saving design

Sensor-controlled automatic wash programs
Pros 
Classic European design

The washer has electronic controls

Its space-saving design is a plus

Can wash up to 16 bath towels

Anti-vibration circular sidewalls to reduce vibration
Cons
The drum is now easy to repair or replace

You may need to buy the dryer to get the best out of it
Frequently Asked Questions
1. Where are Bosch washing machines made?
Bosch is a German brand, so Bosch washing machines are manufactured and assembled in Germany.
2. Where are Miele washing machines made?
Just like Bosch, Miele is also a German brand and all the company's washing machines are made in Germany.
3. Where can I get Miele washing machine parts?
Everything about repairs and replacements can be found in the user manual. However, if you don't want to take that route, you can just check Amazon for compatible washing machine parts for your Miele washer.
4. Does the price of a Miele washing machine matter?
While price is not a big deal for some folks because they can spend as much as possible on a washer as long as they get the best value for their investment, it often holds many people back as well. The best thing is to find the washer that fits into your budget and also has most of the features you want in a washer.
Final Thoughts
The growing popularity of washing machines on a global scale is a great thing for top washing machine brands across the world. We recently reviewed some of the best Samsung vs. LG washing machines, but the comparisons have left the Asia continent to Europe as German brands, Miele and Bosch go head-to-head in this article. Rather than make the brands lock horns, we've decided to review the best washers manufactured by each brand without making it look all that competitive. We hope that you find one of these washers worthy of your investment, and it might just be the best decision you'll ever make as far as purchasing a washing machine is concerned.
ESTIMATED TIME DESIGNING AND UPLOADING THIS ARTICLE
ESTIMATED TIME RESEARCHING AND WRITING THIS ARTICLE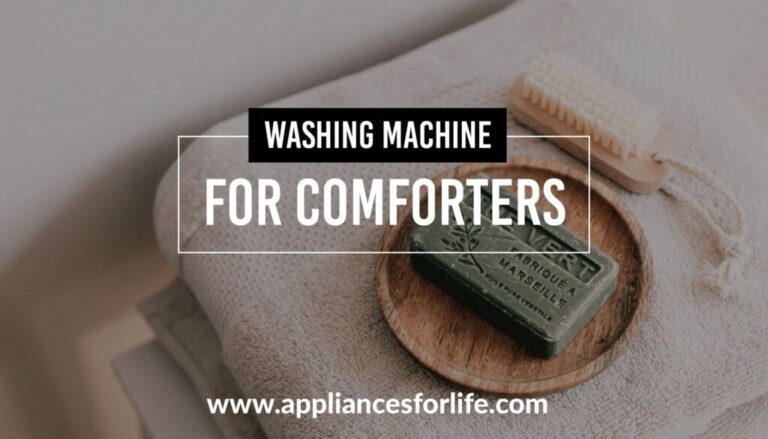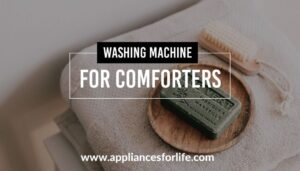 Top 4 Best Washing Machines for Comforters
Domestic washing machines are more robust than most people think. If you're looking for the best washing machines for comforters, we'll be reviewing the best washers for comforters in this article. Top 4 Best Washing Machines For Comforters Comparison Table Since they introduced residential and
Read More »