Frigidaire vs LG Refrigerator Comparison Table
| Image | | | | |
| --- | --- | --- | --- | --- |
| Name | Frigidaire FG4H2272UF 21.8 cu. ft. Counter-depth 4-Door French door refrigerator | LG LMWS27626S Stainless Steel 4-door French door refrigerator | Frigidaire FRSC2333AS 22.3 cu. ft. stainless steel side-by-side refrigerator | LG 26 cu. ft LSXS26396S Smart Refrigerator |
| Manufacturer | Frigidaire | LG | Frigidaire | LG |
| Refrigerator Style | 4-door French door | 4-door French door | Side-by-side | Side-by-side |
| Total Capacity (cu. ft.) | 21.8 | 26.9 | 22.3 | 26.1 |
| Child Lock | No | N/A | No | Yes |
| Special Feature | TwinTech Cooling System | Double Freezer Drawers | PurePour Water Filter | ColdSaver Panel |
| Editor's Rating | ✸✸✸✸✸ | ✸✸✸✸✸ | ✸✸✸✸✸ | ✸✸✸✸✸ |
| | | | | |
One of the many things that have helped the appliance industry, or every other industry there is in the world is healthy competition. As much as many of these companies try to downplay the importance of competition and how it has made them grow, one of the best strategies of each company to give them an edge over the other is to conduct thorough research on some of the best companies in the same industry. Denial is a good thing, as some of these brands are big enough to want to keep a distance from the kind of competition people try to create, which is far from what they understand as the concept of competition in their industry. So, having healthy competition in the industry has helped several top brands attain new heights, thereby making them enjoy massive success with sales.
People compare Frigidaire vs LG refrigerators because these are two of the biggest brands in the United States of America. Topics like "Frigidaire vs LG French door refrigerator", "Frigidaire vs LG bottom freezer refrigerator", "Frigidaire vs LG kitchen appliances", and "LG vs Frigidaire fridge" have all trended for years because of the big structures of both companies in terms of the production of high-end appliances that have made it to almost every household in the U.S. when you put together the number of sales both brands have enjoyed over the years.
With the refrigerator now regarded as one of the most important appliances in the house, which Bellingham Electric thinks may only be replaced once in 8-10 years, you can now imagine why sales have skyrocketed over the years. The refrigerator is a big and significant investment that needs to be thought over properly before making a decision. Knowing that you won't have to replace it in years to come gives you the confidence to go all out, albeit, with enough time and factors to make the right decision. Most people want something easy to use when it's time to purchase a new refrigerator. Brands like LG and Frigidaire are famous for producing some of the best easy-to-use refrigerators in the industry. It is then not a surprise that a topic like "Frigidaire vs LG refrigerator" is heavily trending across the country.
Now that modern households are determined by the number of modern appliances in them, it is only normal that people are heavily investing in modern refrigerators. The popularity of refrigerators in the United States has grown considerably over the years, with almost 100% of homes owning a refrigerator as per the information provided by the government. This claim was made more specific in 2016 by Heather Long of CNN Business who provided information that claimed that as of 2016, 23% of American households had more than 1 fridge. This means that in 2016, you would find two or more refrigerators in one out of 4 households in the United States.
Arne Holst of Statista also published some statistics in 2020 that showed the number of households using at least one refrigerator in the United States in 2015. The numbers, at the time, stood at 118.2 million. This means that 118.2 million units of refrigerators were in use in 2015. Those numbers have risen over the years, with a New York Times article showing that stand-alone freezers were sold out in the spring of 2020 across the United States. All these stats show just how important the refrigerator is and what it means to every household. With these statistics, you can now guess why topics like "Frigidaire vs LG refrigerator" have been very popular nationwide, with many moving to compare which of the two brands produce the refrigerator types they need in their homes.
BRIEF HISTORY OF BOTH BRANDS
Despite both brands being top brands in the country, a lot of people haven't managed to get a hold of tangible information about both brands. LG and Frigidaire are both enjoying massive success from sales of kitchen appliances in the U.S. but quite sadly, some people know little about them, especially Frigidaire, which is not as global as LG, despite being one of the oldest kitchen appliance brands in the world.
Frigidaire
Frigidaire's parent company is Electrolux, which is also a popular appliance manufacturer in the United States. It was founded as Guardian Frigerator Company in 1918 in Fort Wayne, Indiana. The company is credited for producing the first self-contained refrigerator which was invented by Alfred Mellowes and Nathanniel B. Wales. The name was changed from Guardian Frigerator Company to Frigidaire just a year after the founder of General Motors, William C. Durant, invested in the company shortly after it was founded in 1918. The brand enjoyed so much popularity in the early 1900s that most people began calling every refrigerator they found "Frigidaire" not minding the real manufacturer of the refrigerator.
Electric self-contained refrigerator is not the only "first" Frigidaire still takes credit for. Other things including the first home food freezer, 30-inch electric range, room air conditioner, and coordinated colors for home appliances, are other things the brand gets credits for being the first manufacturer to produce. Electrolux purchased the company in 1986 and has since been its parent company after purchasing it from White Sewing Machine Company who bought it in 1979. Frigidaire has since grown to become one of the go-to brands for kitchen and laundry appliances in the U.S. With products ranging from refrigerators to automatic washers, it is no surprise that Frigidaire always makes the list whenever the best appliance manufacturers in the U.S. are being discussed.
LG
LG's role in the global appliance evolution cannot be overemphasized. The South Korean brand is the fourth-largest conglomerate owned by an individual or family in South Korea. This came on the back of reaching global sales of $55.91 billion in 2014, making it one of the most successful brands not just in Asia, but the entire world. LG is famous for knowing just how to integrate tech into its home appliances. LG's range of products includes washers and dryers, refrigerators, air conditioners, microwave ovens, and many more. Back in 2014, the brand found a way to implement the popular messaging service in South Korea, HomeChat, into its smart appliances. This way, users can now control, manage, and communicate. According to a Wikipedia post, washing machines can be controlled by users simply sending a simple message "start washing cycle" over to their machines.
LG has not achieved success because it's LG and people are obliged to purchase its product. It has managed to become one of the most successful brands in the world by producing high-end and quality appliances. Competition has also been a great factor, one of the most important ones. Knowing that there will always be brands that produce similar products in a more sophisticated way has also put the brand on its toes.
WHAT FACTORS DO YOU NEED TO CONSIDER BEFORE BUYING A REFRIGERATOR
Both Frigidaire and LG are top brands that are famous for producing best-in-class refrigerators. There are lots of options whenever you need to go to the market in search of a new refrigerator. The market is so big that there are millions of options, and if you don't nail your search to only a few of them, you may end up purchasing the wrong items. We've helped you put together a list of the things you should be on the lookout for if you're in the market for a new refrigerator so you won't have to make the wrong purchase and lose a lot of money in the process.
Energy efficiency
It is one thing for a refrigerator to be efficient in its operation, it is another thing entirely to be energy efficient. For households that will need more than one refrigerator, it is very important to know that the refrigerator is one of the appliances in the house that uses power the most. Using more than one energy-consuming refrigerator will leave a huge impact on your electricity bill, and you may have to put up with spending more money on power than you ever thought of. Energy efficiency is an important factor that needs to be seriously looked into when you're getting a new refrigerator. Most of the refrigerators in production are energy efficient, and some of them even come with the popular Energy Rating stickers that indicate just how much energy they'll consume over a period. Opting for one of these refrigerators will do you a lot of good, and you may save up to $300 throughout the refrigerator's life span.
Features
This is another important factor to consider when you're buying a new refrigerator. We know that there are certain features you expect your ideal refrigerator to have. We urge you to opt for a refrigerator that has at least 70% of these features because sometimes, you might be limited because of your budget. Have it at the back of your mind that the more the features, the more power the unit will consume. Experts have always advised that you should prioritize the features you want in a refrigerator, and always opt for the ones you feel are most needed in your house.
Other important factors
Budget

Size of your space

Refrigerator type

Size of the refrigerator
FRIGIDAIRE VS LG REFRIGERATOR
When comparisons are drawn between two big appliance brands, it's always to help you make the right choice when it's time to purchase a product that is manufactured by both brands. People have always been stuck between choosing refrigerators produced by Frigidaire and LG. The good thing about competition in the appliance industry is that the consumers always emerge as the winners. These companies are forced to operate at their best, causing them to produce high-end products that consumers will be able to enjoy for years to come. Consumers are always the ones with big choices to make. We thought you could be in the same situations as several other people living with the stress of choosing between a Frigidaire refrigerator or LG fridge. If you're in such a situation, our Frigidaire vs LG refrigerator guide will definitely help you make the best decisions as we'll be reviewing some of the best refrigerators in different categories.
4-Door French Door Refrigerators
With technology being the latest trend in modern refrigerators these days, the refrigerators in production must come with one tech integration or more. Frigidaire FG4H2272UF comes with the latest tech features you can ever think of from  CrispSeal crispers to the brand's TwinTech cooling system. Its SpaceWise organization system is also there to give you easy access to the food you're likely to consume most with different adjustable storage options coming with the refrigerator.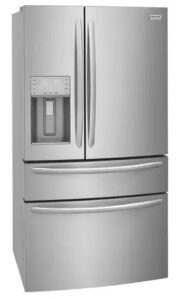 Features
TWINTECH COOLING SYSTEM
The TwinTech cooling system is the latest tech integration in refrigeration that allows both the freezer and refrigerator compartments to operate under different temperature control settings. This helps you keep your food items fresh as one compartment doesn't depend on the temperature of the other compartment.
ENERGY STAR
We earlier discussed the importance of purchasing energy-efficient refrigerators, and that's exactly what this Frigidaire refrigerator offers. It comes with an Energy Star sticker that shows you the amount of energy the refrigerator will consume for a period.
PURE SOURCE ULTRA II WATER AND ICE FILTRATION
In this refrigerator, you have a water filter that will eliminate 99.9% of cysts and 99.3$% of lead from your household water.
When a refrigerator has a whooping 27 cu. ft. of capacity, you should know it's big enough to accommodate your food and lots more. Size is always a big deal, especially for people with large families. If you're in that category, this is one of the many options you should seriously consider. Although known for its large capacity, the refrigerator has lots of other exciting features that will interest you.
Features
MULTI-AIR FLOW SYSTEM
You don't have to worry about your food not getting enough cold air to keep everything fresh for longer. The multi-air flow system has digital sensors that effortlessly keep track of the conditions within the refrigerator. This way, vents are placed in strategic places in the unit to keep air trapped where it's most needed.
DOUBLE FREEZER DRAWERS
This is one of the biggest advantages of four-door French door refrigerators because they always come with 2 freezer drawers that accompany the two refrigerator doors up to. With these two drawers, you have the chance to keep your food items more organized as there's enough storage space for them.
Side-by-side Refrigerators
Not everyone is a fan of big refrigerators with large capacities. Some people prefer refrigerators that have compact designs and are small enough to fit into their spaces. Those who love compact side-by-side designs can always opt for the fairly-priced refrigerator with its almost-5-star rating on different e-commerce platforms across the country.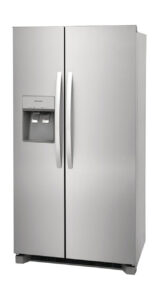 Features
COUNTER-DEPTH DESIGN
The counter-depth design of this side-by-side refrigerator gives your kitchen a different look, especially when you're placing it right in front of your cabinet. This makes it look like a built-in refrigerator, something everybody wants in a modern home.
LED LIGHTING
You don't have to struggle to find your food at night or any time of the day. The refrigerator comes with LED lighting that lights up the whole compartment as soon as the refrigerator and freezer doors are wide open.
Smart refrigerators are popular for many good reasons. Their ability to connect with other smart appliances, how they make life convenient for people who use them; there's just a lot to love about them. This LG smart refrigerator offers the same convenience, and of course, because it's LG, it also comes with the popular InstaView feature. This energy-saving feature gives you a clear view of the interior of the refrigerator without having to open its doors.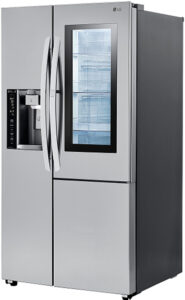 Features
ADJUSTABLE BINS
This LG refrigerator comes with adjustable bins that make storing snacks and drinks very easy for you. You can easily glide the bins up and down to fit your food items, and that's one of the things people love most about this refrigerator.
SLIM SPACEPLUS ICE SYSTEM
The refrigerator's Slim SpacePlus ice system creates more room for other things to be stored because it's so slim that it's almost not taking any space in the refrigerator door. With this feature, you'll have more room to store other things. The numerous storage options provided by this refrigerator are one of the many things people love about it, and that's exactly why we've reviewed it in this article.
Frequently Asked Questions
1. Are LG refrigerators reliable?
Absolutely! LG refrigerators are considered some of the most reliable refrigerators in the U.S. appliance market.
2. How long do LG refrigerators last?
It's hard to specifically tell how long an LG refrigerator would last because its lifespan depends on a lot of factors. However, Consumer Affairs thinks that LG refrigerators usually have a 20-year lifespan.
Final thoughts
Frigidaire and LG are big brands, and both of them have enjoyed massive success by producing industry-leading appliances over the years. This comparison has just served as a simple guide to help you make an easy decision when it's time to purchase a new refrigerator that will serve you for a long time. The products we've reviewed in this article are great options according to the reviews we were able to gather online. Investing in one of them means that you're thinking of the long-term, which is what every person has in mind when purchasing a new refrigerator.
ESTIMATED TIME DESIGNING AND UPLOADING THIS ARTICLE
ESTIMATED TIME RESEARCHING AND WRITING THIS ARTICLE