That Pesky Question
It's the middle of the summer when your air conditioner breaks and the search for a new one begins. No sooner are you online browsing before the same question hits every time: what size air conditioner do I need? This question is absolutely crucial to anyone looking to purchase a new air conditioner for their home. If you have a house that is small and quaint then you wouldn't want a large air conditioner that is heavy to carry and hard to install. Establishing a budget early on and sticking to it is the best strategy to avoid buyers remorse.
Take a look at some of these top rated air conditioners at various sizes
Comparison Table of the Best Air Conditioners
| Image | | | | |
| --- | --- | --- | --- | --- |
| Name | Frigidaire FHWW103WB1 Smart Window Air Conditioner | GE AHY08LZ Smart Window Air Conditioner | LG LW2516ER Air Conditioner | Frigidaire FFRE083ZA1 Window Air Conditoner |
| Manufacturer | Frigidaire | General Electrics | LG | Frigidaire |
| Product Dimensions | 25.4 x 23.6 x 17.8 inches | 18.6 x 15.3 x 12.6 inches | 28.1 x 26 x 17.68 inches | 18.6 x 15.7 x 12.8 inches |
| Weight | 117 pounds | 54 pounds | 136 pounds | 53 pounds |
| Special Feature | Alexa and Google Assistant Compatibility | WiFi Connectivity | Energy Saving Mode | Sleep Mode |
| | | | | |
QUALITY AIR CONDITIONERS
Frigidaire FHWW103WB1 Smart Window Air Conditioner with 10000 Cooling BTU
Frigidaire FHWW103WB1 is a smart window air conditioner with a great way to cool your room with special features like WiFi connectivity. This feature lets you easily control the unit from your phone via the Frigidaire app. The unit also features multi-direction airflow, automatic restart, a washable air filter, and many more. It's a normal size AC unit that provides maximum comfort. Also, if you're big on the air conditioner size, this is an ideal option to consider – it's the perfect size for any living room. Let's discuss some of the features below;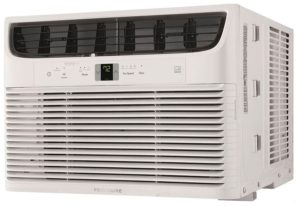 FEATURES
WASHABLE FILTER
The AC system features a washable filter that helps capture the dust from the air and protects the dehumidifier to keep working at the highest level. The filter is also easy to clean, so you don't have to worry about dust getting stuck in it.
WIFI CONNECTIVITY
In the modern age, hardly will you see a device that is not tech-oriented, and each day sees, new innovations coming into our lives to make them better. This Frigidaire unit features Wi-Fi connectivity that lets you control your unit from your phone. Be it temperature change, turning on or off, this feature gives you that access, and you can also control the modes, create custom schedules, and adjust the fan speeds to best fit what you want.
COMPATIBLE WITH ALEXA AND GOOGLE ASSISTANT
Everybody wants a device they can conveniently use, and that's what this Frigidaire air conditioner offers. You can control your unit with a simple voice command using Amazon Alexa or Google Assistant.
OTHER FEATURES
Multi-direction airflow
Automatic restart
Clean filter alert
Fresh air vent
Dimming digital display
GE AHY08LZ Smart Window Air Conditioner With 8000 Cooling BTU and 3 Cooling Speed
When a cooling unit has a cooling capacity of 8000 BTUH, then maybe its ability shouldn't be doubted, especially when the brand is GE. There's a reason why so many people trust General Electric, and the brand has undoubtedly been one of the leading electronics brands in the market today. The AC unit with 3 fan speeds is also packed with 115 volts, 11.4 CEER, and fixed chassis in white color.
FEATURES
ENERGY SAVER MODE
There'll always be a time when the room is cool enough and everywhere starts to feel cool. When this happens, the HVAC system, with the help of the energy saver mode, senses this and temporarily shuts down the fan and compressor. This way, you're not always saving power but also money.
PROGRAMMABLE 24-HOUR ON/OFF TIMER
Considering utility bills, you might not always want your unit to be on because it'll consume more power. In mind, a programmable timer has been integrated into this unit to ensure that you set the unit to operate based on your scheduling.
REMOTE CONTROL
You can control the outdoor unit from just across the room with the remote control in your hand.
OTHER FEATURES
WiFi connectivity
Filter reminder light
3 fan speeds
Power interruption restart
LG LW2516ER with 24500 Cooling BTU, 1560sq. ft. Cooling Area and Remote Controller
This unit is, without doubt, the most powerful unit on this list, with a cooling capacity of 24500 BTU, and it is not a coincidence that LG is the manufacturer. Over the years, LG has gained fame for producing products needed in our day-to-day activities, which explains why the brand is one of the most successful electronics brands. LG LW2516ER has wonderful features like Power Failure Auto Restart, 4-Way Air Direction, Auto Cool, and many more.
FEATURES
4-WAY AIR DIRECTION
Air is moved around your room by a little deflection adjustment. Air is directly to where it is needed the most; up, down, left, and right, filling the room with the coolness you desire.
ELECTRONIC TOUCH CONTROLS WITH REMOTE
With just a touch of a button, you can set the tone for your unit, control the temperature, and switch modes. It gives you some sort of joy when you know that operating your unit comes with extra convenience.
POWER FAILURE AUTO RESTART
Power sometimes cannot be trusted; when this happens, electronic appliances that are not strong might never function properly again unless fixed. However, this unit has an auto restart function such that when there's a power failure, it automatically restarts and begins functioning properly again.
OTHER FEATURES
Remote control
24 hours on/off timer
3 cooling speeds with auto cool
Consumes less energy
Frigidaire FFRE083ZA1 Window Air Conditioner with 8000 Cooling BTU, 3 Cooling Speed, and Remote Controller
Frigidaire FFRE083ZA1 is a window-mounted air conditioning unit with a cooling capacity of 8000 BTU (the least powerful on this list), and it comes with 3 fan speeds, a programmable timer, air swing, auto restart, remote control, and a fixed chassis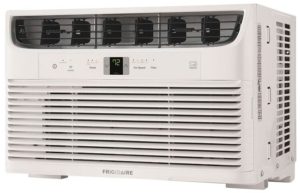 FEATURES
MULTI-SPEED FAN
This Frigidaire air conditioner comes with three different fan speeds, all of which enhance cooling flexibility and ensure that your room is properly circulated with air.
SLEEP MODE
This sleep mode leaves you in control of your unit without input. When the unit senses that the room is filled with enough air, it gradually increases the temperature so that the room doesn't get too cold.
OTHER FEATURES
Effortless clean filter
Programmable 24-hour on/off timer
Power cord
Clean filter alert
Effortless temperature control
SpaceWise adjustable design optional side panels
There are several things to consider when thinking about buying an air conditioner, such as:
Budget
Size
Location/placement in your home
What does a professional say?
How will it affect my energy bill?
With all of these factors influencing your decision, answering those questions should help you estimate what size unit is right for your home.
Don't Go Too Big For Your Home
According to Angie Hicks of Angie's List, an oversized air conditioner can most likely experience short cycling periods. This means that the air conditioner will run long enough to cool the home but is extremely inefficient at removing the humidity from the air.
An oversized air conditioner is prone to shut spontaneously on and off, which is a nightmare for energy efficiency and your wallet. Making sure your unit is doing only the necessary amount of work, and not more, will save tremendous amounts of money on energy bills. To get the right size of air conditioner, you should calculate the width of the room, or generally the size of your home, in case you're getting for more than one room.
Don't Go Too Small Either
According to ASM Air, even purchasing an air conditioner that's too small will run all day constantly and never properly cool your home. This can also lead to the unit malfunctioning early and spending more to replace the unit. If you are not clear on anything, you can contact HVAC technicians to have your questions answered so you can avoid making costly mistakes when it's time to buy the ideal air conditioner for your home. There are different types of systems – you just need to identify the type you need in your home; larger system or smaller system.
What Size Air Conditioner Do I Need? I Want Numbers!
For those of you who want exact specifications to make absolutely sure that you're getting the right size unit for your home, ASM Air also has the formula to calculate what size you need:
House square footage times 25, divided by 12,000 – 0.5 = required tons.
They also have another way to see what size you need because they have a chart for consumers.
This is a great option for window air conditioners if you only want to cool a single room in the house and don't want to spend money on a central air conditioning unit. According to Lowe's, the same size concept also matters with window air conditioners and a central air conditioner. It's important to get the right size air conditioner.
An air conditioner unit that is too small won't cool your room efficiently, and if it is too large, the air will cool slightly but continue to feel sticky and damp.
The Numbers
These are the different sizes based on square footage:
150 to 350 sq ft: look for a 5,000- to 8,000-BTU unit
350 to 550 sq ft: look for an 8,000- to 12,000-BTU unit
550 to 1,050 sq ft: look for a 12,000- to 18,500-BTU unit
1,050 to 1,600 sq ft: look for an 18,500- to 25,000-BTU unit
Window Units
Specifically, with window air conditioners, there are also some points to consider before purchasing:
Have help when installing a window air conditioner because they are heavy.
Installing a window air conditioner in a window that won't get direct sunlight is better.
Always ensure an adequate power outlet beside the window you want to install the air conditioner in.
Also, ensure it is installed properly so it won't collect water and freeze up.
According to Allison Bailes of Energy Vanguard Blog, the label tells you the model number and the serial number, and this is what you can go by once you figure out how many tons your air conditioning unit needs to be. Bailes also had examples of how you can go by the model number to find the number of tons:
Other Sizing Factors
Another important factor in determining how big your air conditioning unit needs to be is British Thermal Units (BTU). These units tell you how much heat it will take to elevate the temperature of one pound of water by one degree Fahrenheit, according to Mary Mattoon of AltEnergyMag.com. The number of BTUs needed to cool your house depends on the amount of square footage you have in the home.
Professional Help
For people who want air conditioning units but don't want to do the calculations themselves, George Brazil HVAC states that you need a professional air conditioning technician to do a Manual J Heat Load Calculation. This calculation takes these factors into account:
Square footage
Layout (multiple levels, basement, etc.)
Number of windows
How shaded your roof, walls, and home are
Where you have vaulted ceilings (if you do)
The quality of your home's insulation
If your air ducts are sealed and insulated
FREQUENTLY ASKED QUESTIONS
1. What makes my air conditioner freeze up?
There are so many reasons why air conditioners freeze up and what we can tell you is that you shouldn't take chances with them. Once you notice this bizarre change, quickly contact a professional technician to help you look into it and get it fixed because only they have the right tools to fix problems.
2. What should I do to ensure that my air conditioner lasts long?
Ensuring that your unit lasts long requires no rocket-science method, except for the basics: changing your air filters when due, regular checkups, and not leaving your unit to operate for a very long time. Additionally, do not hesitate to contact a professional technician for inspection if you notice anything wrong with it.
Cool Down
Using all the methods provided here will help you pinpoint exactly what size air conditioner is best for your home. Remember, having a too big or small unit could cost you a fortune in the long run. Happy savings!
There are numerous similarities between a wall air conditioner and a window air conditioner, but the main intention of the former is not to place it on a window. Wall air conditioners are placed directly within the wall of the building. Well, if you already
Air conditioning units have always been an important part of every home from the point it was invented. People's acceptance of the unit is born out of how much they (people) can benefit from it. The house can survive without many things and the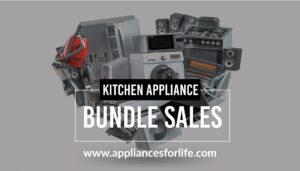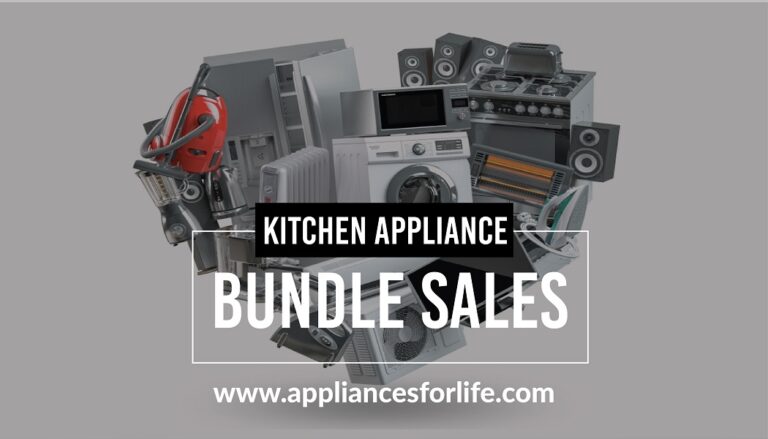 Kitchen Appliance Bundle Sales To Fit Your Home
Starting Out Kitchen appliance bundle sales are a great way to get everything (or almost everything) you need for your kitchen. However, a lot of new homeowners don't know how to shop for major appliances, when to buy major appliances, how to shop smart, and
Read More »