Ever since the first residential washing machine was introduced in the '30s, many appliance manufacturers have taken advantage of it to rake in billions of dollars as the washing machine market itself is now one of the most valuable appliance markets as of today. As a result, the washer is now considered a necessity as people don't view it as a luxury that can only be owned by the elites, hence, why it's now one of the most important household appliances, not just in the United States, but the rest of the world. There are only a few households in the United States without a washing machine as claimed by the United States Census Bureau.
One common mistake among washing machine users, when they're purchasing a new one, is that they usually don't take their time to consider the most important things, like how a washing machine functions. This is why they often end up with the wrong product or a washer they don't know almost anything about. The agitator vs. impeller washers debate is something you should try to resolve in your mind before hitting the market for a new top-loading washer, although you may be affected by personal preference.
A top-loading machine comes with either an agitator or an impeller, and people need to know how both components function before they decide on which component they need in their washer. According to an article on Top Ten Reviews, the topic of washing machine agitator vs. impeller is the basis on which many people build their buying decisions, and that's how important knowledge of the difference between agitator and impeller is. Knowing how a washer with or without an agitator works will help shape the way you do your laundry when you eventually settle on what you think is the ideal washer for your laundry.
When you eventually decide to choose between a top-loading washing machine with an agitator or an impeller, you should also consider some factors before making the final decision to opt for the washer. Some of these factors include cost-effectiveness, washing power, energy efficiency, size, and many more. This means you need to conduct an extensive survey of your laundry options before you decide to opt for a washer because it's what you have to stick with for at least the next half a decade.
The agitator washer vs. non-agitator debate will be around for as long as washing machine manufacturers continue to include them in their washing machines. Because washers with agitators have been around for a while, they seem to have the bragging rights over the top-loading washers that have impellers. If you grew up on washing machines with agitators, you may not want to break free from them because you're already used to how they work, so purchasing a washer with an impeller may not be an easy decision after all.
Many people often make the mistake of going on the market to purchase washing machines without trying to know how they work or the mechanisms that keep them together. You will argue it's not yours to know, but if there's no better way to protect your investment than getting so familiar with the machine you're putting your money on. We're not surprised that people are usually stuck between a top-load washing machine with an agitator vs. without. Experts have advised you to select carefully and get familiar with these different working mechanisms so you can decide on the best washing machine that suits your needs and lifestyle.
An agitator-type washing machine looks just like one of those traditional machines we bet you must have seen before. According to a post by Don Harris on Clean4Happy, the main difference between agitator and impeller washers is what they both look like. Conventional washing machines usually use tall spindles that are either finned or vaned to operate properly, and that's the kind of operation you'll get if you invest in a top-loading washing machine with an agitator.
What Should You Consider Before Getting A Washer?
The washing machine is one of the biggest appliance markets with numerous options which can make choosing very difficult for you as you won't know what to choose if you don't already have a clear idea of what you're looking for. Because it's very easy to go on the market and purchase a washer you won't enjoy, we always try to bring our readers to consider some factors before committing to purchasing a washer they will spend at least $200 on. You don't have to be a victim of your own mistakes by not putting all the important factors into consideration.
Purchasing a washing machine with or without an agitator should be something you decide on after finding answers to all the questions surrounding purchasing an ideal washer for your laundry room. Some of these factors may not seem significant at first, but when you take a good look at them, you'll realize they will help you choose the washer that best suits your need. Without further ado, below are some of the important factors to consider before purchasing a washing machine.
Cost
If we're all going to be honest, this is by far the most important factor to consider when purchasing anything at all, appliances or not. It's not a crime to be on a budget when looking to purchase an appliance – it only shows you're aware of your financial situation and you won't make any mistake that will put your finances in jeopardy. We're not surprised that this is a good reason for people to look to budget-friendly washers some of which are below $400 or even $1000.
If you go into the market with a clear idea of how much you're willing to spend, you will always get things right by not spending out of your budget, leaving you with enough money to take care of other commitments. However, if you're not on a budget and you can spend as much as you want on your ideal washer, you can always go for the product of your choice. The most important thing is to consider your budget and check the best washing machine you can get within that price range.
Efficiency
Purchasing a washing machine that won't do its job efficiently is like purchasing a washer when you know it won't even serve its purpose. A washing machine with an agitator cleans very efficiently and so does the one with an impeller. You need to consider which one you think works most efficiently for you and put your money right on it.
Although if you're on a budget, you may be forced to purchase a washer that is not as efficient as most high-end washers. If you're buying a washer below $400, you should not expect it to be as efficient as the one that costs over $1000, and that's how the washing machine industry is. Efficiency is another important factor you should consider and it includes knowing which component (agitator or impeller) you need in your top-loading washer to get your desired results.
Other Factors To Consider When Purchasing A Washer
Some of the other factors you need to consider before purchasing a new washing machine include;
Wash cycles

Spin cycles

Size

Drum material

Washing machine type (top-loading or front-loading)

Operation type (semi-automatic or fully-automatic)

Wash settings

Load capacity

Quietness

Portability

Unique features

Installation difficulty

Energy efficiency

Washing performance
What is an Agitator Washer?
What does an agitator do in a washing machine? That's a very interesting question to ask and we bet you'll find a satisfying answer as we talk about it more in this article. If you're familiar with traditional washers, then you should know how agitator washing machines operate because they've been around for a very long time. These washers use a spindle which is located at the center of the washer to agitate clothes, twisting them back and forth, clockwise and anti-clockwise, giving your laundry a fantastic clean in the process. What the agitator does to your clothes is that it submerges them completely in the water while they're being cleaned.
What you can expect from a washer with an agitator is that it will effectively rub your clothes to break down any stains or soil in the clothes, leaving you with clean laundry at the end of the day. An agitator washing machine also reuses the water from the wash/rinse cycle to help soak garments so they can be efficiently cleaned when it's time. All these reasons are why most people prefer agitator washing machines.
Pros
Familiar Design
Anyone that is familiar with how a traditional washer works will surely have an idea of how a washing machine with an agitator operates. If you grew up on a traditional top-loading washing machine with an agitator, you may find it very difficult to get used to a washer with an impeller because you're already familiar with how agitator washing machines work. The familiar functionality of a top-loading washer with an agitator is one of the many reasons people don't mind spending a lot of money on them.
Removes Dirt Quickly
A lot of people spend a chunk of their money on an agitator washing machine because it can get the dirt out of their clothes very quickly. The movement of the agitator in a top-loading machine makes your laundry very clean. It also brings the effect of handwashing to an automatic level, so if you would love to have your clothes look like they were washed manually, you most likely need an agitator washing machine because that's exactly what it does.
Shorter Wash Times
Another benefit that comes with using an agitator washer is that it gets your clothes ready faster than an impeller washer. An agitator washer uses more water to try and clean very efficiently, and this means that the washer has shorter wash and spin times because of the effect of the agitator. You'll even enjoy it more if you invest in a large-capacity agitator washing machine because you can now get more clothes cleaned in a short period.
Cons
Faster Wear and Tear
The biggest con with an agitator washing machine is that it puts your clothes at risk of wearing and tearing very fast due to its aggressive operation. Agitator washers can be very brutal to clothes, so if you're purchasing one and you plan to use it very frequently, you should be prepared to spare a few bucks for new clothes in a few months' time. This can discourage a lot of people from purchasing a top-loading washing machine with an agitator because they don't want to replace torn and worn clothes every few months.
It Uses More Water
If you have a laundry where access to water is not a difficult thing, you can use your agitator washer all you want as long as it ticks the other boxes for you. However, if you are big on water usage and you always like to minimize water wastage in your space, you may have to reconsider getting an agitator washer because the component uses a lot of water to clean clothes. This is another big con that turns people off when a washer comes with an agitator.
Where is the Agitator on a Washing Machine?
Being one of the most important components of a top-loading washing machine, you'll expect the washer to take the center stage, and that's exactly where it is. According to a post on The Spruce, this component can be found in the center of the washing machine drum, and, of course, its job is to move clothes around in the water-filled drum. Knowing where the agitator is located in your washing machine will make it very easy for you to remove. You can check out the step-by-step process out here.
What is an Impeller Washer?
Choosing between an impeller washer and an agitator washer is more of a personal preference than logic, but we wish people could use the latter more to help make the best decision when it's time to purchase a top-loading washing machine. One of the things you'll love about impeller washer machines is that they use only a small amount of water to optimize the friction of clothes against each other. This way, you can be sure of gentle yet thorough and efficient cleaning.
How does an impeller work? Washing machines with impellers usually have a cone at the bottom that helps create turbulent currents in the water-filled washer tub. The impeller rotates gently and the motion created by the rotation makes the clothes rub against each other, removing stains and soils in the process. Unlike an agitator, the impeller doesn't make direct physical contact with your clothes.
Pros
Loved By Many
We know people love agitator washing machines because they've been around for a while, but when impellers were first introduced, it commanded a lot of attention that some agitator models were overlooked because people preferred impeller washers. It took a while before agitator washers started returning to the market to claim their spot as the most popular top-loading machines. Agitator washers may be around for much longer than impellers, but they also have a special place in people's hearts.
Impellers Don't Damage Clothes
One big advantage impeller washing machines have over agitator washing machines is that you can use them for as long as you want without the fear of your clothes getting worn or torn. Impellers move in gentle motions and they don't have any direct physical contact with your clothes, so you don't have to worry about your clothes getting damaged.
Cons
Not As Powerful As Agitator Washers
As popular as impellers are, they're not as powerful as agitator washing machines, and that's enough reason for some people to opt for the latter. If you deal with stubborn stains a lot, you might have to think twice before putting your money on an impeller washing machine because it is not built to combat tough stains, unlike an agitator that adopts aggressive operation to get rid of tough stains.
Frequently Asked Questions
1. Are agitator washers better?
We believe no matter how heated the debate of agitator vs. impeller gets, the decision is still always down to people's preference. We've highlighted the pros and cons of each component, and what an impeller lacks in power, makes up for it in water management.
2. Can I add an agitator to my washing machine?
If your washing machine is not designed to work with an agitator, there's no way you can add an agitator to it. However, if the agitator in it is damaged, you can easily get a replacement.
Conclusion
It's not always easy when you have to choose between two quality appliances, especially when both offer the features you need and are within the same price range. Getting stuck between an agitator or an impeller is never an easy thing because both components offer fantastic performance, although one may outshine the other in some categories. If you've been looking for the differences between an agitator and an impeller, we've highlighted what both components do as well as their pros and cons in this article. It doesn't matter which one you choose, we hope you make the right choice by getting the washer that will make your laundry more convenient.
ESTIMATED TIME DESIGNING AND UPLOADING THIS ARTICLE
ESTIMATED TIME RESEARCHING AND WRITING THIS ARTICLE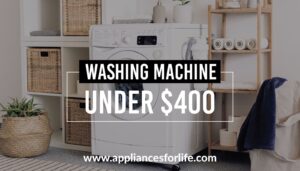 Top 5 Best Washing Machines Under $400
There are many underrated appliances today, but the washing machine has never been one. In this article, we will be reviewing some of the best washing machines under $400. As an Amazon Associate we earn from qualifying purchases. We may earn a small commission for
Read More »