About Frigidaire
The Frigidaire company is a famous brand in the home appliances world; there is no doubt that it is one of the best brands for kitchen appliance– about 7 out of 10 homes use Frigidaire. This brand has risen to fame through its many success stories. Frigidaire is indeed a force to reckon with in the refrigerator business. Its great reputation is also set in stone in the 'dishwasher world.' These appliances are only a few of the beautiful works of this great home appliances brand.
The Frigidaire group was established in 1918 after the acquisition of the Guardian Frigerator Company by General Motors. In a bid to mark the inception of new things in this company, its name was changed to Frigidaire, as the acquisition took effect. Frigidaire subsequently emerged as one of the largest manufacturers of refrigerators shortly after. Frigidaire's first product was its own take on the electric refrigerator, invented in 1913.  In that era of home appliance use, this product was regarded as a state of the art design. However, owing to the ever-advancing pace of technological innovations, the founders of this company soon realized not so long after that the product needed a lot of improvements if they were going to remain in the refrigerator market. 
There was a need to advance from just producing a simple electric cooling box to a clean stainless steel gadget. First in the progression of this necessary improvement was the introduction of metal linings made of hydro lines in 1921. It was indeed an improvement because it had better insulation and more refrigeration. Later in 1924, Frigidaire did one even better when they added more cubbies to their appliances- now, there are ice cream cabinets and even drawers in their refrigerators. 
In 1926, their fridge designs had improved significantly and changed to the familiar all-steel style they are now known for. Later in 1929, the company reached a huge milestone when it sold more than a million fridges. This was indeed an indication of how much a company can grow under the right circumstances. In 1937, new fridges began including fancier components, such as ice dispensers and humidified drawers. Ever since this time, they have produced even better refrigerators.
Electrolux's CEO is Jonas Samuelson, the parent company of Frigidaire. The subsidiary's products are produced in factories all around the world. Needless to say, the company is very good at making home appliances with over 100 years of experience. 
According to HonestBrandReviews, here are some of the highlights of the features of the Frigidaire brand.
Wide selection of products

Great price point 

Great product reviews 

Products sold at popular retailers 

Dedicated rebate page 

Downloadable product manuals

Some smart home compatibility 

Dedicated to ethical sourcing and labor 

Sells products in 17 different countries 

Energy Star certified on certain products
Frigidaire Dishwasher Review
Gone are those days when dishwashers were considered irrelevant in the kitchen. A set of kitchen users thought they could just get around doing their dishes by hand-washing. Indeed they thought this was even a more effective method. On the other hand, other categories of kitchen users thought dishes could never be clean and completely sanitized without dishwashers. Indeed, a dishwasher does not only get debris and food particles off of your dishes, but it also ensures that those dishes are kept completely sanitized for your use. More importantly, there is no doubt that dishwashers save a lot of time and stress.
A dishwasher is one of the stunning creations of the Frigidaire company. Frigidaire looks to keep costs under control by providing top quality and affordable dishwashers. Frigidaire dishwashers will get your glasses and pan clean and sparkling.  Because Frigidaire produces exquisite dishwashers, it is possible for anyone to a loss while they browse through the store for a Frigidaire dishwasher
Pros of a Frigidaire Dishwasher
Uniform Look in the Kitchen: Getting a Frigidaire dishwasher when you already have a number of other Frigidaire appliances creates a form of uniform look for your kitchen. This is so because Frigidaire appliances all look almost the same. Therefore,  If you're buying a full suite of Frigidaire appliances, it makes sense to include a matching Frigidaire dishwasher to give your kitchen a cohesive look. Besides, manufacturers pack additional savings for kitchen suite purchases.
When You are on a Tight Budget: Frigidaire dishwashers are budget-friendly. Consider a Frigidaire dishwasher if you want to save money, don't plan to stay in your current home forever, or don't do a ton of cooking or washing up. Based on our customer experience, you can expect a good Frigidaire dishwasher to last six or seven years with typical use.
When you need a small dishwasher: If you're looking for a winner among the 18-inch small dishwashers out there, Frigidaire makes one that is nice looking, if slightly loud. It's a contender if you need an appliance for a small space or secondary entertaining area.
Cons of Frigidaire Dishwashers
They are not as quiet: It is safe to say that Frigidaire does not make dishwashers that boldly compete with other brands when it comes to quietness. Its most silent model is still 47 dB, while the market leaders are well under 44 dB. This means that you will hear your dishwasher when it's running. The Frigidaire dishwashers with a rating above 50 dB are especially noticeable and may not be right for those who want to avoid background noise.
Not Wifi enabled: Frigidaire dishwashers do not have a wifi connection. None of Frigidaire's dishwashers have Wi-Fi connectivity or any of the features that come with it, like an app to alert you when the cycle has finished.
This Frigidaire is a built-in type with digital control. Its wash cycle list included; PowerPlus (Heavy Wash), Normal Wash, Quick Wash (34-Min.), Favorite, China Crystal, Rinse Only, Energy Saver Plus, and Top Rack. It measures approximately 35 inches in height, 24 inches in width, and 25 inches in depth.
One of the greatest features of this dishwasher is that it dries better than almost every other dishwasher. It even dries better and faster when it is on MaxBoost Dry. It also effectively cleans dishes of all sizes; its adjustable racks enable it to accommodate large size dishes. This adjustable rack allows you to adjust your top rack with ease. Quickly raise your rack to fit dishes and kitchen tools of all shapes and sizes. 
The Frigidaire Gallery FGIP2468UF can automatically adjust cycles using its DishSense technology.  It adjusts cycles based on how much cleaning your dishes need for an effective clean. Finally, if you are looking for a dishwasher that provides ultimate sanitation for your dishes, this is your guy. This dishwasher is certified by the National Sanitation Foundation as it removes 99.9% of common household bacteria. 
Frigidaire Refrigerator Review
Whether you are looking to get an upgrade in the refrigerator department or you are looking to replace a faulty refrigerator, Frigidaire has lined up a wide variety of options that merge affordability with excellent performance. If you are also looking for Frigidaire silver mist appliances with a straightforward design and guaranteed durability, along with consistent, high quality food preservation, a Frigidaier refrigerator is your ultimate confidant. 
It is crucial to know that Frigidaire refrigerators come in a variety of sizes and styles, including counter-depth, French door, top freezer, and our favorite, the column fridge/freezer model. They also offer a wide variety of modern, high-tech features, from humidity-controlled crisper drawers to smudge proof stainless steel. Some Frigidaire refrigerators even have wheels for proper balancing and mobility.
This Frigidaire Top Freezer has a complete exterior steel finish, and it measures approximately 69 inches in height, 30 inches in width and it is 34.13 inches deep. Its key features include;
Humidity-Controlled Crispers: The Frigidaire FRTD2021AS Stainless Steel Top Freezer is a perfect fit for you if you are trying to keep your produce fresh and crispy for a long time. The Humidity-Controlled Crispers technology works effectively to keep this Frigidaire refrigerator in a cool and cozy temperature for a very long time thus keeping produce fresh for longer, so you waste less and save money with our humidity-controlled crispers.
Same width, more capacity and a reversible door: This top freezer refrigerator has a width of 20 cu. feet, yet, it fits the same space as an 18 cubic feet top freezer refrigerator and of course, it provides more capacity for the storage of your produce. On the other hand, the door of this refrigerator is reversible, hence, it can be installed to open left or right based on your needs.
The Even Temperature Cooling system: As the title suggests, this feature helps circulate even temperature throughout the freezer of this refrigerator. Perhaps you placed in the refrigerator, warm foods and others extremely hot, the cooling system of this refrigerator will automatically react quickly to this temperature fluctuations and constantly circulate cold air throughout the fresh food and freezer compartments.
Spacious Interior Storage: With a total capacity of 20.45 cubic feet, this Frigidaire top freezer can accommodate a whole lot, at a go. There is just a space designed for everything in this refrigerator and it is the absolute fit for a busy family. This spacious interior also features the following including; a half-width deli drawer, two glass shelves, gallon door bins, full-width wire freezer shelf, and a dairy bin.
Frigidaire Washing Machine Reviews
A washing machine is a home appliance used to wash laundry. The term is mostly applied to machines that use water as opposed to dry cleaning (which uses alternative cleaning fluids and is performed by specialist businesses) or ultrasonic cleaners. 
You may have seen documentaries or movies depicting the Ancient Western world and its Laundering practices. If you have seen any of such clips, you will agree that we have come a long way in our incessant advancement in Home Appliances' technological innovation. Washers certainly do not need to take their laundry to a knee-deep stream, beating their clothes against the rock. Laundering is now so easy that they can't even get in the way of your cherished sleep. The Frigidaire washing machine brand is currently one of the few reputable washing machine brands. Frigidaire has incorporated several modern technologies in their washing machines, making them completely easy to use. Below, is a review of a washing machine that has gained a reputation for ultimate efficiency, in the market.
This Frigidaire product is a hybrid of a washer and a dryer. The washer capacity is about 3.9 cubic feet, measuring 76 inches in height, 27 inches in Width and it is 31.5 inches deep. It spins at a maximum speed of 850 RPM.  On the other  hand, the dryer measures approximately 5.5 cubic feet in capacity. This washer has an aesthetic design and a beautiful white finish. It guarantees an outstanding cleaning performance as the movement of the agitator in the washer ensures your clothes come out clean.
Its incredibly large laundry center washer capacity allows you to do a large set at once. You can fit more in every load with 3.9 cu. ft. washer capacity. In order to further save your precious time, this washing machine is equipped with a quick wash and dry cycle which gets a load done faster with quick wash and quick dry, hence saving you a lot of time.
This washing machine affords you a plethora of washing and drying cycles to explore- It has at least 10 different wash cycles to meet all of your washing needs such as delicate, activewear, bulky and colors. On the other hand, it has 6 different dry cycles to meet all your drying needs such as delicate, Activewear, Bulky and Air Fluff
FAQs
How Do I Fix My Frigidaire Washing Machine when it is not draining?
The door lock or switch assembly is the next thing to check if your Frigidaire Washer is not draining normally. The door lock and the switch assembly are responsible for keeping the washer door shut because only then can the washer run its regular spin cycle, and water can not drain from the washer without the spin cycle. Hence, if the door lock fails to work, it could be due to a lack of electrical contact or the door itself is faulty. You should learn more about Frigidaire washing machine troubleshooting to fix some of your washing machine faults by yourself. 
Are Frigidaire silver mist appliances good?
Frigidaire silver mist appliances are beautiful and efficient. However, we obviously know that we can judge the performance of a particular appliance, based on its looks. Whether it is a Frigidaire refrigerator or washing machine that you intend to purchase, you will find it really efficient, as Frigidaire is a reputable brand with more than 100 years of manufacturing experience of excellent home appliances.
ESTIMATED TIME DESIGNING AND UPLOADING THIS ARTICLE
ESTIMATED TIME RESEARCHING AND WRITING THIS ARTICLE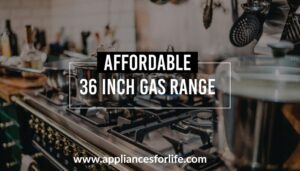 Top 3 Most Affordable 36-inch Gas Ranges
The best gas ranges come at a cost, but on a market filled with so many options, getting your hands on affordable options might not be all that easy. In this article, we're going to be looking at some of the most affordable 36-inch gas
Read More »