Electric Ranges with Air Fryers Review Comparison Table
| Image | | | |
| --- | --- | --- | --- |
| Name | Samsung NE63A6511SS 6.3 Cu. Ft. Fingerprint Resistance Stainless Steel Electric Range | GE JB735SPSS 30-inch Stainless Steel Freestanding Range | LG LREL6323S 6.3 Cu. Ft. Stainless Steel Smart Wi-Fi-enabled Electric Range |
| Brand | Samsung | GE | LG |
| Color | Fingerprint Resistang Stainless Steel | Stainless Steel | Stainless Steel |
| Number of Elements | 5 | 5 | 5 |
| Installation Type | Freestanding | Freestanding | Freestanding |
| Cooktop Control Type | Knobs | Knobs | Knobs |
| Voltage | 240 Volts | 240 Volts | 240 Volts |
| Special Feature | Wi-Fi Connectivity | Self-clean with Steam Clean | ThinQ App |
| Weight | 148 lbs | 151 lbs | 157 lbs |
| Editor's Rating | ✸✸✸✸✸ | ✸✸✸✸✸ | ✸✸✸✸✸ |
| | | | |
Cooking has always been a crucial part of every human's life, and it continues to be so even when it is not practiced at home. You may not be a fan, but it's an art form that must be properly practiced for certain people since it brings them so much satisfaction. What is art if it isn't accompanied by the tools necessary to bring one's visions to life? This is where cooking ranges come into play.
Cooking was a shared activity that drew people together, from the first solo meals that parents provided for their children to the Sunday dinners that families shared to the many family meals that took place at the same time every day. Cooking was sometimes the only time people spent together as families broke up and moved away and as parents worked longer hours. Cooking became a really meaningful and intimate experience as a result. It was frequently the sole opportunity for families to communicate with one another.
Cooking may have taken a back seat a few years ago, but it's starting to take center stage now, which is why cooking ranges are growing more popular on the appliance market. Consumers are looking for cooking equipment that gives them comfort, convenience, and efficiency, and the appliance sector is becoming more cognizant of this. Today's home cooks are looking for simple-to-use appliances that can assist them in creating delectable dishes and dinners with the least amount of bother.
This is one of the reasons why so many people are opting for gas cooking ranges in their homes. For various reasons, gas cooking ranges are a better choice than electric ranges, including improved durability and sturdiness, the ability to utilize heavy cast iron pans and other cookware, and the capacity to sear meats without burning them. They're also a good choice for people who host a lot of parties or live in apartments where an electric range is difficult to come by.
Many people believe that gas ranges are superior to electric ranges, which is debatable. Electric ranges, on the other hand, have gained enough popularity in recent years to compete with other ranges on the market. Many manufacturers are aware of this and have loaded their electric stoves with appealing features that set them apart from their gas counterparts.
Electric ranges are gaining popularity. These versions are quicker to heat up and offer more advanced functions than ordinary models. They're ideal if you're tight on space or want more oven and burner options. Electric ranges typically have larger heating elements and cooking surfaces, making them ideal for larger families or individuals who frequently cook for large crowds. They are also more energy-efficient than ordinary ranges, making them an even more environmentally friendly option.
They have several advantages over standard gas ranges, including the flexibility to program several burners and the availability of ventless units. They are also considerably quieter and have faster boil times than gas stoves. Electric ranges also have several safety measures, such as automatic glass shut-off and cooktop sensors that switch off the cooktop when it is not in use. Electric ranges can often be designed to turn off elements when they are not in use, saving energy and extending the life of the cooktop.
The air fryer is a fantastic way to cook in general, but when you combine it with an electric range, you have a fantastic culinary element at your disposal. The air fryer is similar to a convection oven, but it is far less expensive and healthier for your health. Because the air fryer heats the air rather than the food, you get air frying instead of oven frying.
What is an Air Fryer?
An air fryer is a well-known kitchen appliance used to make fried foods. These are small ovens used for frying meals without using any oil. They come in a range of sizes and shapes, and they can be used to make everything from French fries to chicken wings to potato chips. Fans of healthier eating will be pleased to learn that air fryers are becoming increasingly popular.
One of the healthiest methods to make meals is to use an air fryer. The air fryer cooks your food using hot air, similar to a classic deep fryer, but without the use of heated oil. As a result, you'll be able to prepare your favorite foods in a healthier and more environmentally friendly manner. As a result, you can use less oil while still receiving a delicious flavor. As a result, you can reduce the number of bad fats you consume while maintaining the same fantastic taste.
Because the air fryer uses high heat and little oil to cook the food, you can have all the health benefits of fried food without fat and calories. Air fryers are also one of the greatest ways to cook food at a high temperature without the mess and oil than traditional frying entails. The air fryer will aid in weight loss, improved health, and time savings. Here's how to make nutritious meals with your air fryer.
Many electric ranges now have an air fryer as a standard feature. This is a piece of high-tech equipment that cooks meals with air rather than oil. Because it uses much less oil than standard frying methods, the air fryer is an ideal low-fat choice for your favorite recipes. The air fryer even has a small fan that circulates air throughout the gadget, making it a wonderful option for folks who have food allergies or simply prefer to cook without using oil. You may enjoy your favorite foods without all of the calories, fat, and grease by utilizing an air fryer.
Why Choose an Electric Range?
Purchasing an electric range is a terrific idea, but you should familiarize yourself with the advantages of an electric range before making the purchase. When compared to a gas range, the electric range has a few advantages. An electric range, for example, is substantially quieter than a gas range. If you're attempting to keep the noise level in your kitchen consistent, this is a wonderful option. A gas range also takes up more room than an electric range. If you want to make the most of the space in your kitchen, this is a terrific option.
If you're looking to get an electric range, below are some of the benefits you can expect to enjoy.
It is safer to use
When opposed to gas ranges, one of the things people like best about electric ranges is that they reduce the concern of a fire outbreak. Because electric ranges do not have open flames, there is no risk of a fire igniting. They also contain capabilities like broil and toast that allow you to prepare food in the same way you would on a gas range without the risk of a fire. They're also more energy-efficient than gas ranges, so you'll save money on your power bill.
There's no need to be concerned about a gas leak, a burning odor, or an explosion. Electric ranges are generally believed to be significantly safer than gas ranges.
It is more energy-efficient
Electric ranges are also incredibly energy-efficient, making them an excellent alternative for anyone looking to save money on their utility bills. The disadvantage is that they are typically more expensive to buy than a regular gas range. An electric range, on the other hand, is a terrific alternative if you want to invest in a range that will last for many years, is easy to use, and is incredibly energy efficient. Just make sure to get an Energy Star-rated range, as these are typically more energy-efficient than their conventional equivalents.
Most appliances function at or near the maximum temperature at which they work best, which allows them to run silently and save energy. This makes them an excellent alternative for houses and settings where noise and the heaters they use, such as a dorm room, might be a nuisance. They can also save money on utility bills. The majority of electric ranges are convection, which means they use a fan to heat food rather than direct heat.
It's easier to clean
If there's one thing people like about electric stoves, it's how easy they are to keep clean. Most electric ovens, including this one, include a particular feature that, like a dishwasher, can be used to quickly and thoroughly clean the oven. All you have to do is set the oven to the cleaning temperature, press a button, and the oven will take care of the rest. If you're someone who cooks on a regular basis, this is also a good way to clean your oven. All you have to do now is run the cleaning cycle to bring your oven back to life.
Most models have removable grates, and all you have to do is unplug it and run warm water over the grates and inside the oven to clean them. After that, you'll need to wipe off the outside of the oven using a moist towel. There's no scrubbing required. Just make sure the range is unplugged before cleaning it, or you could be held responsible for any damage it causes.
The Best Electric Ranges with Air Fryers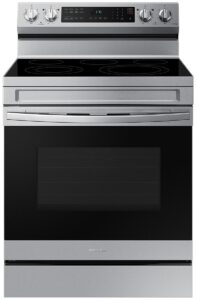 Samsung is known for many things, including producing high-quality electric stoves like this one. The Samsung NE63A6511SS electric range is a high-end model that is designed to complement your kitchen while also performing well. This electric range has five cooking elements for casserole dishes and other cookware, as well as a hidden oven thermostat to guarantee your food is cooked to perfection. Whether you're preparing a modest supper for two or a large family feast for the entire neighborhood, this electric range is up to the task.
Smart Technology
The smart technology in the Samsung NE63A6511SS electric range allows you to manage, change, and monitor the temperature of the heating components from your smartphone. The range has built-in Wi-Fi, allowing you to connect with your smartphone to keep track of things. Using Alexa, Google Assistant, or Samsung's Bixby, you may utilize the built-in voice commands to control the range.
Elevated Stainless Steel Design
Thanks to its stainless steel material, the design of this Samsung electric range will elevate any kitchen. The stainless steel inside and exterior will provide your kitchen with a long-lasting, high-quality aesthetic that will stand out. The finish also makes cleaning a breeze, allowing you to keep your kitchen looking fantastic. The elegant design of the Samsung electric range makes it an excellent complement to any kitchen. This range's stainless steel finish and design will ensure that it lasts for years to come, giving you the greatest cooking experience possible.
5 Cooking Elements
This Samsung electric range has been equipped with five cooking elements, which are more than enough for your cooking needs. All the cooktops feature adjustable medium and large dual-ring burners, which give you total control over the range's temperatures. This is great if you want your foods cooked perfectly, and that's exactly what this Samsung electric range offers.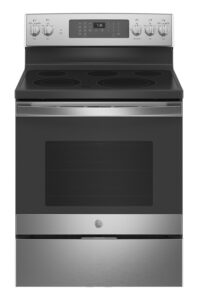 There are just a few stainless steel electric ranges on the market today that are superior to the GE JB735SPSS. The GE JB735SPSS is one of the greatest electric ranges on the market, in our opinion. We enjoy the JB735SPSS's layout and design, as well as how simple it is to operate. It has a clean, modern appearance and is simple to operate. The JB735SPSS has five cooking components and an oven that cleans itself.
This unit is great for individuals with limited space because it is only a few inches taller than the normal range while yet providing the same amount of oven and cooking space. It has a variety of useful features, such as an air fryer, a glass top range, and simple electronic touch controls. This series is also Energy Star certified, which means lower energy bills. It also comes at a reasonable price, making it an excellent choice for individuals on a budget who require a lot of kitchen space.
No Preheat Air Fry
Most electric ranges will require you to preheat the air fryer before you can conveniently air fry your foods, but GE has eliminated the need for that. This GE electric range comes with an air fryer that doesn't require any preheating process, so you can access the air fryer in the range's oven and start making healthy meals for yourself and your family.
Steam Clean
With other ranges, cleaning is always a big deal, especially with the oven. Cleaning is one of the things people consider when purchasing an electric range and they tend to choose the ones that are easier to clean because cleaning is something nobody likes to do. You can clean light soils in the oven with GE's special self-cleaning feature, and that's what makes this GE electric range an ideal choice.
Black Gloss Oven Interior
One of the common mistakes people make is thinking only the outside of their appliances needs to look good. We think otherwise and so do people at General Electric, who think the interior of their ovens has to look as good as their exterior. The clean and sleek oven interior is very attractive and also easy to clean.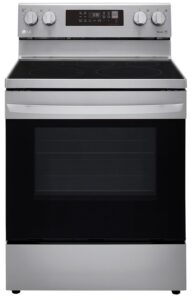 If online reviews are anything to go by, many people like the LG LREL6323S 6.3 Cu. Ft. Stainless Steel Smart Wi-Fi-enabled electric range. It's an excellent alternative for people looking for a large, multifunctional, and energy-efficient electric range. The LREL6323S provides a keep-warm function, numerous power levels, and a timer for oven-baked meals and other cooking needs. The oven has enough space to feed a family of four, and the controls are simple to use. They can be used to bake, broil, roast, and even keep food warm, depending on the temperature settings.
The oven has a lovely stainless steel appearance and heats up quickly. One customer claimed they couldn't tell the difference between this and a professional-grade range. This oven is also Energy Star certified, making it an excellent choice for individuals looking to save money on their energy bills while still getting a high-quality range. It's also an excellent option for large families.
Built-in Air Fryer
If you want a built-in air fryer with your electric range, this is the perfect choice option for you. With an air fryer incorporated into your electric range, there's no limit to how much healthy food you can make and that's what LG has done with this electric range. The only downside is that the air fryer tray has to be purchased separately, which costs some extra bucks, but if you can get it, it'll be one of the best purchase decisions you'll ever make.
ThinQ App
What people love most about LG is how the brand has made it for consumers to interact with their appliances with the ThinQ App. With this app on your smartphone, you can easily control the range and set it to how exactly you want it to function. You will also receive helpful tips on how to best use your electric range. With this app, you can also easily access LG's customer care center.
Frequently Asked Questions
Is an electric range with an air fryer good?
Many years ago, only a few people would have believed a time would come when an air fryer could be featured in a range, but that's the world we live in now. These are two separate appliances now in one form, and it'll always be a great invention.
How good is an electric range with an air fryer?
We know how good it is because people have only had positive comments to give about it over the past few years. To have two appliances merged together will always be a great thing.
Conclusion
Having an electric range in your home is always a good idea. It makes it easier to prepare healthier meals, eliminates the need to replenish the gas oven on a regular basis, and cuts down on time spent in the kitchen. However, if you have the option of installing a gas stove beneath your new kitchen cabinets, you may ask if the extra cost is justified. After all, why install a gas range when electric ranges are available and far less expensive to operate? The answer is simple: convenience.
ESTIMATED TIME DESIGNING AND UPLOADING THIS ARTICLE
ESTIMATED TIME RESEARCHING AND WRITING THIS ARTICLE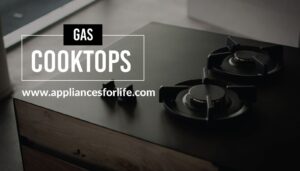 Reliable and Safe Gas Cook Tops
When shopping for any appliance for your kitchen you will realize that those appliances will have a major effect on the way you cook and the outcomes of cooking. It might be an oven, a fridge, a food processor, or even something as simple as
Read More »