48-inch Gas Range Review Comparison Table
| Image | | | | | | | |
| --- | --- | --- | --- | --- | --- | --- | --- |
| Name | Viking VGR5486GSS Professional 5 Series 48-in Stainless Steel Gas Range | Bertazzoni MAST486GGASXE Master Series 48-inch Gas Range | Thermador PRG486WDH 48-inch Stainless Steel Gas Range | JennAir RISE 48-inch Pro-style Gas Range with Griddle | KitchenAid 48-inch Ink Blue Smart Commercial-style Gas Range | BlueStar RCS48SBV2 Culinary Series 48-inch Stainless Steel Gas Range | Monogram ZGP486NDTSS 48-inch Stainless Steel Gas Range |
| Brand | Viking | Bertazzoni | Thermador | JennAir | KitchenAid | BlueStar | Monogram |
| Product Dimension | 47.88 x 35.88 x 28.69 inches | 48 x 35.75 x 27.38 inches | 47.94 x 35.75 x 27.38 inches | 47.88 x 38.75 x 29.81 inches | 47.88 x 36 x 30.25 inches | 47.88 x 36.75 x 28.88 inches | 47.88 x 29.88 x 48 inches |
| Weight | 575 lbs | N/A | 556 lbs | 487 lbs | 487 lbs | N/A | 572 |
| Total Oven Capacity | 6.1 cu. ft. | 7.1 cu. ft. | 7.1 cu. ft. | 6.3 cu. ft. | 6.3 cu. ft. | N/A | 8.9 cu. ft. |
| Color | Stainless Steel | Stainless Steel | Stainless Steel | Stainless Steel | Stainless Steel | Stainless Steel | Stainless Steel |
| Number of Burners | 6 | 6 | 6 | 6 | 6 | 8 | 6 |
| Special Features | VSH Pro-sealed Burner System | 6 Monobloc Aluminum Burners | Wi-Fi Enabled | Dual-stacked Power Burners | Dual Concentric Oven Knobs | Porcelain Enamel Top | Dynamic Oven LCD |
| Editor's Rating | ✸✸✸✸✸ | ✸✸✸✸✸ | ✸✸✸✸✸ | ✸✸✸✸✸ | ✸✸✸✸✸ | ✸✸✸✸✸ | ✸✸✸✸✸ |
| | | | | | | | |
When it comes to spending time in the kitchen, every minute should be worthwhile, and that can only be possible when you have the right kitchen appliances to get you through each cooking process – what are kitchens for after all? With the right appliances, you can make the time spent in your kitchen memorable because, the reality is, nobody likes spending time in the kitchen when they've got a load of other things on their plate to attend to. If you happen to love being in the kitchen, then you must love having the right appliances available to help you get through each process, one of which is an amazing cooking range that is enough to handle heavy meal preparations at any time of the day.
Cooking is an amazing exercise and one that must be done with total care because it can have a direct impact on our wellness as humans, having a big impact on our health as a result. If we don't do it right, the complications are what we're going to have to deal with at the end of the day, and that's why kitchen appliances such as refrigerators, blenders, cooking ranges, food processors, and food mixers have become an integral part of every modern kitchen in a bid to improve a healthier lifestyle. Some of these appliances are sold as packages, making them cheaper and more affordable if they were to be bought individually rather than together.
These kitchen appliances come in different types, and although they serve the same basic purposes, they always do this in different ways. Take the blender for example; some are perfect for making baby foods while some are just perfect for crushing ice among many other things they can do. Likewise, refrigerators come in different sizes and types such as the bottom-freezer refrigerator, French door refrigerator, top-freezer refrigerator, and side-by-side refrigerator, all of which are always available in varieties of sizes so you can find the one that perfectly fits into your space.
If you're looking for the best 46-inch gas ranges to choose from, you have a wide range of options like a 46-inch gas range/stove with a griddle or a 48-inch gas range double oven, all of which have their unique benefits. Whether you're looking for the best 30-inch pro-style gas ranges or the best 36-inch gas ranges within your budget to choose from, what we know is that you'll rarely run out of options in a big market that is as big as the appliance market. The best 48-inch gas ranges are usually mistaken for the most expensive ones because it is natural to think an expensive 48-inch gas range is better than the one that is not as expensive, but that is not always the case. Sometimes, you can get a quality 48-inch commercial range for an affordable price compared to what most 48-inch gas ranges usually cost.
Top 7 Best 48-inch Gas Ranges on the Market
Viking VGR5486GSS Professional 5 Series 48-in Stainless Steel Gas Range
Viking has what it takes to be regarded as a top brand because the brand has never disappointed people with the production of quality appliances, including this Viking 48-inch gas range. Although priced higher than most 48-inch gas ranges in its class, the Viking VGR5486GSS remains one of the best 48-inch gas ranges you can get on the market at the moment with so many features that justify that heavy price tag. With Viking's growing reputation as a high-end brand, we expected a little bit more sophistication with this 48-inch gas range, but it remains a decent gas range regardless.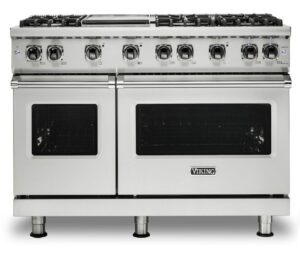 Features
Commercial-type Cooking Power
Viking made a name for itself by producing some of the best commercial-style appliances, including cooking ranges and other appliances, and the brand continues to protect that legacy with the production of this Viking 48-inch gas range. The gas range is packed with a pro-sealed burner system that features the TruPowerPlus 18,500 BTU front right burner and 15,000 BTU for the other burners. With this much power, you should be confident of your gas range being capable of handling heavy use without giving any signs of breaking down.
Six Functions
With this Viking 48-inch gas range, you have many functions to enjoy to make cooking and baking easier and more convenient such as Convection Dehydrate, Infrared Broil, Natural Airflow Bake, Convection Infrared Broil, Convection Defrost, and Convection Bake. Thankfully, the right oven is only available in 48-inch models, which is what you'll get to enjoy in this Viking gas range.
Gentle Close Door
This is one of Viking's most exclusive features for its high-end cooking range models, and this feature helps you to easily close the oven doors.
Bertazzoni MAST486GGASXE Master Series 48-inch Gas Range
Bertazzoni may be one of the most underrated kitchen appliance brands in the world, but the brand continues to produce quality kitchen appliances for its consumers, and it's already gaining a large fan base among gas range lovers. The high-efficiency Bertazzoni 48-inch gas range comes with 6 powerful burners and an electric griddle that has 2 dual-ring 19,000 BTU power burners that can help you boil water in less than 6 minutes. If you invest in this quality 48-inch gas range, you'll also get to enjoy the 4 additional MonoBloc burners that are available in different sizes and power to help make cooking more efficient.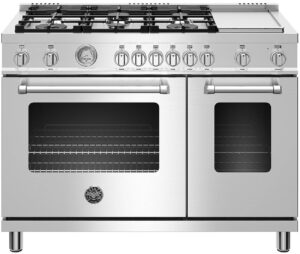 Features
Large Capacity Oven
The 48-inch gas range, as expected, features two oven compartments, with one serving as the main gas oven with dual horizontal convection fans while the other serves as the auxiliary gas oven. The former has a capacity of 4.7 cu. ft. while the latter has a capacity of 2.4 cu. ft. If you combine the two, you'll have one of the largest capacity ovens you can find on the market at the moment.
Elegant Temperature Gauge
You need to be in control of your range's operation, and that's why Bertazzoni has included a temperature gauge in this gas range. This shows the temperature reading during preheating and baking.
6 Monobloc Aluminum Burners
The 48-inch gas range is also packed with 6 monobloc aluminum burners that help you cook efficiently and more conveniently.
Thermador PRG486WDH 48-inch Stainless Steel Gas Range
Thermador is one of the most respected kitchen appliance manufacturers in the United States today, and the brand continues to protect its legacy by producing more high-end appliances like this Thermador 48-inch gas range. The freestanding stainless steel gas range comes with electronic ignition that makes it very easy for you to light up your range. Sadly, the gas range doesn't come with important features like Child Lock, Door Lock, Built-in Downdraft, and Storage Drawer, although the brand would argue that the price justifies the features the range is packed with.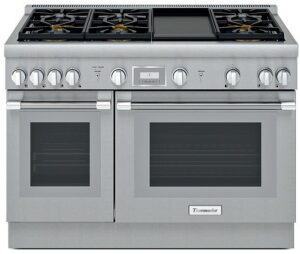 Features
2 ExtraLow Burners
To make you cook more conveniently, this Thermador 48-inch stainless steel gas range with griddle features 2 extra-low burners that are ideal for holding long durations, simmering, and melting.
Non-stick Griddle
Not all gas ranges come with griddle, but you will be getting just that with this Thermador 48-inch gas range. The griddle helps provide even heating across the entire surface to give you the best cooking results.
Convection Bake
This feature comes with most high-end gas ranges with ovens, and its job is to help provide precise multi-level baking results.
JennAir RISE 48-inch Pro-style Gas Range with Griddle
JennAir may not be as popular as Bertazzoni or KitchenAid, but the brand is slowly progressing with the production of quality and affordable appliances which people see as great alternatives to the aforementioned brands. People love this JennAir 48-inch gas range because it features precision-drilled brass burners that produce precise, dual flames that help you get your meals prepared in no time. The oven also produces steady heat weaves around each flat tine, leaving you with great results at the end of the day.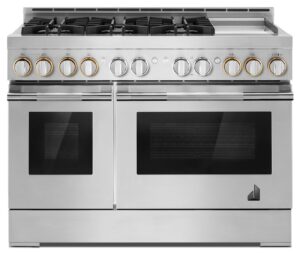 Features
Flat Tine Racks
The range features racks that are each packed with dramatic flat tines to help deliver increased contact with your pots and fans, promoting amazing heat transfer. This helps you get your meals prepared faster than expected.
Halo-effect Knobs
Whenever the oven is on or the burner is lit, the knobs produce a halo of luminary LEDs that create that softness, especially when you're cooking at night.
Cast Iron Grates
These robust geometric cast iron grates will help form a surface that can withstand heavy pots and pans whenever you're cooking.
KitchenAid 48-inch Ink Blue Smart Commercial-style Gas Range
KitchenAid is one of the most talked-about American brands on the global scale, and the brand also happens to be a force to reckon with, with heavy competition from the likes of Samsung and LG, two of the biggest appliance brands in the world. If you need a commercial-style range in your house with even heat, this 6-burner KitchenAid 48-inch gas range is exactly what you need to consider. The gas range comes with two versatile 20,000 BTU Ultra Power Dual-Flame Burners with enough power and precision to help you saute, stir-fry, sear, and simmer.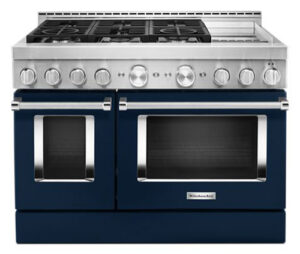 Features
Even-Heat True Convection
This is a unique bow-tie design that features a heating element and fan that helps circulate hot air throughout the oven in a bid to provide consistent temperatures for great results at the end of the day.
Smart Appliance
Having smart appliances in a modern world is not unusual, and KitchenAid has found a way to implement the latest technologies into some of their appliances. This range comes with a smart technology that allows you to control the oven with an Alexa-enabled device or Google Assistant. You can also use the KitchenAid App to do basic things like preheating, roasting, saving custom cooking instructions, and baking.
Two Power Dual-flame Burners
What's a gas range without efficient cooking? KitchenAid has packed this smart gas range with two 20,000 BTU dual-flame burners that give you precise control of power over whatever you cook, leaving you to set the temperatures according to the meals you're cooking. You can do a lot of things on the same burner as long as you understand how to control the temperatures.
BlueStar RCS48SBV2 Culinary Series 48-inch Stainless Steel Gas Range
BlueStar's Culinary Series is the brand's poster range because it combines handcrafted quality with professional-level features to deliver efficient meal preparations, saving you a lot of time in the process. The BlueStar 48-inch gas range allows you to cook like a pro with versatility and power that includes 21,000 BTUs of searing power which is coupled with a precise simmer burner.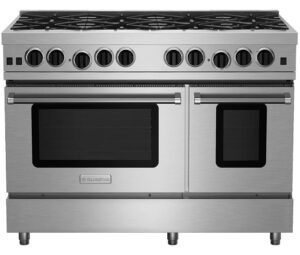 Features
Professional-Grade Performance
There are lots of pro-style gas ranges on the market today, but finding the one that is perfect for your kitchen can be quite daunting because not all gas range sizes have pro-style models. Thanks to the sealed burner series burners, you'll get to enjoy 21,000 BTUs which will help you get your meals done in no time, while you can use the 5,000 BTU for slow duration operations like simmering and melting.
Extra-Large Convection Oven
If you want a gas range with a large oven capacity, this BlueStar 48-inch gas range should be one of the first few names on your list. The ovens are large enough to accommodate full-size commercial sheet pans for efficient cooking.
Infrared Broiler
Most commercial-style gas ranges are expected to come with this feature, but disappointingly, only a few of them do. The range features a large infrared burner that is responsible for delivering 1850 degrees of searing heat close to the burner.
Monogram ZGP486NDTSS 48-inch Stainless Steel Gas Range
Most brands are now making a name for themselves with the production of high-end commercial-style gas ranges, and Monogram has followed suit with the production of this 48-inch stainless steel natural gas professional range with 6 burners and griddle. The Monogram 48-inch gas range features a versatile gas burner configuration that helps deliver exceptional cooking flexibility, thanks to the two 23,000 BTUs multi-ring brass burners and dual-stack burners.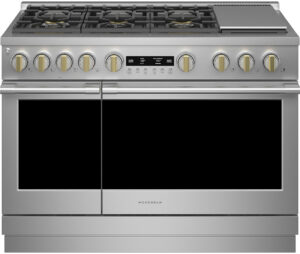 Features
Chef Connect
Chef Connect is an exciting smart feature that allows you to effortlessly synchronize several kitchen items when the burners are active.
Dynamic Oven LCD
This is another stylish feature that helps indicate which oven mode is currently in use. It also helps display other important information such as probe temp, oven temperature, and timer.
Frequently Asked Questions
1. Who makes the most reliable gas range?
Every brand featured in this article makes gas ranges that are worth every penny spent on them. However, if you're looking to invest in a gas range, you should take your time to research the brand of gas range you want to get as well as some other important factors you need to consider before making your big decision.
2. Is a 48-inch range too big?
Most 48-inch ranges are commercial-style ranges, and despite that, that's exactly what some people want in their kitchens. It all depends on a lot of factors that range from needs to the size of your kitchen space.
3. What is a good brand for gas ranges?
Some of the best manufacturers of gas ranges include Bosch, Frigidaire, Cafe, LG, Dacor, and many more.
Wrapping Up
Cooking is an exciting exercise for some people and they want to make sure that they're in total control whenever they step into their kitchen to prepare their favorite meals. 48-inch gas ranges may be regarded as "too much", but as we mentioned earlier, it depends on the buyer's wants, although whoever is purchasing a 48-inch gas range is more likely to be doing it for commercial reasons or has enough kitchen space to accommodate the big gas range. In our 48-inch gas range review, we've discussed the best 7 48-inch gas ranges on the market at the moment as well as the important features each gas range comes with.
ESTIMATED TIME DESIGNING AND UPLOADING THIS ARTICLE
ESTIMATED TIME RESEARCHING AND WRITING THIS ARTICLE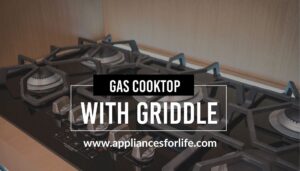 Gas Cooktop With Griddle To Make Delicious Meals
A gas cooktop with a griddle can be utilized to make breakfast, lunch, or dinner. This flexibility means that purchasing a new gas cooktop with griddle could significantly increase your meal options on a daily basis. Of course, there are many things to consider before
Read More »