Downdraft ventilation is all in and range hoods are all out, so what are really the pros and cons of downdraft cooktops and are they worth buying? Our experts have answered all the questions here. Downdraft cooktops are designed to maximise space in your kitchen and give your room an overall modern look without having hefty appliances like range hoods taking up room and space. A downdraft electric or gas stove top works in the same way as a range hood does with a few exceptions. Downdrafts come in two different versions but they work in the same way by pulling smoke and grease through an exhaust fan in the stove as opposed to pulling it from above.
Active Downdraft Exhaust System
Some of the downdraft vent systems are active. A button gets pushed when the vent is going to be used and the vent lifts from the rear of the stove between and around 8 and 10 inches high. As soon as the vent completes its movement it automatically turns on. The smoke, grease and cooking fumes get pulled through the vents out through a series of ducts that go down below the cooktop and outside. For safety reasons, all vents should lead outside.
Central Downdraft Exhaust System
Another version of downdraft cooktop is set up with a central venting system running vertically down the center of the cooktop between the left and right burners. This type of vent does not move, instead the exhaust fan is under the cooktop surface and leads the exhaust outside. You can also turn on this version of the downdraft vent with a switch if you need it so it isn't on all the time.
Downdraft Cooktop Ventilation Concept
The concept behind either of the downdraft options is a circulatory expulsion of the pollutants that occur with cooking. Even though heat rises, the pull of the exhaust fan in the downdraft ventilation system sucks the gas and grease back down into the vent ducting. Because the vent continues to pull the air down, those same pollutants continue down the ventilation ducts, follow the 90- degree bend and move out of the house.
Downdraft ventilation systems on ranges and cooktops have both their pros and cons. If you have a range hood then it will work more efficiently and you can have a lighting system with it above your cooking space. If you choose a downdraft system then you will be able to maximise on space and style. You will either love it or hate it and here are a few unique stove tops that have the downdraft vent system if you are thinking of purchasing one.
As an Amazon Associate we earn from qualifying purchases. We may earn a small commission for our endorsement, recommendation, testimonial and/or link to any products or services from this website. Thank you, your qualifying purchases help support our work in bringing you real daily gift ideas.
The Best Electric Cooktops with Downdraft Options
| Image | | | | |
| --- | --- | --- | --- | --- |
| Item | GE Profile 30-inch Black Electric Cooktop With 3-speed Downdraft PP9830DJBB | Frigidaire FFEC3025UB 30-inch Electric Smoothtop Style with 4 Elements | GE Profile 30″ Downdraft Electric Cooktop Glass Top with Stainless Steel Trim PP9830SJSS | Thermomate 30-inch Built-in Induction Stovetop with 9 Heating Levels |
| Manufacturer | GE Profile | Frigidaire | GE Profile | Thermomate |
| Material | Glass | Glass | Stainless Steel, Glass | Cast Iron, Glass |
| Color | Black | Black | Black | Black |
| Weight | 45 pounds | 35.2 pounds | 45 pounds | 28.7 pounds |
| Dimension | 21.87 x 29.75 x 2.18 inches | 34.3 x 25.9 x 6.9 inches | 22 x 30 x 2.2 inches | 29.9 x 20.5 x 2.3 inches |
| Editor's Rating | ✸✸✸✸✸ | ✸✸✸✸✸ | ✸✸✸✸✸ | ✸✸✸✸✸ |
| | | | | |
The Best Electric Cooktops with Downdraft Options
GE Profile 30-inch Black Electric Cooktop With 3-speed Downdraft PP9830DJBB
GE, although a well known brand in the United States, might not be such a notable brand like Samsung and LG on the global map for cooktops but they offer a unique design and a cooktop with great features at an affordable price. The choice for electric cooktops with downdraft vent systems aren't that many because consumers prefer range hoods but there are a few on the market which we love.
At 30-inch this black electric cooktop is great for everyday use. It has two 6 inch elements and two 9 inch elements which gives you enough space to be versatile with your cooking. It has a power boiler and a bridge element which makes this model even more popular than the others. This cooktop has been designed to give you a clean and sleek look while making it easy for using and easy to clean. The detachable knobs can be easily washed and it is really easy to install. If you want an affordable, practical and modern option then the GE cooktop is the one to get.
Frigidaire FFEC3025UB 30-inch Electric Smoothtop Style with 4 Elements
Frigidaire offers a lot more features when it comes to cooktops compared to the GE and we think this model is worth the extra cash. The expandable element allows you to utilize the way you cook, whether it is with large or small pans and cook efficiently for that matter. Cook multi course meals with ease with the four spacious elements and the design allows for easy cleaning. With amazing heating power this heats quickly and evenly making your job of cooking a whole lot easier and like never before. The hot surface indicators let you know when the surface is too hot to touch which is a safety feature we think all cooktops should have.
This is another electric cooktop which has a downdraft system which works exceptionally well in getting rid of steam, smoke and odors when cooking. If you want a modern, sleek and classic look plus a guarantee for flawless results every time then go for the 36 inch frigidaire.
GE Profile 30″ Downdraft Electric Cooktop Glass Top with Stainless Steel Trim PP9830SJSS
GE also made a newer model at the higher end of the price range which has a modern stainless steel trim. Again with four elements and the bridge function this will do every cooking task to its best. It is attractive and streamlined with different options and variations on the fan speeds and element temperatures. Easy to install, easy to use and easy to clean and the downdraft is so quiet you barely know it's there.
If you aren't into the black and stainless steel look then go for the white version of the cooktop with downdraft ventilation system. It has four elements which two of them can become a bridge element, detachable knobs which are easy to clean and a guarantee that the white glass won't scratch or discolour after use.
Both of these models are great and are really practical and great value for money. They have all the important features which you need from a cooktop and the downdraft works well. Although they don't work as efficiently as range hoods they will get rid of the steam and odor which you get from boiling and cooking. GE is a classic company who makes high quality products every time so you know you will choose right if you choose them.
The only thing people might see wrong with this cooktop is the price tag which is just above the $1000 mark. However, the best things don't come cheap, right? This cooktop will give you the best value for your money, and with the downdraft option, we think the price tag might have been well justified.
The Maintenance on a Glass and Ceramic Stovetop
Don't forget, as with any appliance you buy for your kitchen there will always be maintenance which you need to make sure to do so you can ensure the appliance is kept clean and looking like new. The modern glass and ceramic cooktops need a little extra care and you really need to invest in a type of cleaning product made for your appliance. We recommend this cleaner – Link 5 because it is one of the best on the market and is great value for money. This gentle formula won't scratch the surface but will cut its way through grease and easily remove burned and baked food. It is safe to use on all ceramic and glass worktops and will leave your worktop shiny and looking brand new. Weiman also do a great selection of scrubbing pads and they also work great on pots and pans which easily scratch.
Don't forget that whatever choice you make on a downdraft cooktop will save loads of space above. You can maximize that space and have an extra built in oven or even install the cooktop on a kitchen island. With this ventilation option you can create beautiful and elegant kitchens and they will also save you the extra money of buying a range hood.
Frequently Asked Questions
What is a downdraft cooktop?
A lot of people think a downdraft cooktop is a whole lot different from a normal cooktop but that's not the case. A downdraft cooktop is the cooktop; electric or gas – but with a built-in ventilation system.
Are downdraft cooktops effective?
Downdraft cooktops are good but might not be all effective on gas burners. People have had to complain about the fan getting in the way of the burning flame, which will in turn affect the cooking time, or worse.
Final Verdict on Electric cooktop downdraft options
Electric cooktops are great, and they're even more effective when they come with downdraft options. Everybody wants something they can safely use which will also bring about convenient operations and that's what these electric cooktops with downdraft options will offer you. We have reviewed three great options and we hope you find them worthy of your money.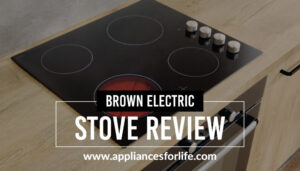 Brown Stove Works Inc., a leading appliance manufacturer in the United States, is the maker of brown electric stoves. The best electric stoves for your kitchen will rank highly based on price, performance, and features. The oven is equipped with three racks and heats evenly
Read More »