The world is changing, and the things around us are improving at a quick pace, demonstrating how far we've come and how much better things will be in the next years. To be honest, this was bound to happen – the way technology works and how it affects everything in the world is fascinating, and while some may argue that it also has some negative effects, there's no denying how useful it has been to humanity. Many appliance manufacturers around the world are always looking for new ways to attract customers, and one of the most effective ways to do so is to add new features that make machines more efficient and user-friendly than ever before.
For what it's worth, we've all liked the major changes in the world to some extent – at least the majority of us. Having access to life-changing machines and appliances has been more than a blessing, and having them available to us in the first place means a lot, even if we have to spend money to get them. People could only dream of a world with this much technological improvement many years ago, where interacting with electrical devices and technology was easier than many would have anticipated.
Let's take a glance at the refrigerator for a moment. Many years ago, the only machine available was a large, bulky machine that required a lot of electricity and was inefficient, but because it was the best they could obtain, they didn't have a choice but to invest in it. Unfortunately, these large refrigerators were also pricey and could only be purchased by the wealthy, leaving the middle class with used refrigerators that had several problems that they had to live with for a long period. Times have changed, and the world is clearly a different place now, as seen by the significant changes visible everywhere.
Think about smart refrigerators with unrivaled user interaction and smart features that make them super appliances loved by many. A smart refrigerator can be controlled from your smartphone as long as it's connected to the phone's WiFi, has a screen where you can leave notes for your loved ones, can be controlled with voice commands, and can even read out recipes to you when you're in the kitchen trying to make a good meal for your family. This only highlights how much progress has been made in the last two decades as we now have appliances that make the world a better place to live, getting some domestic pressure off our shoulders.
The refrigerator comes in different types; French door, side-by-side, top freezer, and bottom freezer, all of which have unique ways of functioning and giving people the best value for their money. What's most amazing about these refrigerators is how they manage to have other appliances in them, such as the water dispenser and ice maker. These are two different appliances that have been integrated into modern refrigerators to give users the exclusive convenience of having all the appliances they need in their homes in one single form, which is super amazing.
Since you can get an ice maker in a refrigerator, most folks don't think there should be a reason for anyone to want to get a separate countertop ice maker, citing waste of resources as a major factor, but it's not always like that. Ice production from refrigerators is amazing, but people do things for different reasons, and getting a countertop ice maker can bring another dimension to ice production in your home than what you're already used to, so what's wrong with exploring? According to The Home Body Review, it doesn't matter what an ice maker costs; you'll always be happy you made the investment because it's always worth it.
When it comes to manufacturing quality and efficient ice makers, GE Appliances is one of the brands because it is famous for some of the best ice makers. The Opal ice maker is one of GE's special models, but over the years, people have had issues with cleaning these efficient and high-end ice makers, which is why we're giving you a guide on how to clean a GE Profile ice maker. Opal nugget ice maker cleaning is very important if you have GE's Opal ice maker in your kitchen. It's one of the best ways to ensure that you always have fresh ice whenever you need it, which is more than important for your overall health and your family's.
Cleaning your appliances regularly is necessary if you want them to perform at their best for as long as they're accessible for use, yet most people overlook, neglecting to do so. Many people let their appliances deteriorate after a few years of purchase, which is unfortunate given how much money they spent. The sad reality is that if you don't take care of your appliances, they will struggle to provide you with the efficiency you desire for a long time since you aren't doing the bare minimum to maintain them healthy.
Thankfully, most of these appliances have features that inform you when it's time to clean them, so even if you're not observant enough to notice this in how they function, the machines themselves will let you know it's high time you cleaned them. According to GE Appliances, the Opal ice maker is one of those machines with that special feature that lets you know when to be cleaned using the display ring around the round button on the front. The display ring turns solid yellow when it's time to be cleaned, so when you see this clear sign, you must take action as soon as possible to avoid damaging the ice maker.
To efficiently clean Opal nugget ice makers, you need to have the right instructions, depending on the model of the ice maker you have in your kitchen, but most times, people often opt to check their user manual for the right instructions, which is the right move. Is cleaning Opal ice maker with vinegar okay? Is cleaning Opal ice maker with bleach advisable? We'll find out in this article, but before we get into how to clean GE Opal ice makers, let's look at some of the benefits of having a countertop ice maker in your kitchen.
Benefits of Having an Ice Maker at Home
If you've found yourself asking the question "do I really need an ice maker?" a lot, you're not alone because other people are also asking themselves this question to have a justification if they eventually decide to put some money on the countertop ice makers despite having one implemented in their refrigerators. Many people believe there's no need to go ahead and invest in a countertop ice maker when you already have one in your refrigerator, but what they don't know is that you can take things to a different level if you decide to invest in a countertop ice maker. If you've been sitting on the fence not knowing if a countertop ice maker would benefit you, below are some of the benefits of having an ice maker at home.
Ideal for family gatherings and parties
One of the things people love about countertop ice makers is that they're portable and can be moved around, so when you're having a family party, you can be confident of enjoying a great time with everyone in attendance because you can easily have the ice maker on the table outside providing non-stop ice as long as that's what you need. You can argue that you would enjoy the same luxury with a refrigerator with an ice maker, but to truly enjoy enough ice, you might have to be running back and forth the house just to get what you want, which is why ice makers are great for occasions like family parties and gatherings.
Bluetooth connectivity
A lot is going on in the world we live in that we have benefitted from greatly, and having some features implemented in most home appliances is one of the greatest things to happen to us because it means we can now easily interact with these devices without stress. You'll be surprised that the Opal ice maker is equipped with Bluetooth, so you can control most of the machine's settings by pairing your phone with Opal. The first generation can be quite a handful, but GE has a detailed guide to help you set up the connection, and you can check it out here.
GE Appliances has even taken things to the next level with the introduction of the GE Opal 2.0 ice maker, which has a built-in Wi-Fi that allows you to connect to the SmartHQ app to control the settings using your home network. The SmartHQ app can be downloaded on Google Play Store or the Apple Store, and like Bluetooth, GE also has a detailed guide on setting up the Wi-Fi using the instructions provided; you can check the guide out here. This is why many people love the GE brand because it keeps rolling out appliances that people love with features that make these devices easier to use than ever.
Portability
Another amazing thing about countertop ice makers is how you easily take them to some designated spots, and you'll still get what you want because they can function anywhere. The GE Opal ice maker is a self-contained system that can be used anywhere as long as there's an electrical outlet you can plug the power cord into for it to start functioning. The self-contained system can be taken with you for a camping trip, perfect for RVs, and transported to that outdoor kitchen island in your compound.
You'll love countertop icemakers. After all, you can always recycle melted ice through the system to help produce more ice irrespective of where you are, which is laudable because you can't enjoy the same thing with a refrigerator ice maker. If you believe you should enjoy some convenience with ice production in your house, then it's okay to have a countertop ice maker, especially the GE Opal ice maker, a self-contained system that can be moved anywhere you want.
Convenience
We've mentioned convenience a few times in this article because we believe it's usually the driving force behind people's decision to opt for countertop ice makers. A writer at The Home Body Review, Jason, stated that one of the best things about having a portable ice maker is that you don't have to wait till ice cubes fall off your refrigerator before enjoying the ice. With a countertop ice maker, you can always get fresh nugget ice whenever you want because that's what the machine does – it constantly produces ice cubes whenever you need them.
GE Nugget Ice Maker Cleaning Instructions
Cleaning your appliances is great to help keep them efficient, but when it comes to appliances that may have a direct effect on your overall health, you need to prioritize regular cleaning. Before you start cleaning your Opal ice maker, below are some important things you should do to ensure your safety and the machine's.
First things first, and the first thing you have to do before cleaning your ice maker is to ensure that it's turned off some 1 hour before cleaning it.

When cleaning your ice maker, using a filter is always effective, so if you're using a filter, you need to remove it and reinstall the reservoir screen. GE instructs that water will not circulate properly during the cleaning cycle if the first two steps are not taken.

If you have a large buildup in the ice maker, you need to take a pen and see if you can get rid of the hard stains and buildups stuck at the top of the ice chute. While hard water residue may not always be visible, it will most likely affect ice production, so you need to clean your washing machine regularly.

Do it through the drain tubes if you need to drain any water from the Opal ice maker.
How to Clean a GE Profile Ice Maker
Step 1
Before unplugging the ice maker from the power outlet in your kitchen or wherever it is plugged in, make sure it is turned off.
Step 2
Remove the water filter if your machine has one and replace it with a screened intake cap after unplugging the ice maker.
Step 3
Drain any remaining water from the Opal ice maker, reconnect it to a power source, and slide the rear switch to the "Clean" option.
Step 4
To clean your ice maker's water reservoir, avoid using soap; instead, use a solution with one teaspoon of household bleach and five cups of water. To start the cleaning procedure, pour the liquid into the water reservoir and press the display button. You'll hear the water circulating during the cleaning procedure, and after three minutes, the water will cease.
Step 5
It's time to empty the ice machine. Begin by disconnecting the drain pipes from the back of the machine. When you've completed unplugging the hoses, drain them into a bucket or your kitchen sink below the ice maker's level. Make sure the water has completely drained before reinstalling the drain plugs.
Step 6
To properly rinse the water reservoir, add five cups of fresh water to the reservoir and press the button. The light ring, divided into four sections, indicates each step. The light ring will increase brighter with each rinse cycle, showing that the water reservoir is clean enough.
Step 7
Put the drain hoses back in place and slide the rear switch back to "ice" mode.
Frequently Asked Questions
1. Where are the sensors on the Opal ice maker?
The Opal ice maker, according to GE Appliances, has two separate sensors. These sensors resemble a marble that has been divided into even halves and can be found at the ice chute's entrance.
2. How do I reset my Opal ice maker?
To reset your Opal ice maker, unplug it for 10 seconds, then plug it back in before pressing the ON button. When the machine has been reset, a blue light will blink to signify that it has been reset.
Conclusion
If you've discovered a compelling reason to get a countertop ice maker, even if your refrigerator already has one, you should know that you deserve the convenience that ice manufacturing provides. When you finally get your hands on a countertop ice maker, you'll need to know how to maintain it properly to avoid any issues. This article will show you how to clean a GE Profile ice maker if you have one of the company's well-known ice makers.
ESTIMATED TIME DESIGNING AND UPLOADING THIS ARTICLE
ESTIMATED TIME RESEARCHING AND WRITING THIS ARTICLE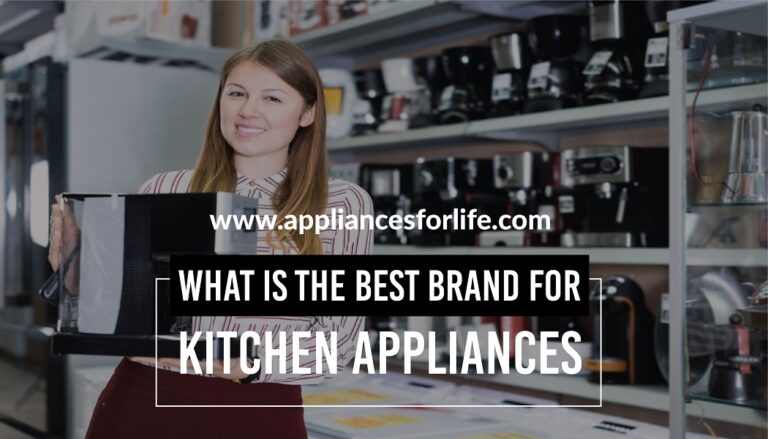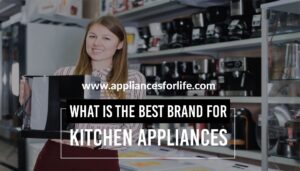 Best Brand For Kitchen Appliances And You!
A Question And Its Answer What is the best brand for kitchen appliances? Obviously the answer is hotly contested because 'best' is all subjective. A better question is "what is the best brand for me?" There are countless options to choose from. There are the titans, LG and GE.
Read More »